Palo is an adult only reservation recommended restaurant on board Disney Cruise Lines ships. You can find this restaurant on Deck 12 of the Disney Fantasy. It is a high end restaurant with an uncharge and dress code. It is currently $40 per adult for both brunch (on select at sea days) and dinner. On our last Disney Cruise we opted for a date night dinner at Palo.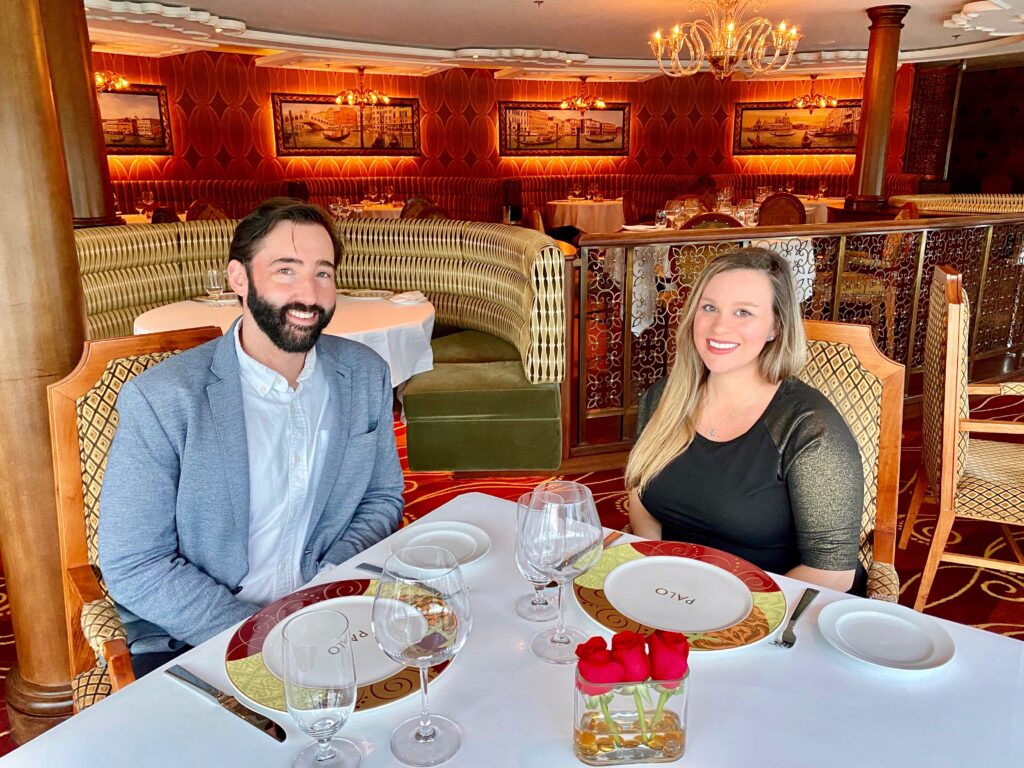 Dinner at Palo
After checking in for our meal, we went to the outdoor section of the bar Meridian to wait for our table. We had the earliest reservation time, 6:00pm, so that we could get the amazing port views BEFORE sunset! This is a must!!!! The views from this restaurant are breathtaking. We were seated right by the huge glass windows and got an amazing view of the ship pulling away from port right as the sun went down. Extremely romantic for our babymoon, or any special occasion or date night! We were even seated near a large group that was having their wedding rehearsal dinner there.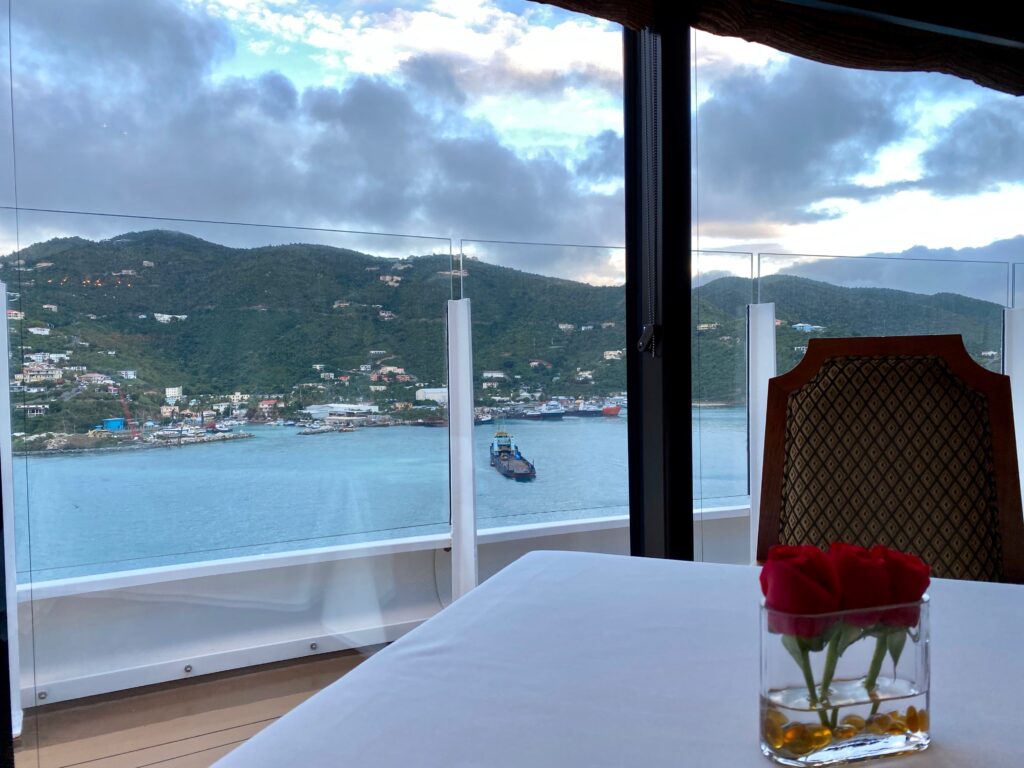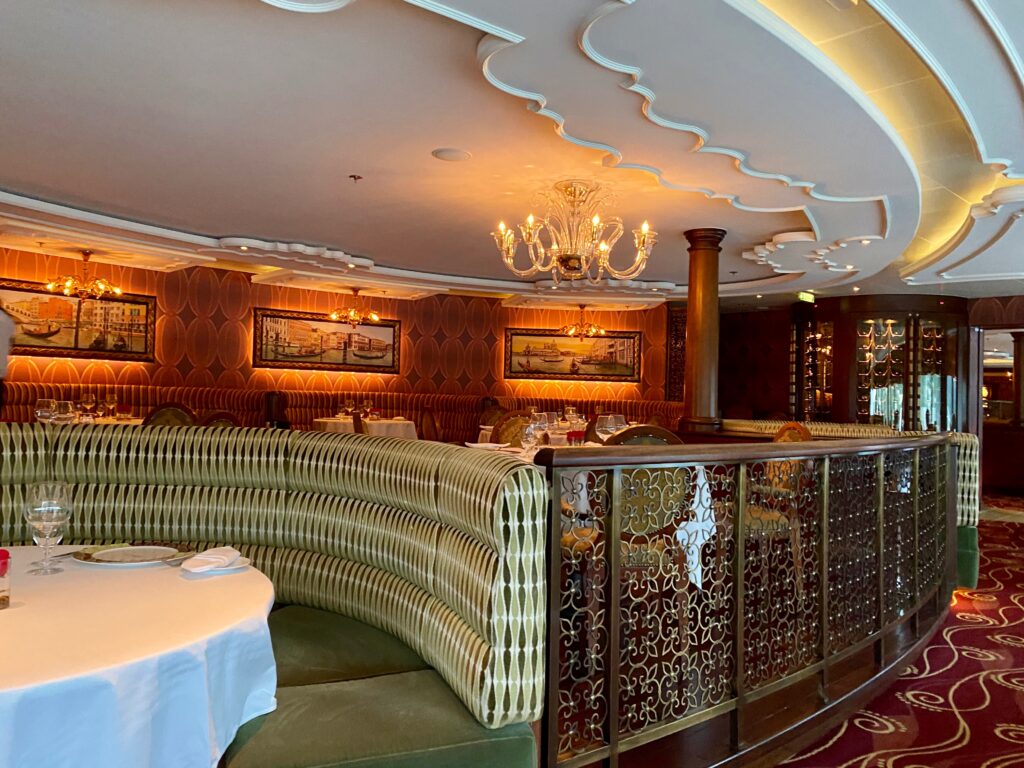 Meal at Palo
This is a higher end multiple course meal. You can order as many things as you want and treat you like royalty! They offer an a la carte menu for $40.00 or a prix fixe menu with wine pairings for $65.00. We opted for the al la carte menu. We started the meal with drinks. Matt ordered a glass of wine by the waiters suggestion and I ordered iced tea, which they said they were famous for because they make their own ice cubes out of the iced tea itself. He wasn't wrong, it was delicious!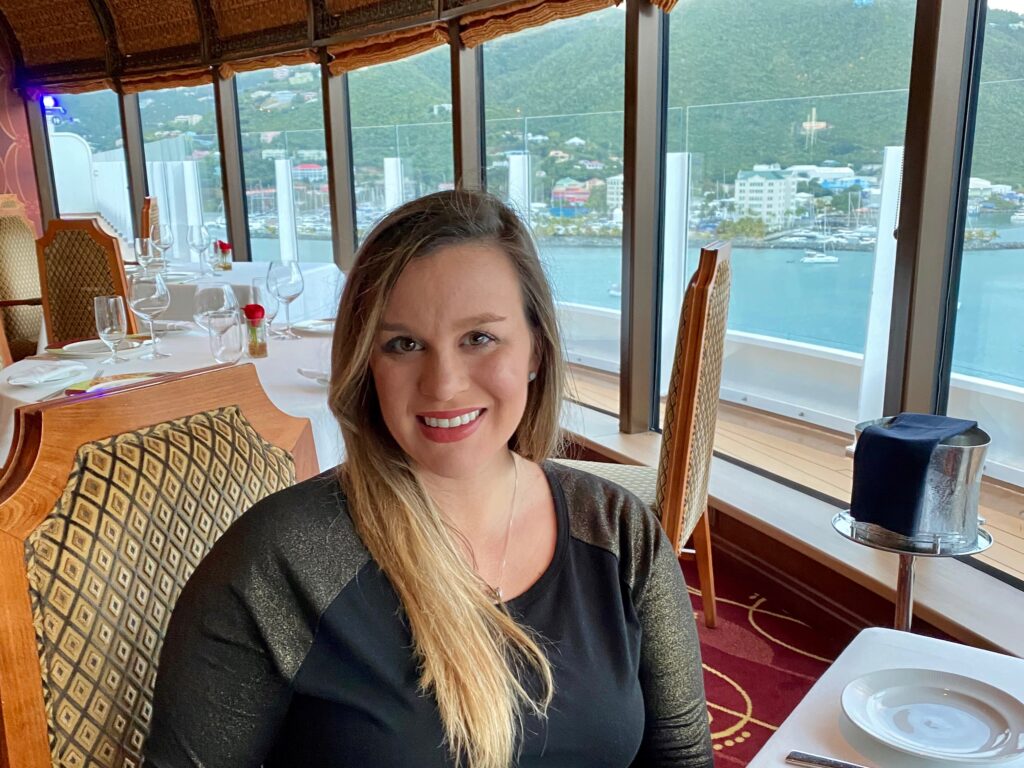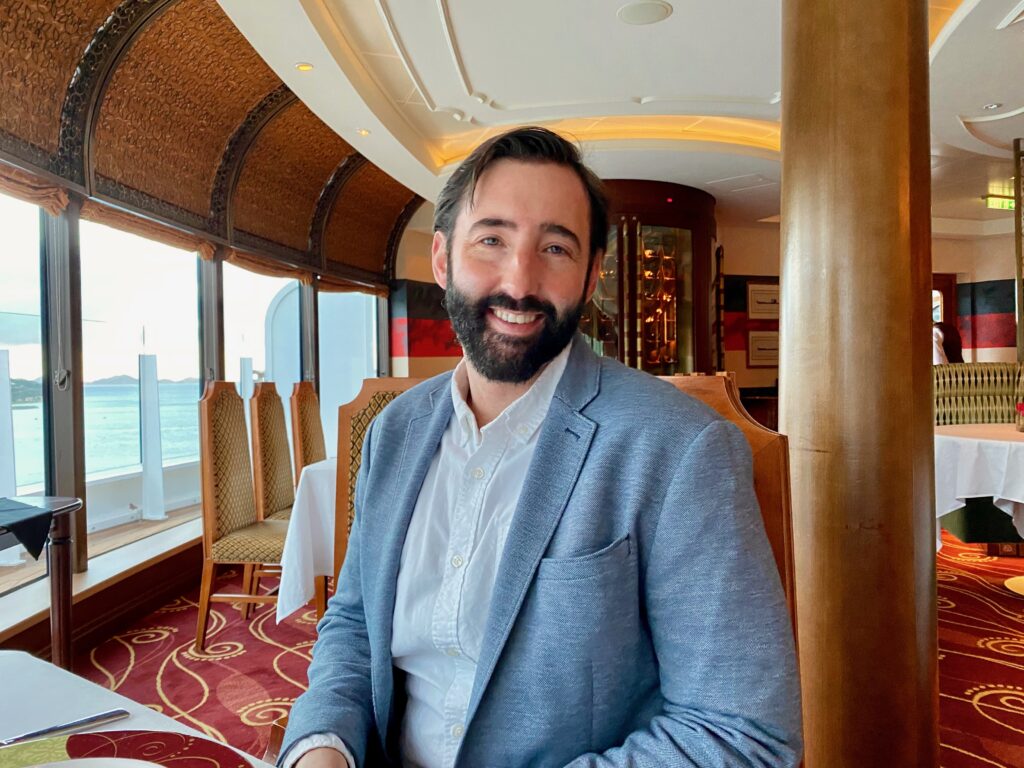 To begin the meal we were brought an amuse bouche, which was a small bite of a delicious fried gnocchi. For my antipastas I ordered the Tomato Mozzarella Caprese and Matt ordered the Tuscan White Bean Soup. Both were excellent but I enjoyed the freshness and lightness of the caprese over the soup. We were then presented with a lemon sorbet palette cleaner. It was extremely refreshing!
For pastas, Matt ordered both the Gnocchi and the Ravioli and I also ordered the Paccheri, which was a lamb ragu. The Paccheri was definitely the hit of the entire meal, it was to die for. Matt would have eaten an entree of my Paccheri, he loved it that much! The Gnocchi was our least favorite item. We both preferred the amuse bouche gnocchi to the dish. The Ravoli again was good, but not the big hit. Matt enjoyed it more than the gnocchi and would get it again though.
For our main entrees, I ordered the Parmesan Crusted Rack of Lamb and Matt ordered the Osso Buco. I thought both were excellent! I enjoyed my lamb more than Matt's Osso Buco, so that would be my pick in entrees. Nothing we ate was bad, I don't think you will be disappointed if you ordered exactly like we did, but some were more of a hit than others.
For dessert we both got soufflés. I ordered their signature chocolate souffle, which came with a side of vanilla gelato and Matt ordered the Amaretto which was sided with an espresso gelato. Both are incredible and I'd order either again depending if you are a chocolate person! Seriously these might have been the best desserts I have ever eaten. To finish the meal we were offered a digestif and they made me a special non-alcoholic version. The entire meal was too die for and more food than I could ever eat! I would go back again and again.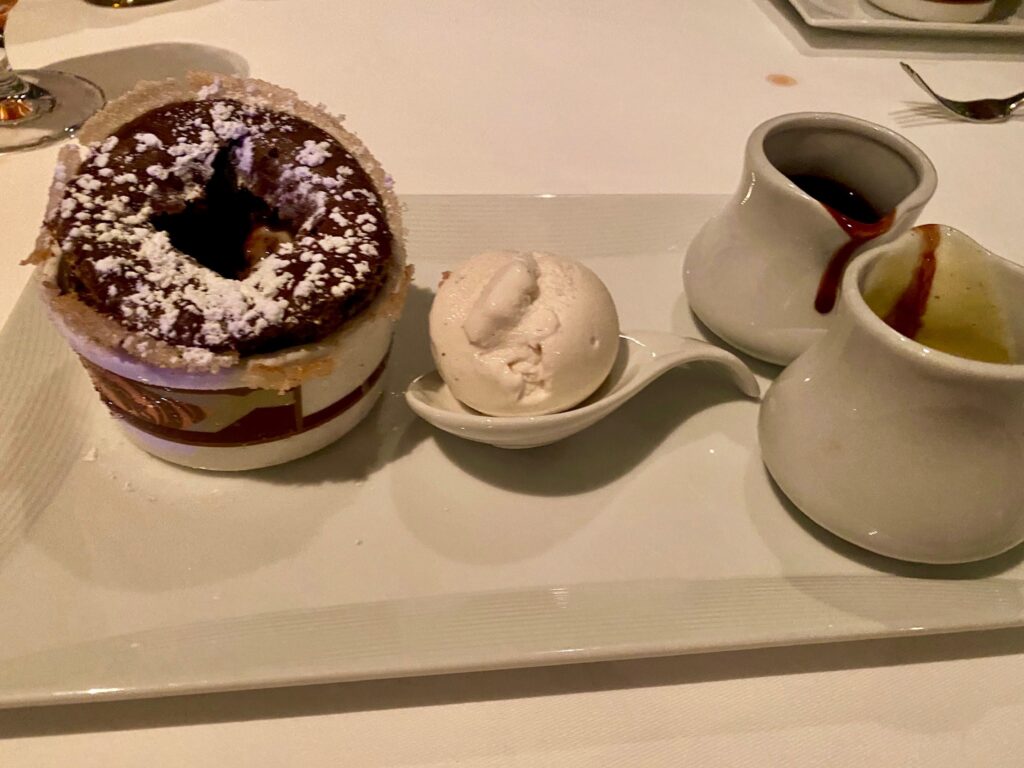 What do with your child(ren) if you are eating in an adult only restaurant?
This is where Disney Cruise Line excels! If you want to dine without your child(res) of any age you can on Disney Cruise Line. Since children are not allowed in Palo, our son went to the nursery, which has a small fee per hour and he ate dinner there. They serve meals each day during lunch and dinnertime if you wish to dine in one of the adult only restaurants or if you want to eat a meal without your child for whatever reason. It is a kid friendly meal, I believe it was mac and cheese with veggies on the side that night. They let you know if you child ate or not, but they do not force them too eat they just offer the meal.
The kids clubs also offer meals and if you have an older tween or teen they can eat on their own in the buffet, during your regular mealtime or one of the many quick pickup places around the ship. While our son was in the nursery evening Pirate Stitch even came to see the kids! I was kind of sad or jealous that we missed his encounter with Stitch, but how cool is that?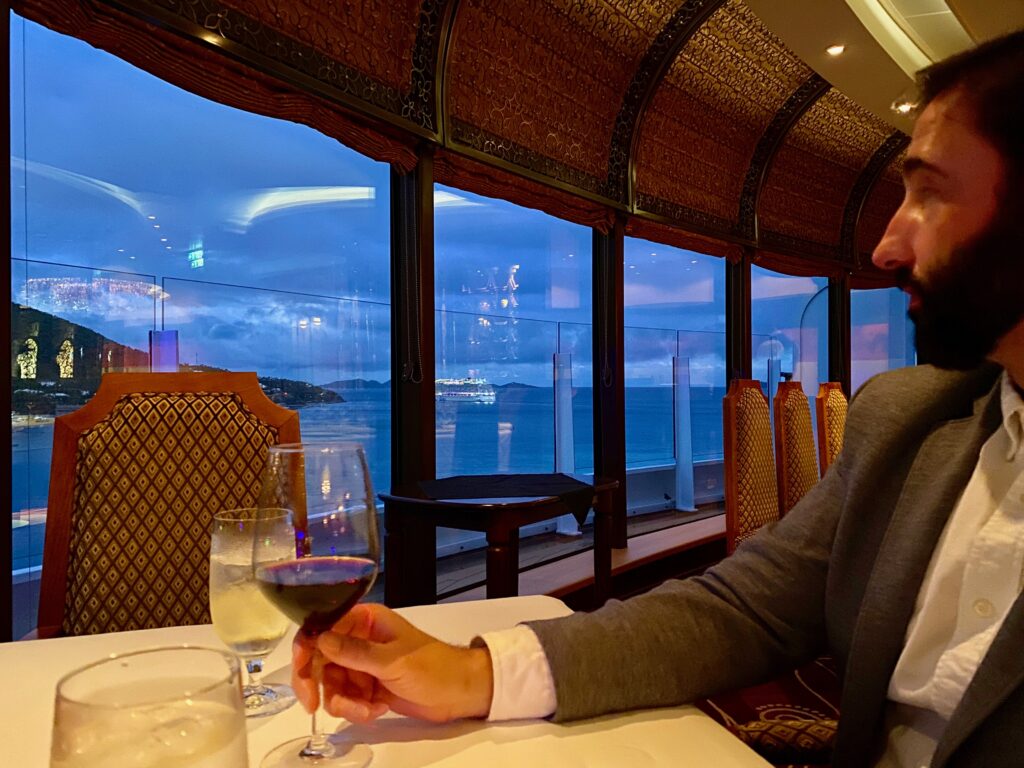 I highly recommend dining at Palo if you are on a longer Disney Cruise or this not your first Disney Cruise. For 3-4 nights cruises you may want to skip Palo, since the regular restaurants are still really special and you rotate to a different one each night. Reservations can be hard to get so make sure you book this in advance or check for a reservation right after you board the ship the very first day. We chose to eat dinner during pirate night and this is a great option if you don't care as much about the pirate night dinner and it seems to be easier to get a reservation at an earlier time!