We recently returned home on dry land from an amazing 7 night Eastern Caribbean cruise on the Disney Fantasy for one last vacation as a party of 3! This was our way of doing a babymoon keeping our toddler involved. Yes I know this is not really a babymoon, but whatever. We did a European babymoon when we were pregnant with our first son and wanted to do something exciting, but not exclude him. A Disney Cruise with our toddler was the perfect option for rest, relaxation, and adventure for the entire family. This post is about Day 4 where we docked in Tortola, British Virgin Islands. If you want to read about Day 3 first click here !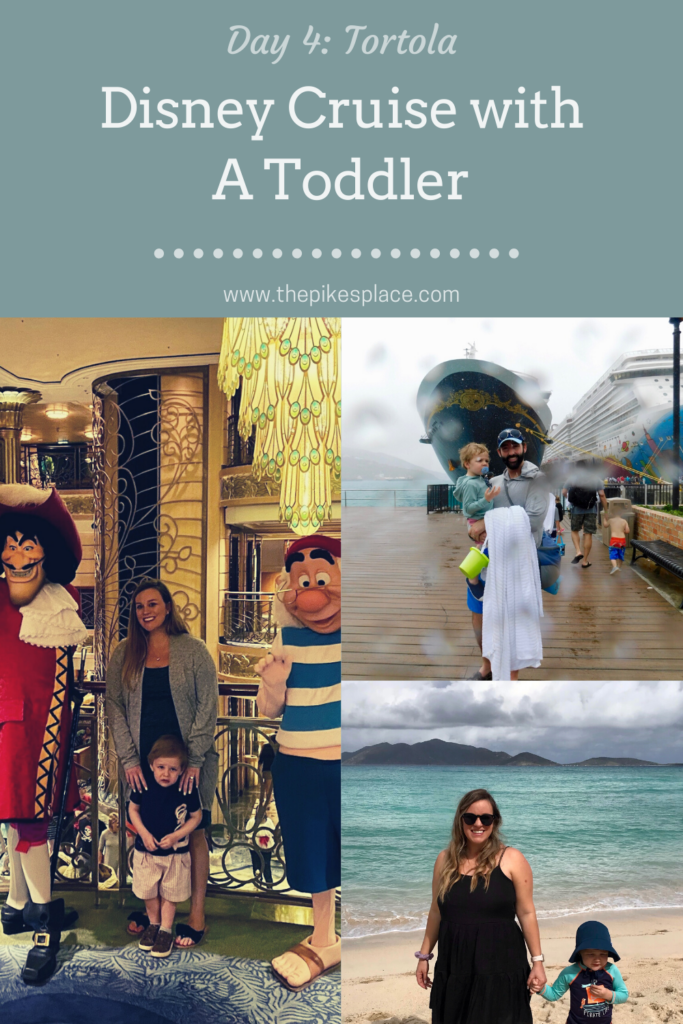 Day 4: Tortola, British Virgin Islands
Docking in Port
Since our son gets up earlier and we had a port side room, I had the chance to watch us dock, which I highly recommend if you have a verandah room port side or if you don't head to deck 4 or 11. It was very cool to watch how they did everything including shoot the cables from the ship like dart guns! It was a long process, but even our two year old enjoyed watching them work and with gorgeous background views you really can't beat that. Being on deck 9 forward we got a great view of the captains on the bridge watching everything and steering the ship!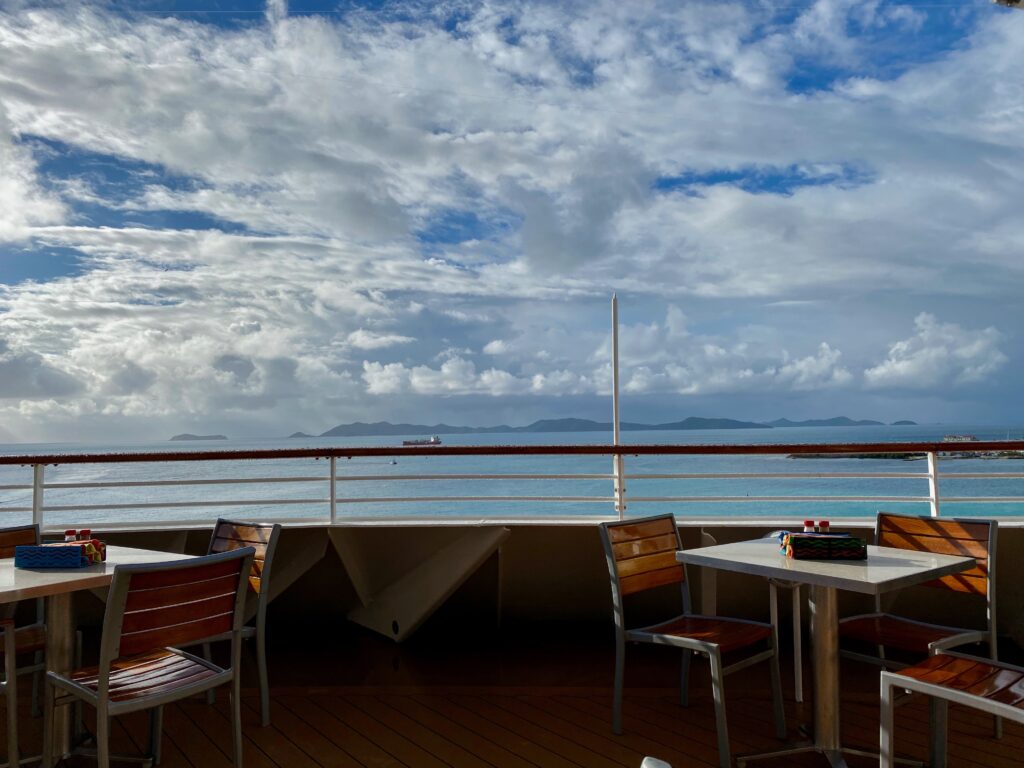 Breakfast
Day 4 was our first day docked, so breakfast times were a bit earlier with continental breakfast starting at 6:30am and 7:30am for the full buffet in Cabanas. We headed to Cabanas for the full breakfast and sat in our favorite location outside on the aft patio. For breakfast we got an assortment of fruit, yogurt, omelettes, hash browns, sausage, bacon, pastries, and of course Mickey Waffles. We tend to get a variety and share it all.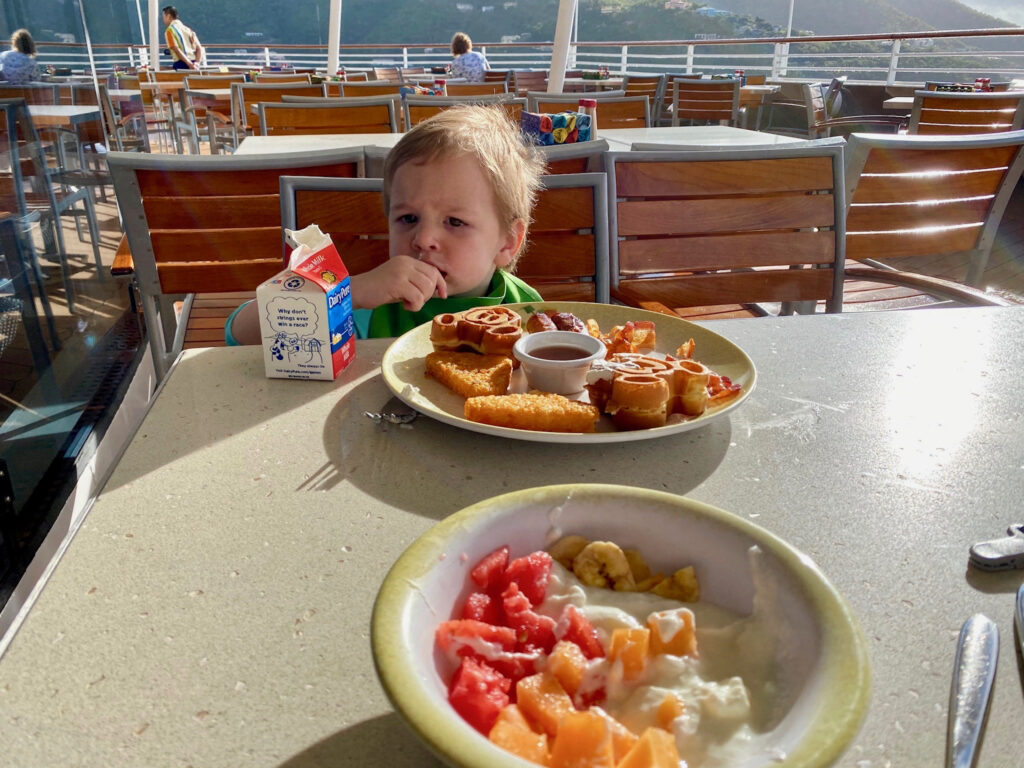 Getting Off the Ship
After the ship is docked and cleared by the port, there will be an announcement as to when you can disembark for the port. If you have a scheduled port adventure your tickets will be delivered to your room the day prior and will have a location and time to meet. You will head there before disembarking UNLESS your ticket says to meet somewhere in port, so read them carefully and don't be late. If you do not have a scheduled port adventure you can get off at your leisure once they give the all clear. You will need your key to the world card for each member of your group. Pay attention to the ships requirement on what form of ID you need to take off as well, in some ports you may need a passport in others you may just need a drivers license.
Renting A Car
Instead of a port adventure, scheduled tour or getting a taxi we opted to rent a car since there is an Avis right in the port. I will never do this again. I mean I will NEVER do this again. In Tortola the taxis are open air vehicles without seatbelt or car seats and I was very nervous about taking one with a toddler, so we opted for the rental car. The "car seat" we reserved was more like a booster, thankfully our toddler fit the height and weight for it. We had to argue for the SUV we had paid for, then the one we were given was diesel only.  You NEED AN SUV OR EVEN BETTER A JEEP to navigate the roads. They are mostly dirt and gravel.
We were supposed to bring the car back with gas full, but none of the gas stations had diesel… so we were charged for that and we are about 90% sure the guy just pocketed the money because he didn't want to let us go instead to pay the cashier. Now that could have just been credit card fees, but this is Avis and not some random company. The whole rental process was not easy and the only thing I'd recommend in Tortola would be a port adventure or if you have a toddler walk around the port then get back on the ship. Looking back I am glad we did rent the car and we had a great day, BUT I don't recommend doing it and I wouldn't repeat the decision. It was an adventure though.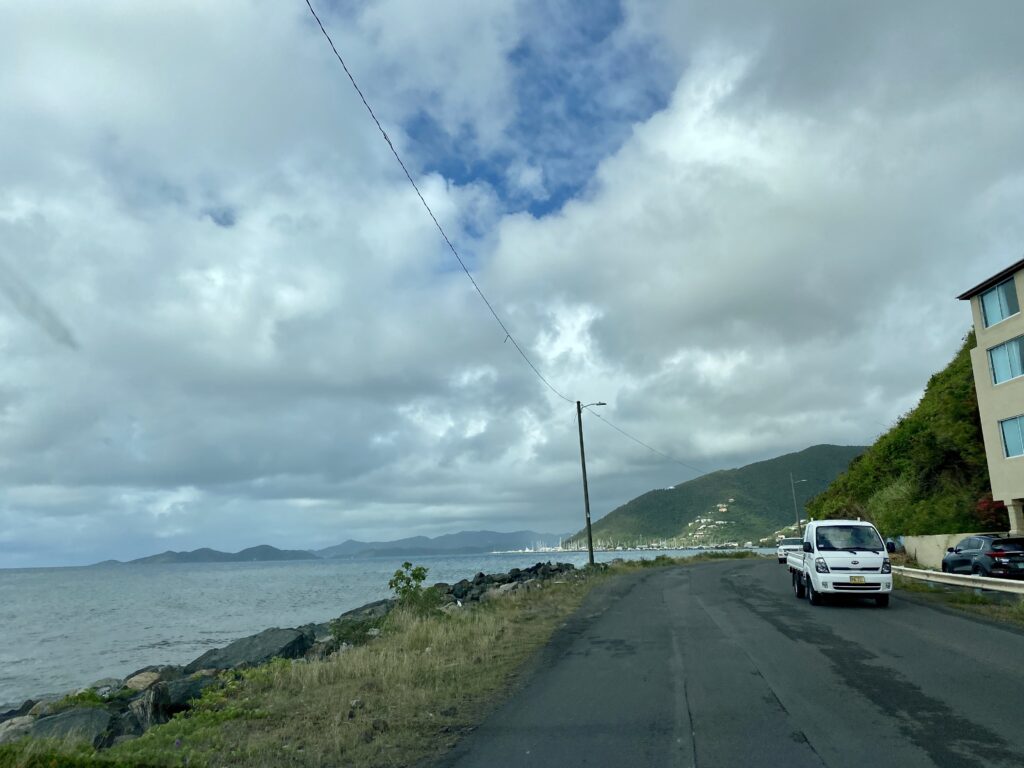 Exploring Tortola On Our Own
We love to go off the beaten path and do it our own way. Tortola was not the place to do that for us. The roads and cities have not recovered from recent hurricanes. The roads are basically cliffs without any road signs. Being pregnant the bumpiness of the roads and steepness made me extremely unfortable. The map we were given didn't actually show all the roads and again missing road signs so it was very hard to navigate. The roads were the steepest I have ever experiences with what felt like 70 degree angles on dirt or gravel with one lane roads that two cars are expected to pass each other on.
It was not for the faint of heart, those afraid of heights, or a pregnant mom with her two year old in the backseat. Honestly thank goodness my husband is a stellar driver, because I never would have made it. I thought at multiple times we were either going to fall down a cliff or just plain get stuck. Okay, I know I am rambling, but I do not think I am exaggerating when I say you need to be a very skilled driver with off road experience, which I am not sure we qualified for to navigate these roads. I am sure the locals have no issues with it, but someone from a city not so much.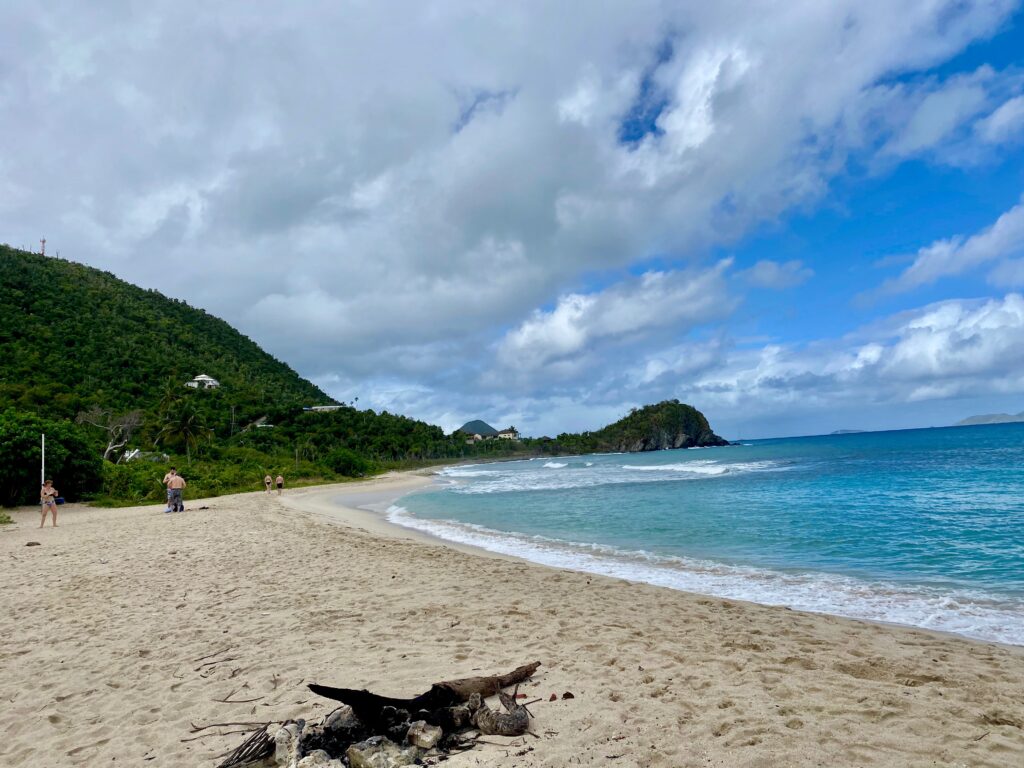 Smugglers Cove Beach
Our goal was to go to the off the beaten path Smugglers Cove Beach, this also may have been our mistake with the roads. Another beach may have had nicely paved roads that weren't up a steep cliff, but we didn't do that so I don't know. The beach itself was one of the most beautiful I have ever been too.
Once we arrived I had an immediate sense of relief and we had an amazing beach morning. There is a small parking area and two stands that sell food and drinks and rent some shabby beach chairs, so not much in the way of amenities, but we put some towels in the sand just enjoyed the beach itself. The water was a bit rough and it is not shallow entry, so definitely watch little ones. Our son loved playing in the sand and we loved how few people were there with us. When we first arrived there may have been 10 people total. It was a beautiful spot to spend the morning and not too far from port IF you can brace yourself for the drive.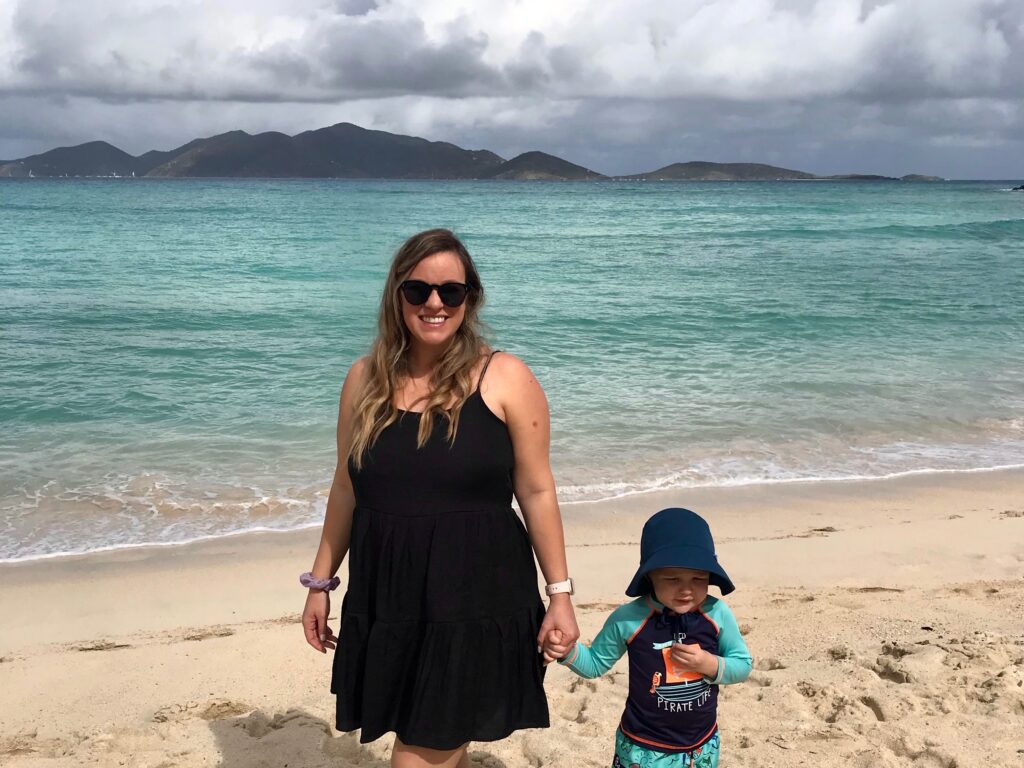 This section contains affiliate links. If you make a purchase using these links we will be compensated. These are products we personally purchased, use, and love. **
Love our beach hat? We do too! Grab one now for your little, green sprouts® Sun Protection Hats! We love all the Green Sprouts products and use their hats for both our boys. They have a variety of fun colors and styles to chose from along with other amazing products for littles.
Getting Back to Port
We took a different way back to the port and the roads were a little bit better. Mainly we skipped the one terrifying steep hill climb, but it felt like most of the roads were pretty much the same. Driving through the towns you can see a lot of hurricane destruction, but also gorgeous cliffside mansions. It was very nice to get a good sense of the island and see what life is truly like there. The marinas are filled with beautiful yachts while a few feet away lay homes in shambles. In general the island is run down, but it is a Caribbean island so take that with a grain of salt.
After we returned to town and returned the rental car we walked through the small port and back to the ship. It was just starting to rain so we didn't shop for any souvenirs, but the port area is very nice and loaded up with lots of shops and restaurants. You could easily spend your morning or afternoon strolling the streets and shops.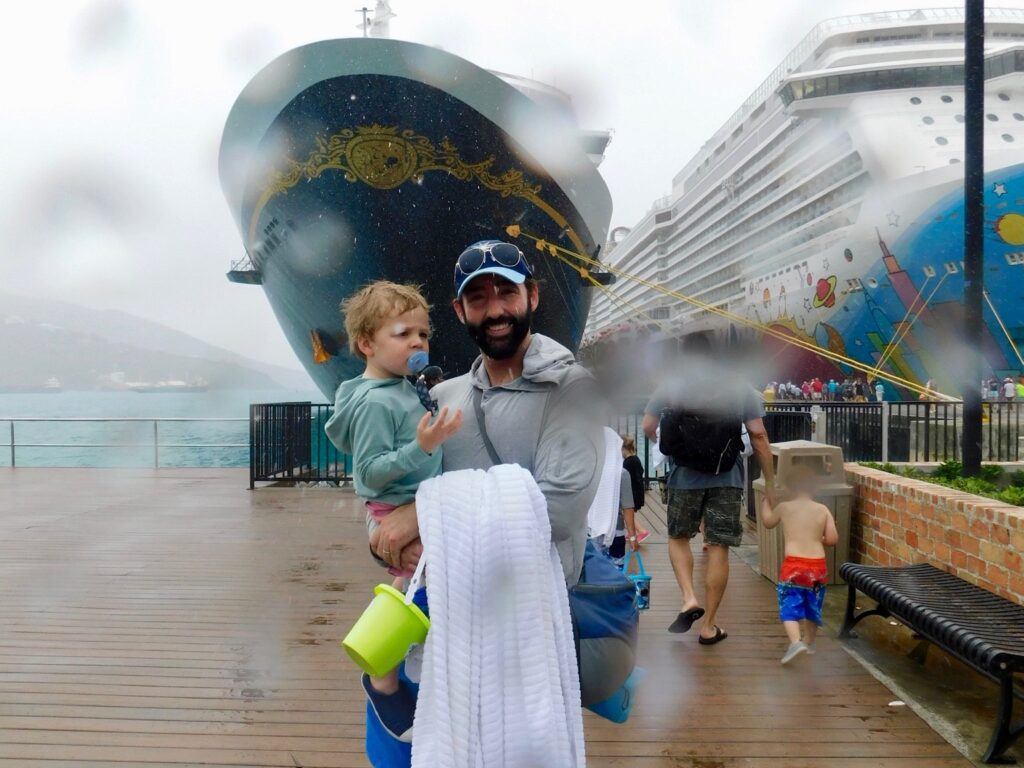 Lunch on the Ship
We got back on the ship around lunchtime and headed to Cabanas for another buffet lunch on the pool deck. This was a perfect scenario for us and our toddler son. We saved some money not eating off the ship and he was able to be back in time to eat and get his normal nap plus it was now raining, so we really lucked out we got back before that happened.
For lunch we had some fish nuggets, macaroni and cheese, rice, steamed veggies, pizza, tuna salad, pasta and my favorite a baked potato bar!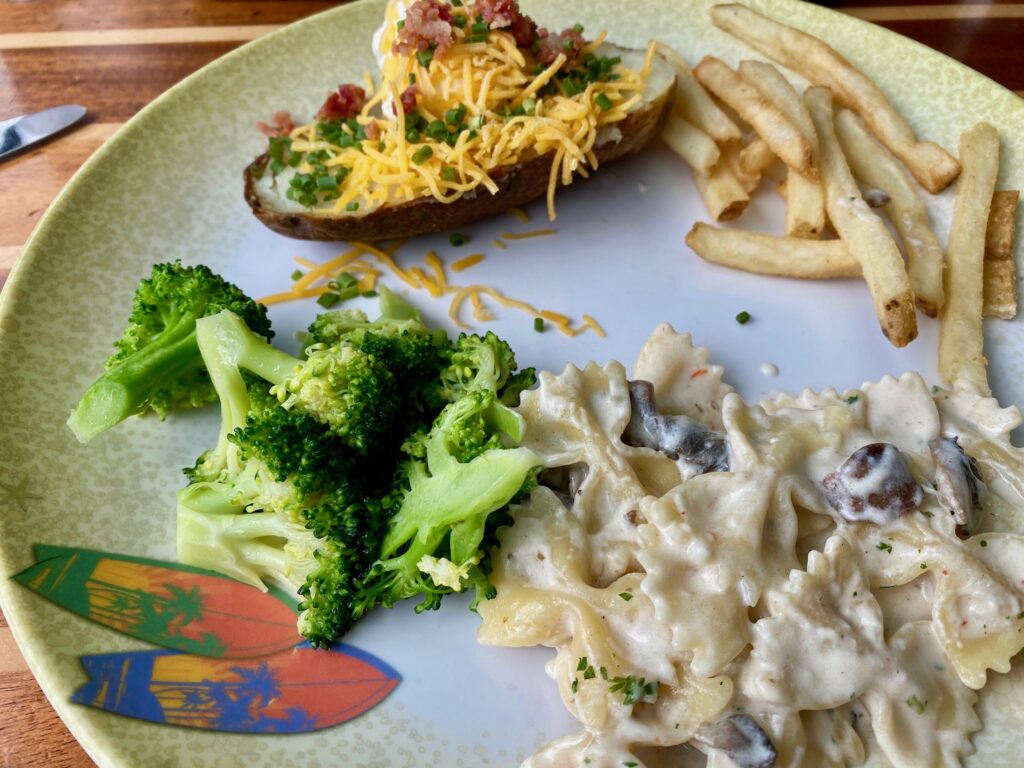 Afternoon Naps and Relaxation
The guys went back to get cleaned up and Killian to nap and I headed to the rainforest room and got coffee from Cove Cafe. Cove Cafe is located in the adult only section of the ship Quiet Cove on Deck 12 and you can pick up delicious specialty coffee and drinks for a small fee and they offer a selection of pasties and snacks that are included with your cruise fare. If you have a sweet tooth or want a light breakfast this is a great spot to grab and go! After I got back to the room with the coffees, Matt and I switched and he headed to the Rainforest room while I got ready for dinner at Palo, an adults only Italian restaurant, and pirate night.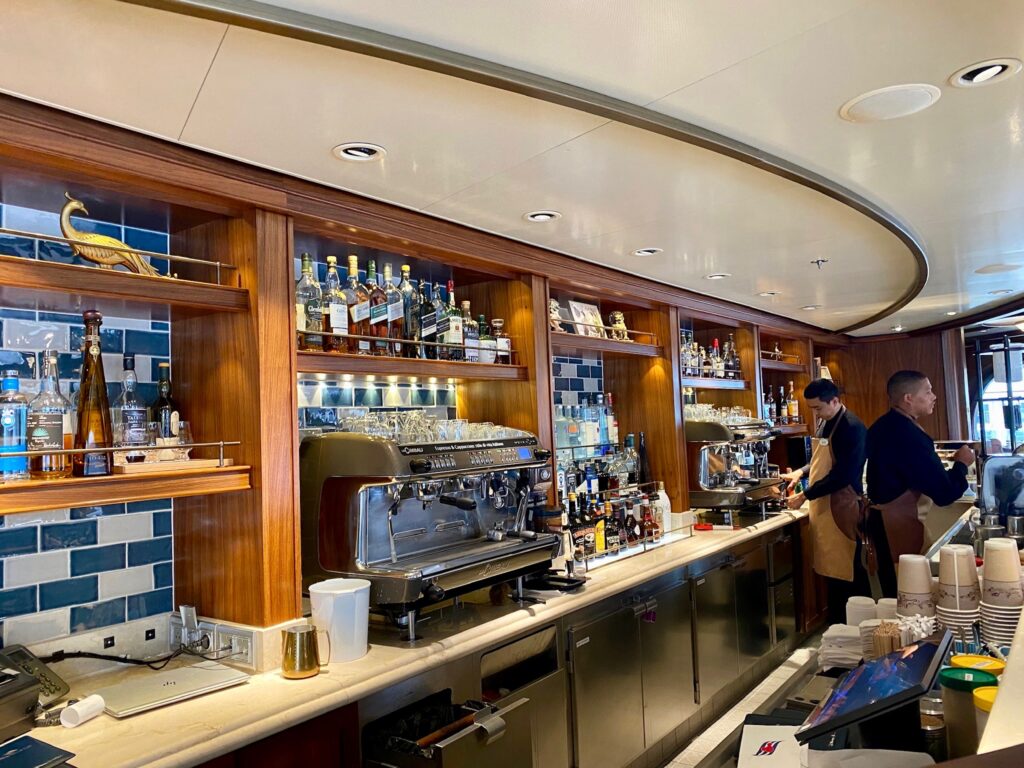 Dinner in Palo
Palo is an adult only reservation recommended restaurant on Deck 12 of the Disney Fantasy. Palo is currently on all Disney Cruise Line ships. It is a high end restaurant with an uncharge and dress code. It is currently $40 per adult for both brunch and dinner. We opted for dinner and I highly recommend it! Reservations can be hard to get so make sure you book this in advance or check for a reservation right after you board the ship the very first day. We chose to eat dinner during pirate night and this is a great option if you don't care as much about the pirate night dinner and it seems to be easier to get a reservation at an earlier time!
After checking in for our meal, we went to the outdoor section of the bar Meridian to wait for our table. We had the earliest reservation time, 6:00pm, so that we could get the amazing port views BEFORE sunset! This is a must!!!! The views from this restaurant are breathtaking. We were seated right by the huge glass windows and got an amazing view of the ship pulling away from port right as the sun went down. Extremely romantic for our babymoon, any special occasion or just a date night!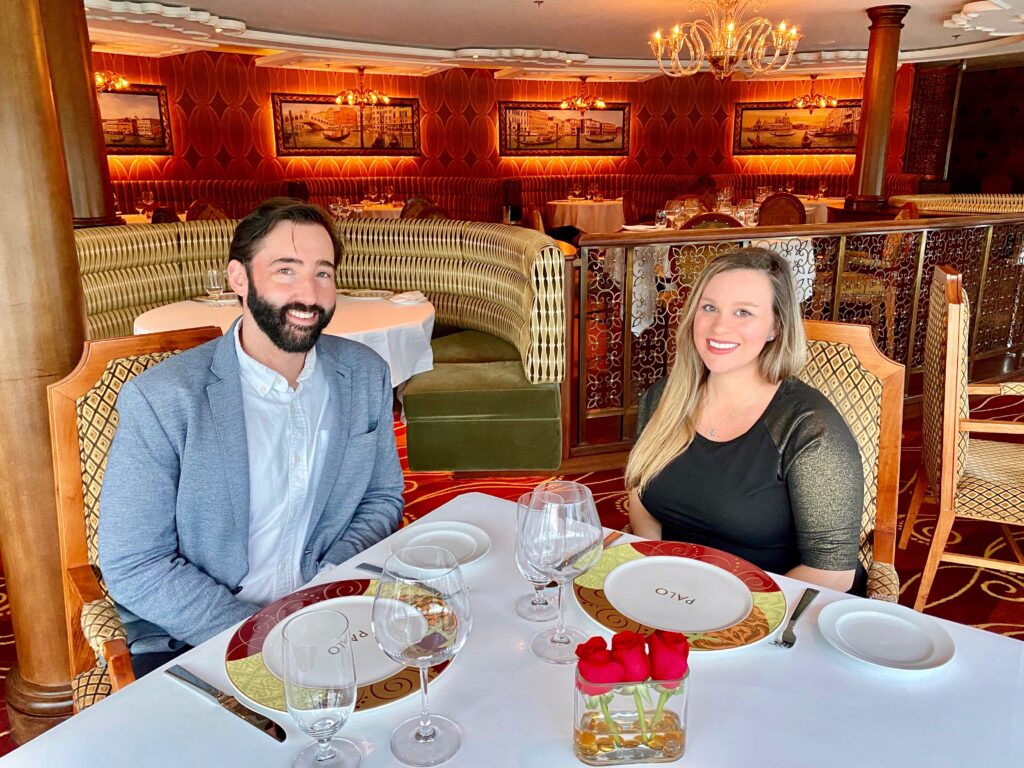 Meal at Palo
This is a higher end multiple course meal. You can order as many things as you want and treat treated us like royalty! We started the meal with drinks. Matt ordered a glass of red wine of the waiters suggestion and I ordered iced tea, which they said they were famous for because they make their own ice cubes out of the iced tea itself. He wasn't wrong, it was delicious!
To begin the meal we were brought an amuse bouche, which was a small bite of a delicious fried gnocchi. For my antipastas I ordered the Tomato Mozzarella Caprese and Matt ordered the Tuscan White Bean Soup. Both were excellent, but I liked mine better. We were then presented with a lemon sorbet palette cleaner. It was extremely refreshing! For pastas Matt ordered both the Gnocchi and the Ravioli and I ordered the Paccheri, which was a lamb ragu. The Paccheri was definitely the hit of the entire meal, it was to die for. For our main entrees, I ordered the Parmesan Crusted Rack of Lamb and Matt ordered the Osso Buco. Again both were excellent!
For dessert, we both got soufflés. I ordered their signature chocolate souffle which came with a side of vanilla gelato and Matt ordered the Amaretto which was sided with an espresso gelato. Both incredible and I'd order either depending if you are a chocolate person! To finish the meal we were offered a digestif and they made me a special non-alcoholic version. The entire meal was incredible and you won't leave hungry as it was more food than I could ever eat! I would go back again and again. Don't let the small up charge scare you away. It is absolutely worth it.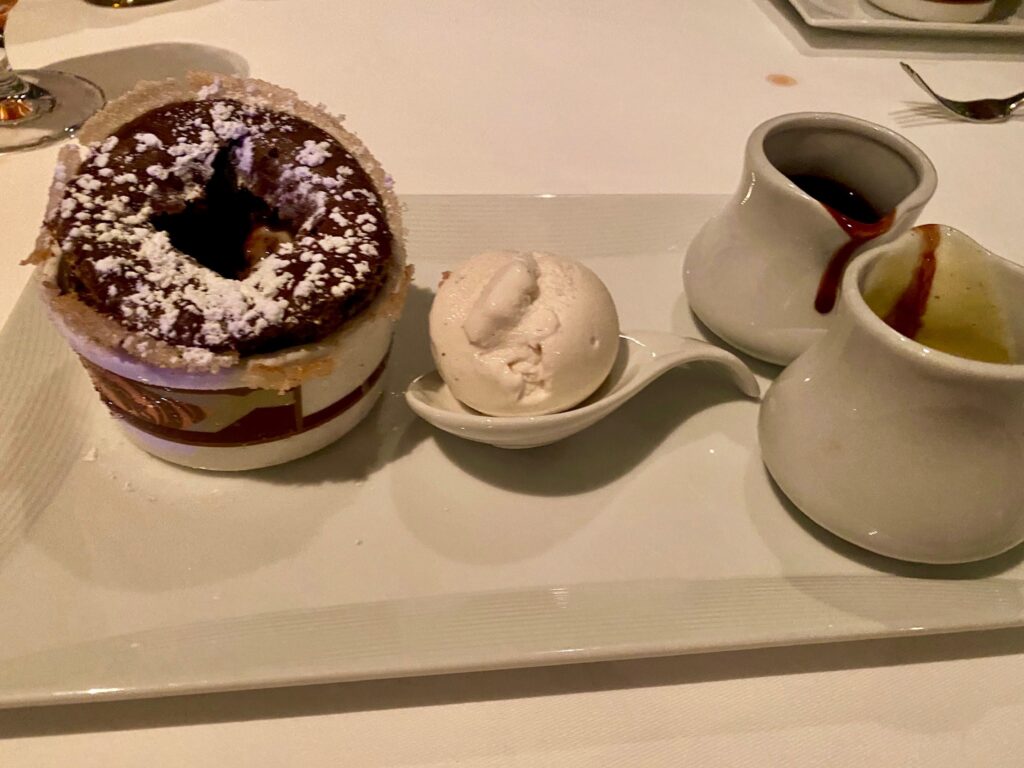 What do with your Toddler if you are eating in an adult only restaurant?
This is where Disney Cruise Line excels! If you want to dine without your child of any age you can on Disney Cruise Line. For this dinner, our son went to the nursery, which has a small fee per hour and he ate dinner there. They serve meals each day during lunch and dinnertime if you wish to dine in one of the adult only restaurants or if you want to eat a meal without your child for whatever reason. It is a kid friendly meal, I believe it was mac and cheese with veggies on the side that night. They let you know when you pick up if you child eats or not, but they do not force them too eat they just offer the meal. Of course our hungry hippo ate.
The kids clubs also offer meals and if you have an older tween or teen they can eat on their own in the buffet, during your regular mealtime or one of the many quick pickup places around the ship. While our son was in the nursery that evening Pirate Stitch even came to see the babies and toddlers! I was kind of sad (or jealous) that we missed his encounter with Stitch, but how cool is that?!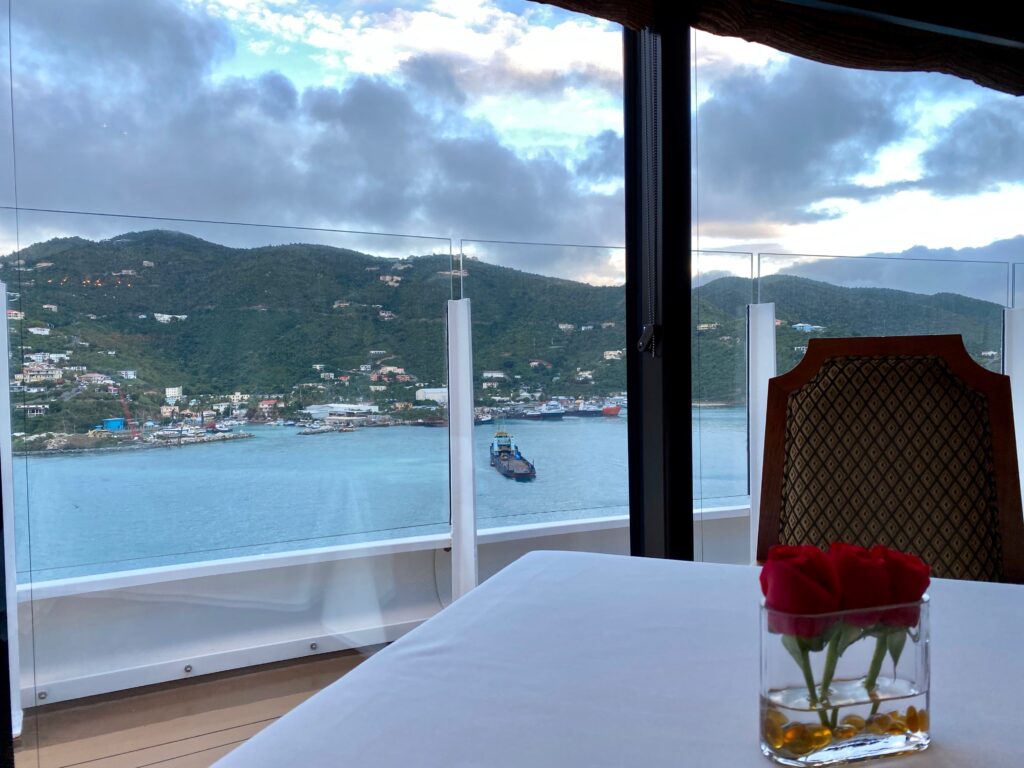 Pirate Night
After dinner Matt picked up Killian from the nursery and they saw Goofy and Pirate Mickey. We headed up to the pool deck and we had missed the Mickey pirate show that happens on Pirate night typically around 7:30 pm and the pirate dance party that happens after had just ended, but we still walked around and pirate movies were playing on the funnel vision. We let Killian run around on the pool deck (they cover the pools for this evening) and then we headed to meet Captain Hook and Smee.
Matt walked around with Killian while I waited in line for the meet and greet. They ran into Pirate Mickey again!! on deck 5 and I saw it from a far. It was so adorable watching Killian run to hug him. We were all very tired and it was a bit past bedtime so we skipped the later pirate night show and fireworks. This typically happens around 10:00pm. The show was good not great on our past cruise, but the fireworks are amazing! We had done it before, so felt okay skipping it this time. Typically there is also a midnightish pirate night buffet, since our cruise was a Star Wars Day at Sea, the buffet happened during that day instead of on pirate night, but good to be aware so look for that!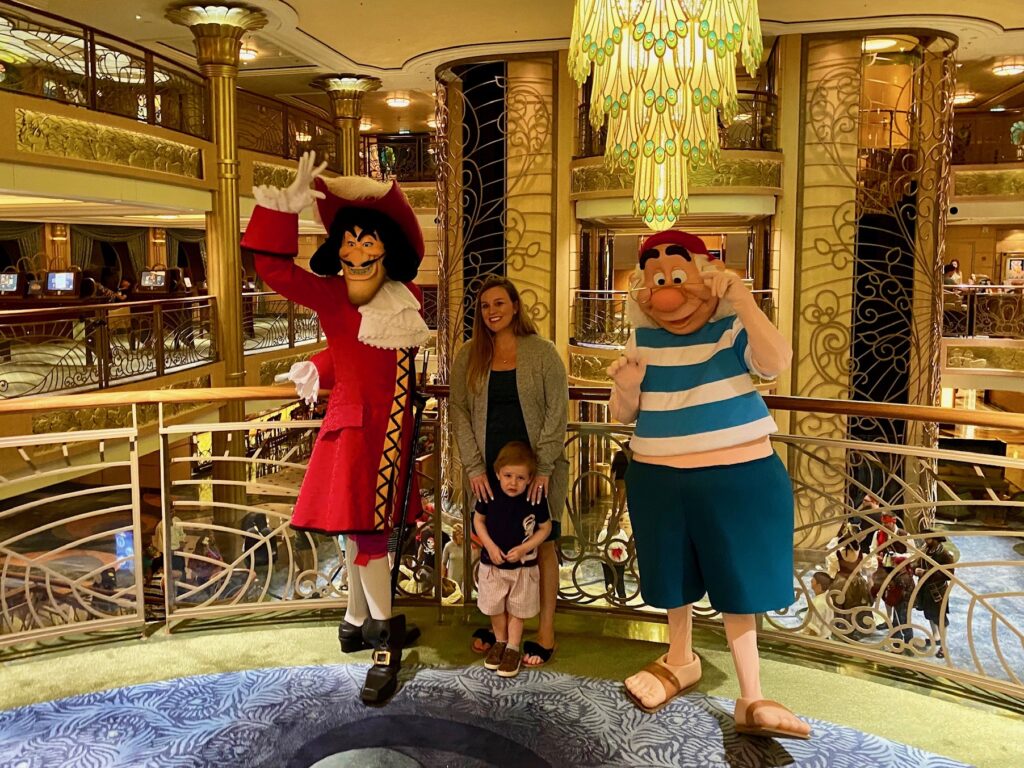 Off To Neverland (sleep)
After a very exciting day in Tortola, dining at Palo and then the pirate night fun meeting characters we were definitely ready for bed. We skipped the pirate night show and opted for bedtime to be well rested for our next day in St. Thomas.
Stay tuned for details from Day 5 and our second port of call, St. Thomas, USVI!