Back in February 2020 right before the world turned upside down we took an amazing 7 night Eastern Caribbean cruise on the Disney Fantasy for one last vacation as a party of 3! This was our way of doing a babymoon keeping our toddler involved. Yes I know this is not really a babymoon, but whatever. We did a European babymoon when we were pregnant with our first son and wanted to do something exciting, but not exclude him. A Disney Cruise with our toddler was the perfect option for rest, relaxation, and adventure for the entire family.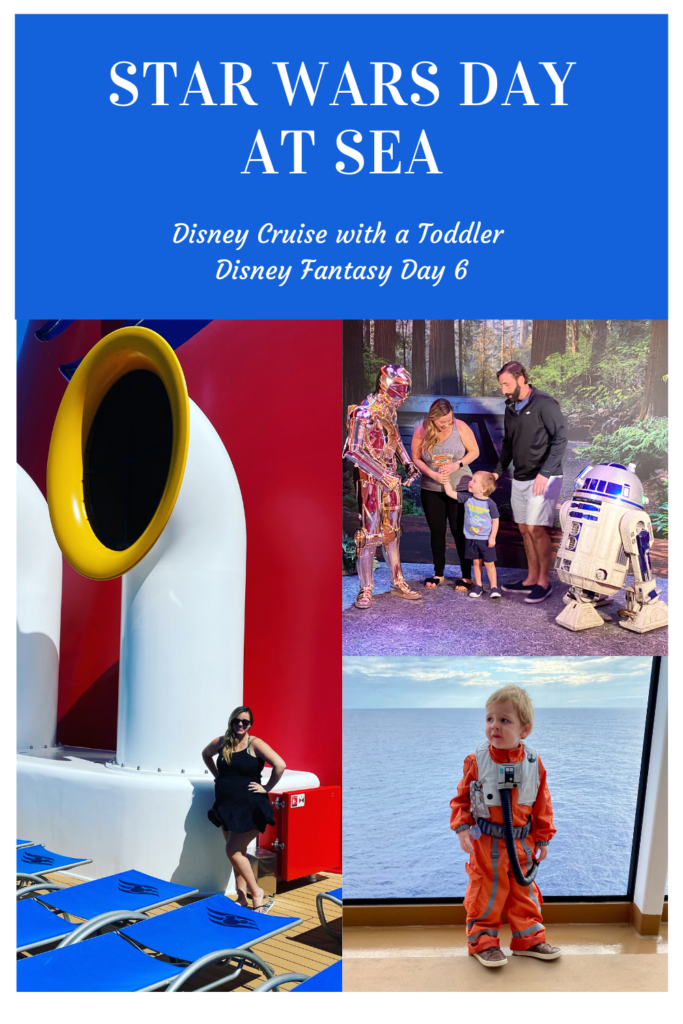 It has taken me a bit longer than expected to finish up this blog series, but new baby and 2020…. This post is about Day 6 on a PRE PANDEMIC CRUISE THINGS MAY BE TOTALLY DIFFERENT in the future, I'll let you know once we cruise again… anyways today was one of the most exciting of the cruise as it was Star Wars Day at Sea. If you want to read about Day  5 first click here
Day 6: Star Wars Day at Sea
Breakfast in Cabanas
Before our early meet and greet, we headed up to Cabanas for breakfast. Of course we sat in our favorite location outside on the aft patio. I love sitting out there for less crowds and amazing views of port. For breakfast we got an assortment of fruit, smoothies, omelettes, hash browns, bacon, donuts, and pancakes. We tend to get a variety and share it all. There is so much variety at breakfast including international options, I really cannot imagine you will have an issue finding your child (or adult) something to eat.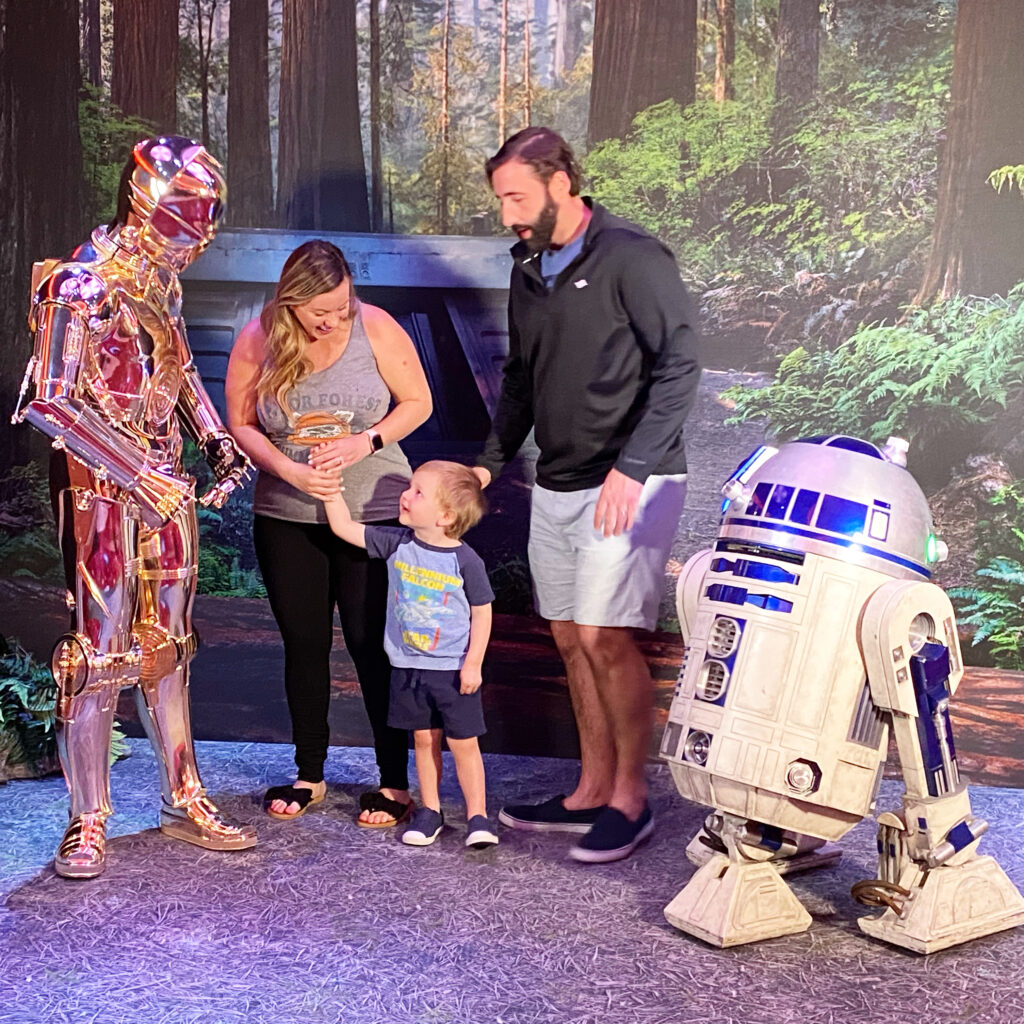 Star Wars Meet & Greets
It was really exciting walking around the ship, because from the time we woke up people were already dressed up in Star Wars gear and meet and greets and activities were going on.  We had an early morning meet and greet reservation with R2D2 and C-3PO. This was the number 1 meet and greet I wanted because you can not meet these characters at the parks or anywhere else that I am aware of! The meet and greet was fantastic, interactive and we loved saying hi to our favorite droids.
In the afternoon we had meet and greets reservations for both Chewbacca and Darth Vader. Our son dressed up for the afternoon greets and we loved all of our incredible interactions, but we didn't get the best photos. I will consider buying the photo package next time, because our meet and greet photos just did not turn out well this cruise. I'm not sure after covid if the photographers will even allow taking photos with your own camera next cruise. It seems like that is probably a thing of the past, so plan accordingly to check before you cruise.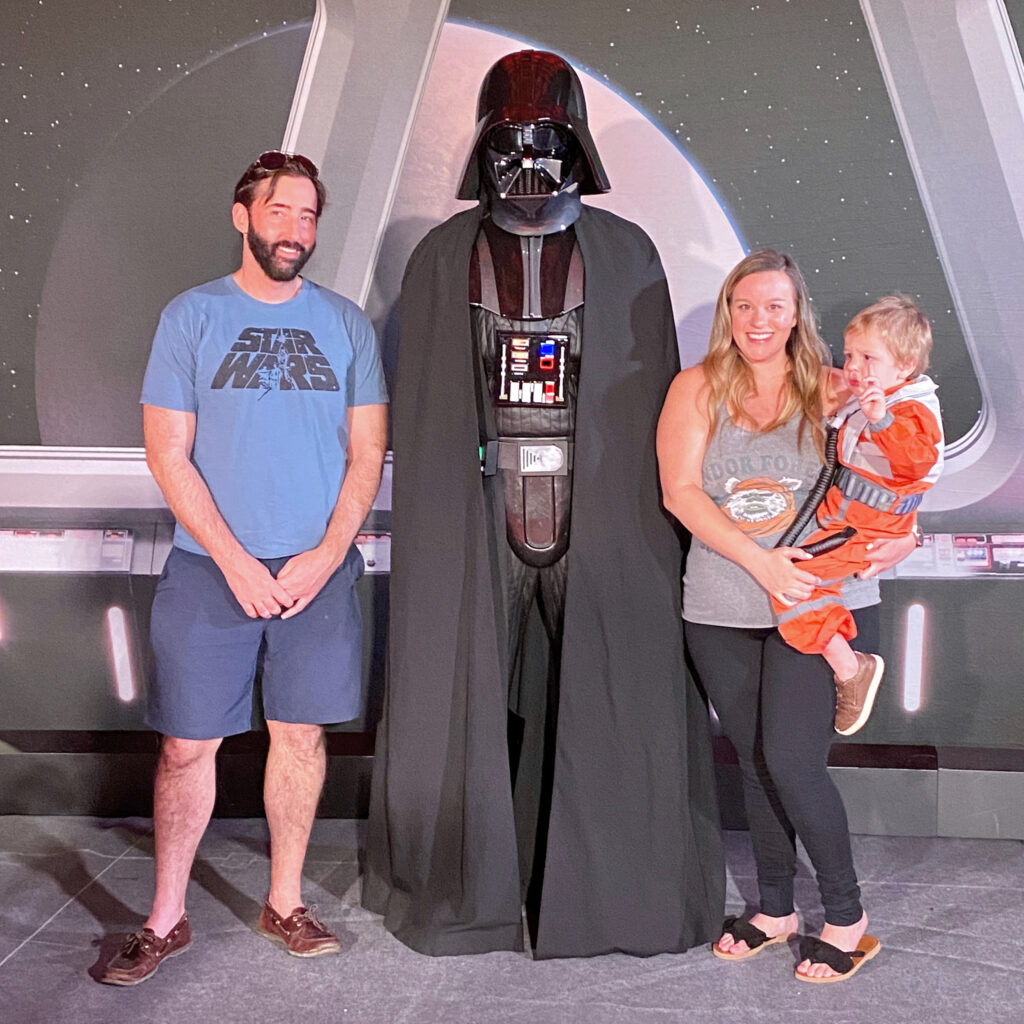 The meet and greets are free and happen in various locations around the ship. Check your reservations carefully so you know not just when, but where to go. We reserved reservations in advance of sailing. You can sign up online or on the app before sailing according to your status with DCL, we are silver, so we got to sign up 90 days prior to sail date. They are first come first serve reservations. The higher your DCL status the easier time you have reserving things in advance. However, if you don't get something you want in advance you can check with guest services once on board. We've moved reservations, added, and changed them on board and have never had an issue getting something we wanted.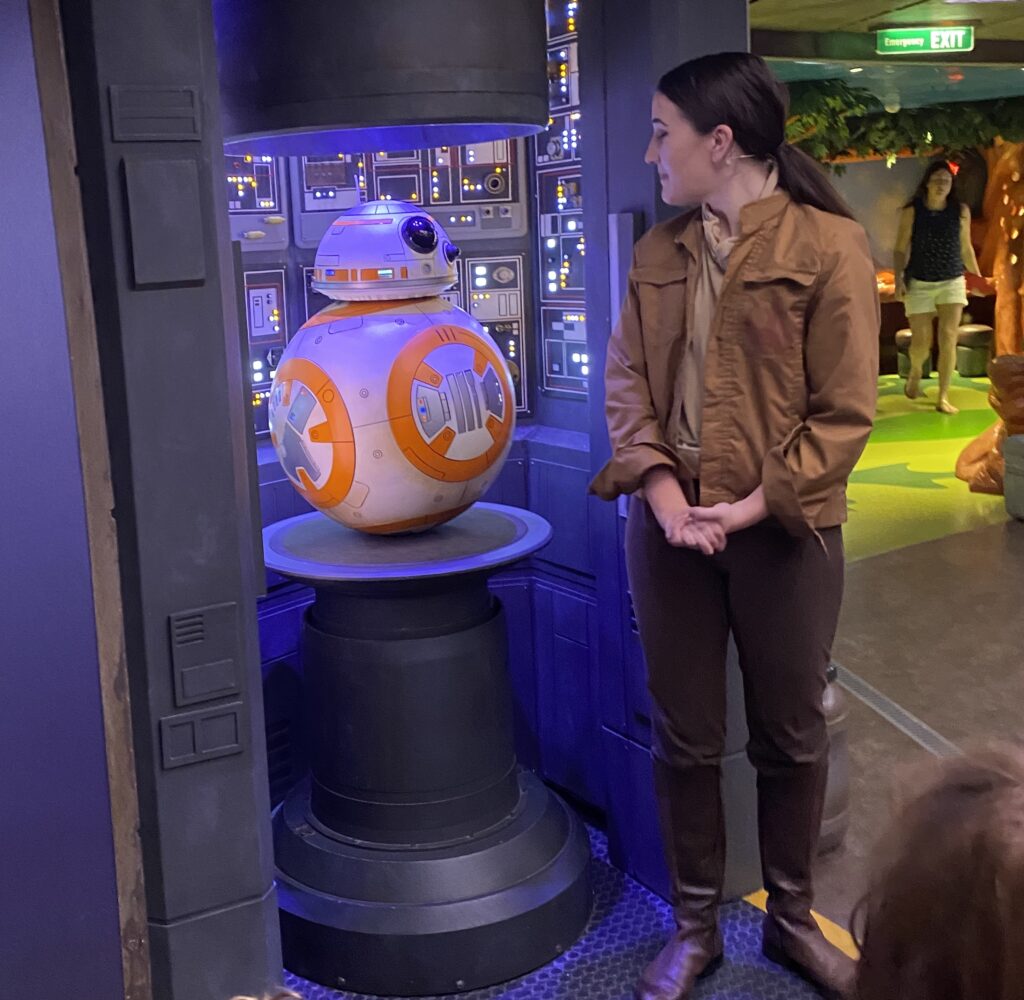 Star Wars Activities
Coloring Time
After our meet and greet there was a little coloring hour in one of the lounges. This was perfect for our toddler and we all had fun doing a little drawing. There were plenty of coloring pages, markers for every, and it was really calm and quiet with some nice Disney music playing. This is great for kids of all ages and adults!
Meet BB-8 in the Kids Club
Once we were done coloring we headed for more kid fun in the oceanears club. They have a Star Wars section of the club and BB-8 occasional makes a scheduled appearance. During Star Wars Day at Sea one of these times was during the open house hours so all ages could attend. This was really fun and everyone loved it. It was very crowded, so show up early to be able to see BB-8 well and interact.
We also spent time playing in the club before and after this activity, including doing a little make your own BB-8 craft. Our toddler who normally loves crafts, was not interested in this craft at all because they had iPads in the same location, so major fail on that one for us. We glued the BB-8 together for him and took it back to our cabin. We let him color it later in the day and this worked well for us. He had so much fun playing in the kids club rather than doing the craft though.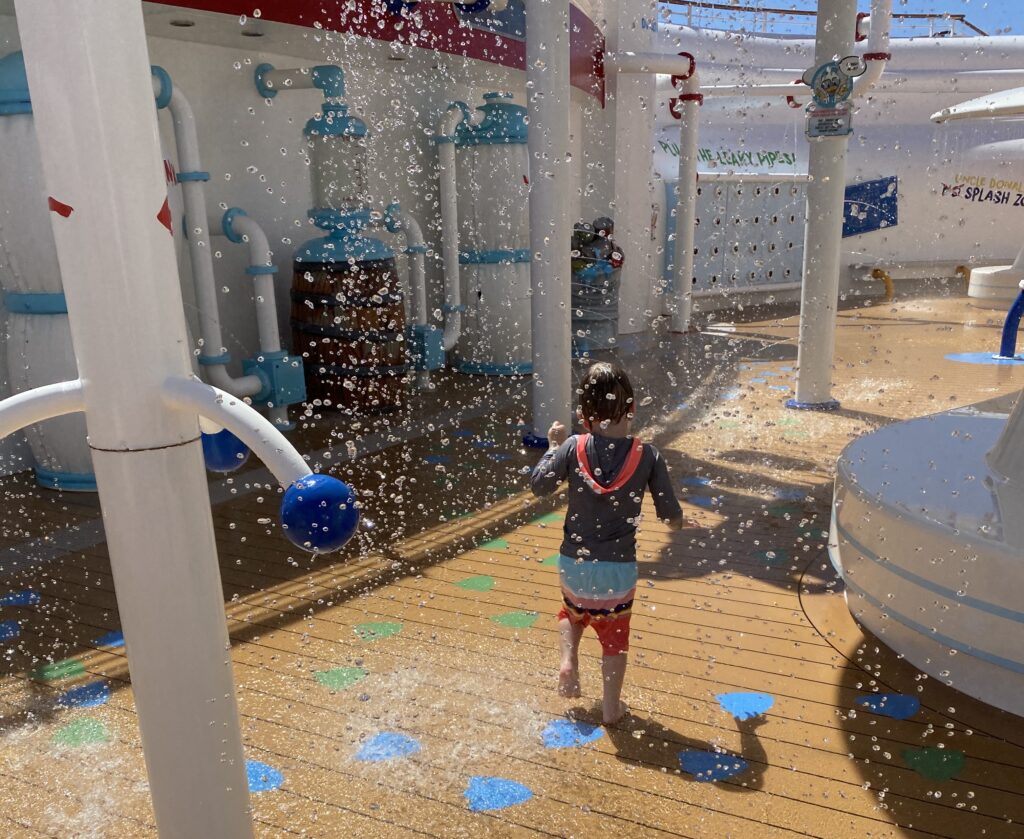 Storm Trooper and Fun on the Pool Deck
The pool deck is a hopping place on Star Wars Day at Sea. It is absolutely packed and for good reason. Storm Troopers patrol the pool deck along with many little scenes played out with various characters including Rey. Star Wars movies and shows play in the background on the funnel vision. We had a blast playing in Nemo's Reef splash pad for hours (with many breaks). Nemo's Reef is the only place on board children in swim diapers can play. If your child is potty trained they can play in the pool or other splash areas. Our son was 50/50 at this point, so we did not venture for him to go in the pool just in case, but did go in the other splash areas since he was very good and told us when he needed to go to the bathroom.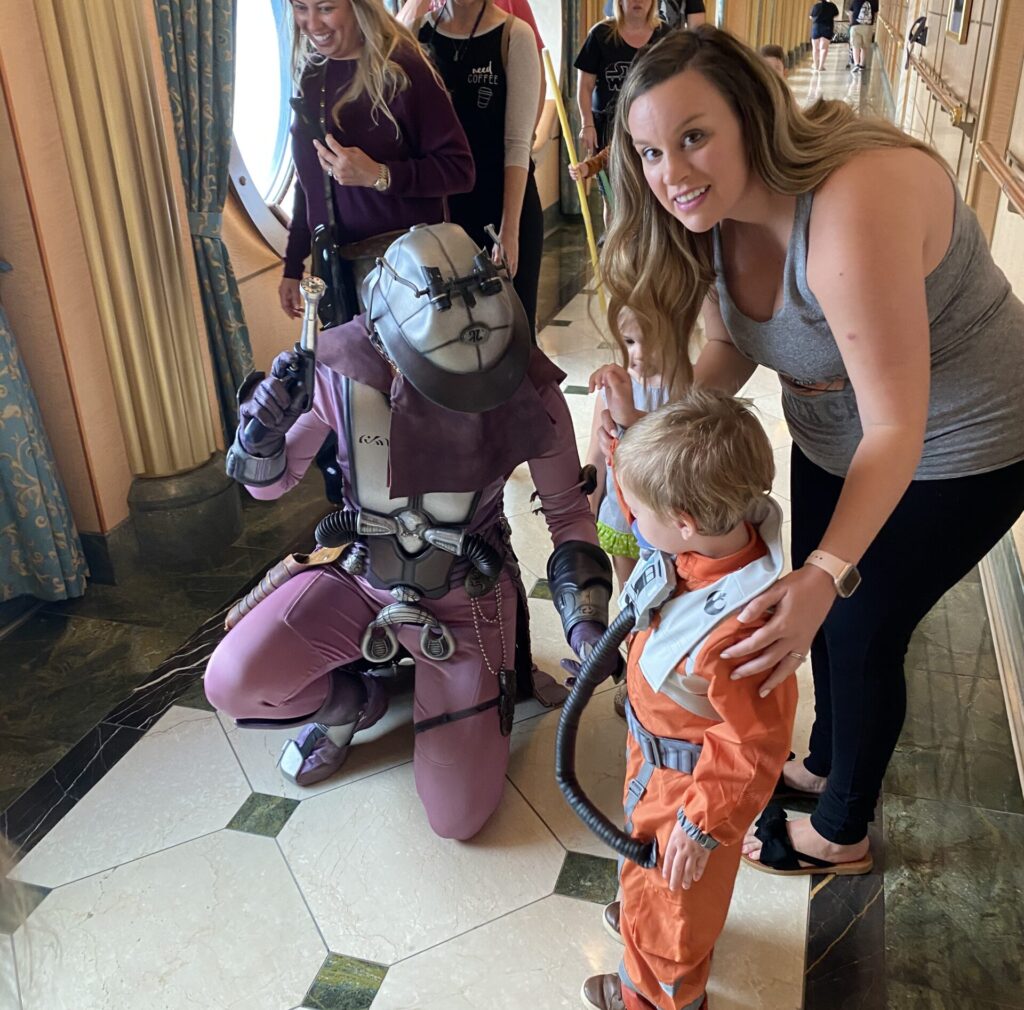 The characters walking around the pool deck and ship interacting. It is INCREDIBLE. This is honestly the highlight of any Disney cruise. You truly feel like the characters are on board and part of the cruise experience with you. They just randomly show up at unscheduled times and are all happy to talk and interact. We saw and interacted with many characters including, Storm Troopers, Boba Fett, Jawas, Rey, and more. Many characters that you typically wouldn't see in a theme park or anywhere else making this a truly unique and once in a lifetime experience for any Star Wars fan.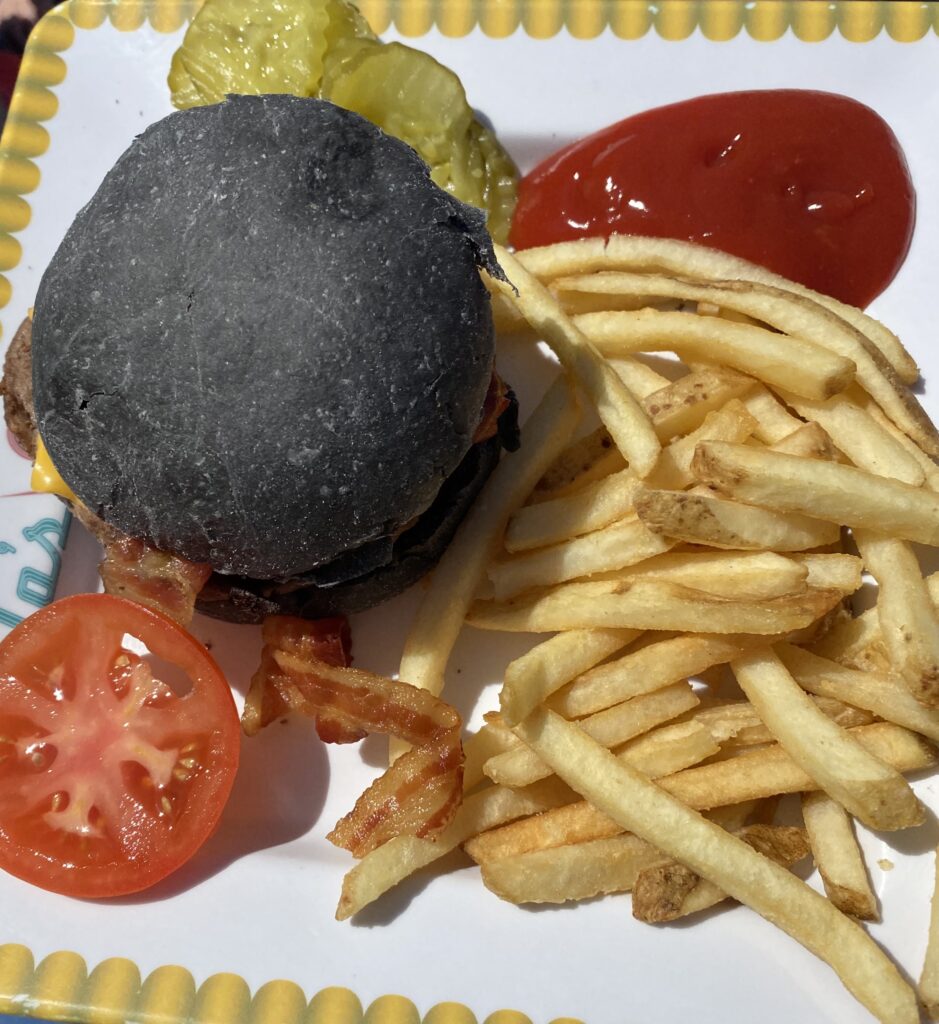 Lunch from Flo's V-8 Cafe
Since we were on the pool deck and having so much fun, it just made sense for me to run and get a quick lunch from Flo's V-8 Cafe. They had special menu items for Star Wars day including a special burger and sandwich. We had the Gorba Melt (panini) and the Boba Fett Burger (black bun bacon cheeseburger) and honestly they were delicious! The themed food this day seemed to be the best of the whole cruise and you could find items in many locations.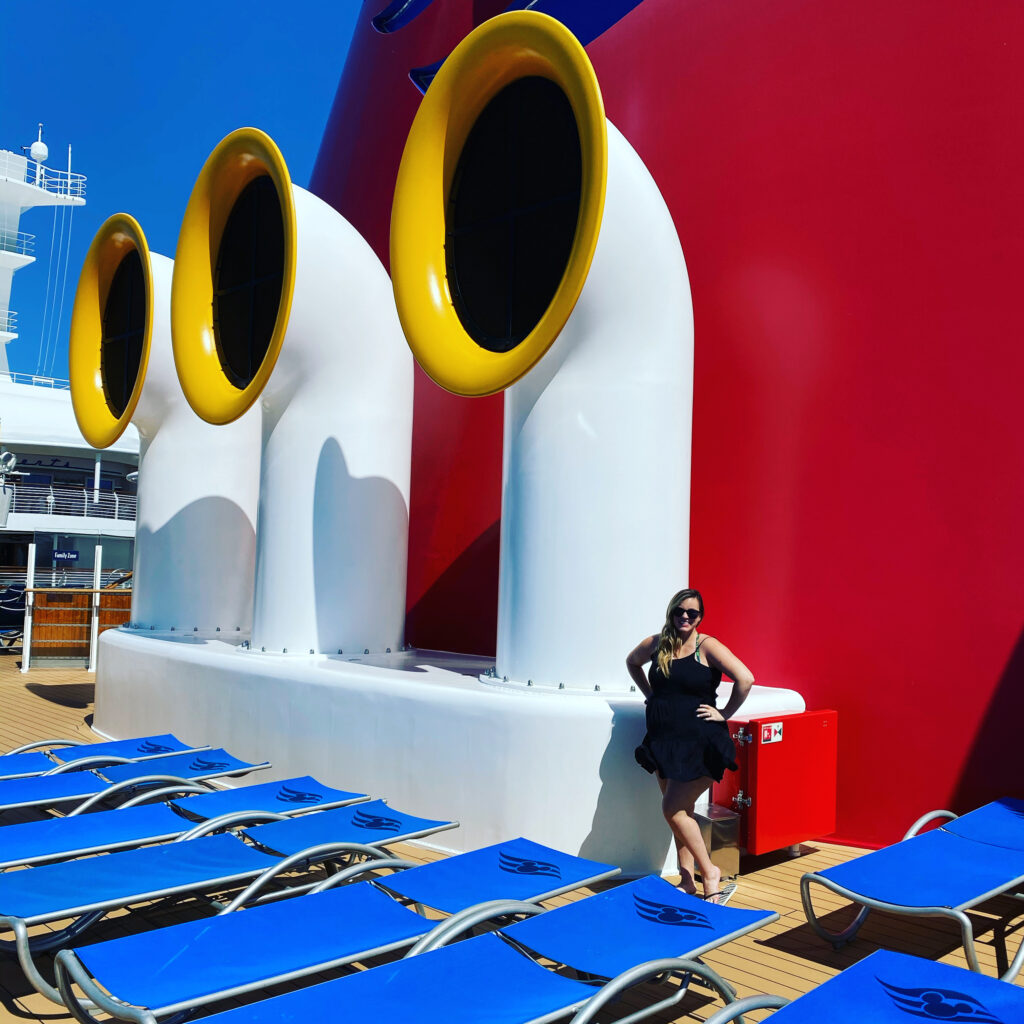 Afternoon Naps and Relaxation
The guys went back to get cleaned up and the toddler nap while I headed to the rainforest room and get some delicious coffee and treats from the adults only Cove Cafe. They offered special Star Wars themed treats for the day. I headed back to the room with a special coffee for Matt, so we could switch and he could have free non child time, but he decided he wanted to nap instead. I relaxed on our balcony while both boys slept before we all got ready for dinner.
After naps we headed to the kids club for a bit of open house play time and walked on the promenade deck before dinner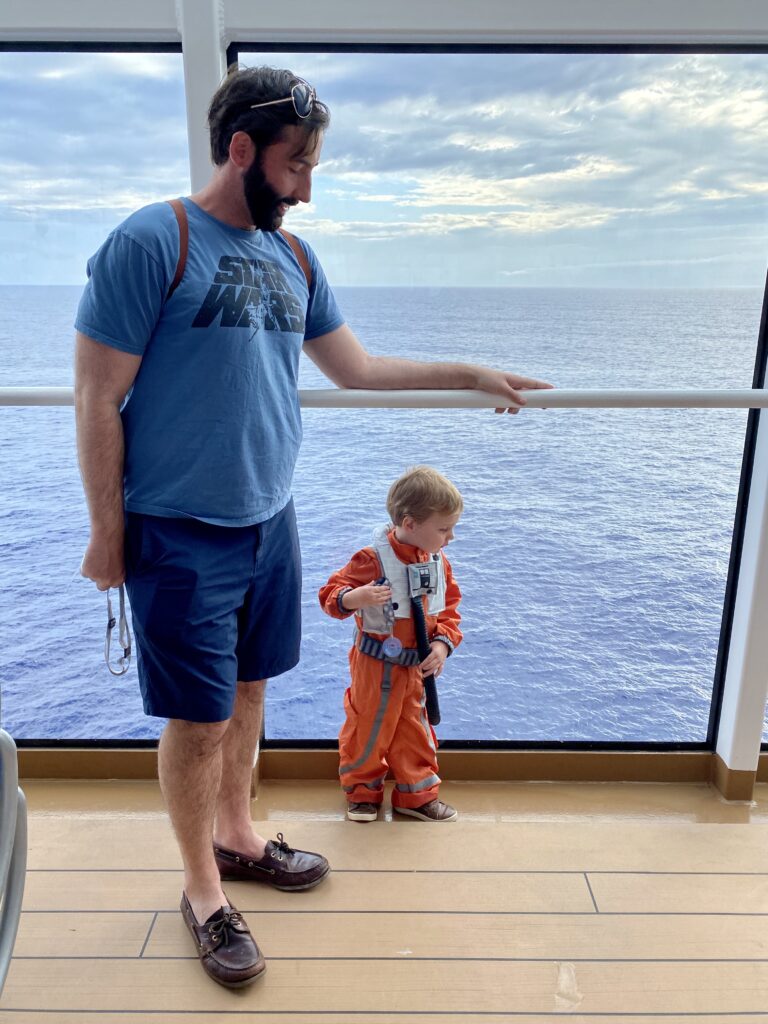 Star Wars Dinner at Animators Palate
Animators Palate
Animators Palate is one of the three main dining rooms on board Disney Fantasy. Each night of the cruise you rotate with the same dining staff to the three different dining rooms. We love this part of Disney cruises as. Your staff stays the same and remembers your likes and dislikes while you get to experience new dining areas. Animators Palate is really fun with toddlers because of the large screens throughout the room and fun special things they do during the meal.
Star Wars Dinner
Tonight's meal however was Star Wars themed with a special menu that everyone eats in every dining room (besides the adult only restaurants), so it does not really matter this night which dining room you are in. This dinner was by far our favorite of the main dining room meals. The menu was delicious and had so many awesome offerings. We started with Sand People Salad, Bantha Steak Empanadas, and Gungan City Dumpling Soup. For our main entrees we had Qui-Gons Crisp Chicken while our toddler had grilled chicken. Desserts we had the Cloud City Macaron. Everything we had was absolutely delicious and I'd order it all again.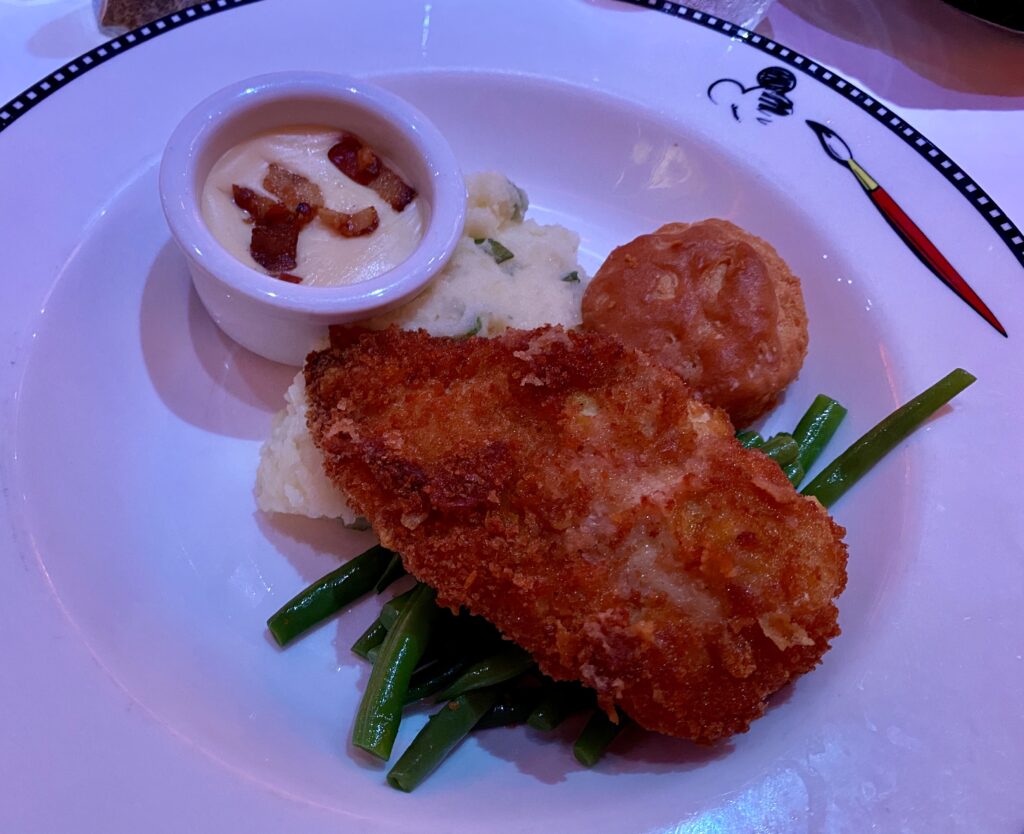 After Dinner Activities
Our toddler went to the nursery as soon as he was done with his meal and had a blast playing with all the other kids and cast members. He really did well this cruise in the nursery and loved it. Us adults went to relax in the adult hot tub in quiet cove and spent some more time in the rainforest room. It was empty this evening and absolutely relaxing since most people were doing one of the many Star Wars activities and shows elsewhere on the ship. After we picked up our son from the nursery we watch the BB-8 droid races before the big nighttime Star Wars show began.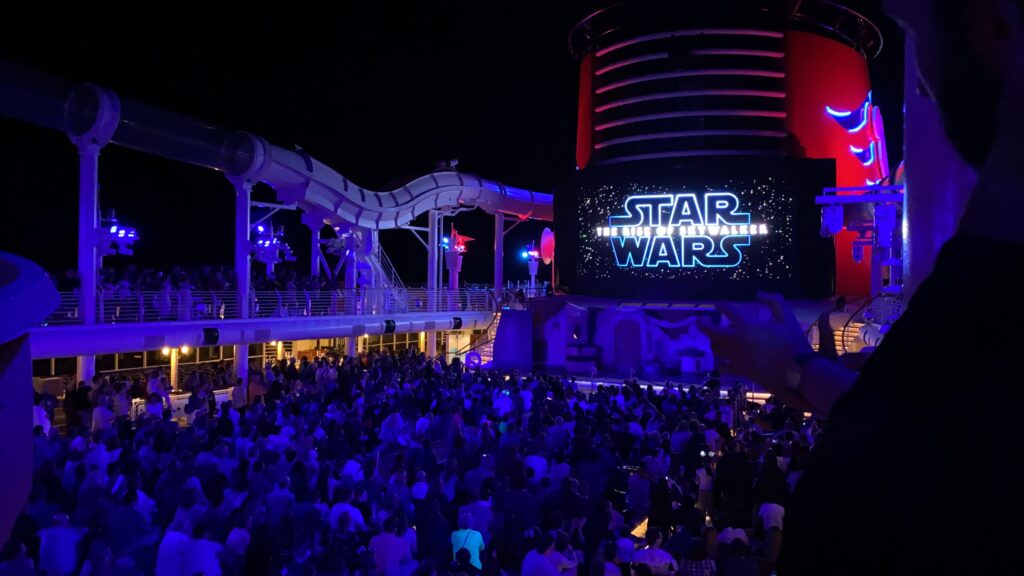 Star Wars Deck Show
This Star Wars show is really the highlight show of the cruise. It happens up on the pool deck in front of the funnel vision and is packed with every major (and plenty of minor) characters. It is extremely interactive with characters walking around the deck. The show was Disney quality amazing and I don't want to give away too much, but any fan will love it! The showstopper is at the end with a huge firework show at sea set to the Star Wars theme song. This is an experience you do not want to miss if you are on a Star Wars Day at Sea cruise and worth it to keep our child up later than any other night of the cruise, since this happens late at night!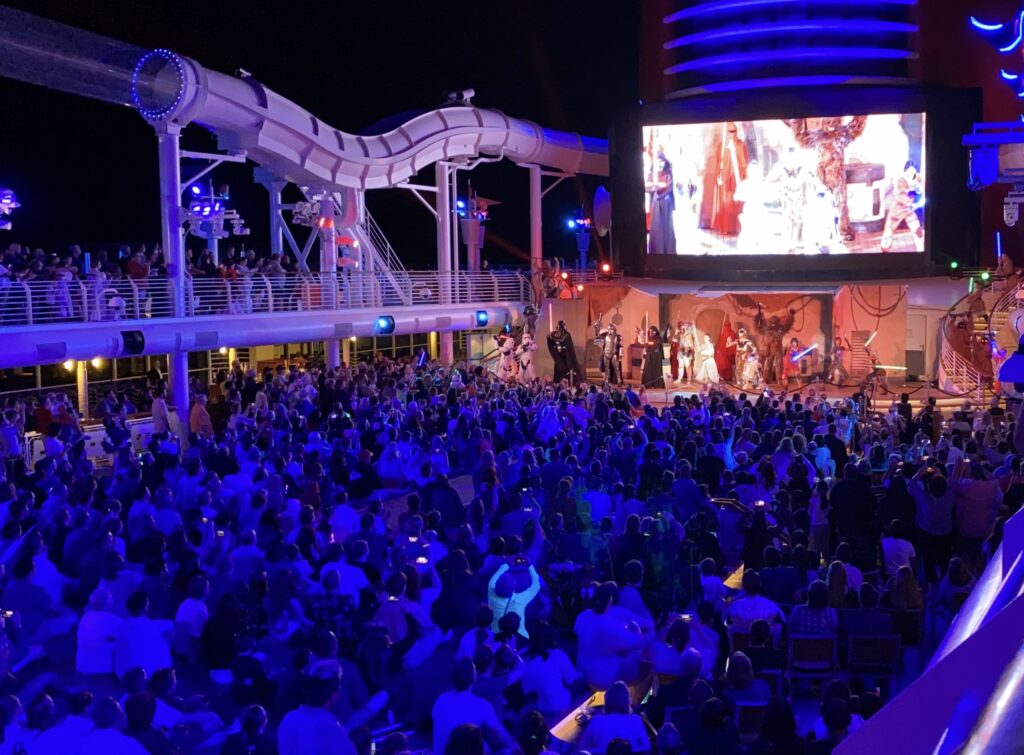 Day 6 Star Wars Day at Sea was a total highlight and something that we may never experience again and was 100% worth booking this cruise for! Stay tuned for details for our last day, Day 7 and our favorite little island Castaway Cay.