Back in February 2020 right before the world turned upside down we took an amazing 7 night Eastern Caribbean cruise on the Disney Fantasy for one last vacation as a party of 3! This was our way of doing a babymoon keeping our toddler involved. Yes I know this is not really a babymoon, but whatever. We did a European babymoon when we were pregnant with our first son and wanted to do something exciting, but not exclude him. A Disney Cruise with our toddler was the perfect option for rest, relaxation, and adventure for the entire family.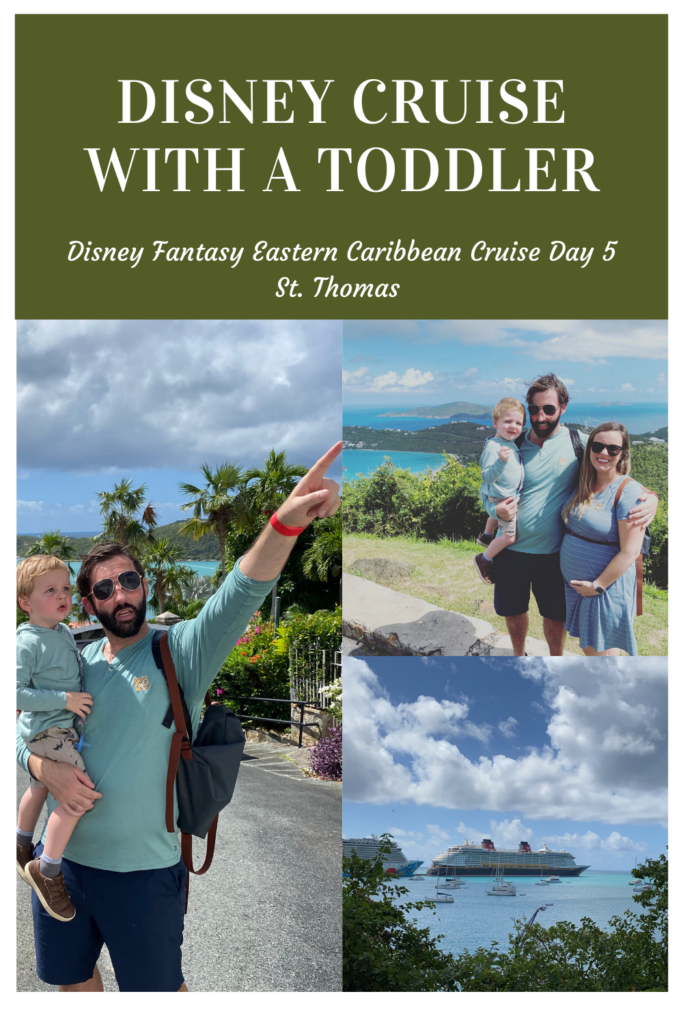 It has taken me a bit longer than expected to finish up this blog series, but new baby and 2020…. This post is about Day 5 on a PRE PANDEMIC CRUISE THINGS MAY BE TOTALLY DIFFERENT in the future, I'll let you know once we  cruise again… anyways today we docked in St. Thomas, U.S. Virgin Islands. If you want to read about Day  4 first click here
Day 5: St. Thomas, U.S. Virgin Islands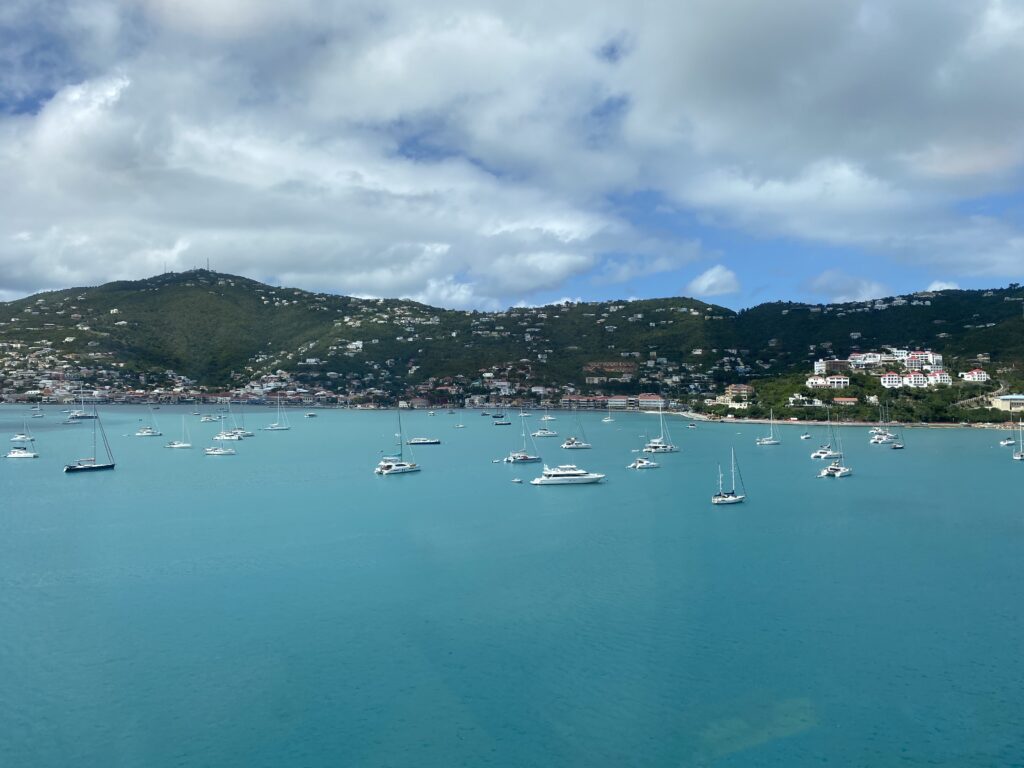 Docking in Port
The day prior we watched the ship dock in Tortola and it was great, so we decided to do it again! Our son gets up early and we had a port side room, so the view was great. I highly recommend doing this at least one day if you have a verandah room port side or if you don't head to deck 4 or 11 It was very cool to watch how they did everything including shoot the cables from the ship like dart guns! It was a long process, but even our two year old enjoyed watching them work. With gorgeous background views you really can't beat that. Being on deck 9 forward we got a great view of the captains on the bridge steering the ship!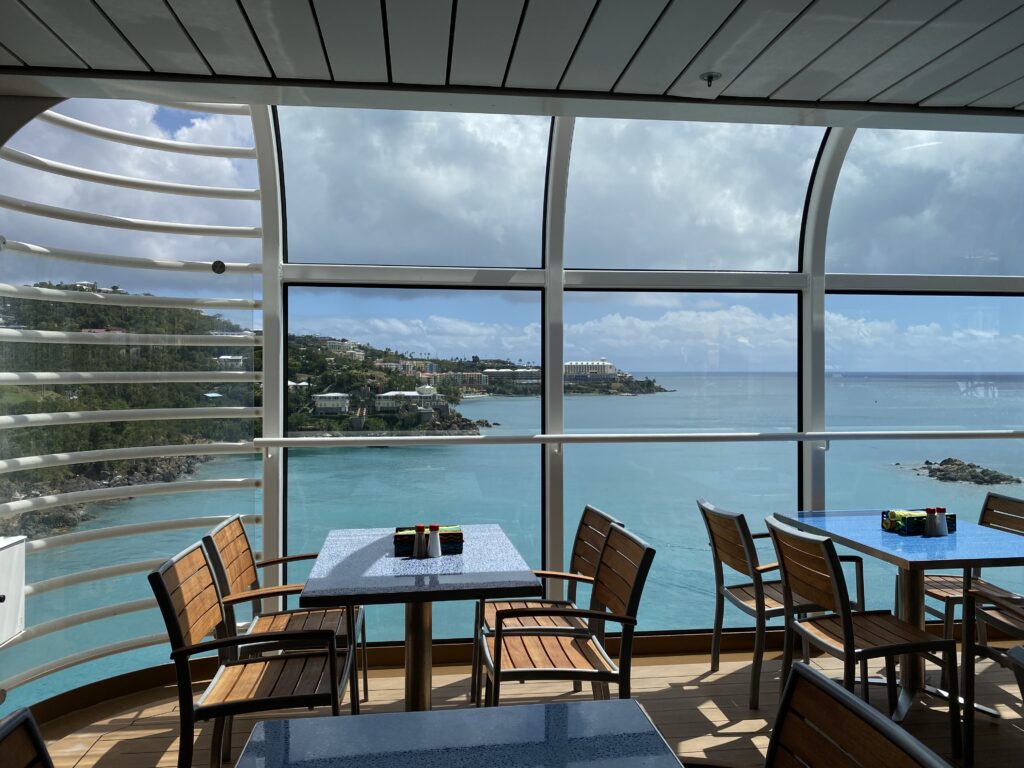 Breakfast
On port days breakfast times are a bit earlier with continental breakfast starting at 6:30am and 7:30am for the full buffet in Cabanas. We headed to Cabanas for the full breakfast and sat in our favorite location outside on the aft patio. I love sitting out there for less crowds and amazing views of port. For breakfast we got an assortment of fruit, smoothies, omelettes, hash browns, bacon, donuts, and pancakes. We tend to get a variety and share it all.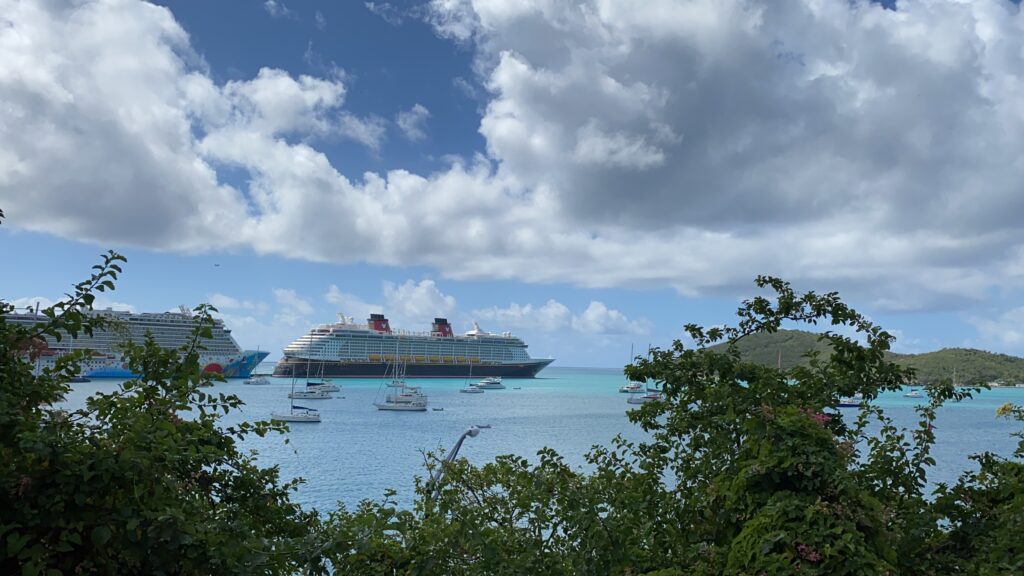 Getting Off the Ship
After the ship is docked and cleared by the port, there will be an announcement as to when you can disembark for the port. If you have a scheduled port adventure your tickets will be delivered to your room the day prior and will have a location and time to meet. You will head there before disembarking UNLESS your ticket says to meet somewhere in port, so read them carefully and don't be late. If you do not have a scheduled port adventure you can get off at your leisure once they give the all clear. You will need your key to the world card for each member of your group. Pay attention to the ships requirement on what form of ID you need to take off as well, in some ports you may need a passport in others you may just need a drivers license.
RUMOR I'VE HEARD IS THAT POST PANDEMIC AT LEAST TEMPORALITY YOU HAVE TO DO CRUISE SHIP PORT ADVENTURES IN ORDER TO DISEMBARK AT ALL. I WOULD IMAGINE IF THIS IS THE CASE, YOU'D LEAVE THE SHIP WITH YOUR TOUR GROUP. NOW TO CONTINUE AGAIN.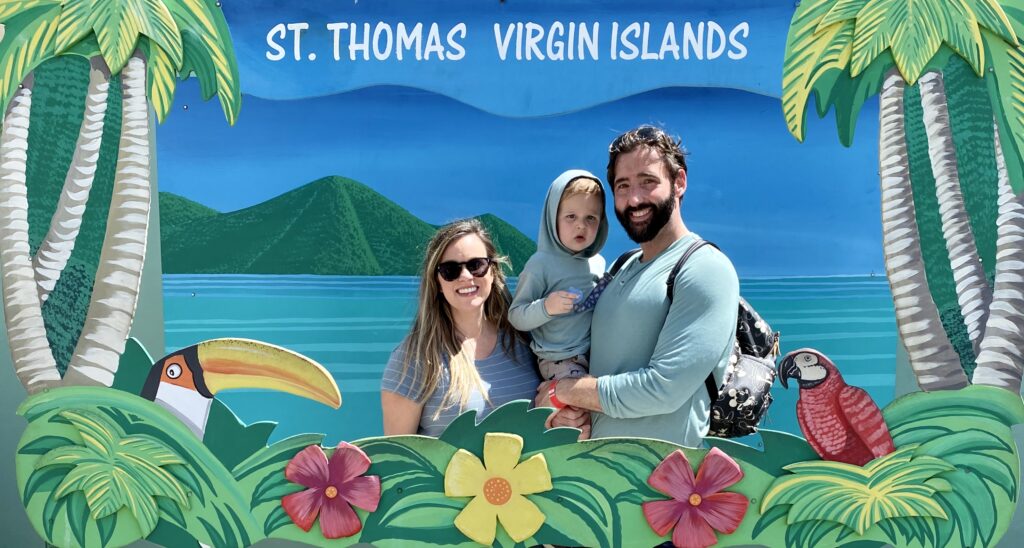 Pirates in Port
We took the morning slower and snagged a last minute port adventure after most people had already disembarked the ship. There was an island tour available that was full of pirate adventure and perfect for our pirate loving two year old! The tour took us to Drakes Seat, Blackbeard's Castle and the Pirate Treasure Museum. We had so much fun learning about the amazing former pirate island, seeing incredible views, and checking out the treasure at the museum. Our little buccaneer loved this tour!! I WAS SHOCKED. This was totally not something I would have picked out and I was very worried he'd hate it, but the constant moving and quick stops allowed us to see a lot without him every getting bored! It was perfect for a toddler.
The main downside to these tours or any on Tortola or St. Thomas are the vehicles. Even taxis here are open "safari" style vehicles with no seat belts. It is legal to ride in these even with car seat age children, but you may not be comfortable with your family riding in them. This is the reason we rented a car on Tortola. On St. Thomas I felt more comfortable with it, but I will admit you may not feel it the safest option for you or your family. You can walk to the pirate museum without getting in any vehicles and just pay to go in if it's not full (I can't imagine it would be), so that is a great option if you don't want to use transportation!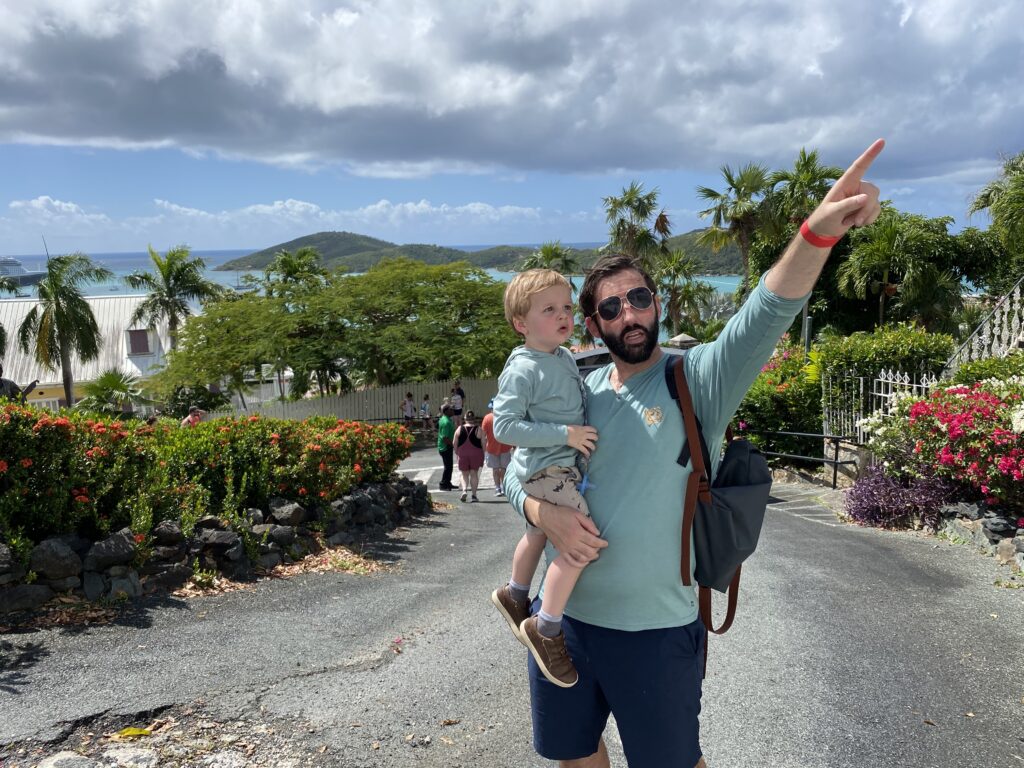 Shopping in Port
Right next to the docks there is a small outdoor shopping mall with loads of different shops. This is a US Island and everything is priced in US dollars. Personally I do not think the deals are good in these style of shops. I think like you can find better deals elsewhere and I'd rather find local shops to get souvenirs. I am not really a big "duty free" shopper in general, but many people love shopping in the ports. However if you are pressed for time and want to pick up something to take home, you are still supporting the local economy and people that earn a living working in them.
The only place we stopped in was a little bar next to the docks. I am from Nashville, TN  and there is an alcoholic milkshake drink called a Bushwacker that you can find in many bars along Broadway. It was a staple for us to take "out of towners" to try one when we lived in Nashville and I personally love this drink. Even though you can find them in many southern states (mostly in touristy areas), it was actually created in the U.S. Virgin Islands. Being pregnant I could not try it, but Matt had to try one during our short time on the island. He picked one up at the bar next to the docks and we took a moment sitting outside listening to some live music before entering the queue for customs. AND he thought it was delicious! It was almost the exact same as ones we had in Nashville with the addition of some cocoa powder on top.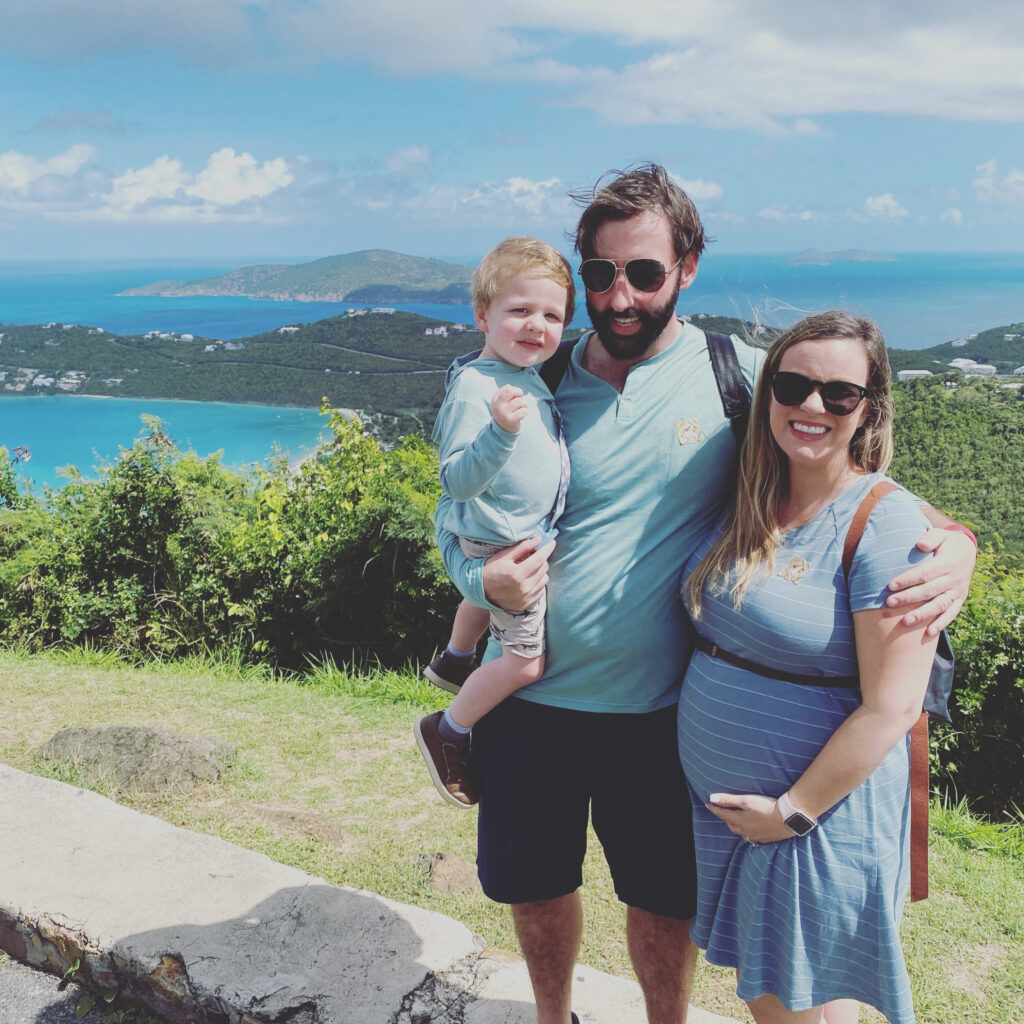 Lunch on the Ship
We headed back on the ship around lunchtime again and headed to Cabanas for buffet lunch on the pool deck. This seems to work best for us and our toddler son. We "save" money eating on the ship since meals are already included in the cruise fare, enjoy a less crowded ship, keep our toddlers nap schedule, and have down time before dinner. It is really nice to spend time on board with less people and amazing views. All pools, water slides, and Nemo's Reef were open with little to no crowds.
The buffet has a wide variety of selections from seafood and sandwiches to international cuisine. We enjoyed the nacho bar, mac and cheese, grilled chicken, salad, and fruit. We never found it difficult to find food everyone could enjoy.
Afternoon Naps and Relaxation
The guys went back to get cleaned up and nap while I headed to the rainforest room and got ice cream from Deck 12. You can pick up included soft service ice cream on deck 12 forward near quiet cove. After I spent some time in Quiet Cove and Rainforest cafe with the incredible view of St Thomas. Matt and I switched and he headed to the Rainforest room while I got ready for dinner and the toddler finished his nap.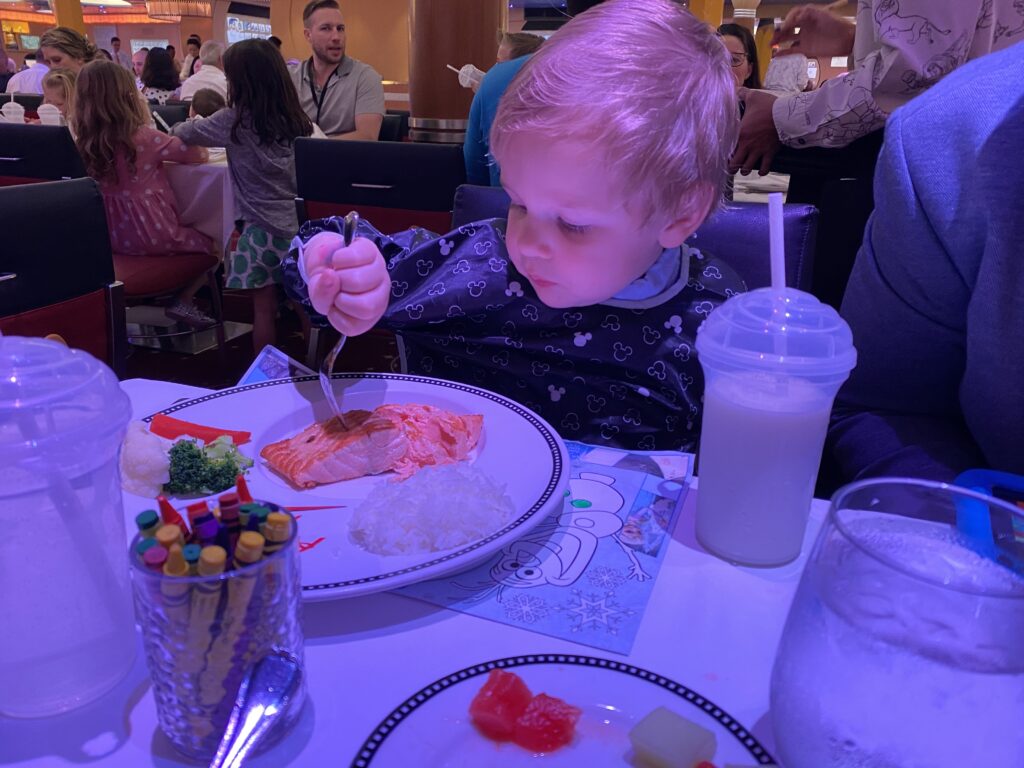 Semi-Formal Dinner at Animators Palate
Animators Palate
Animators Palate is one of the three main dining rooms on board Disney Fantasy. Each night of the cruise you rotate with the same dining staff to the three different dining rooms. We love this part of Disney cruises as. the staff stays the same and remembers your likes and dislikes while you get to experience new dining areas. Animators Palate is really fun with toddlers because of the large screens throughout the and fun special things they do during the meal. One meal you experience under the sea with Crush from Finding Nemo LIVE almost like you are inside a virtual aquarium with interactive fish.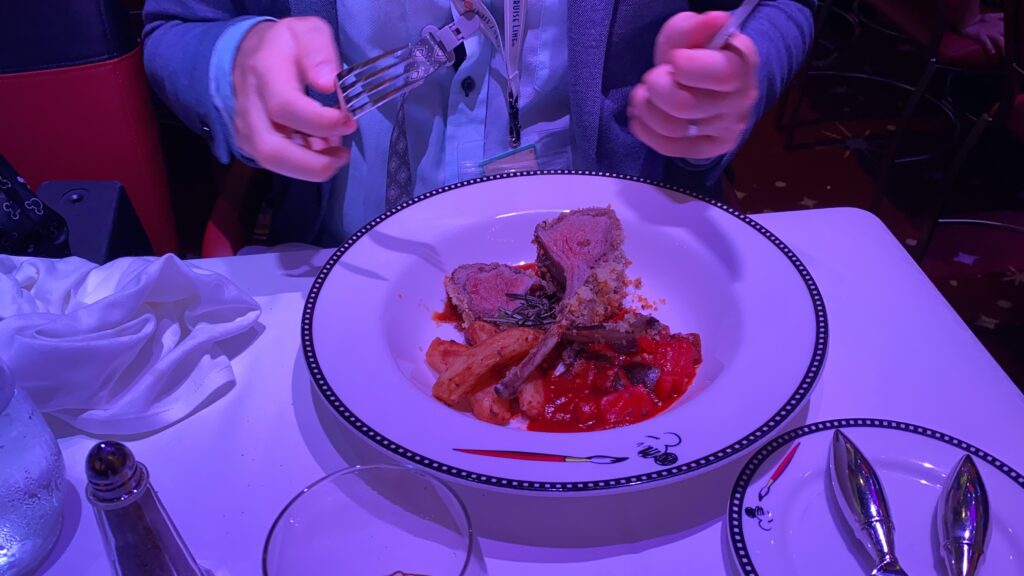 Special Animation Night
Tonight's meal however was animator themed with classic Disney playing on the TVs and an incredible show where the "animators" bring your art work to life. You don't want to be late to this night, as you do you drawing to on special paper they give you when you sit down. These nights however do tend to take longer and our toddler was already up in the nursery by the time they did the show. Our waiter was incredible and would take his dinner order the night before and have it ready for him basically right after we sat down. Then we would take him to the nursery halfway through dinner, so we could enjoy our full meal and he could have fun. Dinners can take up to two hours most were longer than one, so going to the kids clubs or nursery is very helpful with small children who don't want to sit through a long meal (totally fair!).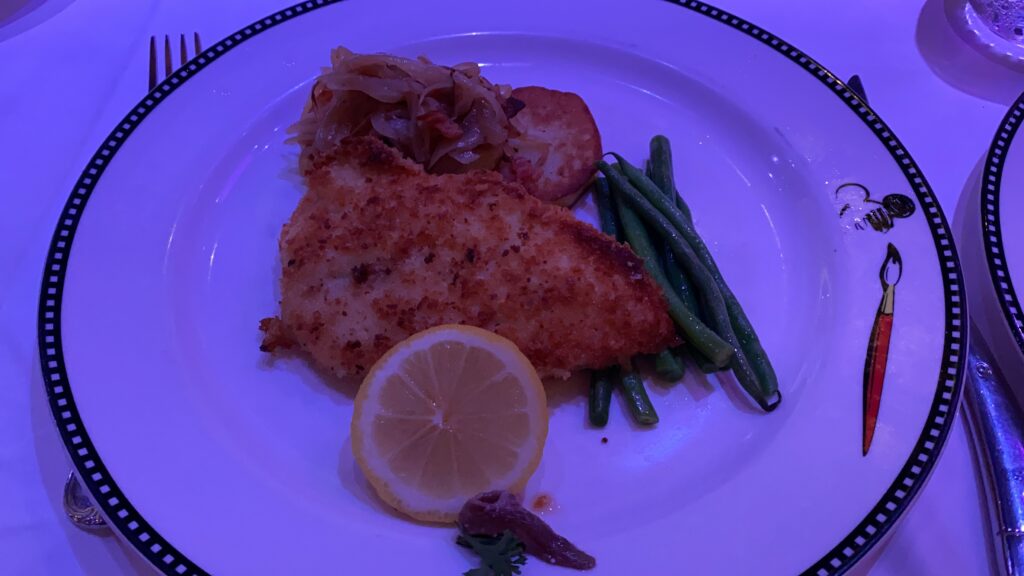 Our Meal
Our toddler had the salmon with rice and steam vegetables. He also had a plate of fruit and bits of mom and dads food, including most of my soup. Matt had the Caprese Salad, and I had broccoli soup. For our main entrees I got two entrees, because why not, Beef Wellington and the Chicken Schnitzel and and Matt had the Lamb Chops. The Chicken Schnitzel was absolutely amazing and I would only order that next time. The lamb was also excellent.
For dessert, Matt got like four of the desserts while I was taking Killian to the nursery. I honestly don't remember them all, but one was a cheesecake and a sundae. All were great! We just had bits and pieces of each, but the sundae was my favorite.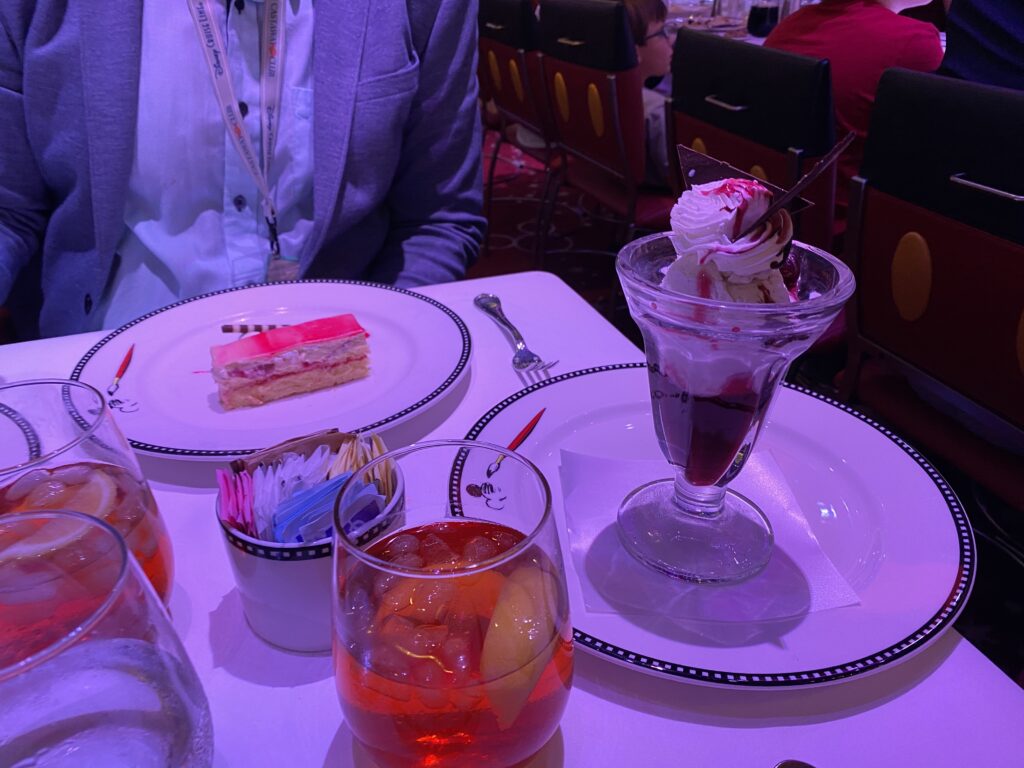 After Dinner Activities
We tried a comedy show and left after a few minutes. It was in one of the adult lounges, but it wasn't very good. Sorry Disney! Instead headed to Star Wars 101 because this was a Star Wars day at sea cruise and it was the following day. This was a really fun little show and really funny. Great for fans and non fans alike. There was so many other activities going on like dance parties and shows. We opted to relax in Quite Cove for a little bit though.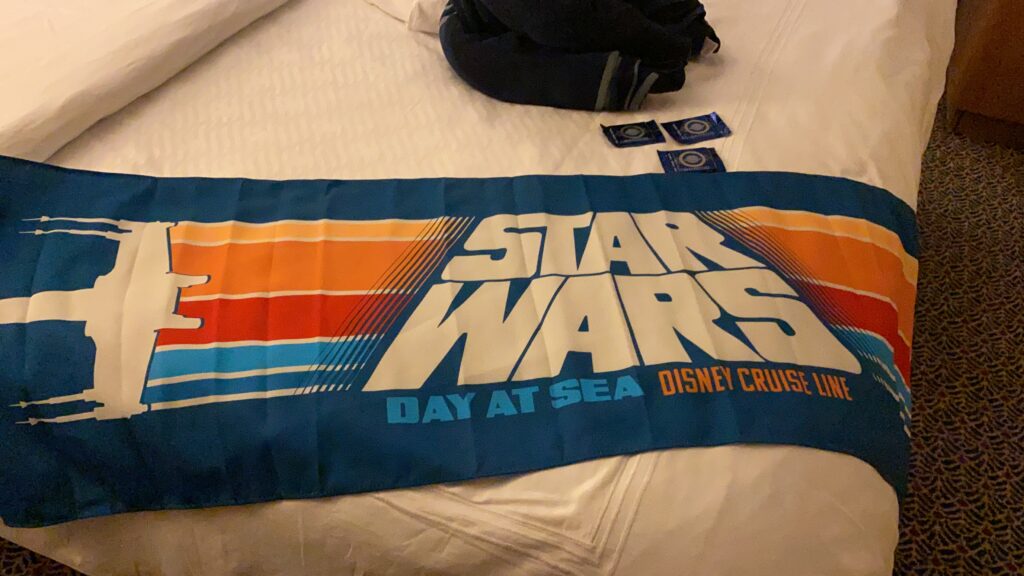 Off To Neverland (sleep)
After picking up Killian from the nursery we met some characters and then headed back to the room. I watched movies in the room and Matt did something more exciting.
PREPARING FOR STAR WARS
Around 10 pm something exciting happens on the night before Star Wars Day at Sea. Darth Vader enters and takes over the ship with a great little show in the lobby. It was way past the toddlers bedtime, so only Matt attended and said it was wonderful but crowded. If your kids can make it, great, if not send one adult and the older kids if you have them.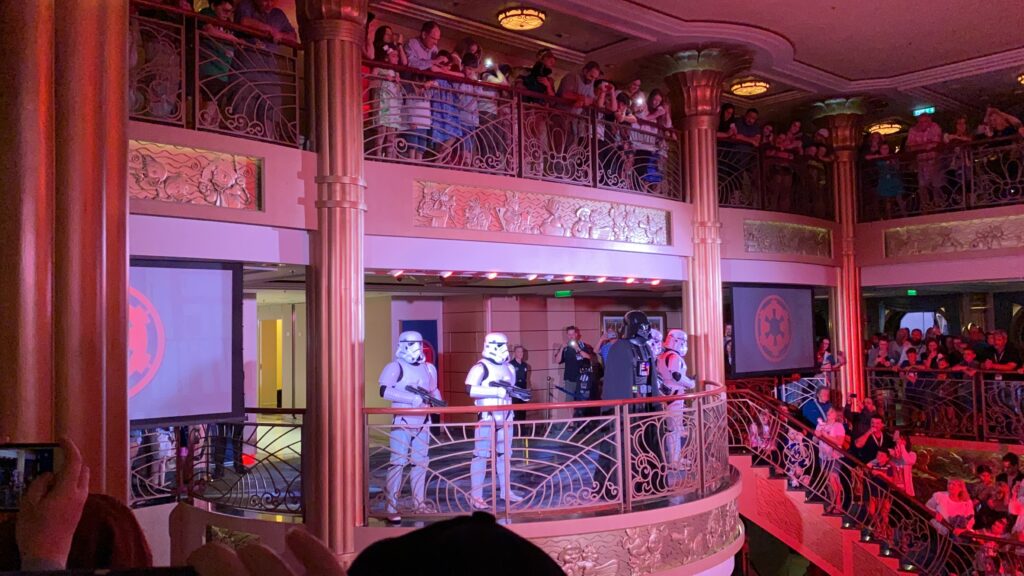 Day 5 and St Thomas was one of my favorite days! Okay I loved them all, but St Thomas was an incredible port and we had a fabulous day. Stay tuned for details from Day 6 and STAR WARS DAY AT SEA