Back in February 2020 right before the world turned upside down we took an amazing 7 night Eastern Caribbean cruise on the Disney Fantasy for one last vacation as a party of 3! This was our way of doing a babymoon keeping our toddler involved. Yes I know this is not really a babymoon, but whatever. We did a European babymoon when we were pregnant with our first son and wanted to do something exciting, but not exclude him. A Disney Cruise with our toddler was the perfect option for rest, relaxation, and adventure for the entire family.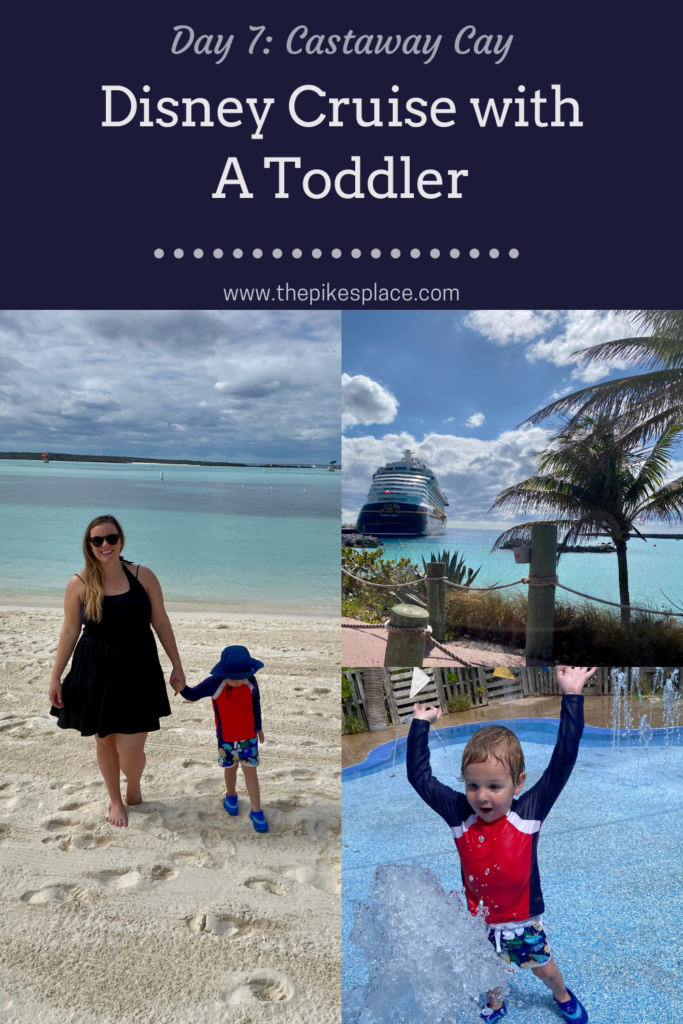 It has taken me a bit longer than expected to finish up this blog series, but new baby and 2020 then 2021 happened…. This post is about Day 7 on a PRE PANDEMIC CRUISE. Some things may be different now, but from what I've heard cruising in many ways has gone back to 'normal'. This will give you a great idea about cruising with a little. I'll let you know all the changes when we cruise again… anyways today was one of my favorite and the easiest day for us on any Disney cruise as it was Castaway Cay day. To review our about Day 6 (Star Wars Day at Sea) first Click Here
Day 7: Castaway Cay
Breakfast in Cabanas
Cabanas is typically our breakfast choice. The buffet has a large selection of breakfast options including eggs, bacon, sausage, hash browns, yogurt, oatmeal, cold meats, cheeses, cereals, milk, orange juice, truly terrible coffee and of course Mickey waffles. We tend to get a variety and share it all. There is so much variety at breakfast including international options, I cannot imagine you will have an issue finding your child (or adult) something to eat. We like to get a table at our favorite location outside on the aft patio. I love sitting out there for lower crowds and amazing views of either the port or in this case we got to watch the ship dock with Castaway in the background.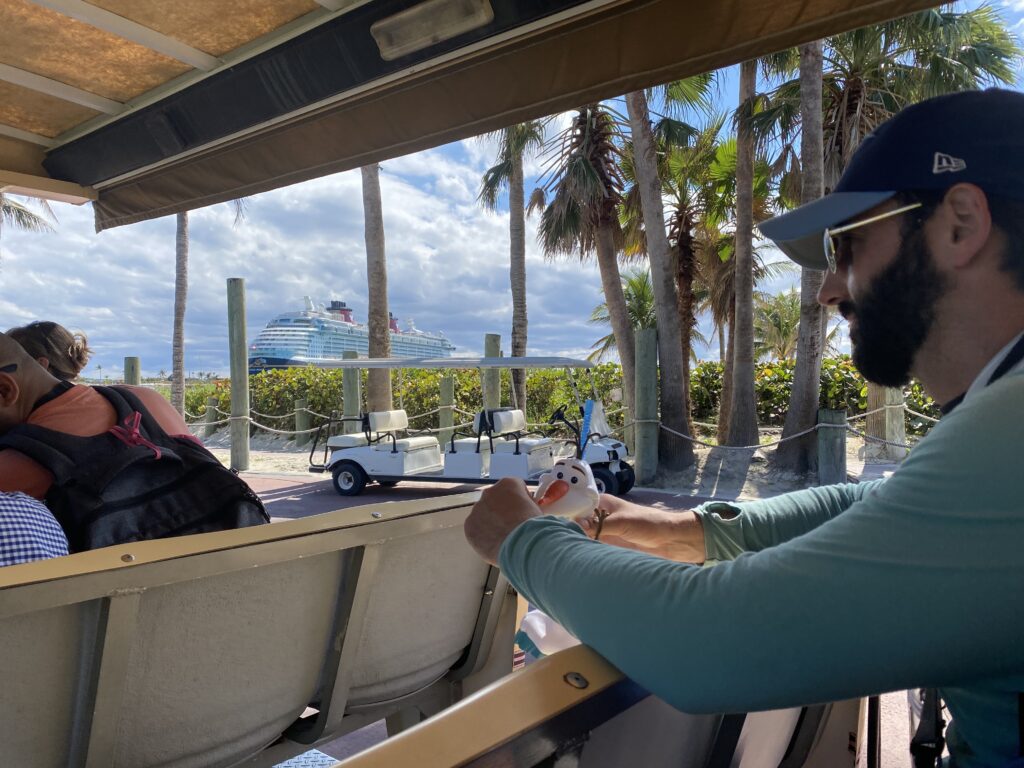 Getting off in Castaway
On port days you have to wait until the ship is docked and cleared by customs to disembark. There will be an announcement when this has been completed and you can start making your way to the gangway. You will need your key to the world card for each member of your group. Pay attention to the ships requirement on what form of ID you need to take off as well, in some ports you may need a passport in others you may just need a drivers license. On Castaway day my biggest piece of advice is to GET OFF EARLY! Head to the gangway as soon as you hear the all clear to get off the ship. Lounge chairs get taken up fast and the best spots go quickly.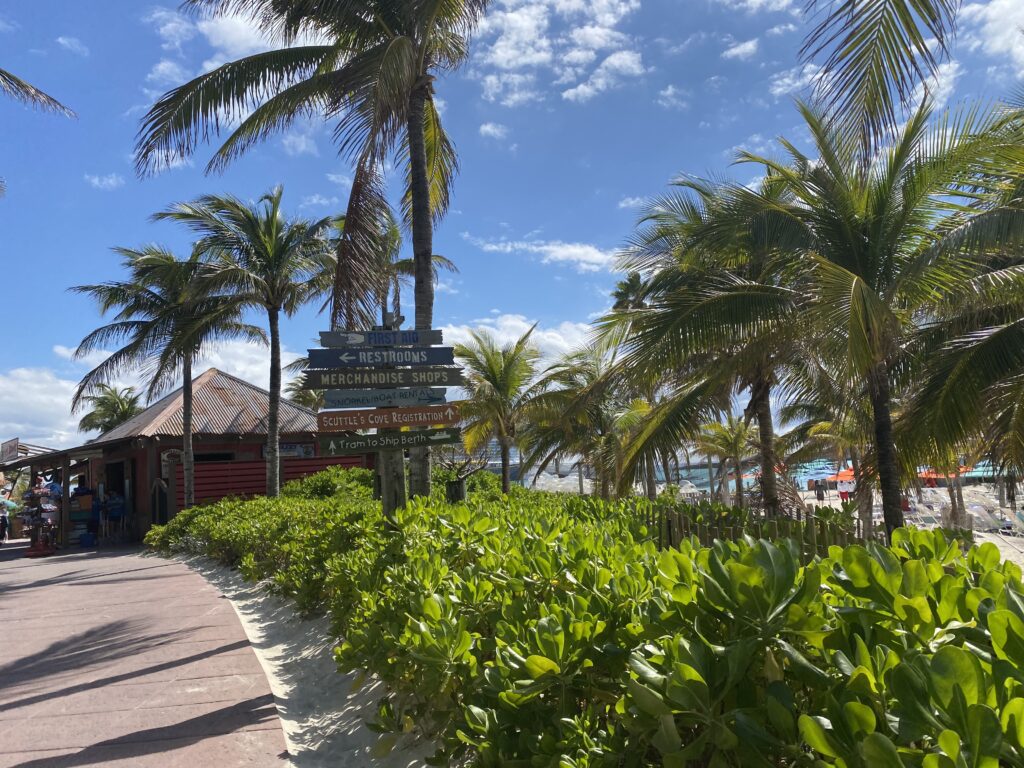 If you have a scheduled port adventure your tickets will be delivered to your room the day prior and will have a location and time to meet. Every time we have personally been to Castaway port adventures were always cancelled, so be warned this is a possibility!
Island Activities
Getting to the Beach
Getting to the beach on Castaway is so simple and easy even with a baby or toddler. You can choose to walk or take a tram. We always take the tram and our son loves the ride. There are a few stops the tram makes Scuttle Cove, and Pelican Point. Scuttle Cove is your stop for the Scuttle Cove kids clubs  and the first section of the family beach, Pelican Point is your stop for the second section of the family beach with the Pelican Plunge slides. To get to the adults only section Serenity Cove you transfer trams at Pelican Point, but you might need to make a pit stop at the kids club at Scuttle Cove before doing this.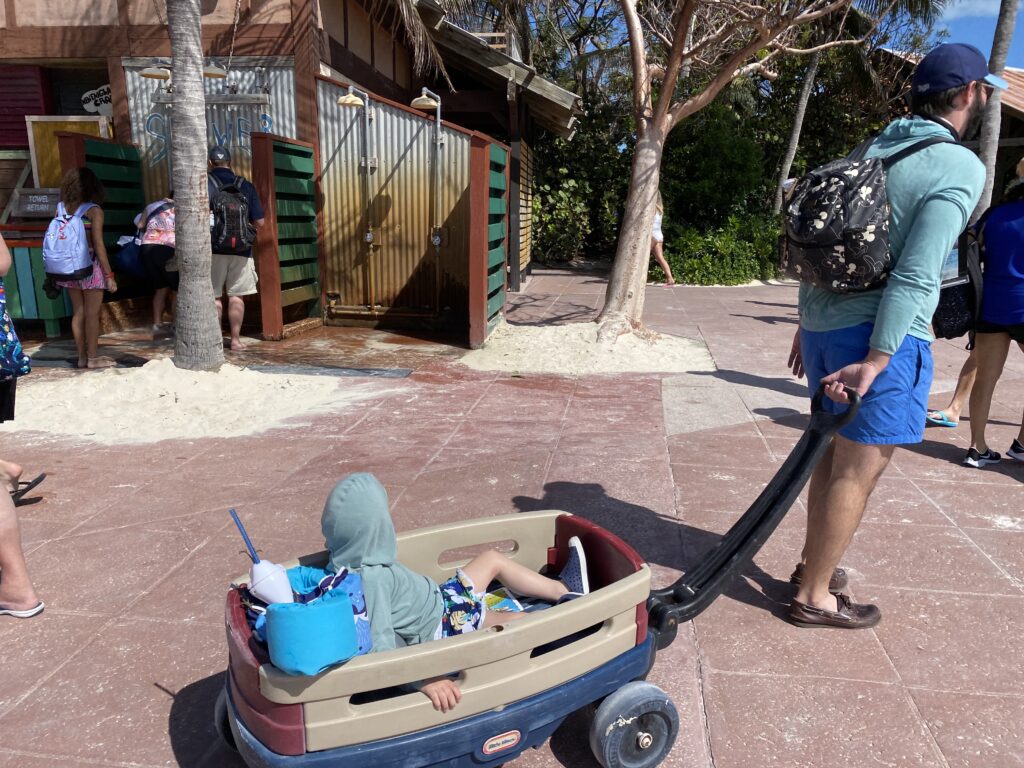 We've been to both sections of the family beach and for this trip we chose the first section and got off at Scuttle Cove. We picked up a FREE beach wagon, loaded up our beach things and toddler then headed to find lounge chairs. We snagged a group of chairs and umbrella at the far end of the first family section near the water by the snorkeling area. It is close to the restrooms and we feel like it puts us in the center of whatever we'd want to do away from the beach itself.
Beach Time
The beach itself is extremely toddler friendly. It is crystal blue water, and SHALLOW. this is great for swimmers and non swimmers alike. There is so much space to play in just a few inches of water. They also have life vests available in a large range of sizes and you can rent floats. We brought along beach toys for our son to build the beach castle of his toddler dreams which was mostly just digging in reality and we had a blast splashing around in the water.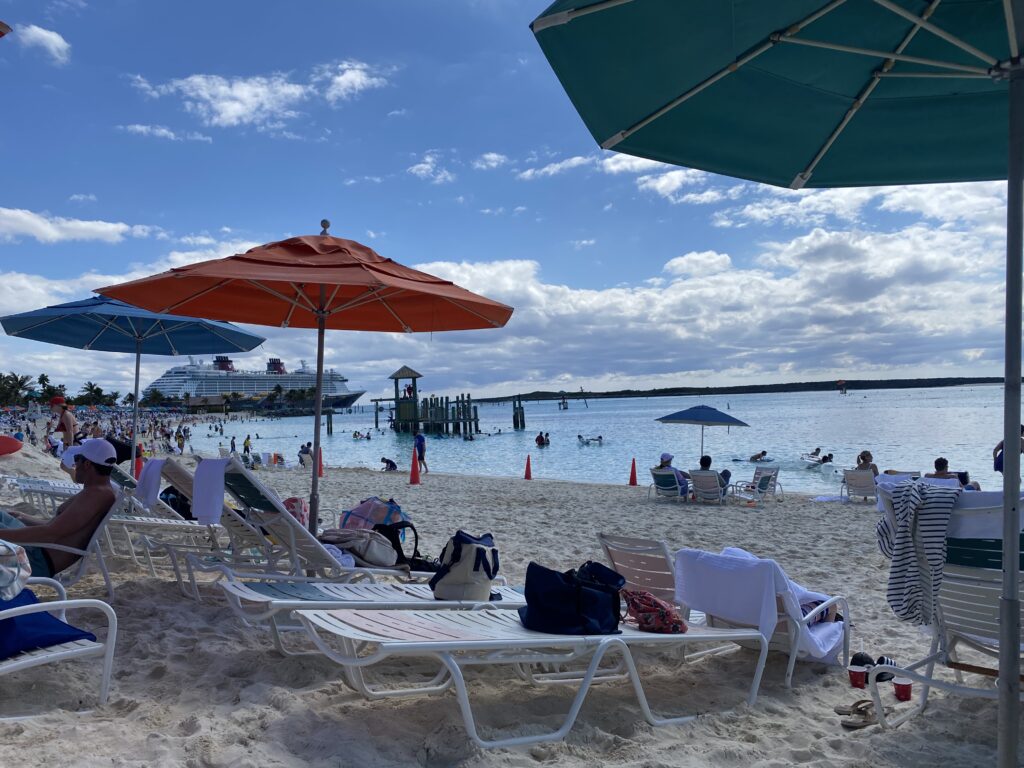 This section contains affiliate links. If you make a purchase using these links we will be compensated. These are products we personally purchased, use, and love. **
Love our beach hat? We do too! Grab one now for your little, green sprouts® Sun Protection Hats! We love all the Green Sprouts products and use their hats for both our boys. They have a variety of fun colors and styles to chose from along with other amazing products for littles.
Rent Bikes
During this cruise we did something we had not done previously on Castaway and rented bicycles. It is fairly inexpensive activity. You can rent them on the island without a reservation in advance. They have children's bikes, adult bikes and even those baby bike seats for the back of the bike and of course helmets for the kiddos. The island is fairly small and easy to ride around on a beach cruiser. We took the bikes around the whole island and stopped at an overlook and a view scenic areas for pictures and amazing views. Our toddler loved every second of it and we all had a great time.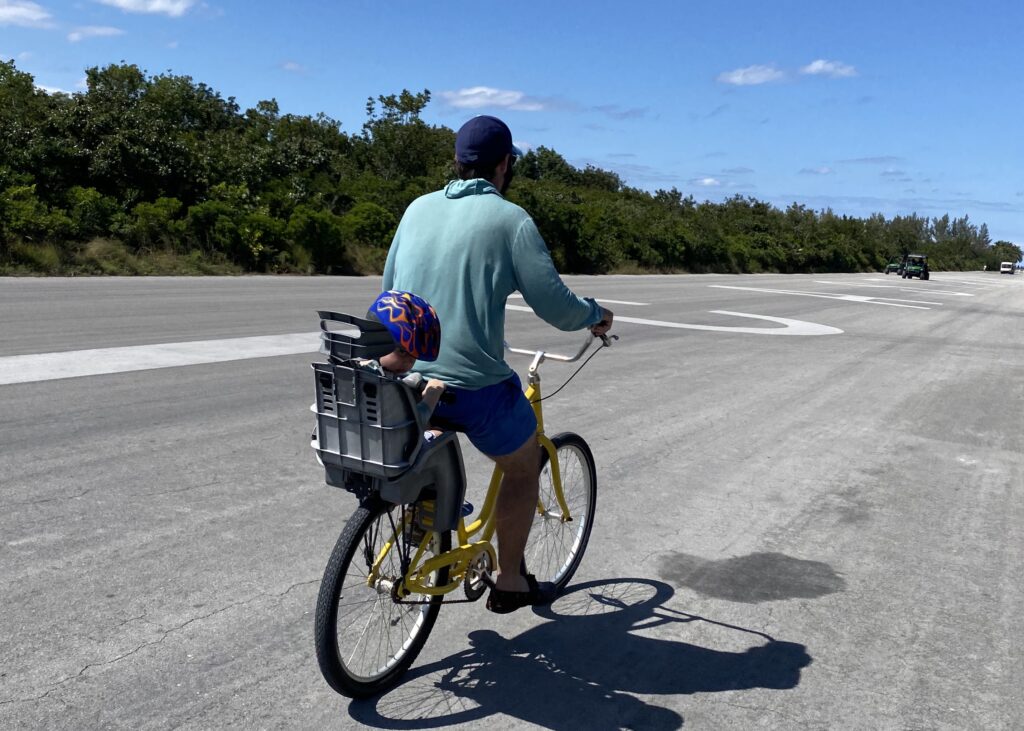 Lunch on Castaway
There are a couple of locations to grab a meals while on Castaway and a few kiosks for additional adult and nonadult beverages. Your lunch is included on the island and it is a fantastic BBQ meal at either Cookies or Cookies Two for families. Both locations offer the same menu just one near the first family beach and the other near the second. The waitstaff from the ship are actually the servers on the island too, except it served more outdoor cafeteria style. You point and say which items you want and the servers hand you the food you select just like in the buffet. Lunch runs roughly 11:30am and until 2pm.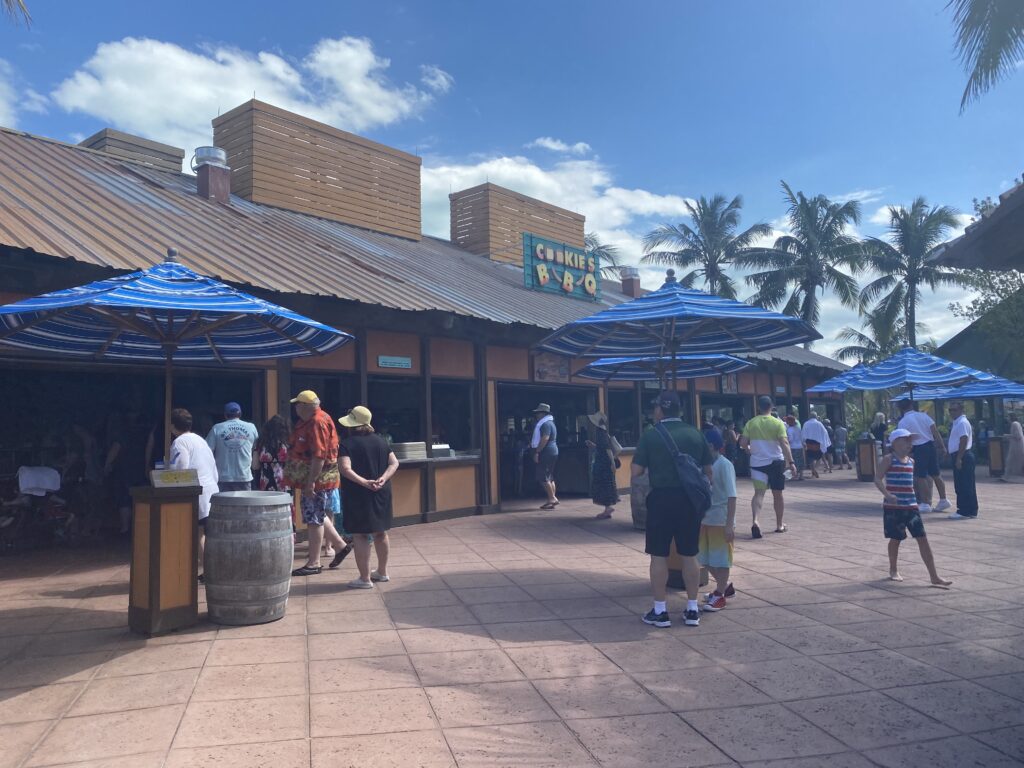 This meal, soft drinks and soft serve ice cream are included in your cruise cost just like on the ship. The food options remind me of a backyard bbq with a slight island flare such as hamburgers, hot dogs, corn, salsa, etc. We always really enjoy the ribs, burgers, couscous, potato salad and coleslaw.
Adults only have the option to eat in Serenity Bay and have a few additional menu items like Cajun Chicken, Cajun Mahi Mahi, and Rib Eye Steaks. We have not eaten there, but overall it is the same meal just with some better meat options in my opinion.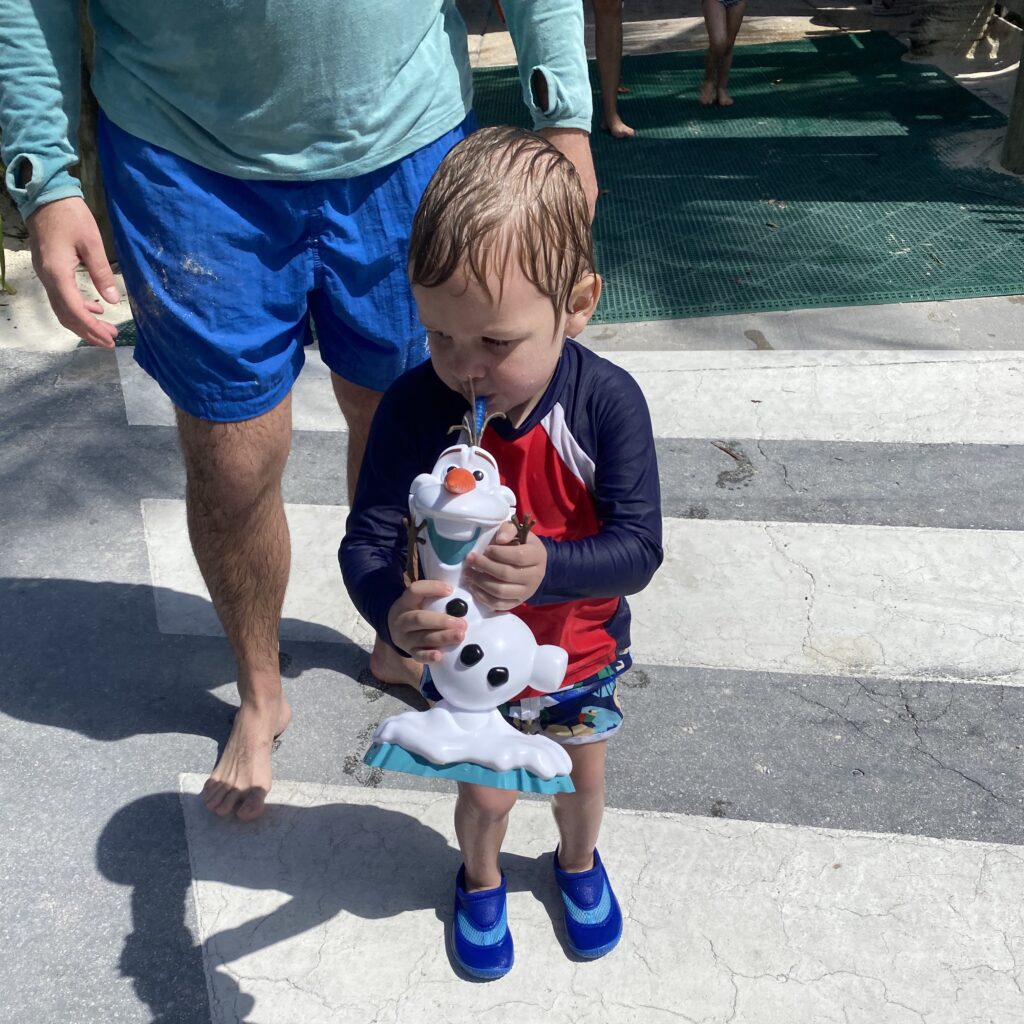 As I mentioned before there are always a few bars and locations around that you can pick up a beverage for an extra cost. Both adult and family friendly drinks are available. We grabbed a freshly made fruit and coconut water frozen drink at Summertime Freeze in a souvenir Olaf and our toddler loves it. We still drink out of it at home and got a Sven on a previous cruise.
Splash Pad
Another highlight of Castaway is for our son is the splash pad. We have a hard time getting his away from the water jet fun. He just goes nuts for it. He could spend hours playing here, but it is very sunny and has little shade, so we went back and forth from the splash pad to our beach chair with umbrella coverage. Another good location to grab chairs would be near the splash pad if you water lover would be similar to ours and never want to leave the water jet fun.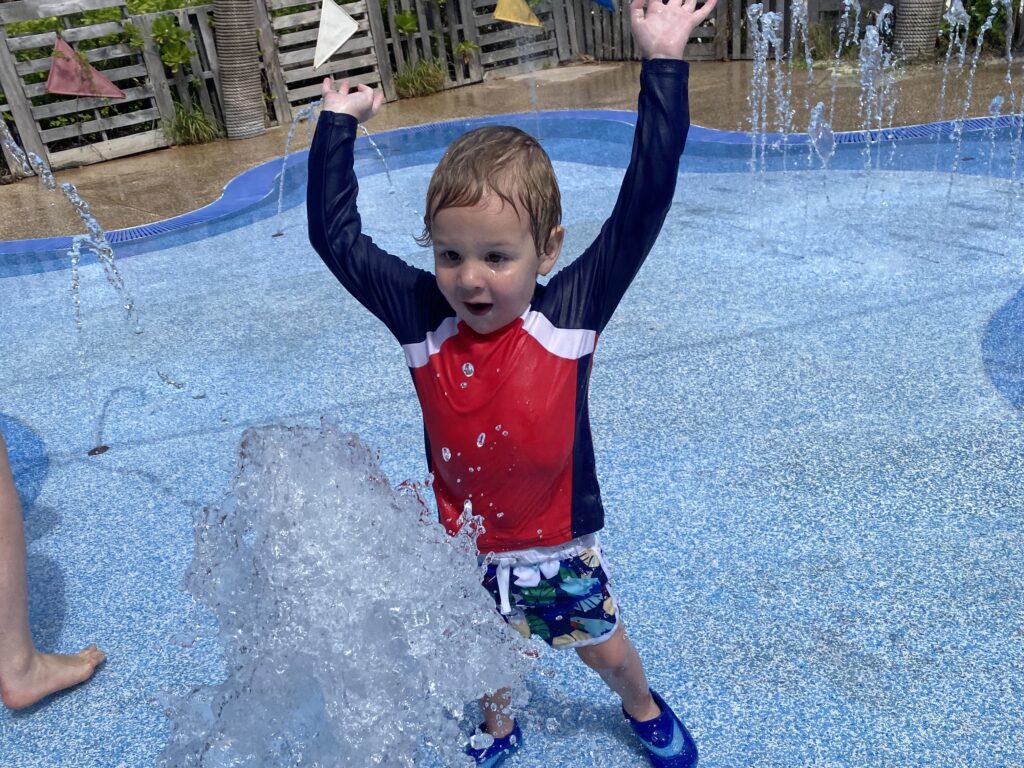 Character Dance Parties
I'm going to start with the preface I don't think this is currently happening, but it was so much fun for our toddler and hopefully it is back soon. Dancing with Mickey and friends happened although our cruise, but on the island it was the most fun. We boogied down with Pluto, Mickey, and Minnie. We also spotted some other characters on the island and you can grab pictures with them or stop to say hello.  Distanced character photos are currently available on cruises, so your littles can chat it up with their favorites. Ours loved seeing characters the entire cruise and was always so excited to say hi!
Back on Board
There is days worth of entertainment on Castaway it really could be a vacation in itself, this is why some cruises made two stops at the beloved island. It is the best cruise island for young children in my opinion. It is so easy to get on and off the ship, but it is also bright and sunny and littles can get tired out quickly. We spent a good portion of the day on the island, but headed back to the ship around our sons nap time just like we did in every port. He napped in the afternoon which gave us some downtown too. On the ship there are still avidities going on, the kids clubs are open as are pools. You can really come and go at your leisure if you wanted to.
During nap time my husband and I took turns using the adult only rainforest room. Today was our last day on board and we both wanted to make sure we used it just one more time. The rainforest room outdoor spas had a wonderful view of Castaway to soak away my blues that we were soon leaving this amazing ship.
Dinner at Enchanted Garden
For our last dinner we headed down to Deck 2 Midship to Enchanted Garden. Your dining room is preassigned and rotate, so make sure you are checking which dining room you are eating in each night. This dining room is Versailles themed with flower shaped lighting that blossom and change colors at dusk. It is a very pretty dining room, but not my personal favorite. There are round booths in the center of the room that face a pretty fountain and absolutely beautiful. If you aren't seated in one of those, and 99% of the patrons are not, it is just kind of a pretty garden themed room.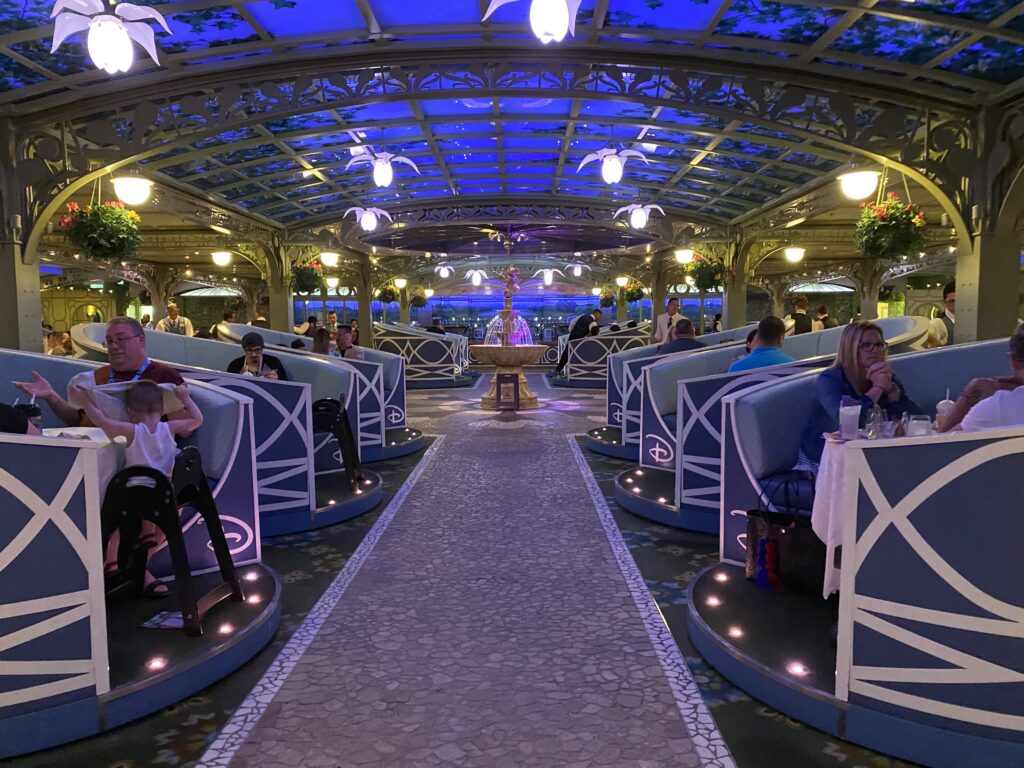 For dinner we had Enchanted Garden Platter (charcuterie board), mushroom soup, mushroom pasta, NY strip Steaks and our son had the kids meal salmon. The menu was sadly kind of a let down after our amazing meals the nights previous. The Star Wars day at Sea meal and Palo were both just incredible. The charcuterie board was however excellent and the service is top notch.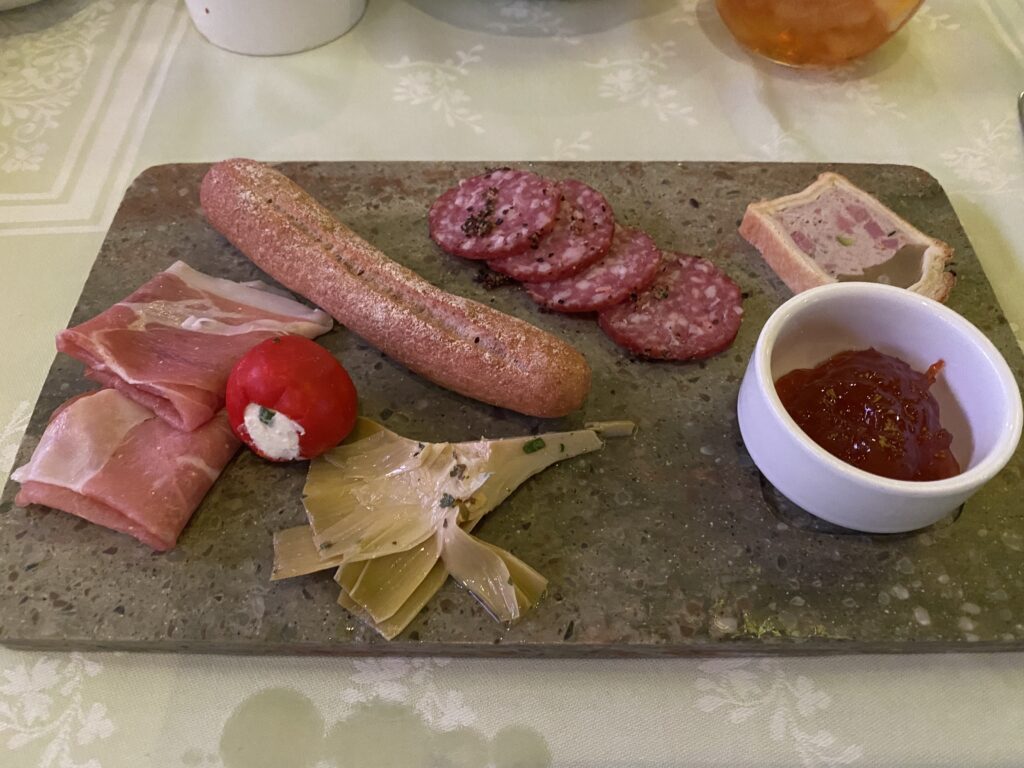 After Dinner Activities
The last night of the cruise the amount of activities was very low and it's really a clear single it is time to pack. We had a note in our room and information about disembarkation the night before this and the note stated we needed to have our bags outside our cabin by 10:30pm. After dinner we headed to the room to get this done. Make sure to get your luggage tags on. your bags and bags outside the door before the time they give you. Anything else you need to carry off the ship. You also want to make sure you have your toiletries, clothes for the next day and any needed baby items in a carry on bag to carry off the ship.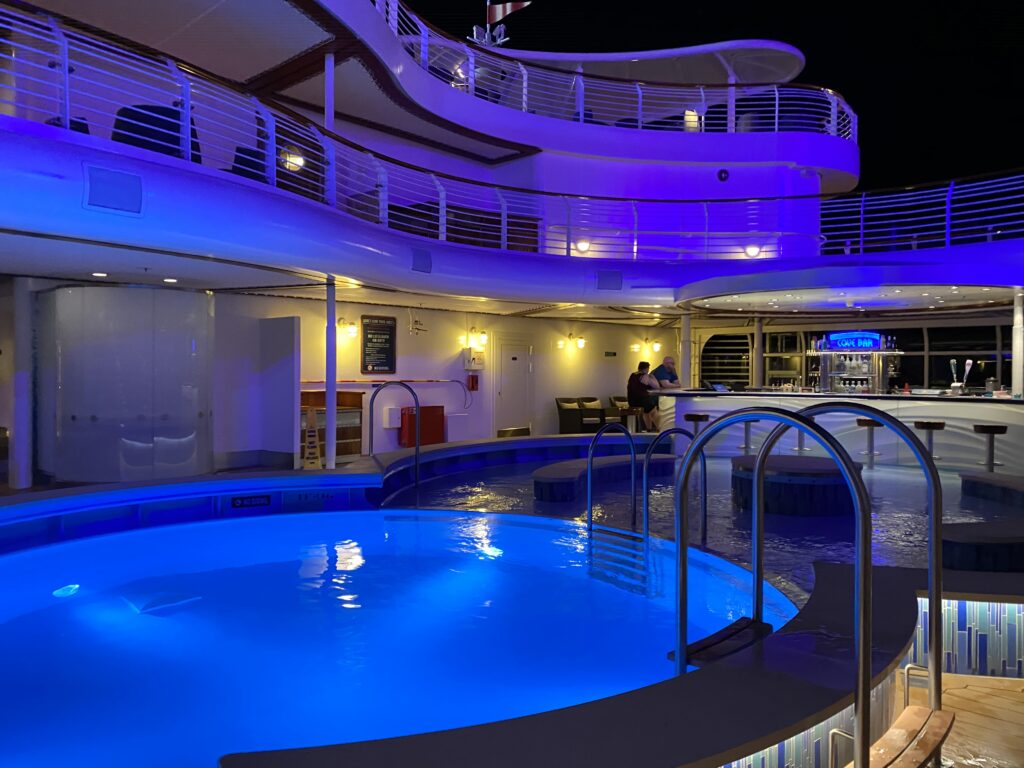 Our toddler went to the nursery as soon as he was done with his meal and had a blast playing with all the other kids and cast members while we packed. He really did well this cruise in the nursery and loved it.**Unfortunately the nursery is currently not available for cruises. Hopefully they will bring it back soon since our son loved it so much and we enjoyed having time to ourselves while he played.
The show for the last night did not begin until 8:30pm. You have plenty to get your packing down after dinner and then go to evening activities. This evening the musical was Frozen. We picked up our son from the nursery and headed to see the show. It was wonderful definitely a highlight musical for the cruise. Our toddler was entertained during most of the show and made it through the entire thing surprisingly, so that should tell you how good it is!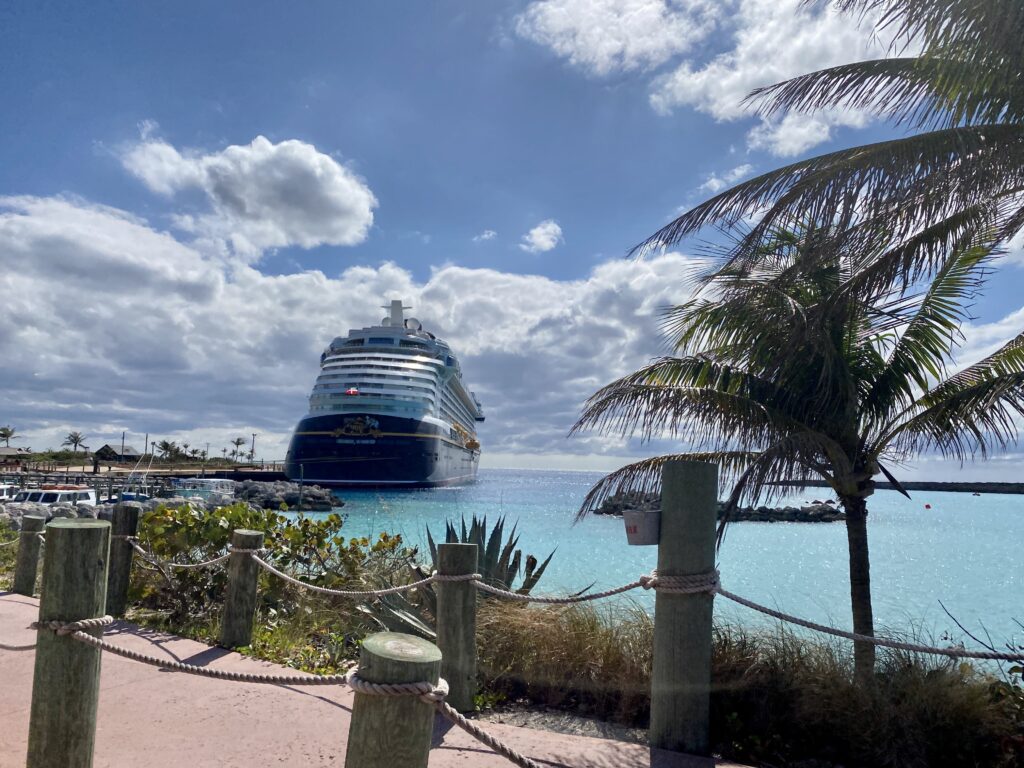 Castaway day is always a highlight of a Disney Cruise. I truly think with a toddler you can enjoy a beach day without as much hassle. They provide just about everything you need on the island and it is just fun easy going day. Overall our 7 night Eastern Caribbean Cruise was amazing. From Star Wars Day at Sea, amazing ports, incredible staff, delicious meals, fun adventures, great shopping, pools, beaches, and awesome entertainment this was truthfully a vacation we will remember forever. If you are considering cruising with a toddler or baby, just do it! Cruise Disney and have fun!