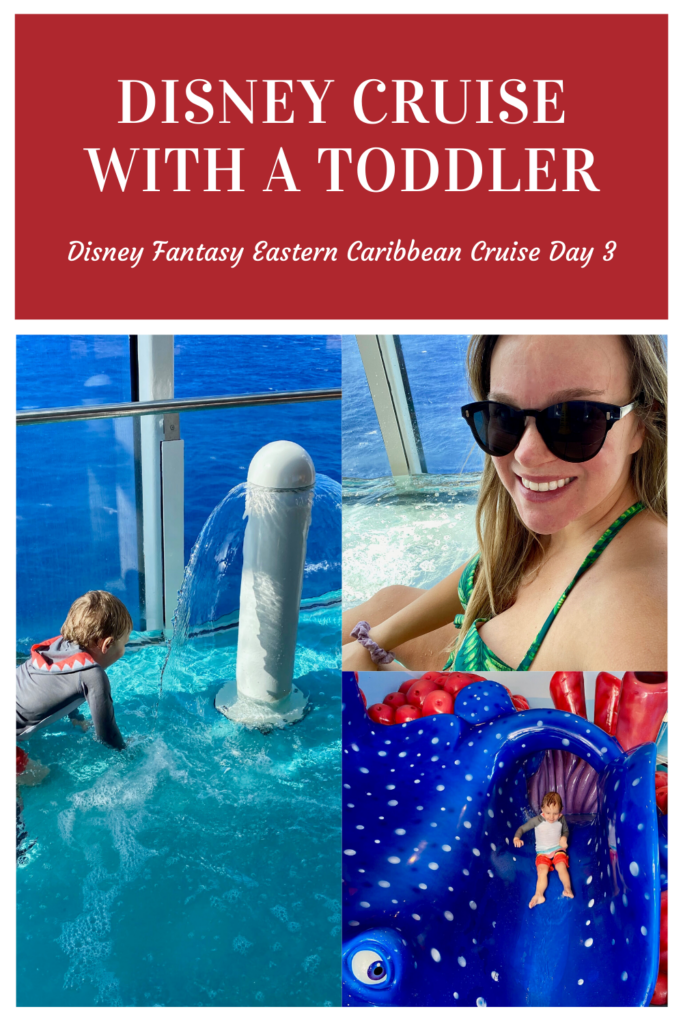 We just returned back home on dry land from an amazing 7 night Eastern Caribbean cruise on the Disney Fantasy for one last vacation as a party of 3! This was our way of doing a babymoon keeping our toddler involved. Yes I know this is not really a babymoon, but whatever. We did a European babymoon when we were pregnant with our first son and wanted to do something exciting, but not exclude him. A Disney Cruise with our toddler was the perfect option for rest, relaxation, and adventure for the entire family. This post is about Day 3, an at sea day. If you want to read about Day 2 first click here !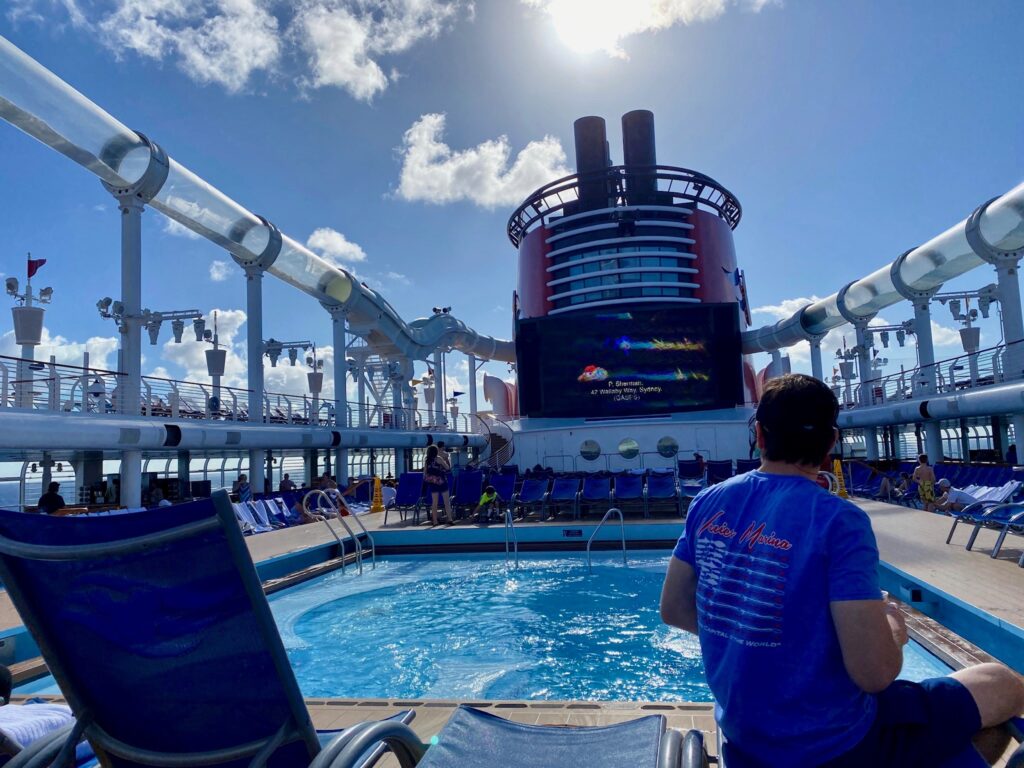 Day 3: Day at Sea
Morning Breakfast and Fun
I started off our second day at sea by sleeping in. I am pregnant and was just not feeling great this day. The kiddo was of course up super early so my rockstar better half took him to get breakfast in the buffet and then they explored the ship a bit while I took it easy. They played mini golf on the sports deck, caught about 20 minutes of one of the first run movies, Frozen II, in the movie theatre, and walked around.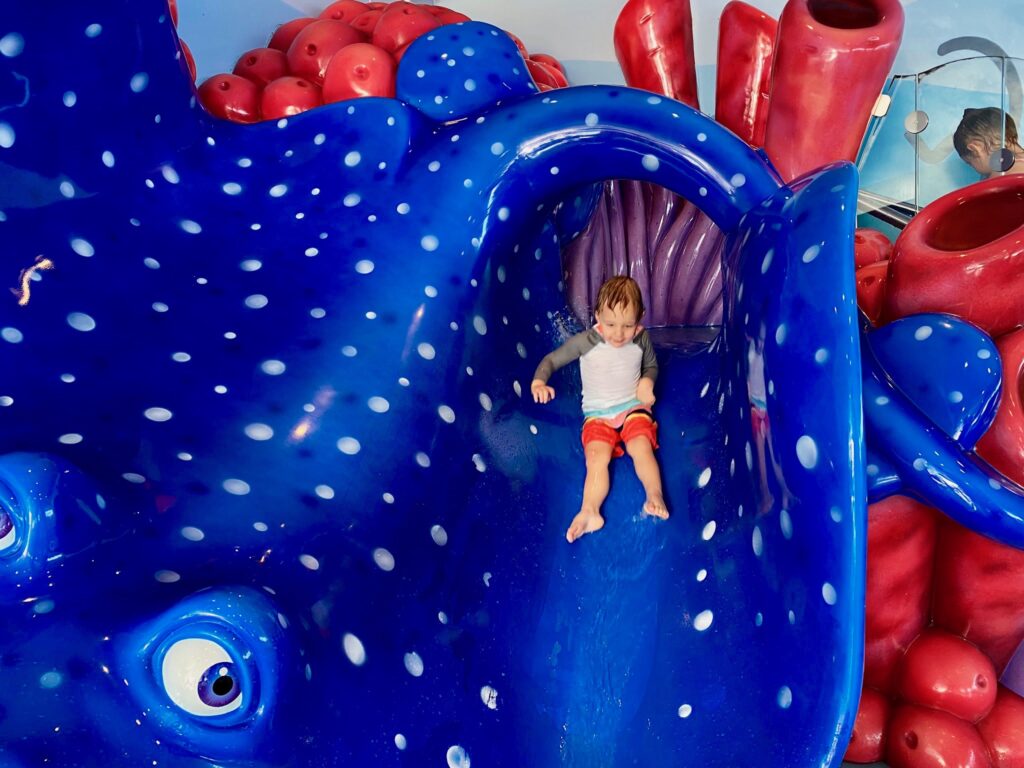 After I was up and ready to go I met them up on the pool deck for more Nemo's Reef splash pad fun. This splash pad is fully shaded water play area themed for Finding Nemo and perfect for the toddler set or in swim diapers. We also hung out in the small splash pool on the side of the pool deck overlooking the ocean. It has gorgeous views and just enough water too cool off and splash around in. If your child isn't potty trained Nemo's Reef is the only swim diaper allowed water play area on board. Our son is mostly potty trained, but we didn't want to risk it in the main pools. We stuck to the splash pad and smaller side splash pool with lots of bathroom breaks. He had no accidents, but just in case we played in safe.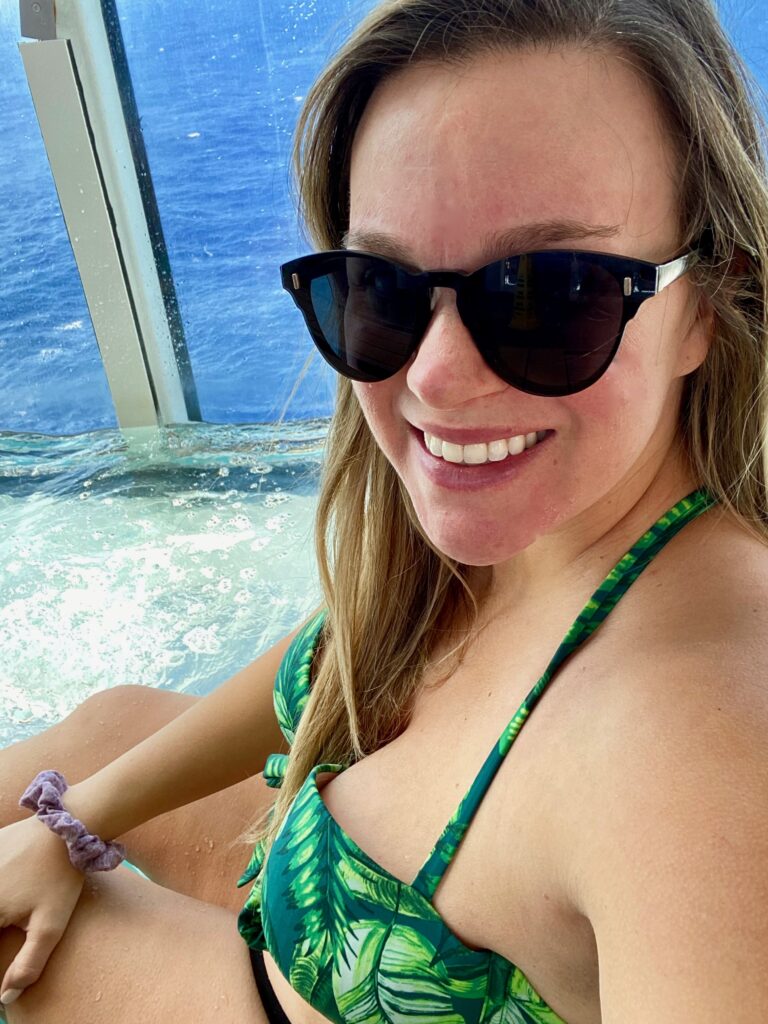 In Room Lunch
The guys played a bit longer at the pool then headed back to clean up. I headed to the rainforest room at the spa. The rainforest room is pretty busy midday, but I didn't mind since I wasn't using the hot tub or saunas. The rain showers and stone loungers were available for me to relax in. The fitness center and spa also have showers that any adult can use with normal sized showers with spa bath products. While the the toddler was playing in the bath back in the room, I was able to do the rainforest room and shower at the spa. When I went back to the room my husband swapped with me.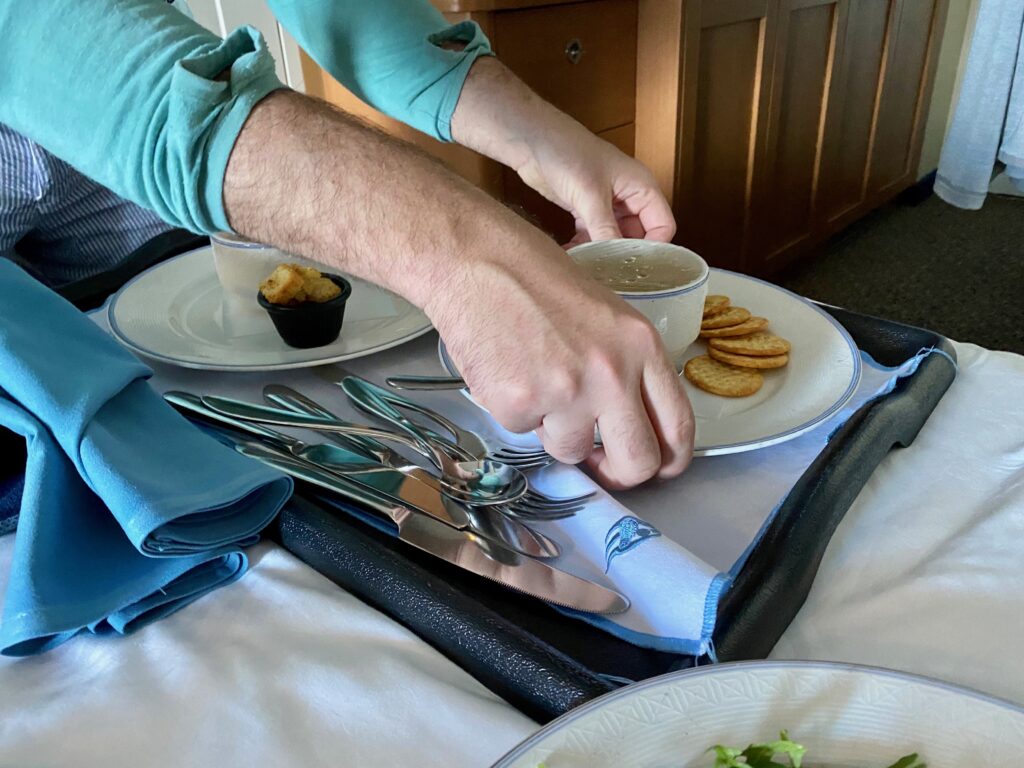 After a busy morning for the guys and a lot of splash pad fun, we decided to try out the room service for lunch. The menu isn't huge, but there are a good variety of options. Room service is included with your cruise, but a tip is suggested. I recommend $1-$2 per item or people in your cabin. We ordered a chicken noodle soup, salad, BLT, steak panini and grilled cheese. Yes, we got kind of a lot, but we were HUNGRY and I hadn't had breakfast. It took around an hour for our food to be delivered. We watched a movie in the room and relaxed on our verandah while we waited. The service was great and food hot and fresh once it did arrive, but if you are in a hurry the buffet might be a better option. The server did say the hour wait is not typical, but just an FYI in case.
Late Afternoon
After lunch, we all took a long nap. We napped almost to dinner and it was pretty amazing. With the small sway of the ship and blackout curtains afternoon naps are kind of perfect for tired parents. The cabin is set up nicely for naps. There is a curtain separating the main bed from the day bed or bunk beds. It is still one room, but the separating curtain makes it slightly easier to get a restless toddler or baby down.
Dinner in Enchanted Garden
We headed down to Deck 2 Midship for our dinner in Enchanted Garden. This dining room is themed like Versailles and has lighting that are shaped like flowers that blossom and change colors for dusk. It is a very pretty dining room, but not my personal favorite. The round booths in the center of the room are very cool facing a pretty fountain, but if you aren't seated in one of those and 99% of the patrons are not, it is just kind of a pretty garden themed room.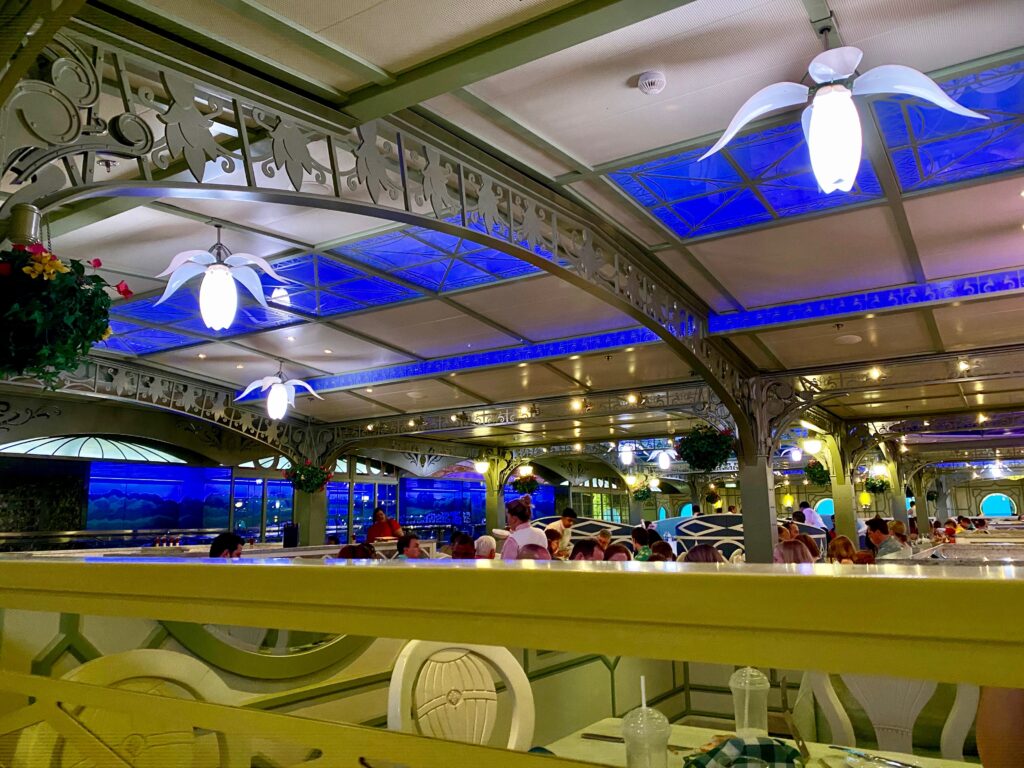 For dinner, I had the cucumber roll, wedge salad, prime rib and chocolate garden torte. Matt had the mushroom tart, wedge salad, sea bass, sticky date pudding AND pecan tart. Our toddler had the kids NY strip which came with rice and steamed veggies. He thoroughly enjoyed his meal. We love that we can order him healthier options similar to what he eats at home instead of a typical kids meals if we wish. The highlight for me was the cucumber roll and for Matt the sea bass. We enjoyed all our food at this dinner and I think the only thing we wouldn't get again was the pecan tart. Matt ordered two desserts anyways, so that wasn't a big deal.
Rainforest Room Evening
Halfway through dinner Matt took Killian to the nursery. The nursery is for children under 2 and not fully potty trained. It is also a small extra fee. We calculated this into the cruise cost BEFORE deciding to sail, so we weren't blindsided with the extra cost. After dinner he was still happily playing, so we decided to go back and relax at the Rainforest Room. We purchased the full week pass for the Rainforest Room in the spa, so we enjoyed visiting it daily. Tonight we were the only people at the spa. We had the luxury of spending some quality time together enjoying the different rain showers and stone loungers alone. Matt spent a bit of time in the sauna, steam rooms and hot tubs as well. It was extremely relaxing to be there by ourselves. I highly recommend a nighttime visit, since every time we went late at night it was empty or almost empty.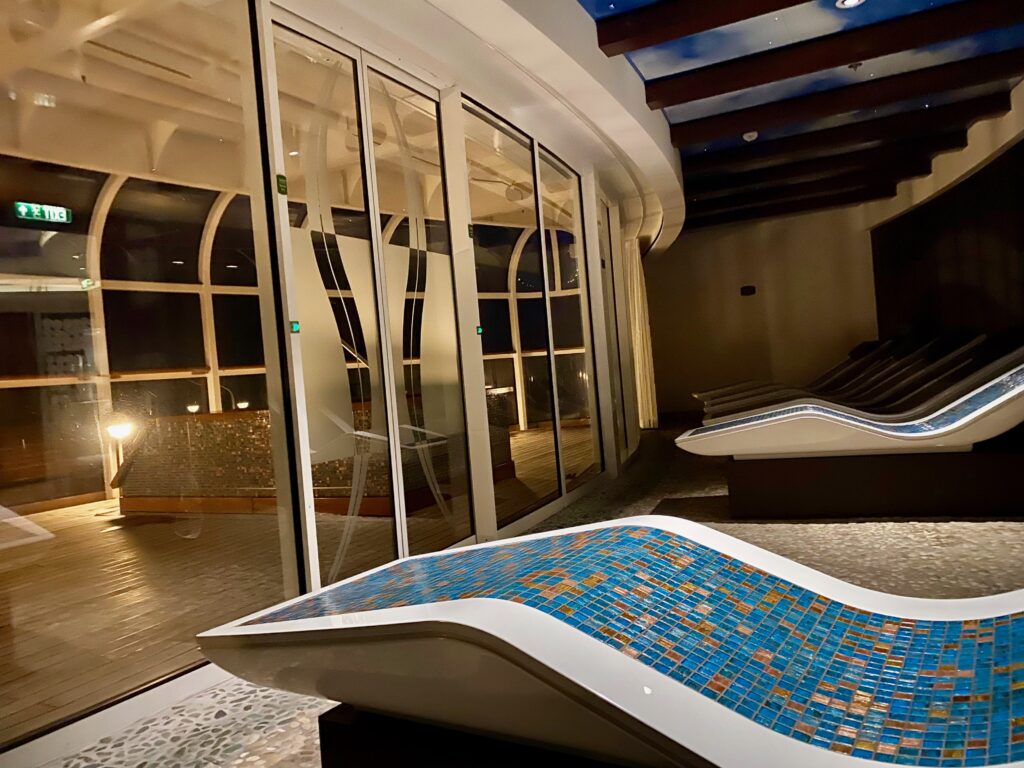 Once we picked up Killian we attempted the musical the night, Aladdin. Killian was just too tired from all the fun. We were able to watch the show in our room live on our TV and called it an earlier night! Day 3 was a wonderful and very relaxing day. This is a good idea to do at least 1 day on a 7 night cruise with a toddler who can get tired out easily.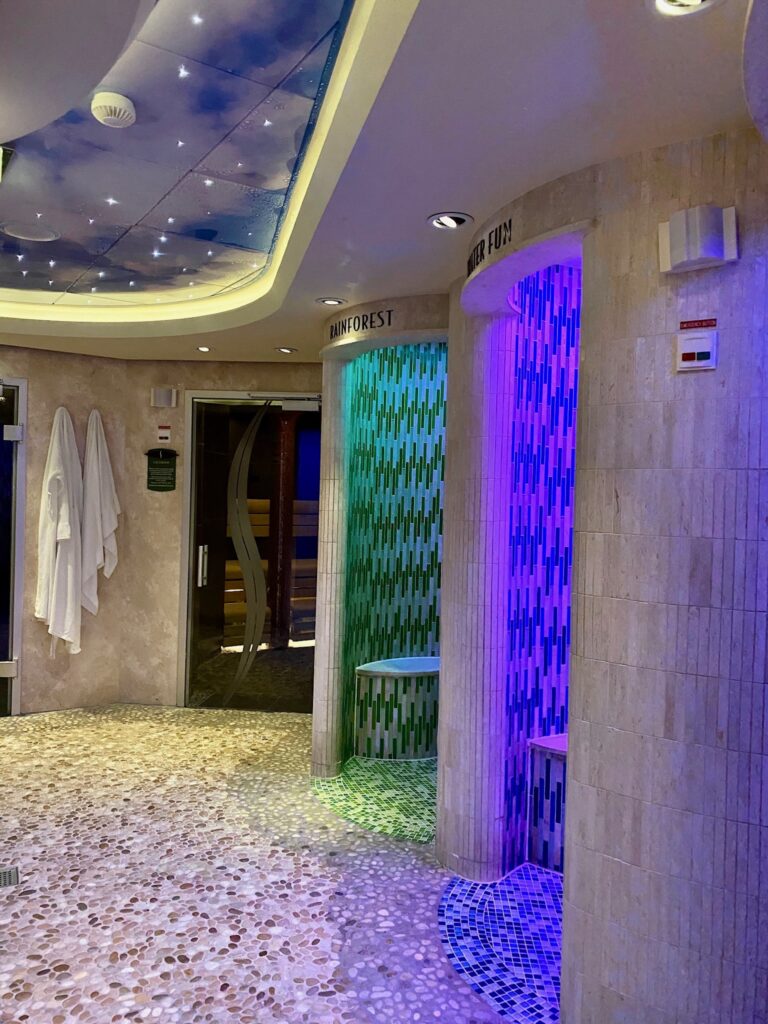 Stay tuned for details from Day 4 and our first port of call, Tortola!