We just returned back home on dry land from an amazing 7 night Eastern Caribbean cruise on the Disney Fantasy for one last vacation as a party of 3! This was our way of doing a babymoon, but keeping our toddler involved (yes I know this is not really a babymoon, but whatever). We did a European babymoon when we were pregnant with our first son and wanted to do something exciting, but not exclude him. A Disney Cruise with our toddler was the perfect option for rest, relaxation, and adventure for the entire family. This post is about Day 2, an at sea day and formal night. If you want to read about Day 1 first click here.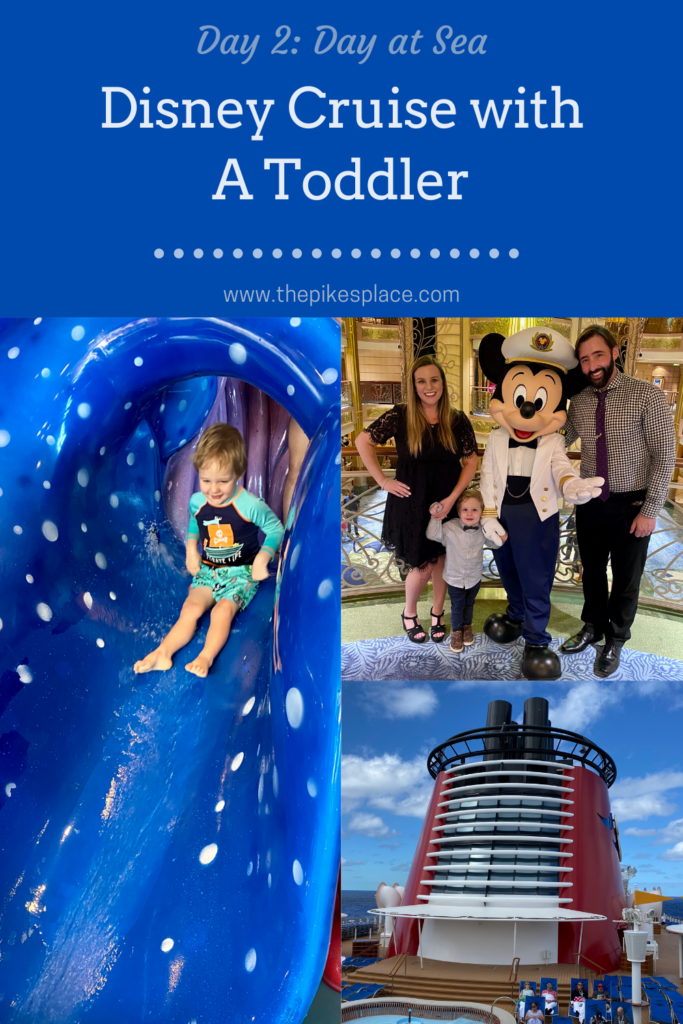 Day 2: Day at Sea & Formal Night
Morning Character Breakfast
We started off our first full day and day at sea with a Disney Junior Character breakfast. Now this was something we did on our previous cruise with our then 18 month old. It did not go well and we thought we'd give it another shot since he was older and could now sit through a breakfast. Well… bad news it still did not go well. We experienced bad service, poor food, and quick inattentive character interactions exactly like the last time we sailed. Skip the character meal! You aren't allowed to leave your chair so the characters come behind you to get a photo. This just didn't sit well with our toddler and he was very unhappy. Go to the buffet and leave the character meet and greets for later in the day.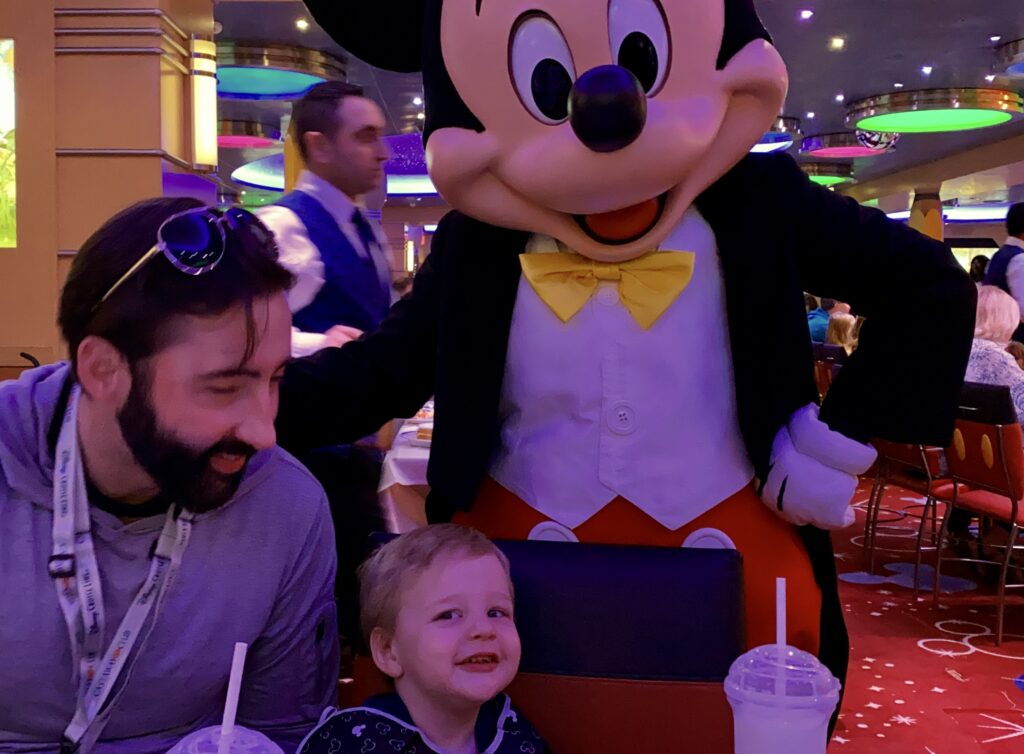 After breakfast we wanted to meet Jessie at her scheduled time since Killian was in an adorable Toy Story themed outfit. He was still in a bad mood from breakfast, so this meet and greet really didn't go well. Parent fail: don't push an unhappy toddler. He will remain unhappy.
Adult Time, Playtime & Pool Time
After the breakfast and character meets, we decided to take Killian to play in the kids club open house. This was perfect for our restless boy. We played for a bit and then checked him into the nursery so he could continue having fun. Matt and I headed to the adult only section to lounge in the super comfy pool chairs, grab coffee in the adult coffee bar and relax before heading to the Rainforest Room. The Rainforest Room was PACKED this morning, so I highly recommend going later in the day and avoiding it in the mid morning or around lunchtime on at sea days.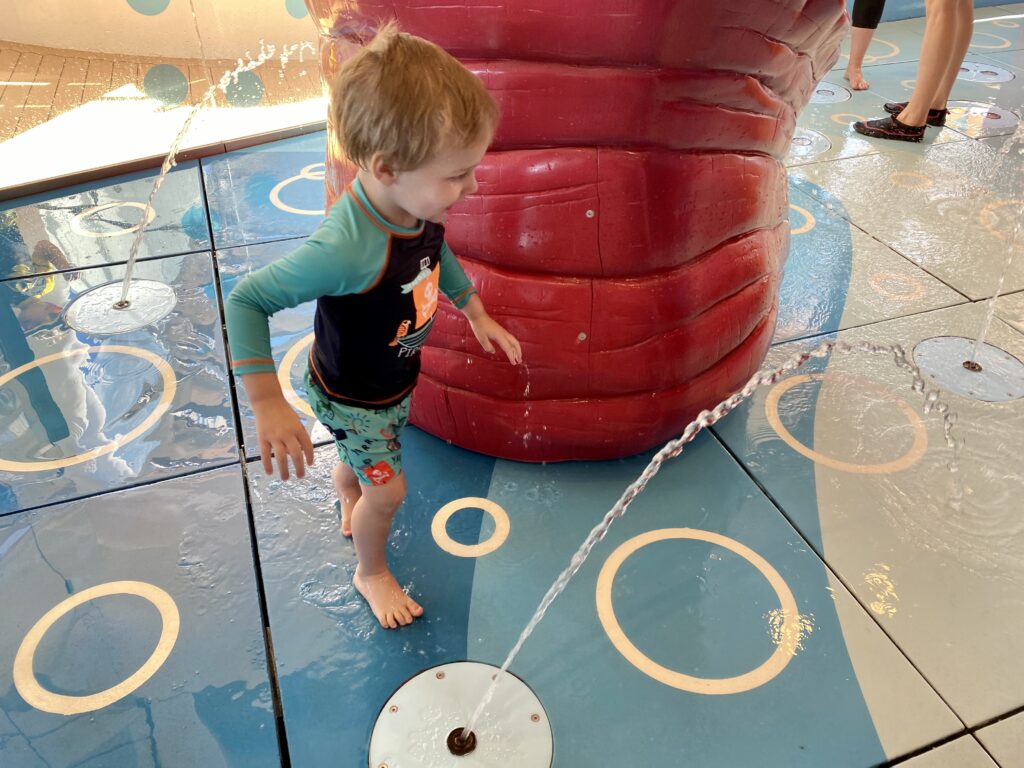 Around noon we picked up Killian from the nursery and headed back to the family pool deck and Nemo's Reef splashpad. This splashpad is fully shaded water play area themed for Finding Nemo and perfect for the toddler set or in swim diapers. It is actually the only swim diaper allowed water play area on board. Our son is mostly potty trained, but we didn't want to risk it in the main pools. We stuck to the splash pad and smaller side funnel puddle. He had no accidents, but just in case we played in safe. Nemo's Reef is and was basically his favorite thing on the ship. He loved the Mr. Ray waterslide and wanted to go on it endlessly for hours.
Pool Deck Lunch
Since our little fish didn't want to give up playing in the water. I hopped in the buffet and got us all lunch and found a table on the pool deck for a lovely water view lunch. Cabanas has everything from American kid friendly mac and cheese, pizza, pasta, to a cold seafood buffet and some international cuisine. There is also always a few soup options and a salad bar. For lunch we had a selection of chicken tenders, burgers, fries, mac and cheese, pizza, fish, shrimp, cucumber salad, and steamed veggies. It was not our healthiest meal, but it was quick, tasty, and very toddler approved.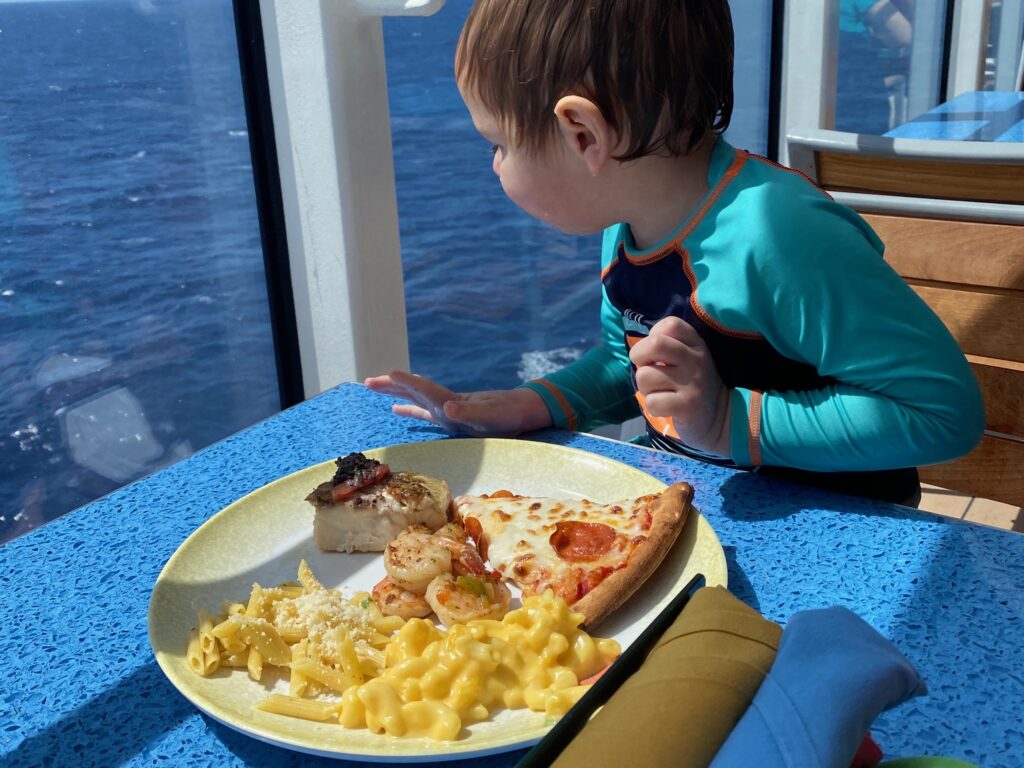 After lunch, we headed back to the room for nap time. The cabin is set up nicely for naps since there is a curtain separating the main bed from the couch or bunk beds. It is still just one room, but the separating curtain makes it slightly easier to get a restless toddler down. 
Late Afternoon
After nap time we started to get all dolled up for formal night. We wandered the ship a bit getting some photos and checked out the merchandise stores for the first time before heading to the captain reception where Matt picked up a couple free beers, we met some of the captains crew and listened to live music in the atrium.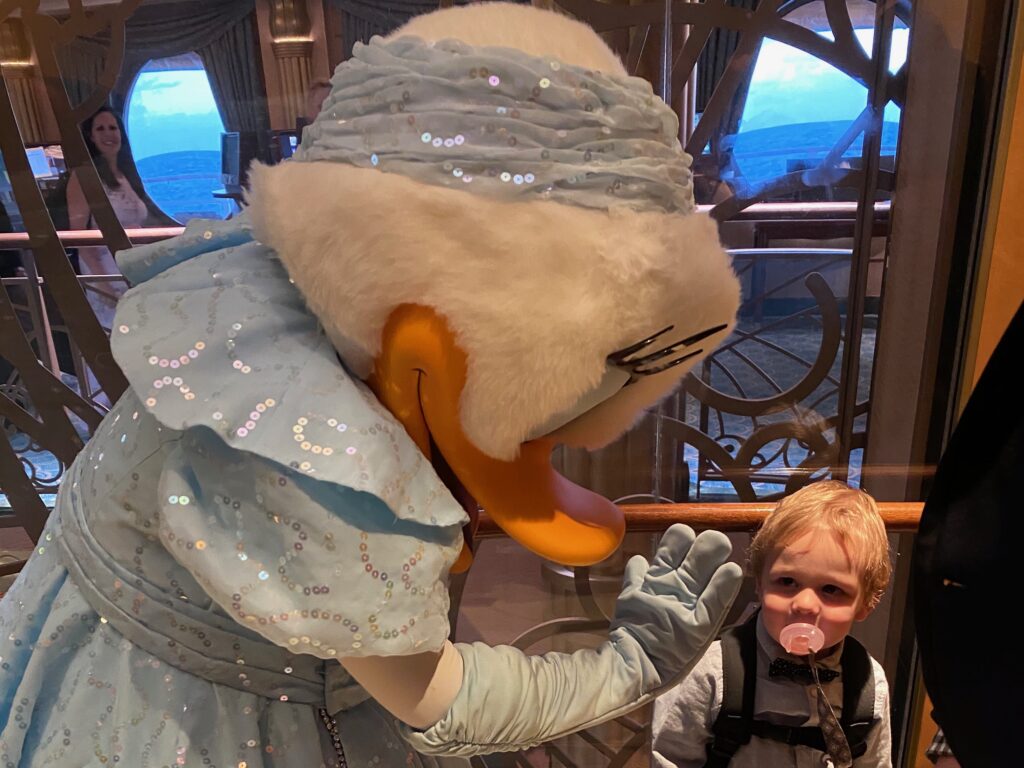 We decided to head up to the open house in one of the kids club and took the main elevator where we had one of the best character interactions EVER! Daisy Duck all dolled up in her formal attire got on an empty elevator with us and rode with us up to deck 5 then walked hand in hand with our toddler for awhile before hugging him goodbye. I think they was one of the most precious moments ever and will make this mama teary eyed for years! Just thinking back about how special it was is one of the many reason I will cruise Disney again. It was total magic that would never happen anywhere else!
Formal Night Dinner
After we played in the Oceanear Lab for a bit it was time for dinner. We headed down to Deck 3 Aft for our dinner in Animators Palate. This is our favorite dining room and on the first night you dine there there is a special show with a Finding Nemo favorite. Our toddler LOVED seeing Crush and his other Nemo friends on the big screens around the dining room and it kept him thoroughly entertained until he was done eating and we took him to the nursery.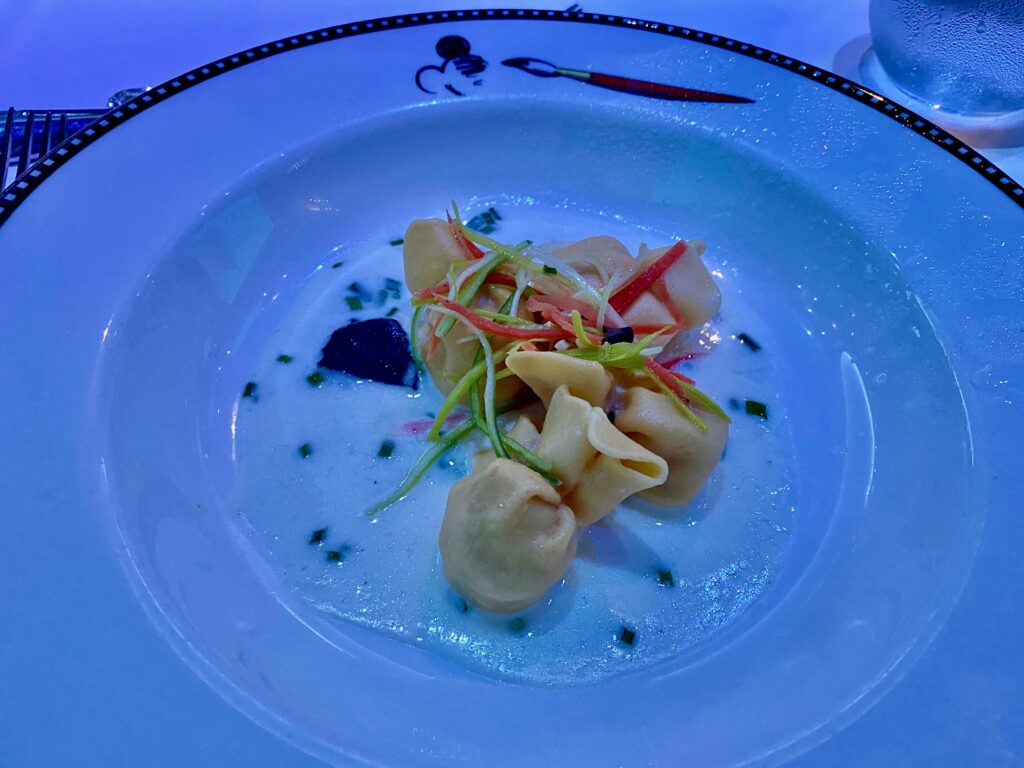 For dinner, I had the black truffle pasta purseittes, arugula salad, pennette bolognese and chocolate fudge cheesecake. Matt had the sliced serrano ham, baked potato and cheddar cheese soup, grilled tuna steak, and deconstructed carrot cake. The highlight for me was the pasta purseittes and for Matt the baked potato and cheddar cheese soup. I really enjoyed my pennette bolognese entrees, but Matt was not a fan of the tuna steak. 
End of Great Second Day
After dinner we thought we would have to pick up Killian from the nursery, because he was not very happy when I dropped him off, but when we checked on him he was very happily playing and did not want to leave. We decided to go check out one of the adult bar Skyline Lounge for a cocktail for Matt and mocktail for me. This is a stunning bar with different skyline city views every 15 minutes. They made me a delicious mock mojito and Matt had one of their signature drinks. We took our drinks to go and headed to adult only 80s music trivia where we failed miserably, but had a lot of fun. Then watched about 30 minutes of the nighttime show Believe before heading to pick up Killian.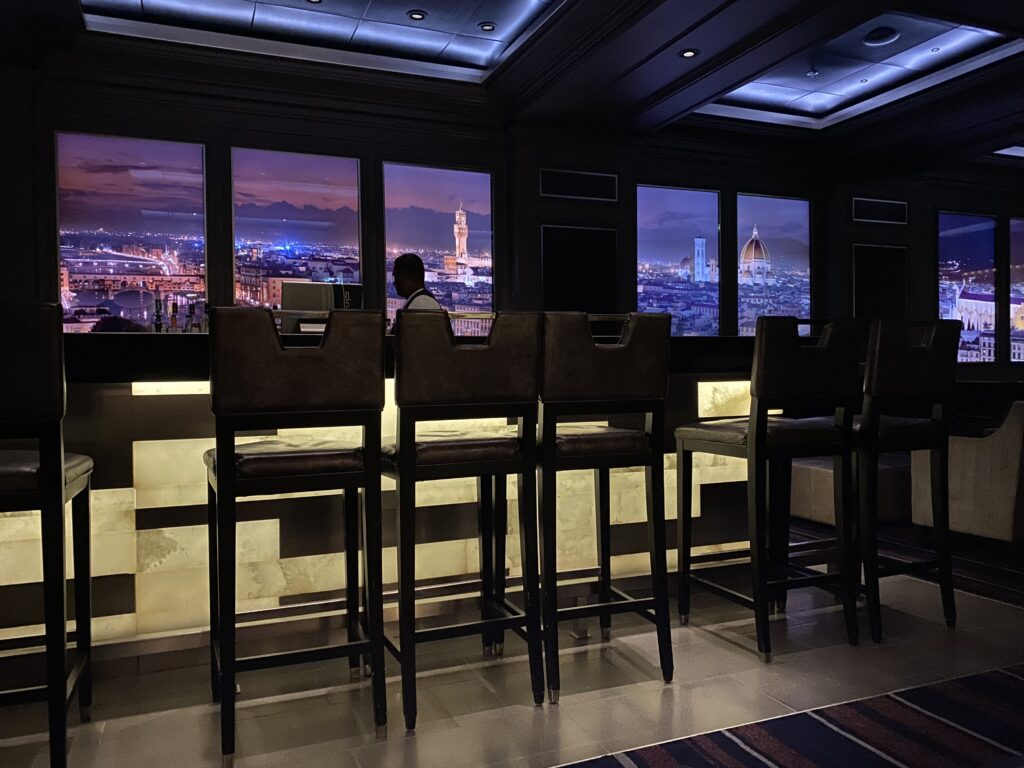 Around 9:30 we split up and Matt picked up Killian from the nursery while I grabbed the first spot in line to meet Captain Mickey. This was one of my MUST DOs for my Mickey loving toddler and at 9:30pm the line is much more manageable. While we were waiting for Mickey who was running a bit late, rockstar Diasy Duck came over again and danced for a bit with Killian while we waited! Then we had a fantastic and adorable character meet and greet with the wonderful Captain Mickey before heading to bed with our very overtired, but very happy toddler.
Stay tuned for details from Day 3!