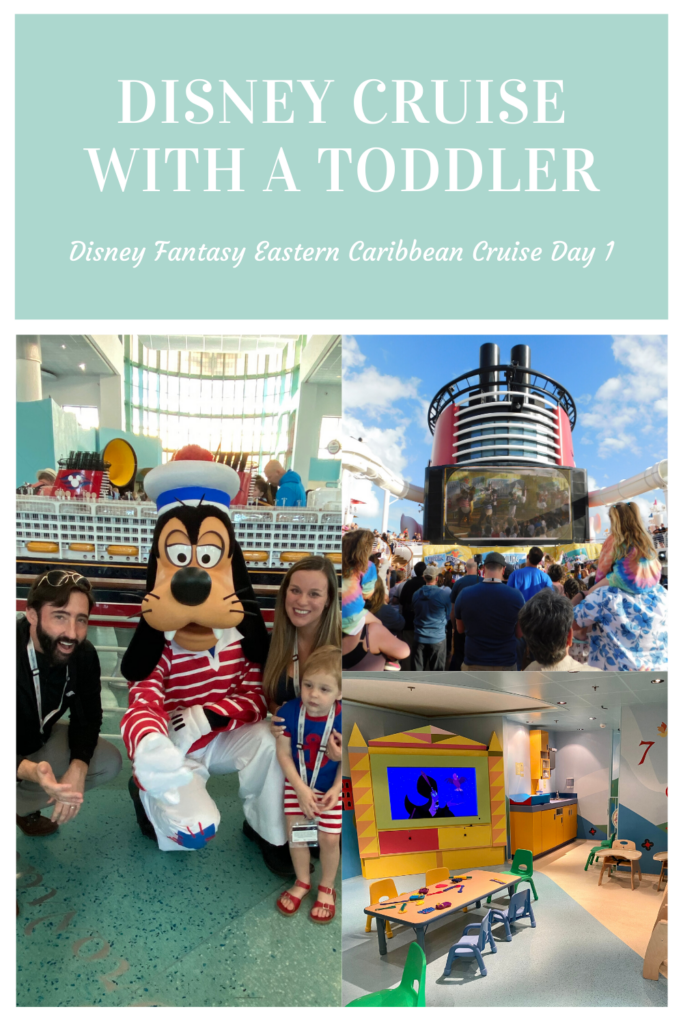 We just returned back home on dry land from an amazing 7 night Eastern Caribbean cruise on the Disney Fantasy for one last vacation as a party of 3! This was our way of doing a babymoon, but keeping our toddler involved (yes I know this is not really a babymoon, but whatever). We did a European babymoon when we were pregnant with our first son and wanted to do something exciting, but not exclude him. A Disney Cruise was the perfect option for rest, relaxation, and adventure for the entire family.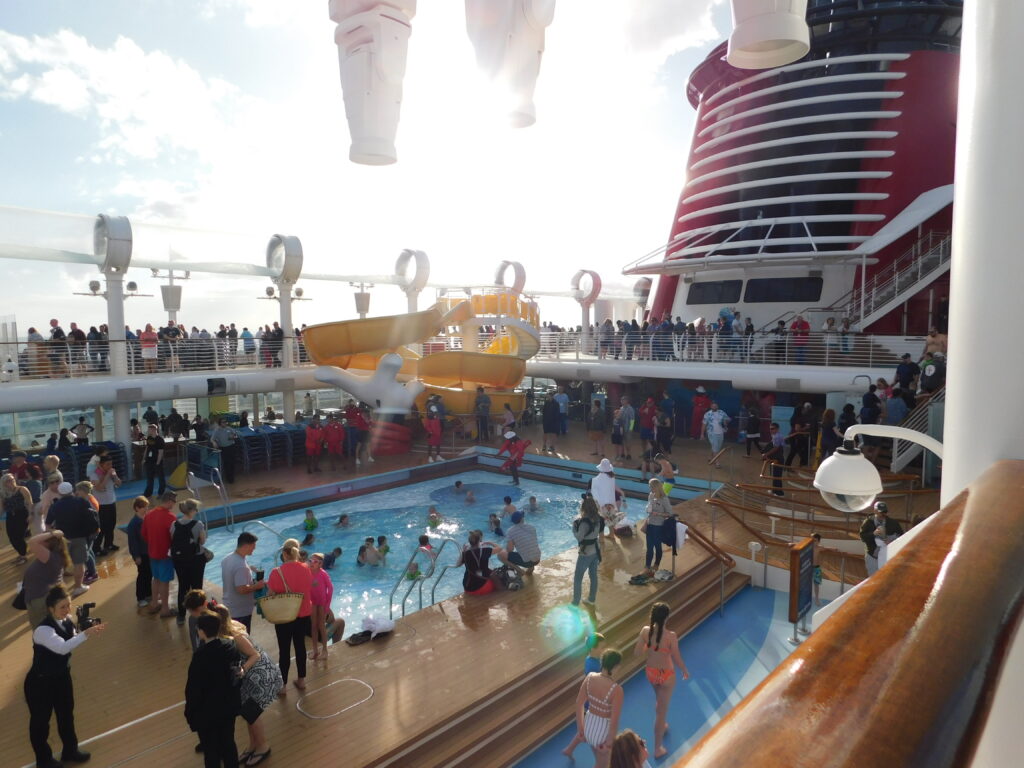 Day 1 of Our Cruise
Arriving at the Port
Since we live near Port Canaveral, my Dad actually dropped us off at the cruise terminal. We opted for the earliest port arrival time we could get, so we could enjoy almost a full day on the ship with fewer crowds. This worked well for our first Disney Cruise and would happily do it again. We arrived around 11:30am and boarded in group 12. The boarding groups go FAST, so by the time we checked in and meet Goofy we were getting on the ship.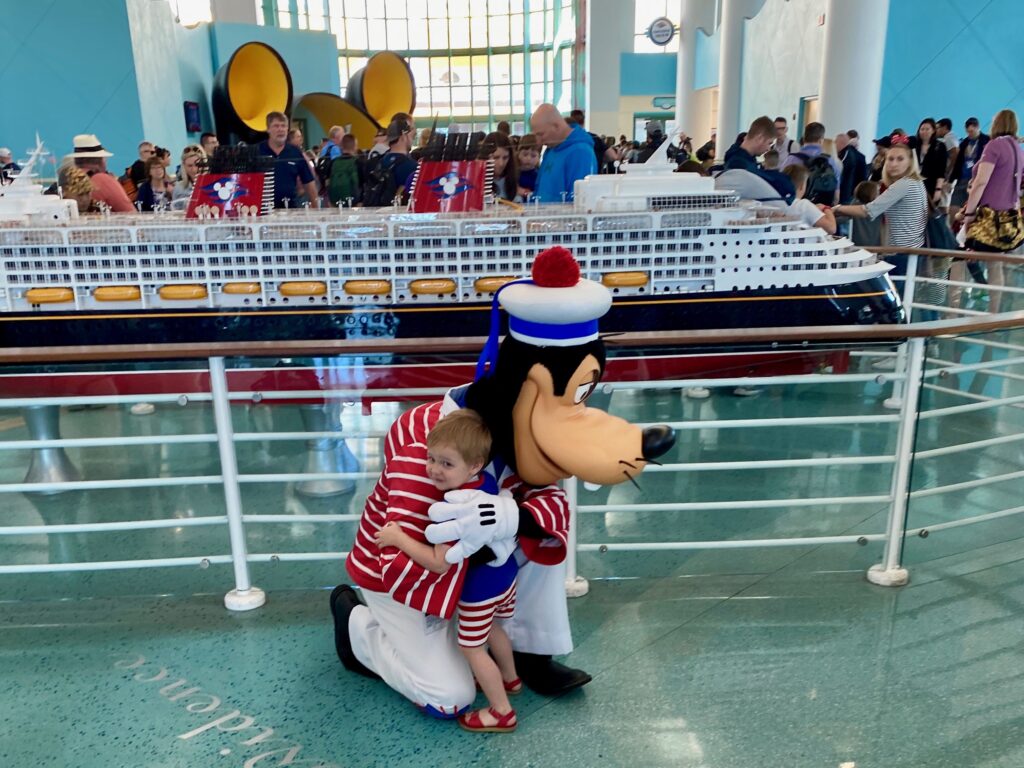 We saw Goofy almost immediately after entering the cruise terminal. Killian ran straight to him and gave him the biggest hug, I wish I'd had my camera ready to get a video. It was the perfect way to start the vacation! 
After Boarding
Once we boarded the ship, we picked up daily navigator at guest services (or the daily itinerary) to see what was happening on our first day. They have an app we used also, but I really enjoy the paper navigators. Then we headed to add myself to a character meet and greet we weren't able to get in advance and add the character breakfast. We waited just a few minutes before securing both slots I wanted.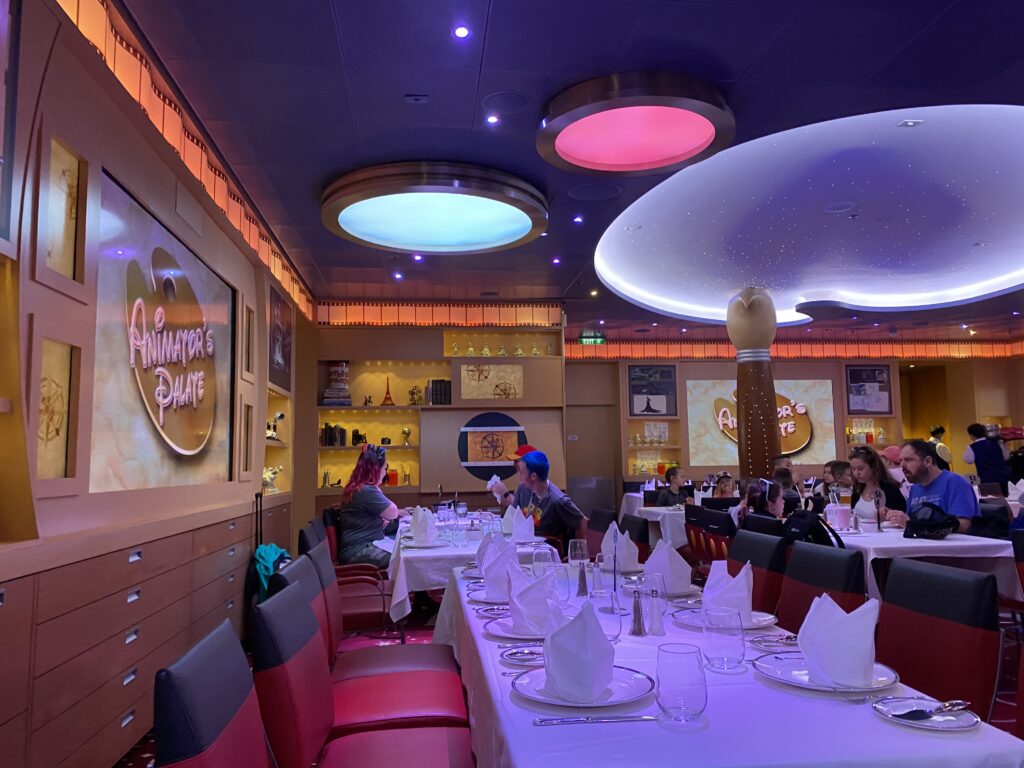 I headed to the spa to get rainforest room week pass for Matt & I. The rainforest room is a relaxation part of the spa, which is an add on service that cost $229 plus tip for a couple for the week during our sailing. The rainforest room has different aromatherapy showers, steam rooms, sauna, hot tubs that overlook the ocean and hot stone loungers. It is incredibly relaxing! 
Lunch on Board
We skipped the buffet and had a delicious sit down meal in one of the three main dining rooms, Animators Palate. I like having our first meal in one of the sit down restaurants rather than the hustle and bustle of the buffet, plus I think the food quality is slightly better. Not that I don't enjoy a buffet.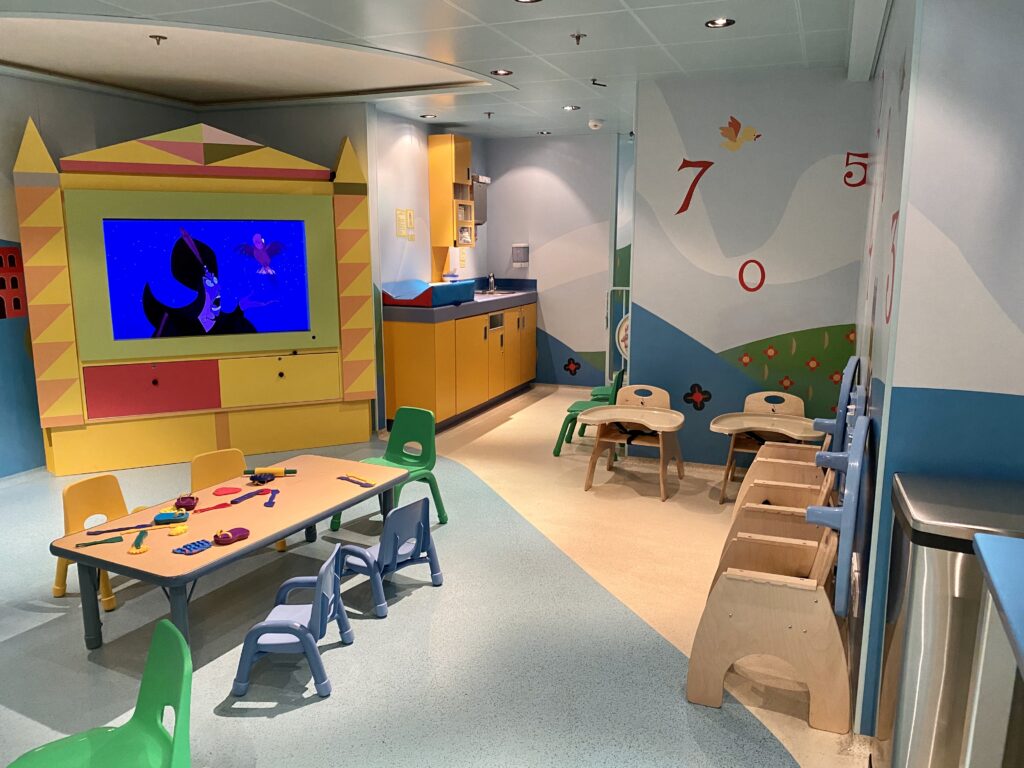 After lunch, roughly 1:00pm we headed up to register and get Killian acclimated to the nursery and kids clubs before heading to our cabin on Deck 9 to unpack and take naps. The cabins are typically ready around 1:30pm and they open our section almost exactly at 1:30pm. Anything you bring on board you do need to carry with you until the room is ready. 
Late Afternoon
Around 4:00pm it was time for the Muster Drill (emergency drill), our station was in the theatre balcony. After the short boring drill, we headed up to Deck 11 for the Sail Away Party to wave goodbye to Port Canaveral for a week of sailing bliss! The Sail Away Party is an awesome send off with Mickey and friends and lots of fun dancing. 
First Dinner on Board
By the time we got out of the port, it was time to get ready for our early dinner 5:45pm. Royal Court was our first dining room and where we met our amazing servers. We had the BEST serving team and already miss them. For dinner the highlight was the french onion soup for me and the Grand Marnier soufflé for dessert. This was not our favorite dinner of the cruise, but still very good and the soup was absolutely my favorite. 
Halfway through dinner, I took Killian up to the nursery to play and Matt and I finished dinner with incredible desserts then we went to the Rainforest room in the spa to relax sans toddler. The hot stone chairs are my favorite part of the Rainforest room and I could send an entire day reading on one.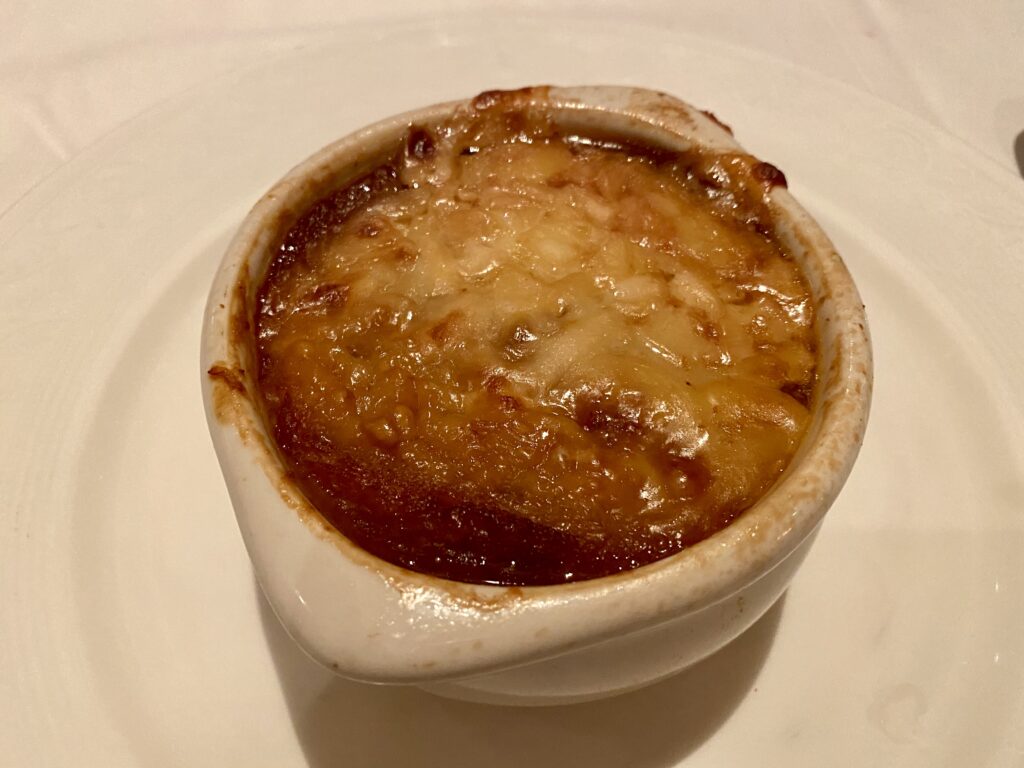 End of a Great First Day
After dinner we caught about 15 minutes of the first nighttime show, "A Fantasy Come True: Welcome Show" before it was bedtime for a very tired and excited toddler and parents. This was basically our only early bedtime and much needed for the week ahead! 
Stay tuned for details from Day 2!