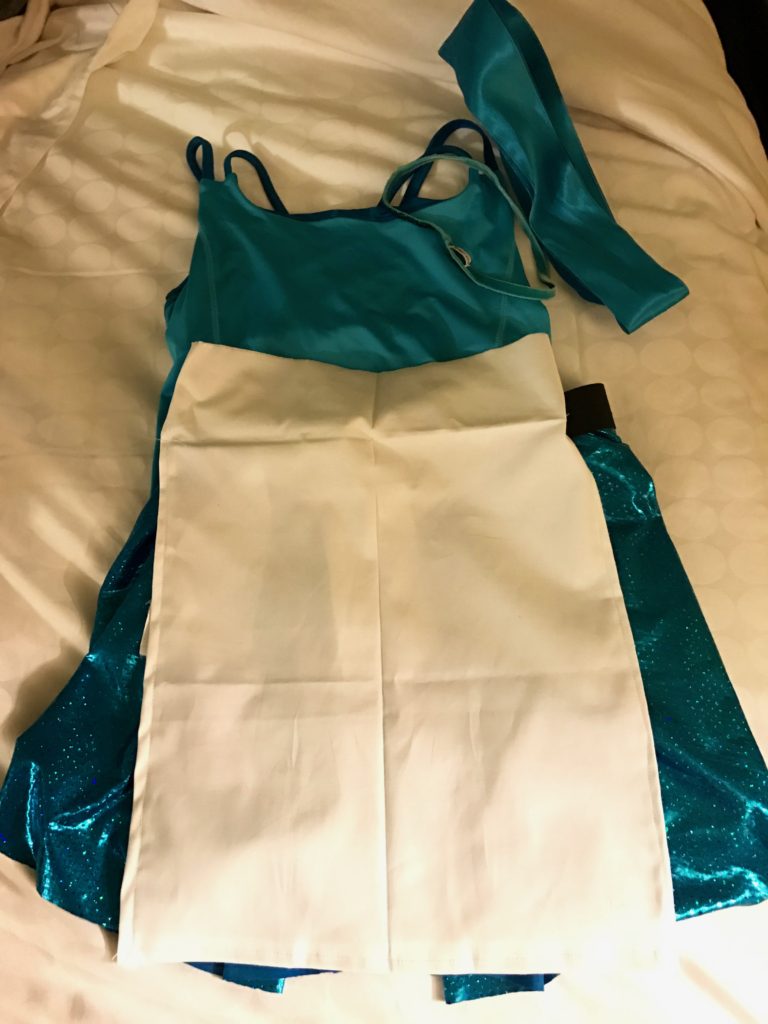 Provincial Belle is a fun easy to put together running costume. Running in runDisney races has become a true passion, okay maybe an addiction, of mine. I was hooked after my first 5k and quickly upgraded to a 10k just the following fall! For my second race, I had to wear one of the fun costumes I saw on the race course at the 5k. I came up with the idea of doing Provincial Belle because I was running at the runDisney Wine & Dine 10k and that weekend has the Lumiere challenge, which made me think of Belle. The costume was super fun to put together and I even decided to make my own skirt and apron. You can easily buy these items if you don't want to sew them like I did!
For more information about my experience at Wine & Dine half marathon weekend click here!
For my runDisney packing list click here!
*This post contains affiliate links. If you make a purchase after clicking one of these links we will be compensated. This simply helps keep this blog running. All opinions are our own.*
Provincial Belle Costume Basics
One of the reasons I picked Provincial Belle race costume was because it didn't involve tons of pieces and I didn't need to carry anything. I'm just not one of those people that can run holding things. Here is the basic list of what you'll need for this costume. A link to the tutorial I used to make my skirt is below.
Blue Running Top – I already owned champion brand workout tank top
Large Blue Ribbon – I used a wire ribbon I purchased from JoAnne's
Blue Running Skirt – I made this, link to tutorial below
Apron – I also made this, tutorial below
Running Shorts – I wore black running shorts, also already owned
That's it! You can find lots of blue running skirts and skorts online if you don't want to make your own.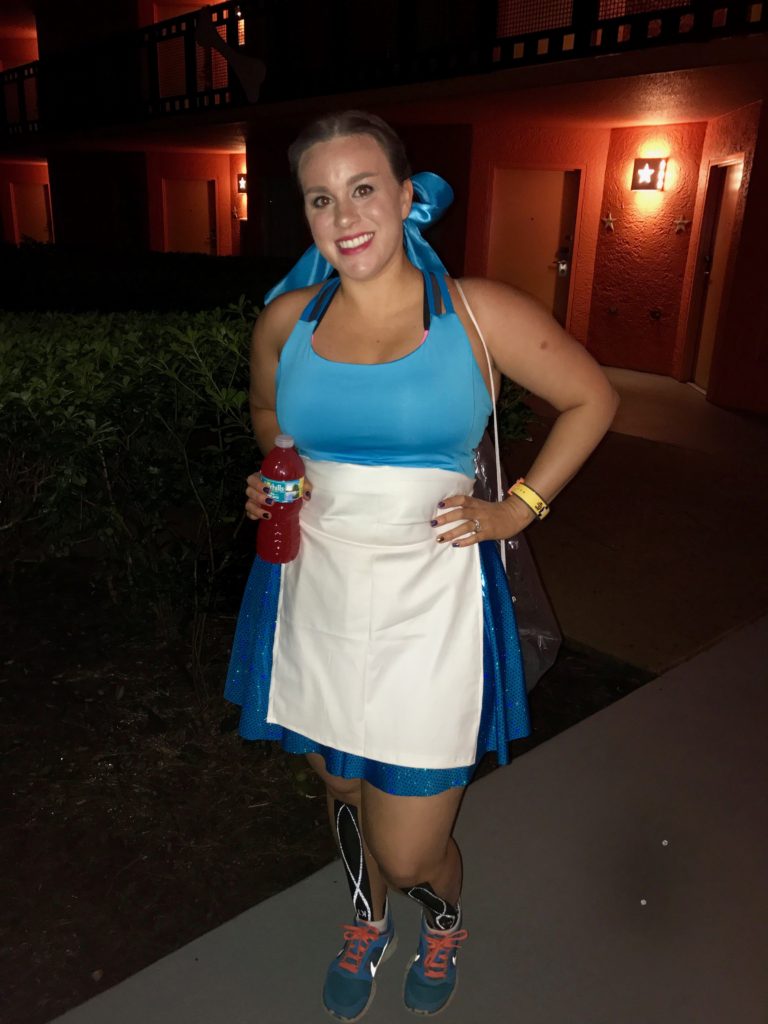 Belle's Hair
For my hair, I parted my hair in the middle, then twisted a small section of hair back on either side of my head and secured with bobby pins. Then I put all my hair into a low ponytail and added the large bow. I used about a can of hairspray and tons of bobby pins to keep it in place.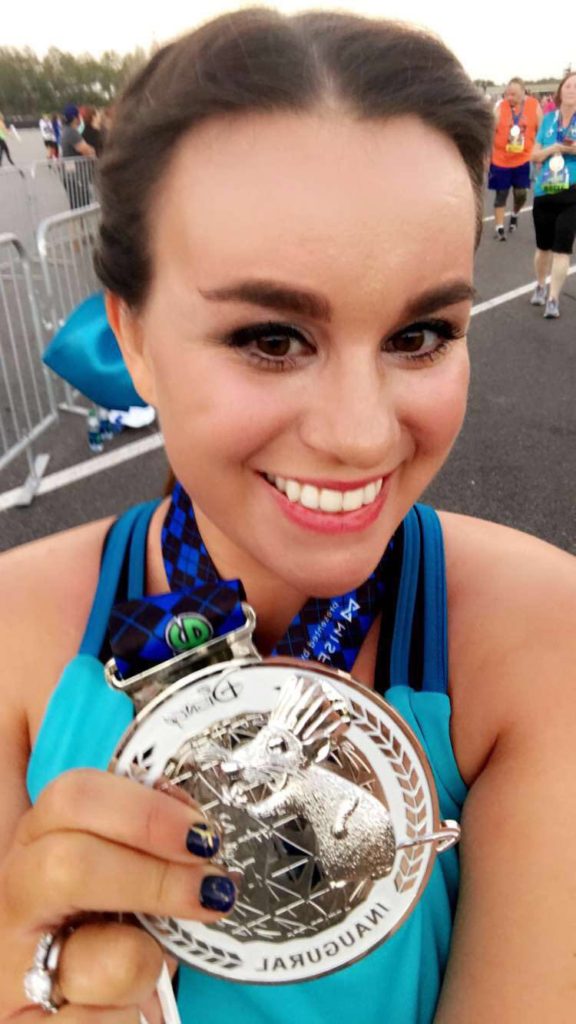 Running Skirt
I will start with the fact that I am a basic sewer. I can make pillows, drapes, sew hems, basically, I can sew straight or straightish lines. If I can make this skirt and apron, so can you! Once I decided it would be much cheaper to make a skirt than buying one, I went online. I read about a million tutorials about making a running skirt and decided this one was the best by Moms RUN this Town.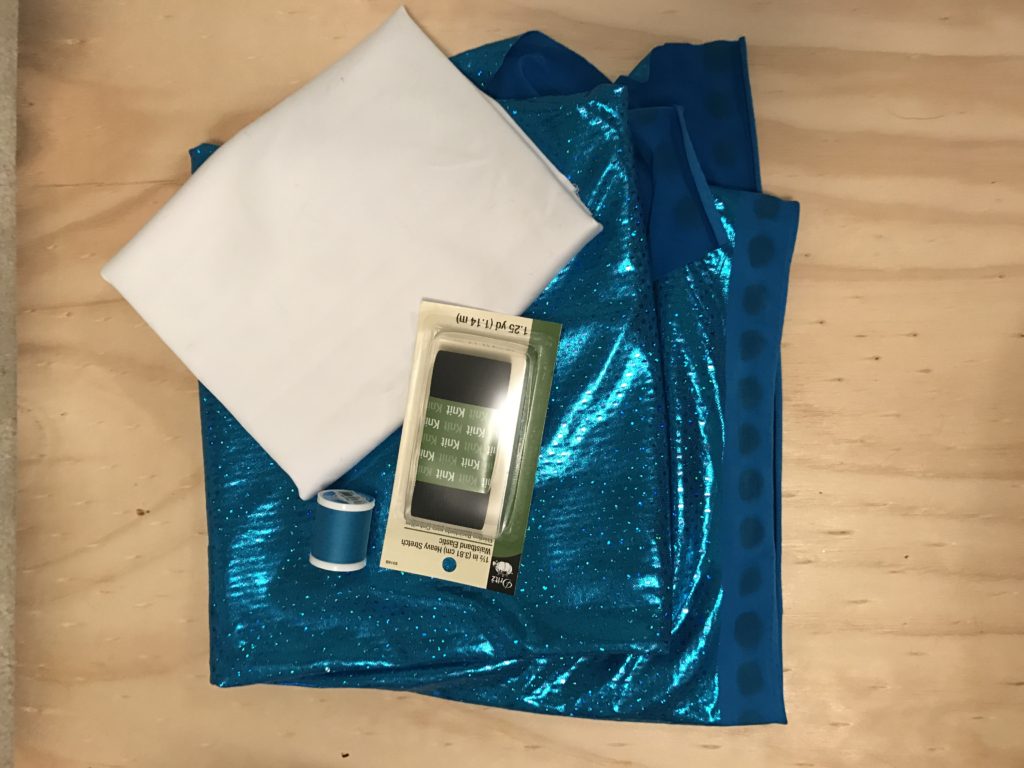 The main difference between her skirt and mine is that mine is not a sparkle skirt. I used a sparkly spandex fabric instead. (It was pretty 80s and since the race, I've used the skirt for an 80s party!) Anyways, my fabric was slightly different and stretchy therefore after taking my measurements and cutting the skirt my skirt turned out HUGE! I had to resew it and I added a fun little ruffle in the back. It still turned out great, so if you mess up the first time and have to redo it, no worries! You can't recut once you've cut, but you can undo the seams and improvise!
DIY Apron
The Apron was extremely simple to make. I took a piece of white cotton fabric that fit wrapped my body (with room to spare to tie it in a bow) and cut it into the shape of an apron. Basically, it's a T with thin arms and a really really thick bottom. I hemmed the seams, but you could easily get away without doing this.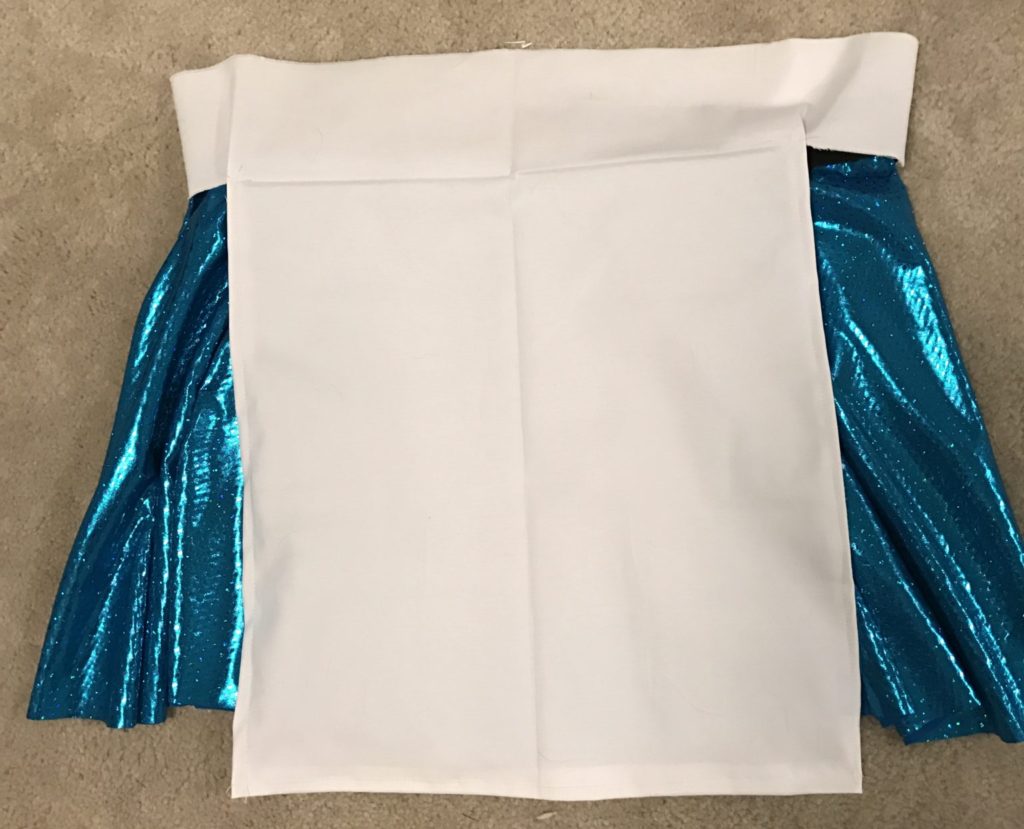 Running in runDisney races is so much and having a costume just adds to that fun! I love seeing what everyone else comes up with and even when you see someone dressed as the same character as you, it's really fun to see what they did! I'm not running the Wine & Dine this year due to the fact I'm due with a baby the day after the race, BUT you better believe I will be running Disney again soon and I can't wait to design my next outfit!
Ready to book a vacation to Walt Disney World?
Contact Dream Makers Travel Agency today to book your vacation and get FREE concierge level planning included with every booking.