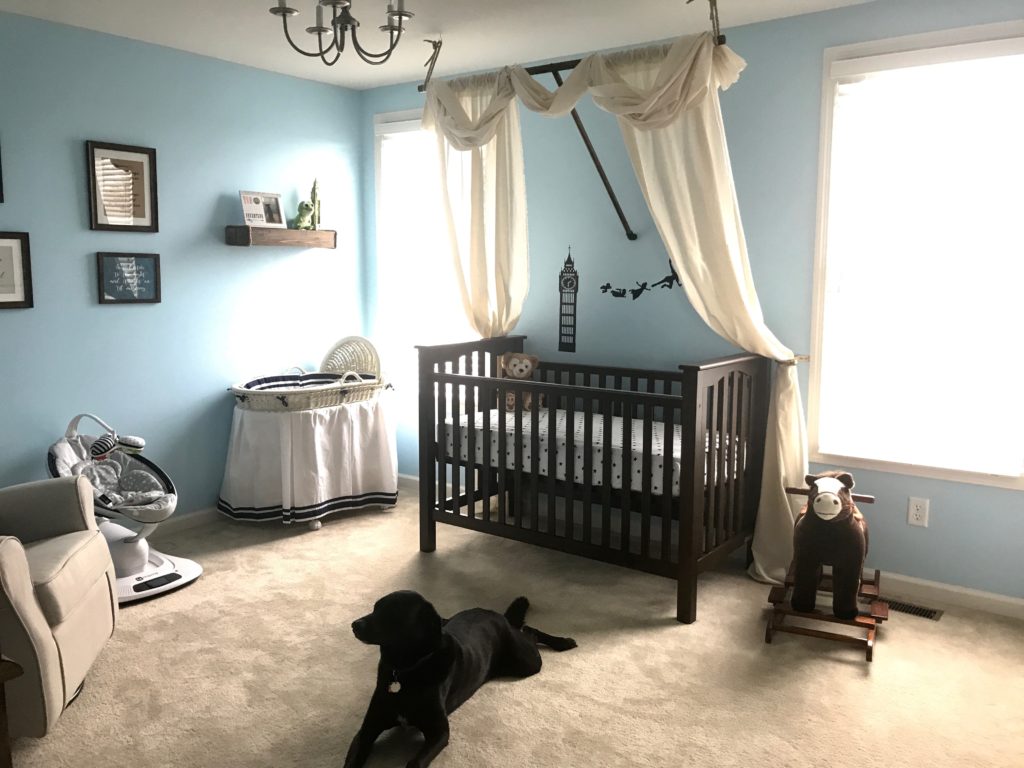 From just about the moment we found out we were pregnant we wanted to do something special with our baby's nursery. With my love of Disney, something using a Disney classic was likely in the cards, but we did want it to be something a little different. During my pregnancy, we went to see Finding Neverland and I came up with the idea that a Peter Pan Neverland nursery would be the cutest idea for a boy. We didn't know what we were having at that point, but the minute we found I immediately knew we had to go through with that idea. We had so much fun putting together this room and I hope you enjoy all the details! I will give a general outline of where we purchased or how we made each item, but if you have questions about a specific thing, please ask away.
*This post may contain affiliate links. If you make a purchase after clicking one of these links we will be compensated. All opinions are our own.*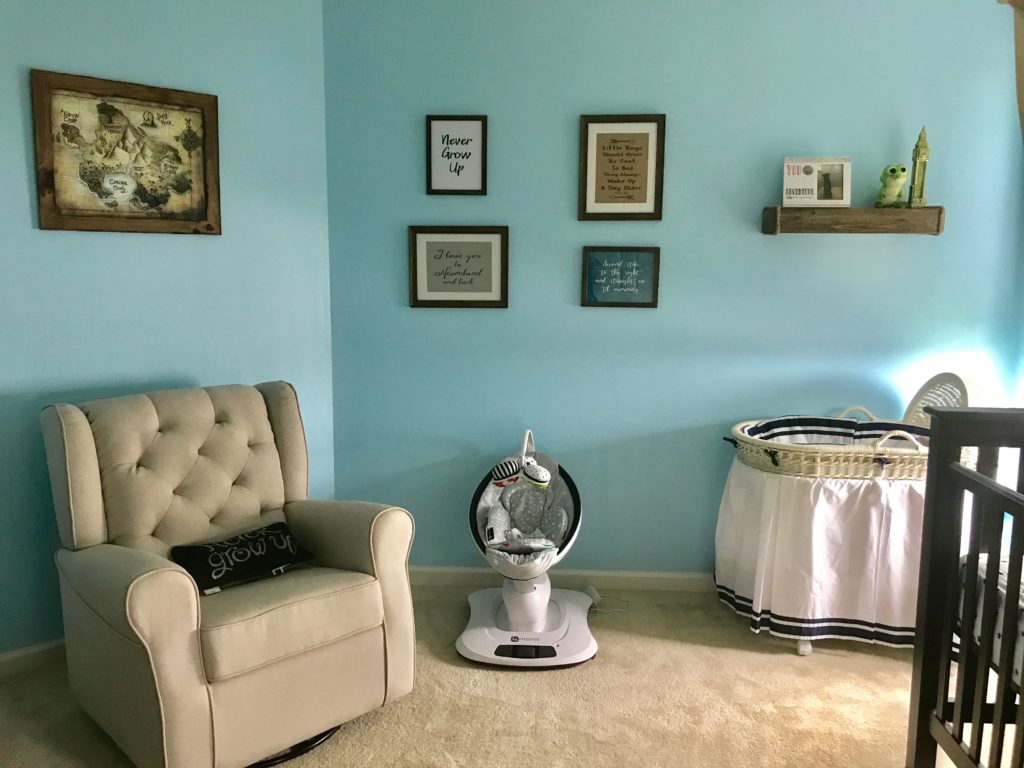 After looking at thousands of photos online and going over everything I could find on Pinterest, I combined my favorite ideas and my husband and I slowly worked on the nursery throughout the pregnancy. We couldn't find a lot of the ideas we dreamed up online or in a store, so we DIYed and built much of the room ourselves. We wanted to use some J.M. Berry quotes from the book, incorporate in some pirate details and added some small details like an adventure arrow frame my girlfriends purchased me, a big ben clock we picked up in England and a Disney Peter Pan crocodile we purchased in France. I shopped store sales, Facebook marketplace, and bargain hunted to find all the items we didn't make or create ourselves. The gliding chair we got from Target, the Mamaroo, along with the Pottery Barn basinet we found used, the shelf was on sale at Michaels and the small pillow that says Never Grow Up I purchased at Walt Disney World.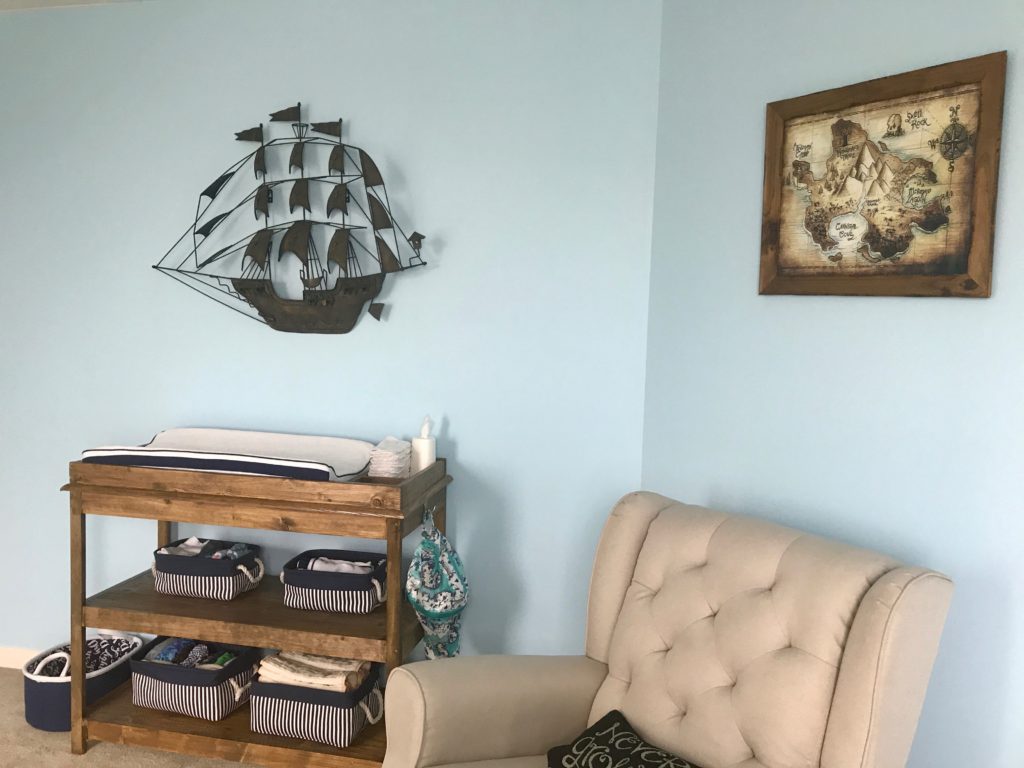 I originally didn't want the room to be blue since I felt that was too generic boy, but in the end, blue just worked the best with the things we loved. Now I feel like there is something really classic about the navy and light blue combo with dark wood. My husband made and stained the changing table. He has gotten really amazing a carpentry! He added a small hook on the side of the table, so I could hang a wet bag to hold our dirty cloth diapers. Of course, the wet bag from Rumparooz has a Peter Pan design on it! I found the small bins that we use to hold diapers and changing table supplies on Amazon and the larger bin we use for dirty laundry next to the table at Home Goods. The changing table pad and cover were both purchased at Pottery Barn and the amazing giant iron ship on the wall my Mom gave us as a gift, but was also purchased at Pottery Barn. The map of Neverland we purchased off of Etsy and the frame is from Michaels.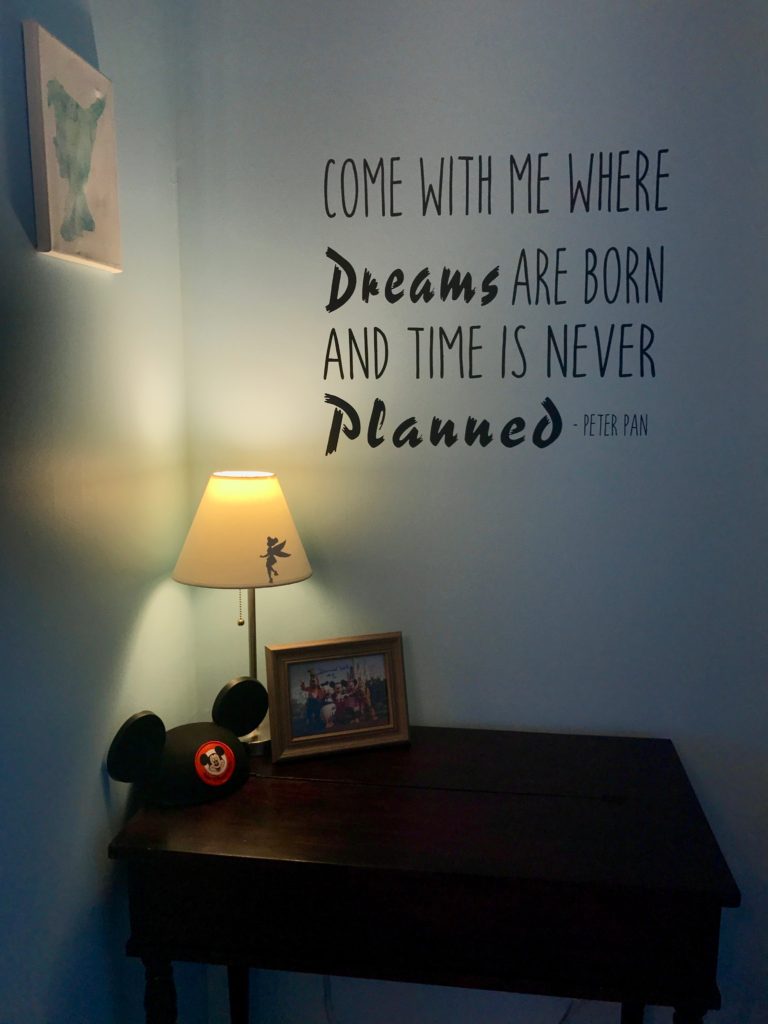 I used my Cricut die cut machine to design and cut out vinyl words of one of my favorite Peter Pan quotes and added it to the wall above a small table we already owned holding a Mickey Mouse ear hat and a signed character photo I got on a girls weekend trip to Disney congratulating us on our pregnancy. The table also has a lamp that I added a small vinyl Tinkerbell to the lampshade. She appears only when you turn on the light. On the side wall, I added a canvas Peter Pan silhouette I painted.

I used my Cricut die cut machine again to create vinyl cutouts of Peter Pan, Wendy, John and Michael Darling flying over Big Ben as Tinkerbell dusts pixie dust on them and added them behind the crib and ship mast. If you don't want to purchase and use a Cricut to DIY it, you can purchase similar vinyl decor cutouts on Amazon here. To make the pirate ship mast my husband stained wood poles we hung from the ceiling at an angle and connected to the wail with a black piece of PVC pipe. I added muslin to make the ship "sails". It took a little trial and error, but eventually, we got a look we love. The crib and star bedding we purchased on sale from Pottery Barn. I plan on adding a crib skirt eventually, but since our baby won't be sleeping in the crib for awhile we aren't in a huge hurry. The Duffy teddy bear is from Disney World and just like Michael Darling has the entire story no Peter Pan nursery is complete without a Teddy Bear!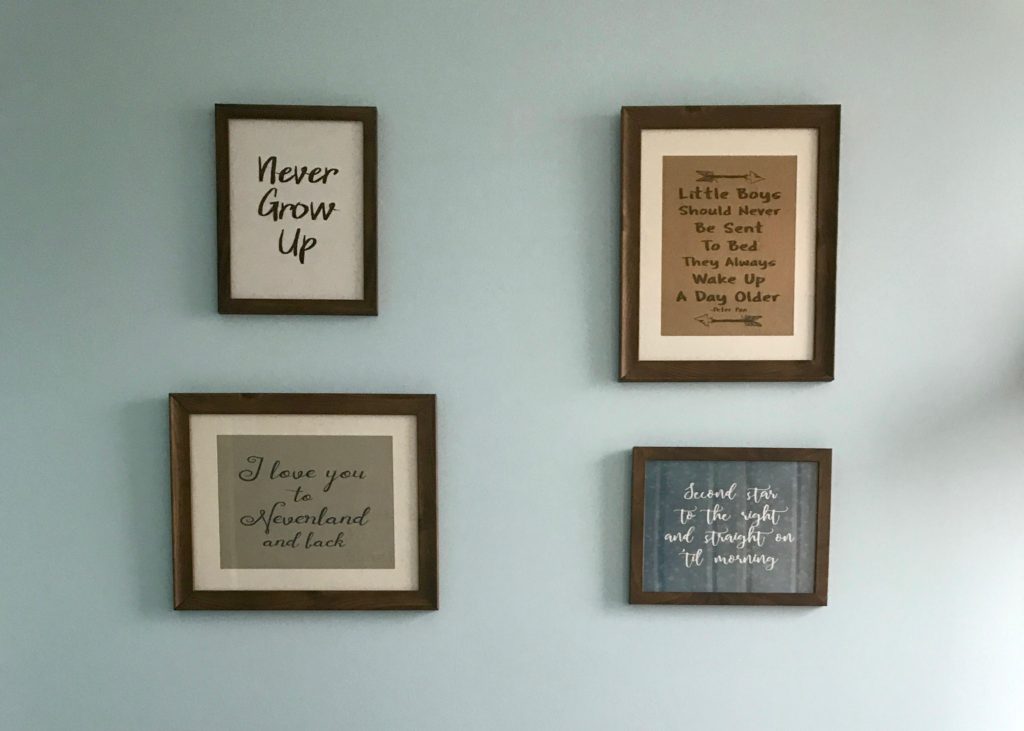 The room wouldn't have been complete without some framed quotes from Peter Pan. There are so many good ones for a baby boys room it was hard to choose just a few. I finally decided on my favorites and used photoshop to create my wall art. Then I printed them on card stock and framed with frames we purchased at Michaels.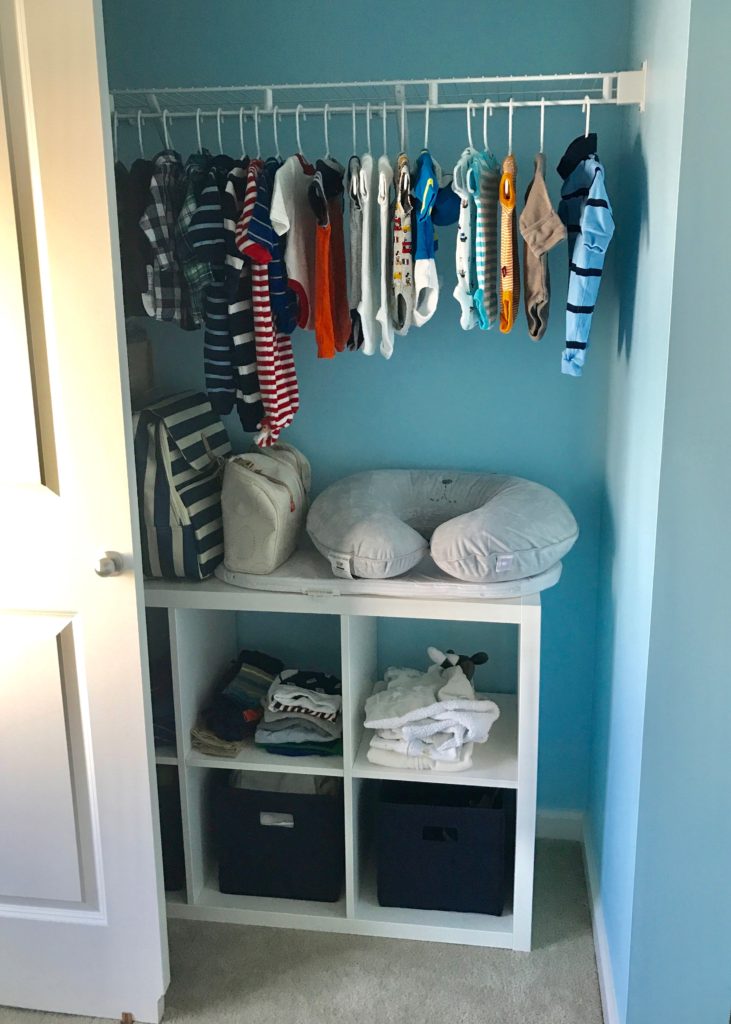 The icing on the cake for our nursery was a well-organized closet. We purchased a bookshelf from Ikea and turned it on its side. I found some navy pop-up bins on Amazon to add some hidden storage and used the second shelf to store folded clothes and books (not shown). On the top shelf of the bookcase, we store items like an extra bassinet mattress, a boppy pillow, and baby bags when we are not using them. Since baby clothes are so small, this gave our closet so much more usable storage!