Nashville Hot Chicken…..
has been around forever. However, it just recently became a craze. I grew up in Nashville and while I remember people referencing hot chicken, I don't remember it being a thing until after I graduated high school. I'm HUGE fan of anything spicy, so I'm shocked I never had this dry rubbed spicy chicken sooner. The company I worked for out of college had the Nashville hot chicken restaurants, Bolton's, vend at their music venue. Part of my job was working with the vendors. After telling the owner, Mr. Mathews, I'd never tried hot chicken he gave me some. I was hooked from that moment on. Shortly after this, hot chicken took over Nashville. I feel like it happened overnight. Different versions of hot chicken can be found all over the city. You name it and Nashville makes hot chicken with it.
*This post contains affiliate links if you purchase after clicking on one of these links we will be compensated. All opinions are our own!*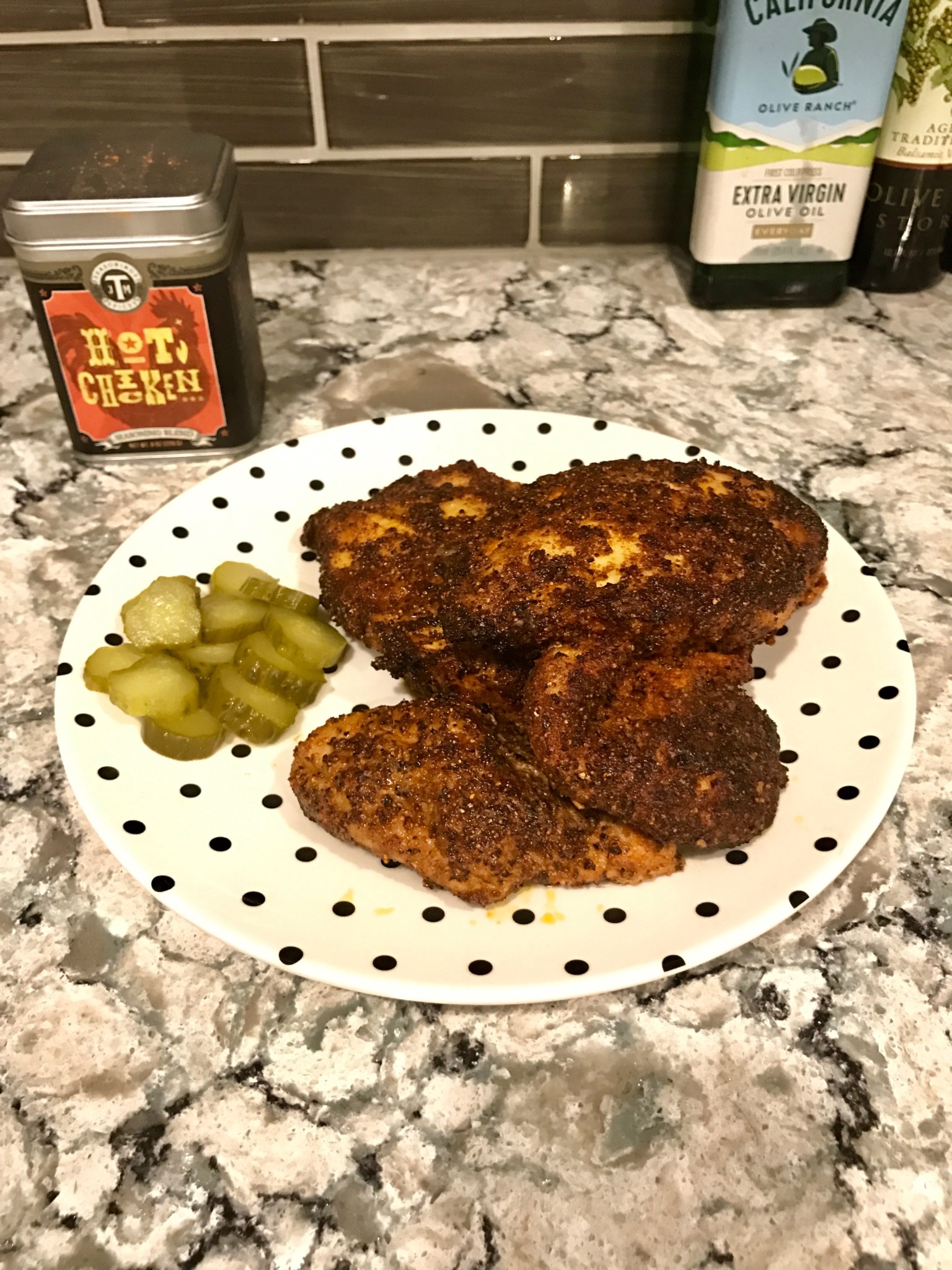 Where To Get Hot Chicken in NASHVILLE
Hot chicken naturally became one of our go-to places when out of towners came to visit us in Nashville. When it comes to Nashville hot chicken I like to stick to the classics in East Nashville. You can find it many places around the city and currently the most famous restaurant started in Midtown if you are planning to visit Nashville make sure to try Prince's for the original hot chicken. I obviously have a soft spot for Bolton's  and their catfish is one of kind, so I also highly recommend it. (I was actually shocked to learn while writing this they both now have websites.) If you want the history behind the Nashville chicken that most Nashvillians had never heard of before a few years ago, this article from Bitter Southerner explains the history much better than I can.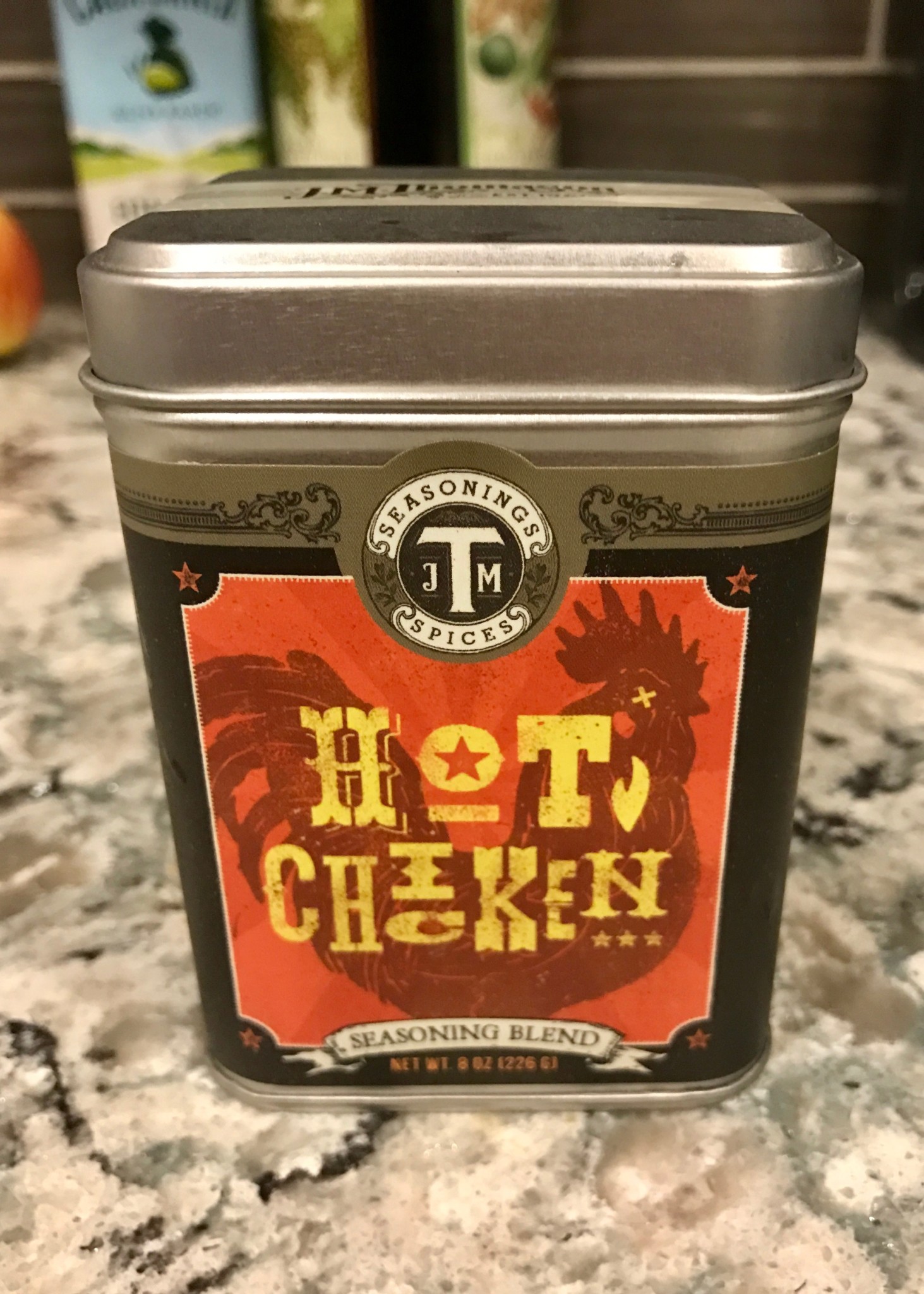 Making My Own Hot Chicken
After moving to the Midwest, I was shocked to find places advertising Nashville-style hot chicken. I began to miss the dry spiced chicken and tried Midwest versions. I guess I'm now a purist, but I'M SORRY, the ones I've found here are just not the same. On my last trip back home, my wonderful mother gave me this awesome hot chicken spice she found at *Batch located in the Nashville Farmers' Market. (If you haven't been there put the Farmers Market on your bucket list for a Nashville trip!) I was so excited to try it out and literally made my first batch of hot chicken days after coming home. I probably make this recipe twice a month. It's now my favorite homemade chicken dish. I alternate between this skillet fried version and a baked version that is still amazing.
Check the bottom of this post for a discount code for *Batch and get cooking!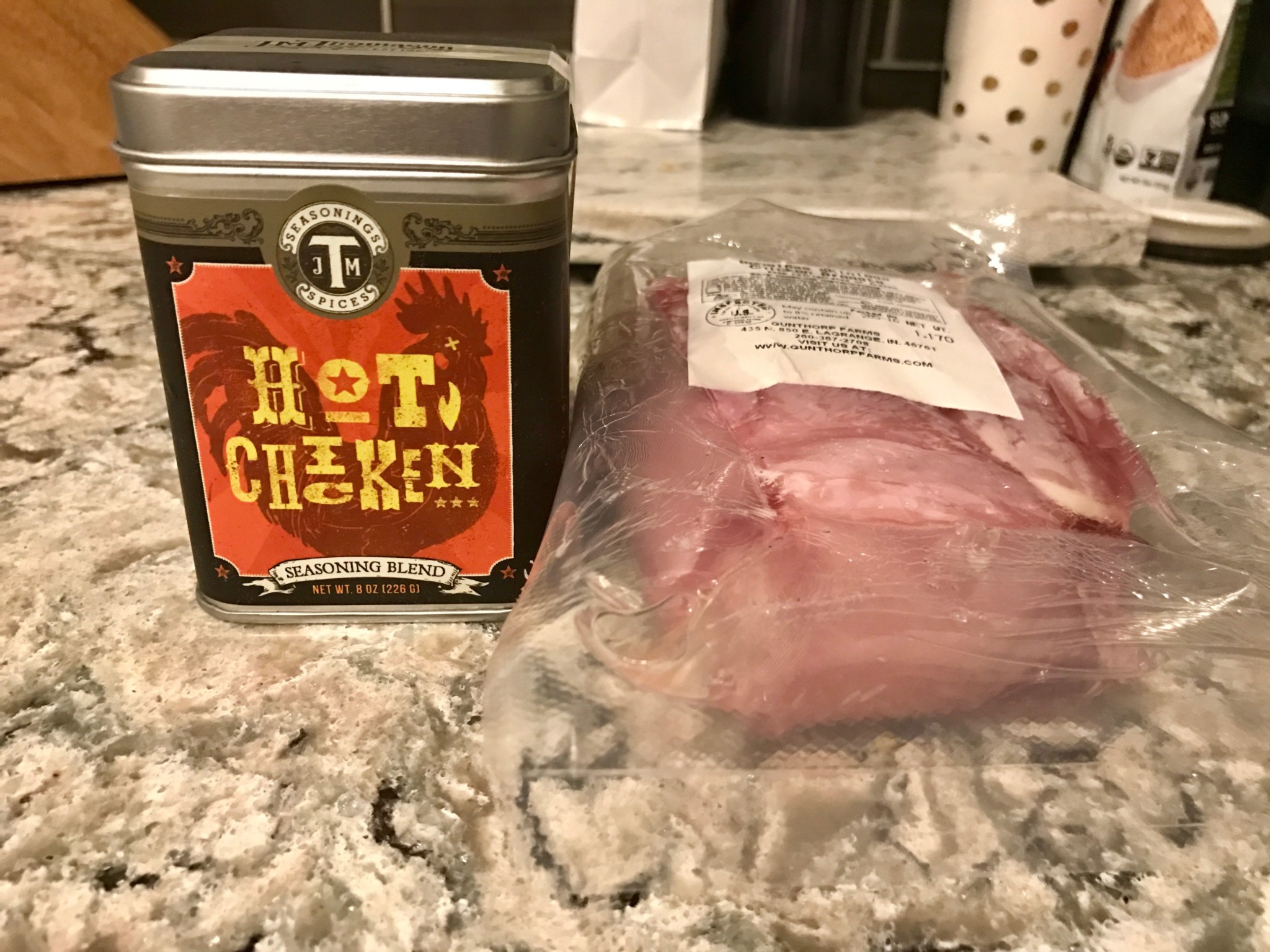 What You Need To Make Hot Chicken
To make this recipe you will need a cast iron skillet, 1lb of chicken breasts, olive oil, and pickles. Yes, pickles. Traditionally hot chicken is served with white bread and pickles. We typically don't eat white bread. I omit the bread part, but pickles are a 100% must for me. I usually add ranch on the side for my husband. That is not a "Nashville" thing. He likes to add ranch to everything, so that's just a personal preference.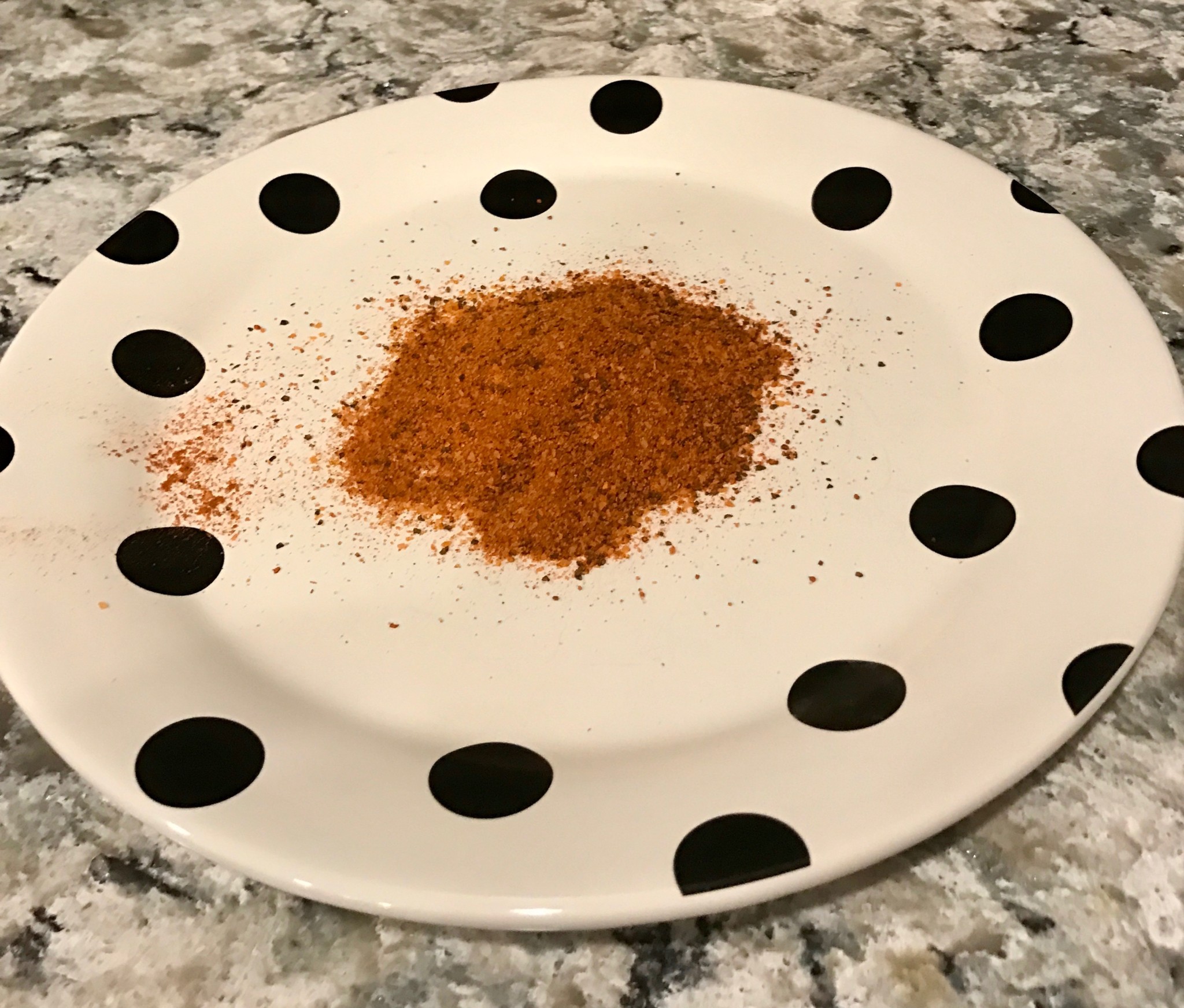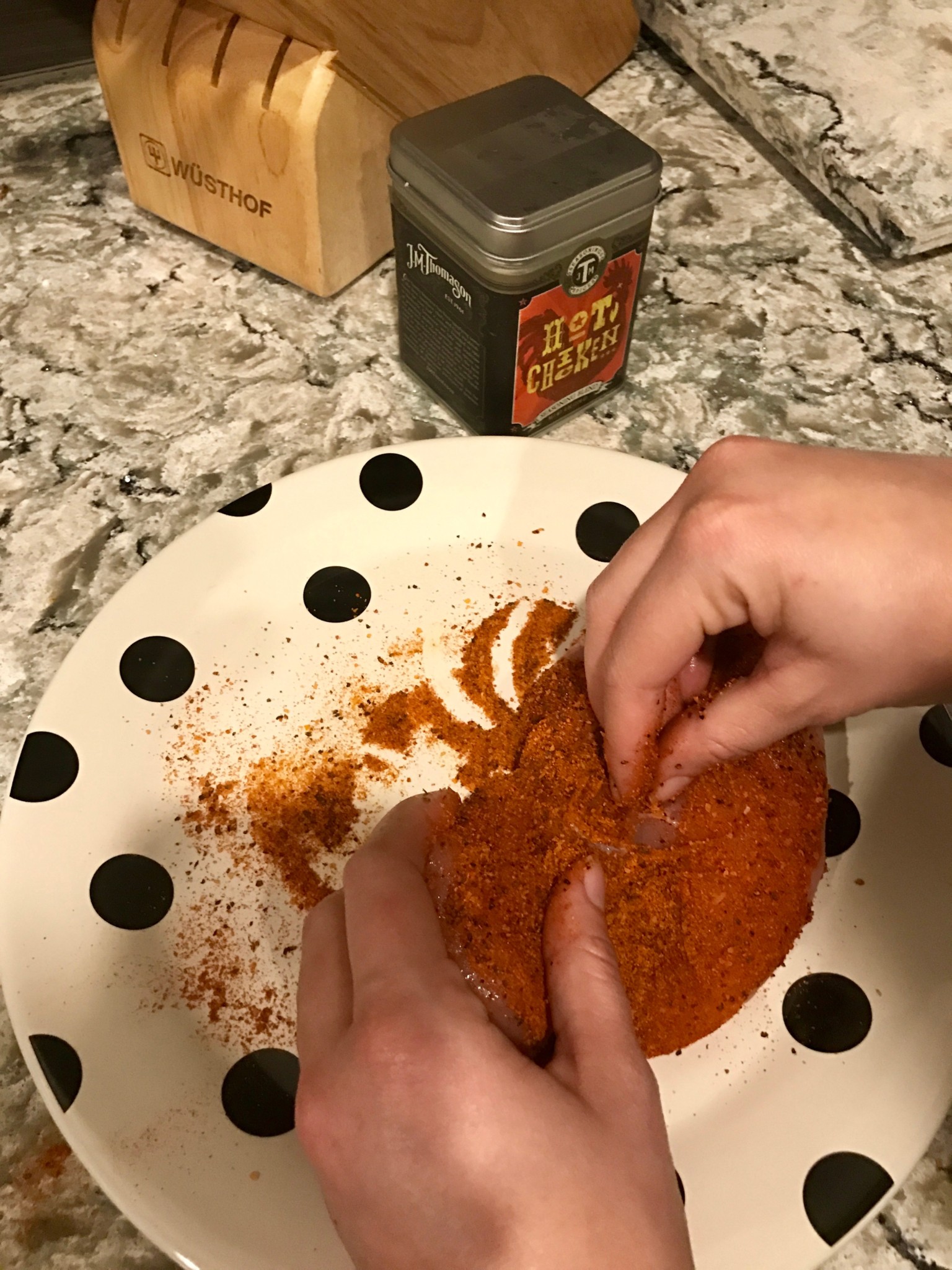 How to Make Hot Chicken
I absolutely love the ease and taste of skilled fried chicken. Heat your skillet over medium heat with two tablespoons of olive oil. Spread 2 tablespoons of the hot chicken seasoning on a plate. Individually, coat each chicken breast with the seasoning and then place in the hot oil. After about 10 minutes, the edges of the chicken should be opaque, flip each chicken breast. Cook another 10 minutes. Remove chicken. Let rest for about 5 minutes and you have perfectly cooked hot chicken. Slice up a few pickles, serve, ENJOY!
If you have never had hot chicken, you might want to keep a glass of milk nearby!
Full recipe below!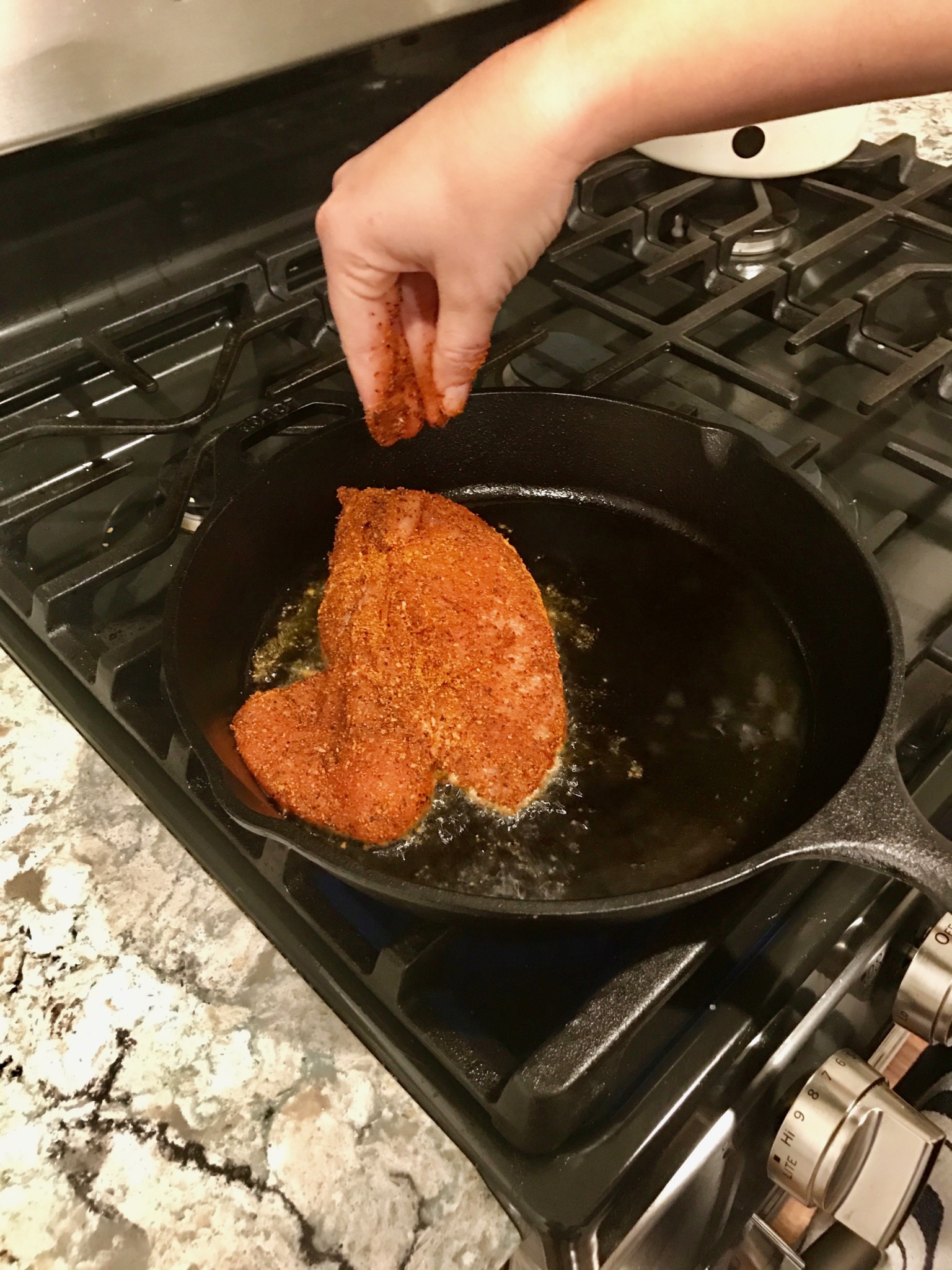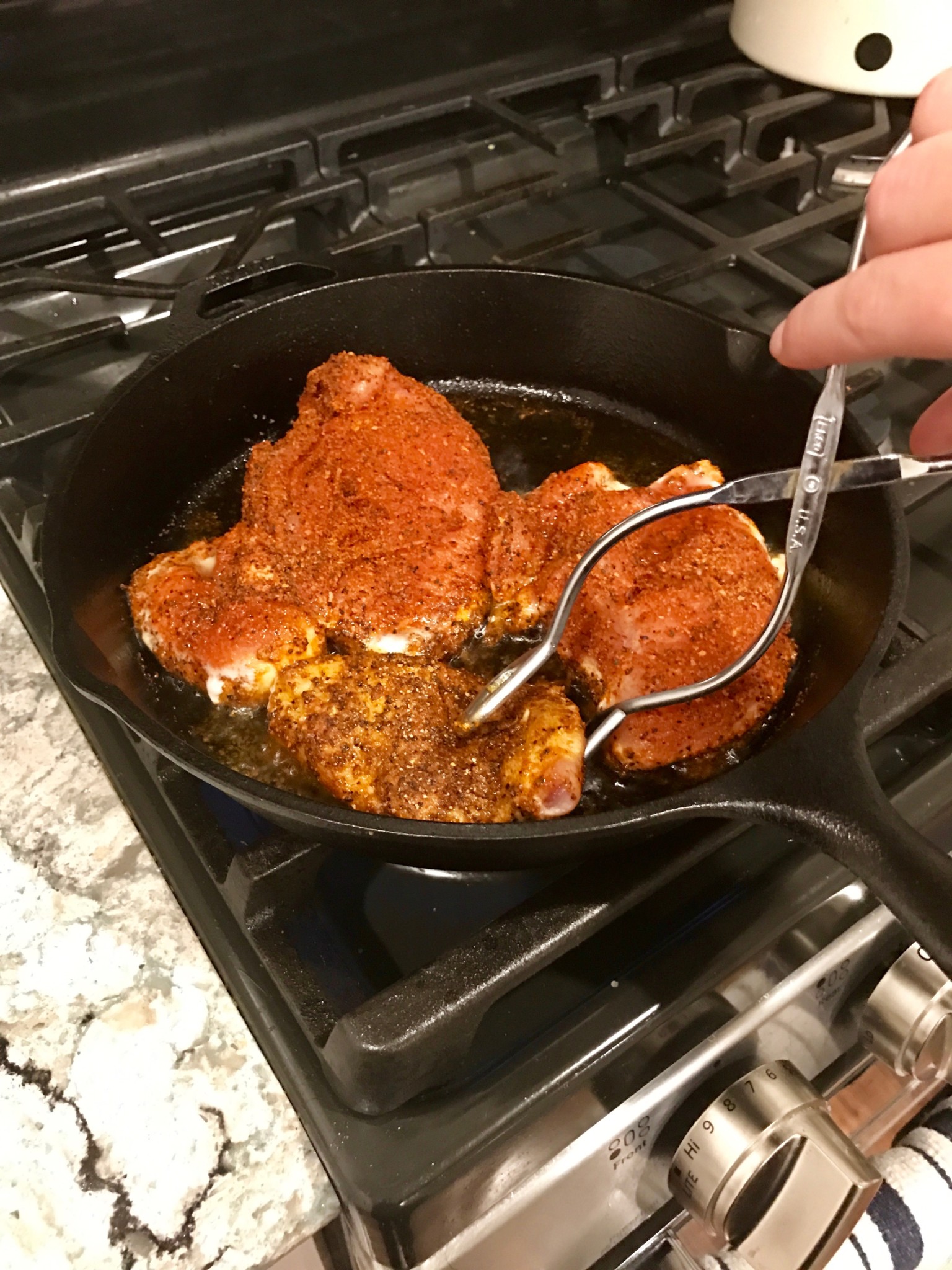 ---
Ingredients:
Directions:
Heat cast iron skillet over medium heat with 2 Tbsp of olive oil.
Spread 2 Tbsp Hot Chicken Spice on a plate.
Coat each chicken breast with the seasoning.
Place each chicken breast in the hot oil.
Cook 10 minutes until edges of the chicken are opaque.
Flip each chicken breast. Cook chicken 10 minutes.
Remove chicken once fully cooked. Let rest for about 5 minutes.
Slice up dill pickles.
Serve chicken with pickles.
Traditionally the dish is served with white bread. I personally do not normally eat white bread, so we omit this. Typical side dishes for hot chicken include mac & cheese, collard greens, slaw and french fries.
---
Want to try your hand at making Nashville Hot Chicken?
Head on over to Batch to purchase J.M. Thomason Hot Chicken Spice Blend or any other of their fantastic products and use coupon code BATCHTASTIC for 10% of orders.