There is a lot to consider when taking a baby or toddler to Walt Disney World and with the amount of walking whether or not to bring a stroller should be high on your list. We visit Disney World very often with our son and have used a stroller on most of our trips. I will go over some of the pros and cons of bringing your stroller and some options if you'd rather not bring your own stroller.
*This post contains affiliate links. If you make a purchase after clicking any of these links we will be compensated. This is not a sponsored post, all opinions are our own.*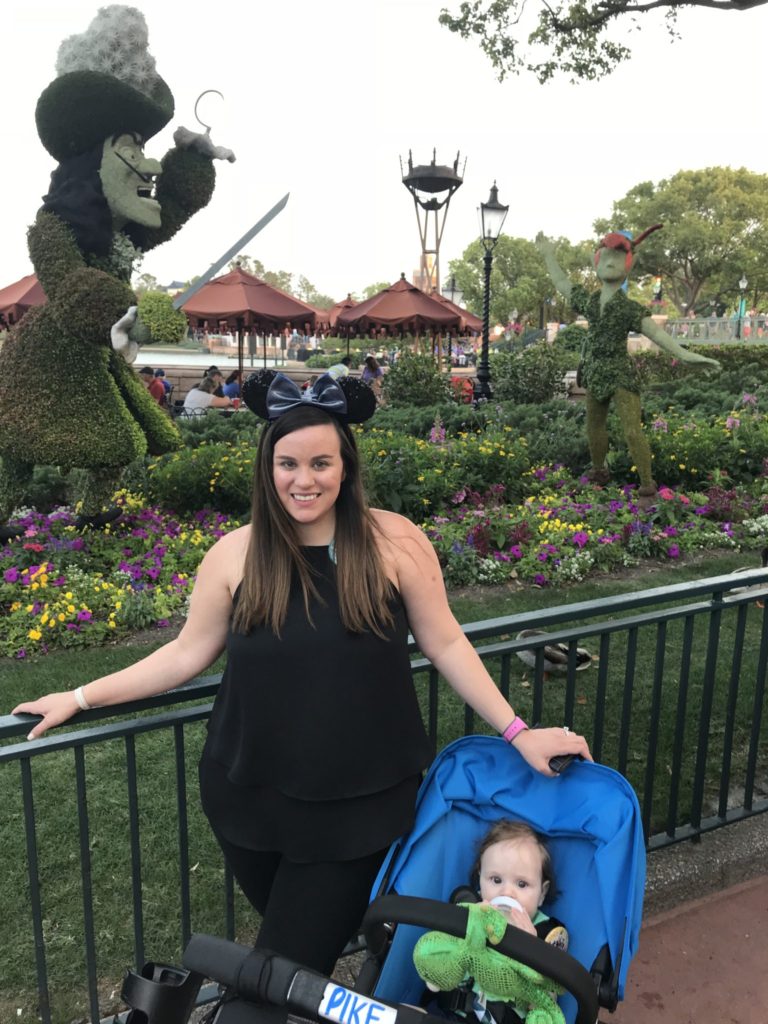 When you have a baby or small child at Disney there are always going to be pros and cons to bringing a stroller.
Pros:
Everyone's Comfort – You don't have to walk around holding or carrying your child in the heat if you have a stroller. It's much easier to push a baby in a stroller than hold them. Even older kids 5-6 may get tired will all the walking at Disney and it can be so much easier to have a stroller for them to sit in while you walk around the park.
Storage – I never knew how amazing it was to have stroller storage until I had a baby and got a stroller. Let me just tell you IT'S AMAZING. Children can need a lot of stuff especially if you like to bring your own snacks and food. It's awesome to have somewhere to store the baby bag, rain gear, food, small toys, change of clothes and any souvenirs you might pick up. YOU WILL WANT A STROLLER WITH CUPHOLDERS!
Space to Eat – Having a place for your child to eat snacks or drink a bottle of milk is super helpful for older kids or bottle fed babies. Being able to give our son small snacks throughout the day and have him have his own little restaurant on wheels is wonderful. A hungry baby is a very unhappy baby and worse when you add in tired or hot. Again, if you have an older child or toddler having a cup holder for their drink is very helpful. We have two strollers and I prefer the one that has a snack tray and cupholders for the theme parks.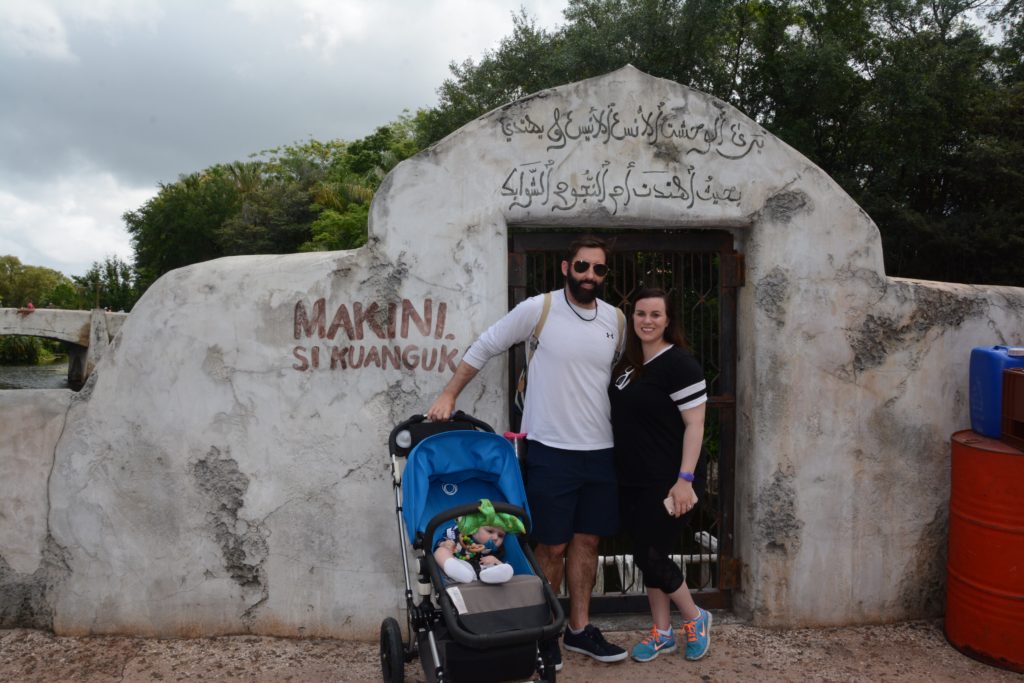 Cons:
Folding it Up –  Both our strollers fold up relatively easily, so this isn't a huge deal but still kind of annoying especially if your child is napping. You will have to take your child out and fold up the stroller to get on trams from the parking lot and buses around the property. If you are flying you also have to fold it up at the airport at the gate. If your stroller does not fold easily consider renting one that does.
Stroller Parking – There are a number of places that you cannot take your stroller (obviously rides) including some restaurants. This is always a bit of a frustration for us. In many locations you will walk into a place that seems normal to take a stroller with a sleeping baby in it only to be told, STOP you can't go in there park your stroller over there. It makes sense to not have a million strollers inside a building, but it still HATE having to park my stroller to eat at most restaurants, go to shows, and most indoor attractions.
It May Get Wet – You will want a rain cover for your stroller. Since you are going to have to park and leave your stroller for an undetermined amount of time while you eat at table service meals, ride a ride, or see a show there's a good possibility at some point during your vacation it will start to rain. It will rain on your stroller getting everything you left in your stroller and your stroller soaking wet. Even with a rain cover things can still get wet. Just be prepared don't leave anything you don't want to be taken or to get wet in the stroller. Sudden showers happen often in Florida with little warning.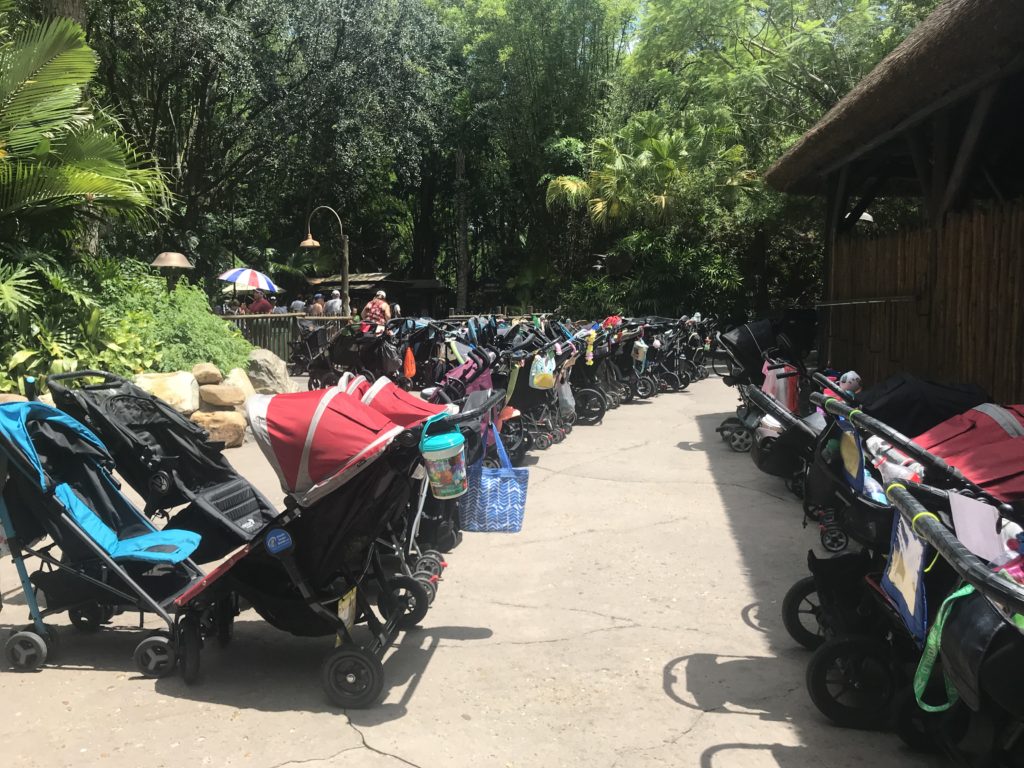 Things to consider when looking for a good Stroller for traveling.
Folds Easily
Has Lots of Storage
Has Cupholders
Compact
Easily Maneuverable
Easily Identifiable (make a sign or mark it with ribbon if it isn't)
Seat Reclines for Naps
Large Sunshade
Lightweight
Has Peak A Boo Window or Parent Facing Option
Snack Tray
What do we prefer, stroller or no stroller?
Our son will sometimes sleep in his stroller and likes being able to look around at things. We love having somewhere to put our son while we eat, especially quick service meals, and extra storage throughout the day. The main thing is, it's too hot and he's too heavy to carry all day long. After going with and without the stroller we enjoy the convenience of having it. I like to have the stroller to put our son in while we eat or at random times throughout the day and to store things in. I do like to use a carrier for rides and to have free hands. If you are going on lots of rides, in a lot of shows or have multiple sit down meals (where strollers are often not allowed) a stroller can be annoying and you may be even leaving it in stroller parking for most of the day. If you are walking around the park especially the Animal Kingdom or the World Showcase and going on fewer rides or leaving an adult behind most of the time with a little child or baby than stroller is a must! What is right for you?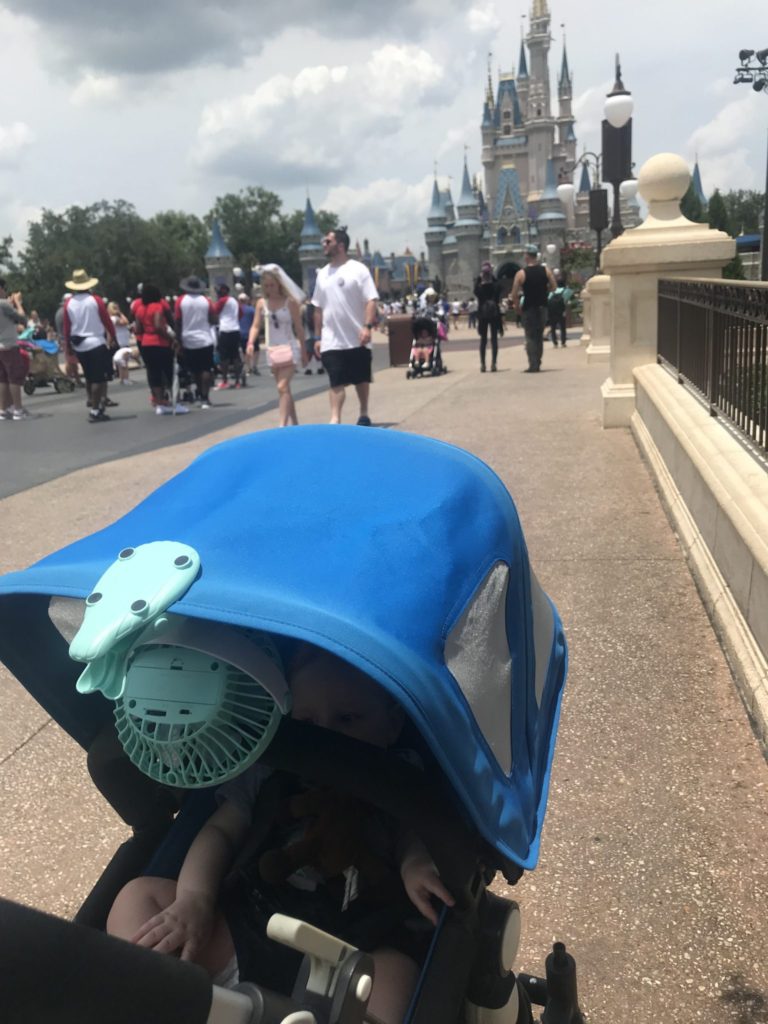 Other Options to Bringing Your Stroller
Rent a Stroller
There are many companies around Disney World that will actually rent you and deliver a stroller to your hotel or resort. I personally have not used one, so I can't recommend a specific company, but the most popular strollers to rent seem to be the City Mini and City Mini Double. Both fold easily and are nice strollers. Renting is a great option if you don't need the stroller in the airport, are driving and want to save space or don't want to worry about your stroller getting damaged or stolen (very rare, but it can happen). Renting a stroller at each park entrance is an option, but I would not recommend it. They are giant clunky strollers and won't be comfortable at all for your kids.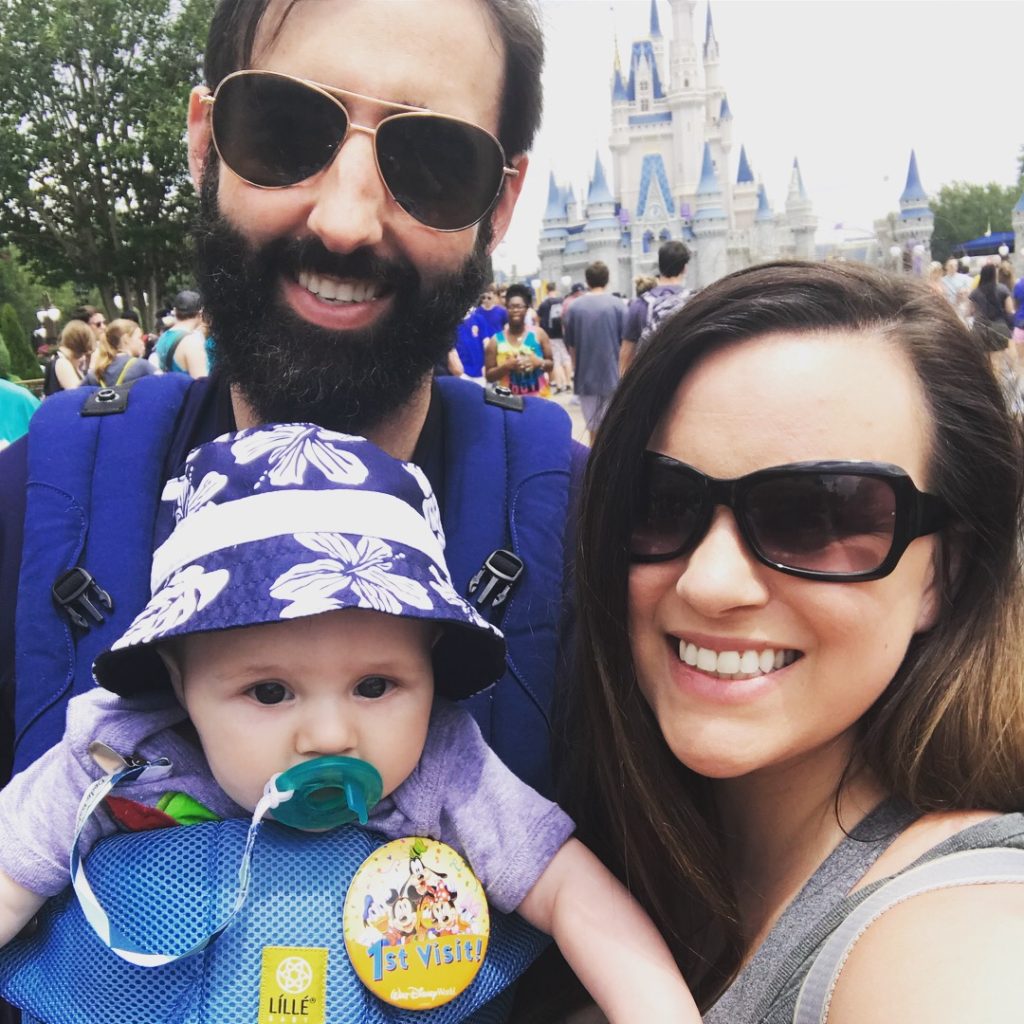 Use a Baby Carrier
We use and LOVE our LÍLLÉbaby Airflow carrier. It's a multi-position carrier that can be used from birth. Our son is old enough and prefers to face out, but when he was younger he was happy resting on our chest and mostly slept! It's super comfortable for us with back and neck support and our son is also very comfortable in it. This is a really good option if you don't want to bring a stroller or want to use it in addition to a stroller for the areas of the parks that you cannot take your stroller. Check out the new Pixar themed carrier they just released! I wish they had this style when my son was born, it's perfect for the Disney parks.
Your LÍLLÉ super suits are here! You'll feel Incredible in the COMPLETE™ Airflow or COMPLETE™ All Seasons. 
Looking for things to do in Orlando beyond Disney? Viator has you covered! Save up to 30% on kid friendly tours and tickets in Orlando