We just took our son for his first visit at Disney World. We tried using a stroller and using a baby carrier and there were pros and cons to both. Here are my thoughts on using a carrier or babywearing at Disney World and why it might be a good idea for your family.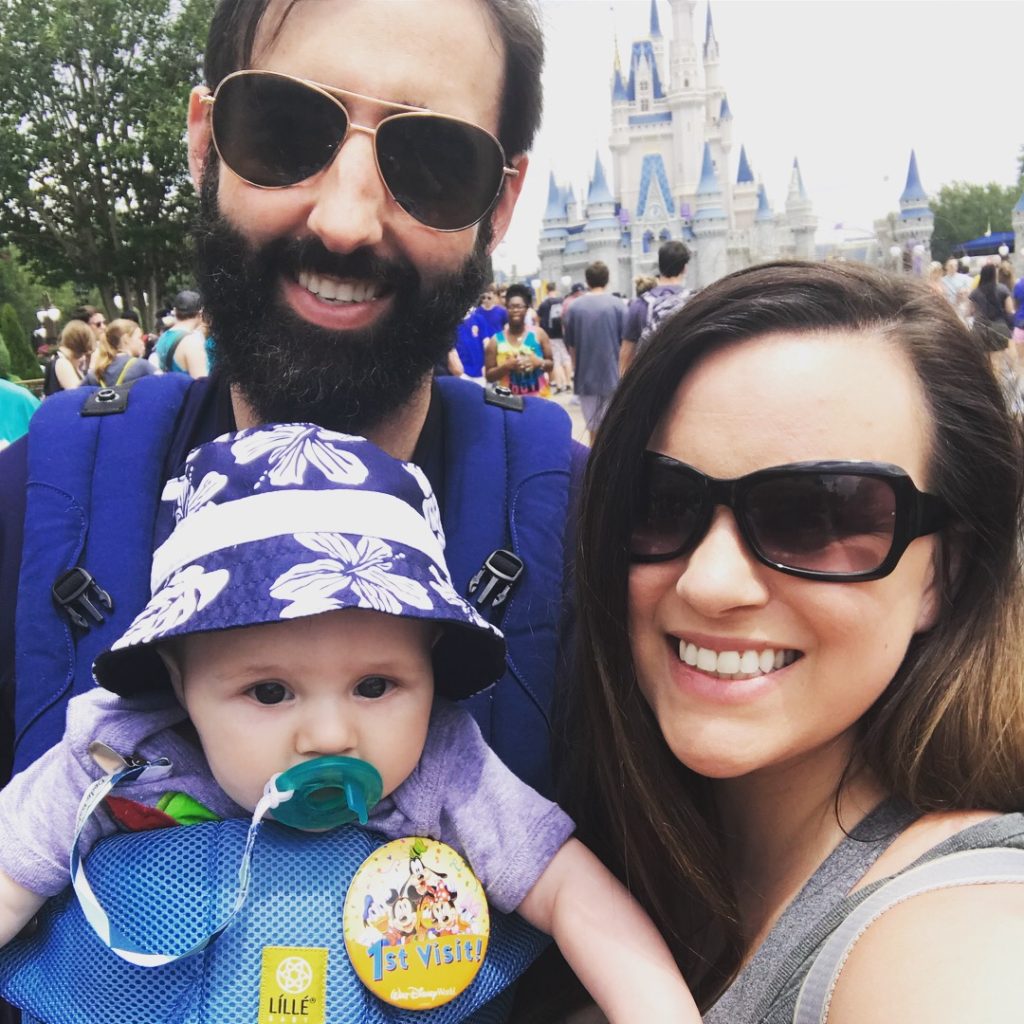 Why Use a Carrier
Many people love and prefer to babywear at Disney World. A carrier gives you the freedom to have your hands free, not need to park or fold up your stroller, not leave it unattended, and baby is always safely attached to you! It is super easy to walk around the parks while wearing your baby. It truly makes getting on and off rides a snap! This is especially useful for families with more than one child. On a hot day, you may think that wearing your baby it out of the questions, but we used our Airflow LÍLLÉbaby carrier and my husband was very comfortable. I highly suggest using a carrier with good airflow!
Cons of Using a Carrier
If you have a bulky carrier that is hard to get on and off than you may not want to use it. Also, if your carrier is very thick and better for winter, I do not suggest using it in summer. It can get hot in the parks and you and your baby will not be happy. Unless you also have a stroller you won't have a place to put the baby down during the day. Some people that does not bother for others it's a deal breaker. Using the carrier, you will not have any extra storage. We used a backpack and the person not wearing the baby wore the backpack. Make sure your baby is used to being in the carrier! If your baby isn't, you all may be miserable.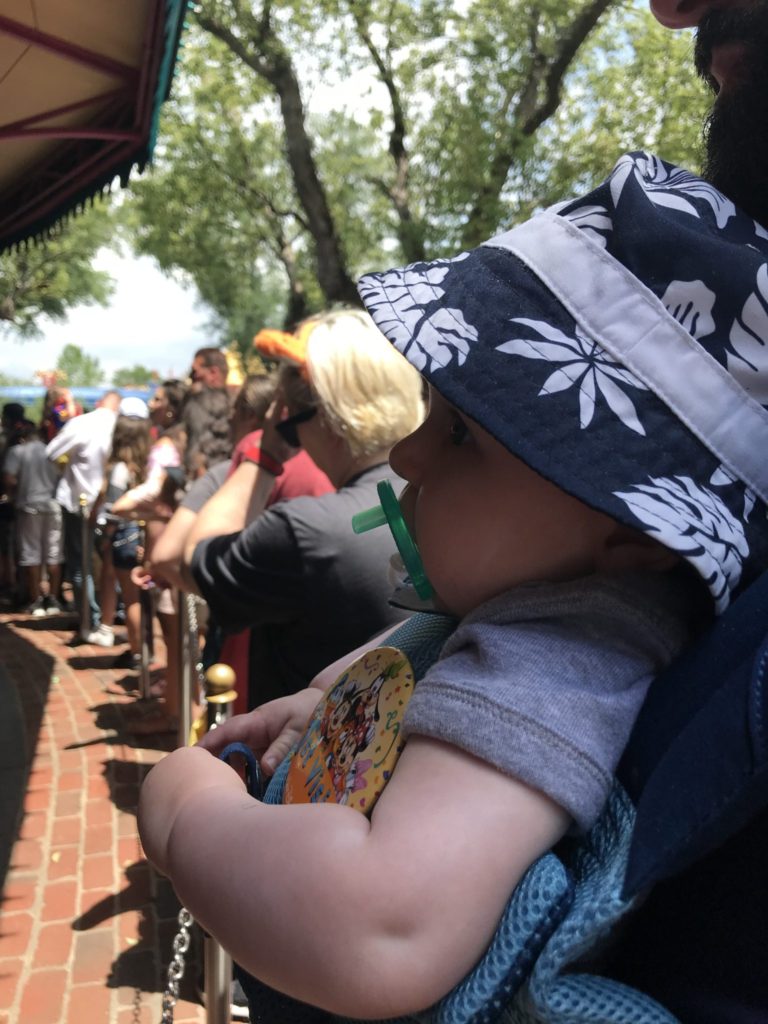 What do we prefer, stroller or carrier?
Our son slept in his carrier and loved looking around at things when he was awake! It worked out very well and we loved not having to fold or park and leave our stroller. I did wish we had somewhere to put our son while we ate and extra storage throughout the day. After going with and without the stroller we enjoy the convenience of having both. I like to have the stroller to put our son in while we eat or at random times throughout the day and to store things in. I like the carrier for rides and have free hands. During half days this is the perfect scenario you can easily use the carrier part of the day and the stroller part of the day. If you are going on lots of rides the carrier is key! If you are walking around the World Showcase in Epcot than stroller all the way! What is right for you?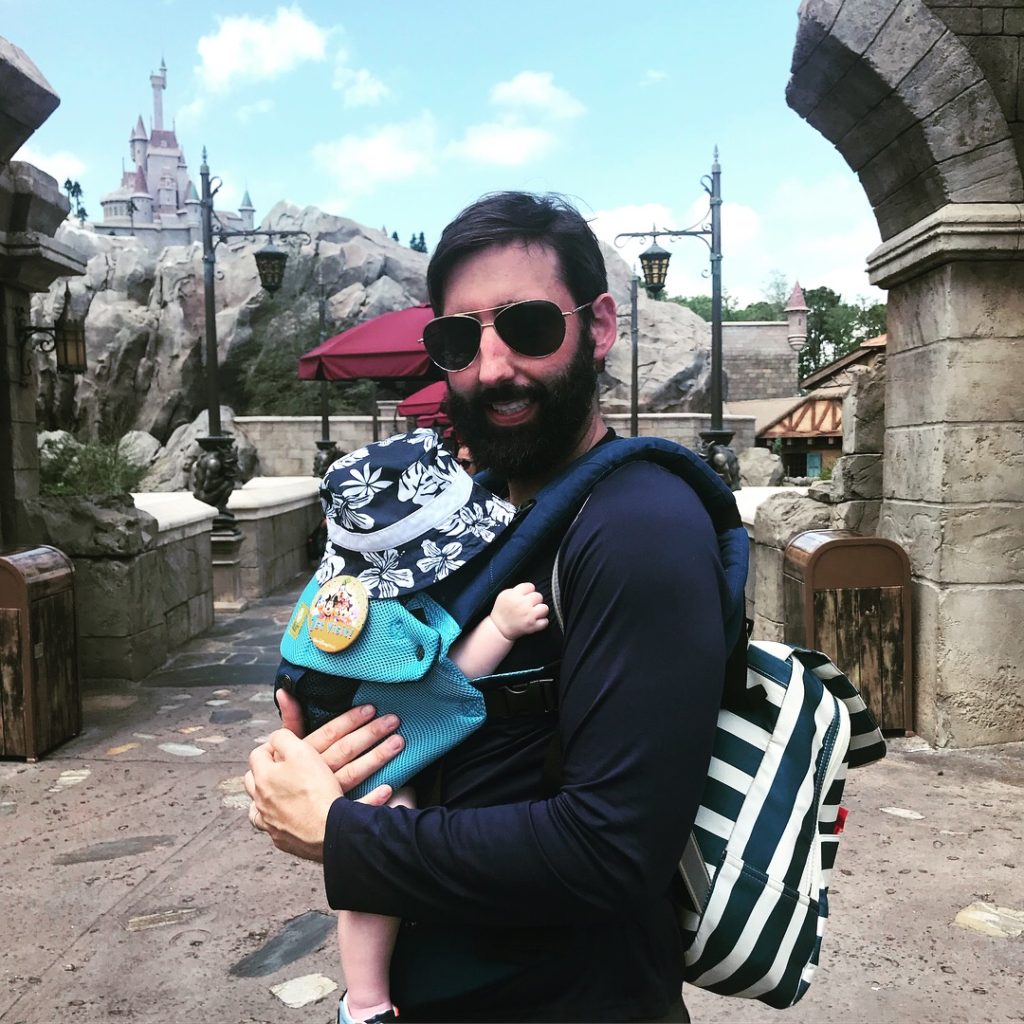 Our Carrier
We use and LOVE our LÍLLÉbaby Airflow carrier. It's a multi-position carrier that can be used from birth. Our son is old enough and prefers to face out, but when he was younger he was happy resting on our chest and mostly slept! It's super comfortable with back and neck support. Our son is also very comfortable in it. They have lots of great styles to choose from and special edition prints.
Shop their most popular carrier design and receive FREE shipping on orders over $50*
*This is an affiliate link. If you make a purchase after clicking this link we will be compensated. This is not a sponsored post, all opinions are our own. *