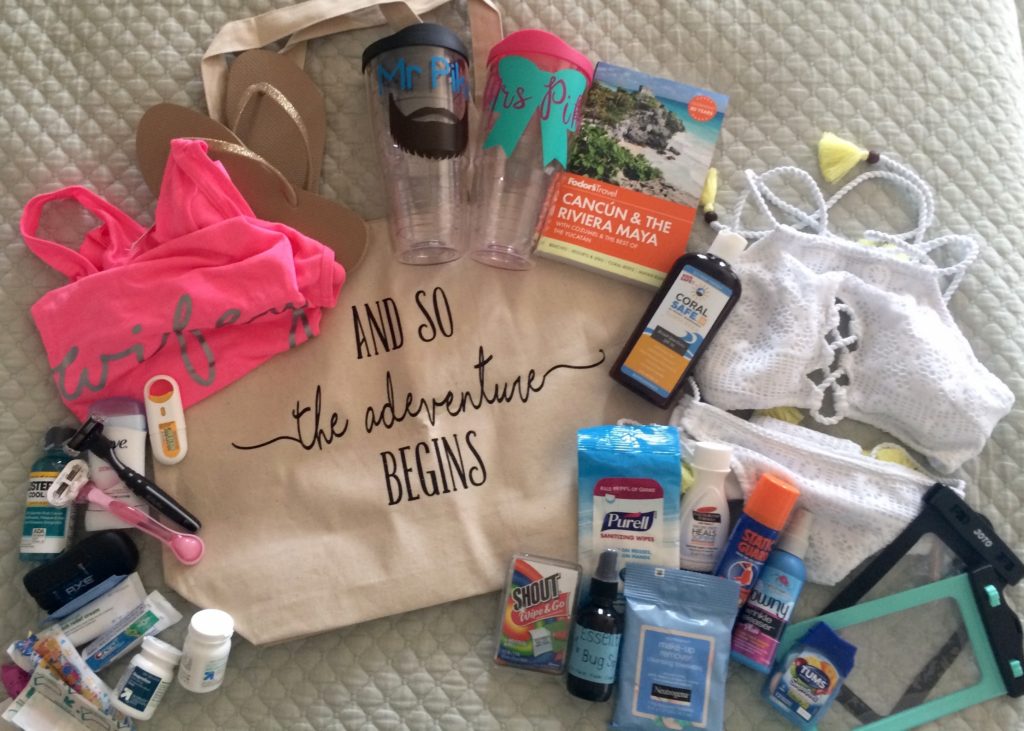 Packing for a vacation is my least favorite part. I worry about, overthink it and then either over or under pack.  Here is a list things I took on our honeymoon to Mexico. Pack things you think you may need. Even if you don't wind up using them, you won't waste a second of your trip searching for antacids, toothpaste, or a band aide. In addition, the markup at the gift shop for those items will make you very angry once you realize you can buy the travel size at home for less than a dollar. Bonus Tip: Recently, my husband and I's luggage was lost by the airline on our way to Europe. I will be carrying on as much as possible from now on, especially toiletries!
Packing List
****Items with a star went in my carry on
Travel documentation****

Passport
Second form of ID or your license
Printed confirmations for hotel, prearranged transportation, and prearranged activities

 Medications****

Ibuprofen
 Antacid
 Anti-diarrhea – you probably don't need this, but don't let it ruin your trip if you do and don't have them.
Antibiotic Ointment
Hydrocortisone or Anti-itch cream
Any prescription meds – must have the prescription with your name on it for customs

Toiletries – use travel size bottles and fit as much as you can in your carry-on!

Toothpaste/ Toothbrush/ Mouthwash*****
Deodorant*****
Razors*****
Lotion
Shampoo and Conditioner/ hair products****
Soap
Makeup****
Makeup Removing Wipes
Wet Wipes***** – carry size for your bag, I use these on the plane!
Extra tampons and pads*****
Band aides
Tweezers
Straighter or curling iron – I take one styling tool and use the hotel dryer
Hair brush, hair ties, bobby pins, etc*****
Stain removing wipes – Shout, Tide****
Static Guard / Winkle Release

Misc Essentials

Beach Bag – DIY a beach bag like mine in the picture!
Book / Magazines / Travel Guide****
Tumblers – great for beach drinks and you can DIY your own
Waterproof Cell Cases or waterproof camera
Small blue tooth speaker
Cheap Sunglasses (bring an extra pair in case you lose the first!)
Coral Safe Sunblock – Most places won't allow you to use regular
SPF Chapstick
Organic Bug Spray – Make your own! Most places won't allow you to use DEET

Clothing

For Her – I'm probably an over packer so pack what you will use

3 Tank tops – 1 in carry-on****
2 Shorts – 1 in carry-on****
1 Nice leggings
3 Casual day dresses
2 Nicer dresses – for dinners, some hotels have dress codes
1-2 Skirts – this depends on how much you like pants/shorts
2-3 T-shirts
2 Pairs of sandals
1 Pair of Wedges/ Heels
3 Bras and a few bralettes
10 Pairs of undies –  I bring lots of extra, 1 pair in carry-on****
1 Pair of comfy flats**** – good for sightseeing
 PJs
Workout clothes – don't miss out on beachside yoga
A few jewelry pieces – the cute but cheap kind is even better!
Flip flops
2-3 swimsuits
2 beach cover ups

For Him

2 Light pants- 1 nicer pair for dinner if your hotel requires it
4-5 T-shirts – 1 in carry on****
2-3 Shorts – 1 in carry on****
3 Collared shirts
1 Pair of sandals
1 Pair of dress shoes – for dinner if your hotel requires it
7 Boxers – 1 pair in carry-on****
1 Pair of walking shoes*****
PJs
Workout clothes
Flip flops
2 swim trunks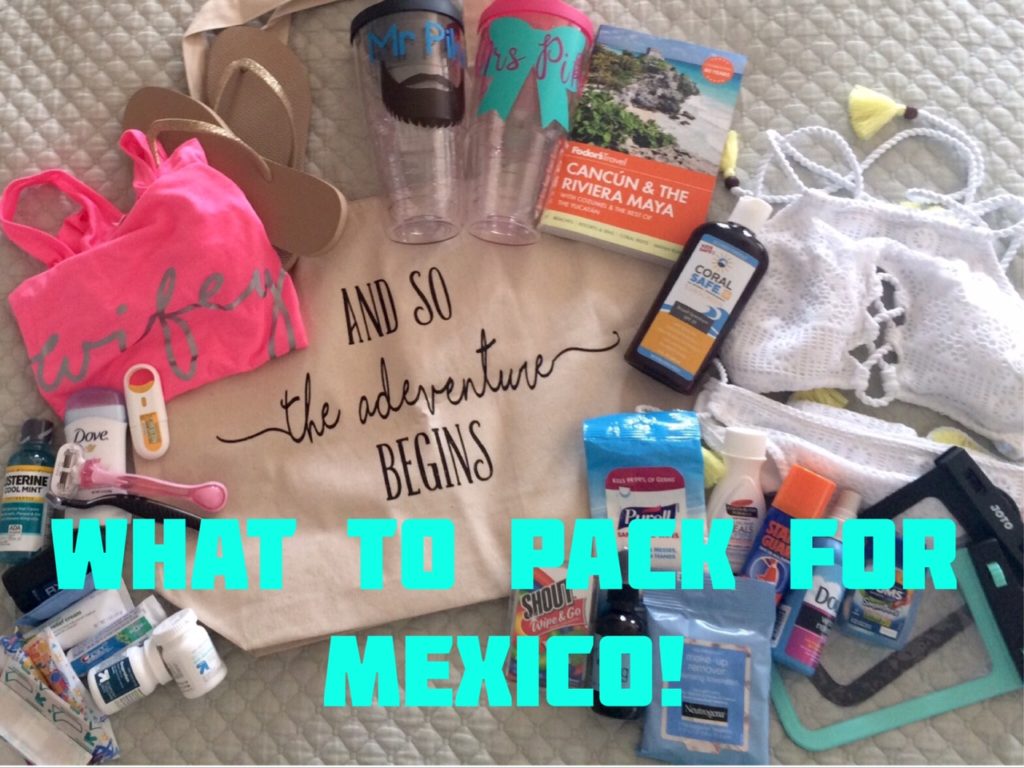 You may need to pack slightly different based on your need and what you plan on doing. Don't fret if you do forget something, it always happens. It's okay! We forget a few things but had way more than actually, we needed and our vacation was fantastic. Do the best you can and focus on what's really important, the beach, the sites, the food and relaxing with your family or friends!! Have a great vacation.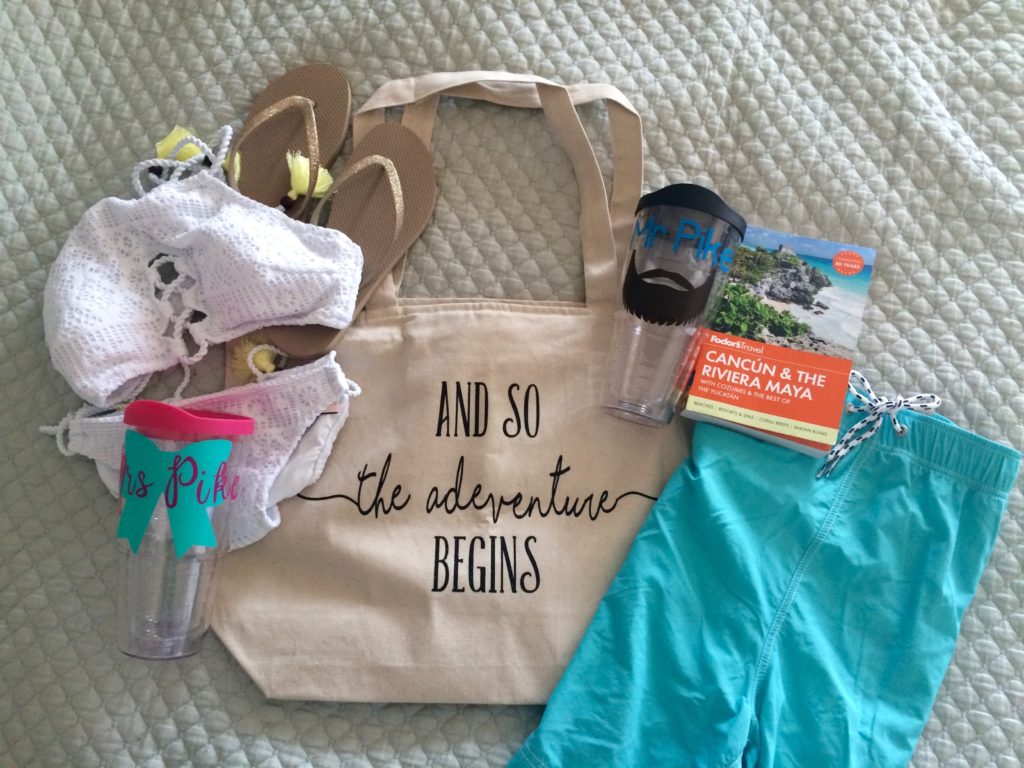 Making personalized things for our honeymoon was so much fun and added another element to our getaway! I made a personalized a beach bag, tumblers, a wifey tank top and took along my homemade bug spray, which worked wonders! If you are just going a vacation and not a honeymoon, all of these things can be customized for your family or trip! Make a family tumbler or last name tank or give as a gift to an engaged couple!