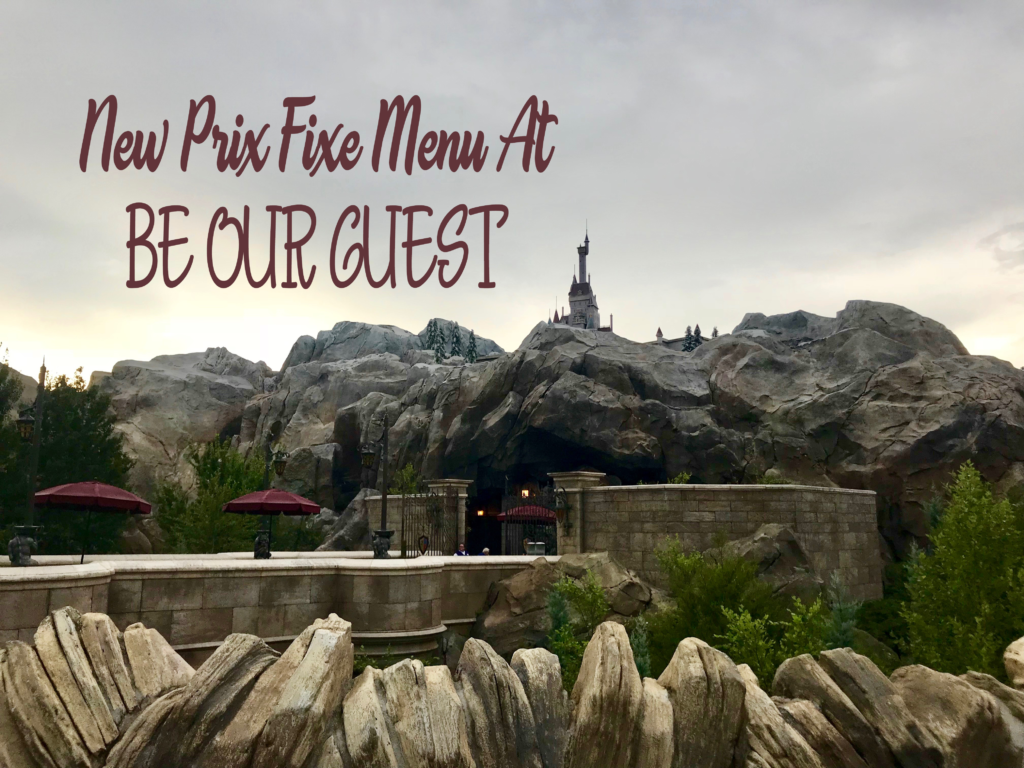 Be Our Guest Restaurant at Walt Disney World changed from a traditional menu to a Signature Dining 3-course Prix Fixe menu on July 27, 2018. We went to check out the new menu and eat in Beast's Castle on the second day the menu was available. The current price is $55.00 for adults (10 and up) and $35.00 for a child (3-9) or 2 Credits on the Dining Plan. Children 2 and under are free, but they must eat off your plate. Here are our first thoughts about the new menu and new signature dining experience.
The Restaurant
A dinner at Be Our Guest is and has been one of the most sought-after restaurant reservations at Disney World. The main reason is probably the restaurant itself. It is a gorgeous restaurant, with multiple themed rooms to eat inside the Beast's Castle. Be Our Guest is located in the Magic Kingdom in Fantasyland in between Gaston's Tavern and Enchanted Tales with Belle. You check-in at the end of a long bridge leading up to the restaurant gates. After your table is called, you enter through the gates into a small courtyard and through the large castle doors into the restaurant. The first room is more like a lobby with the restrooms on the left and the location where you enter to meet the Beast after your meal on the right. The lobby decor is themed like a fairytale castle with knights statues, stained glass, statues and lots of stone.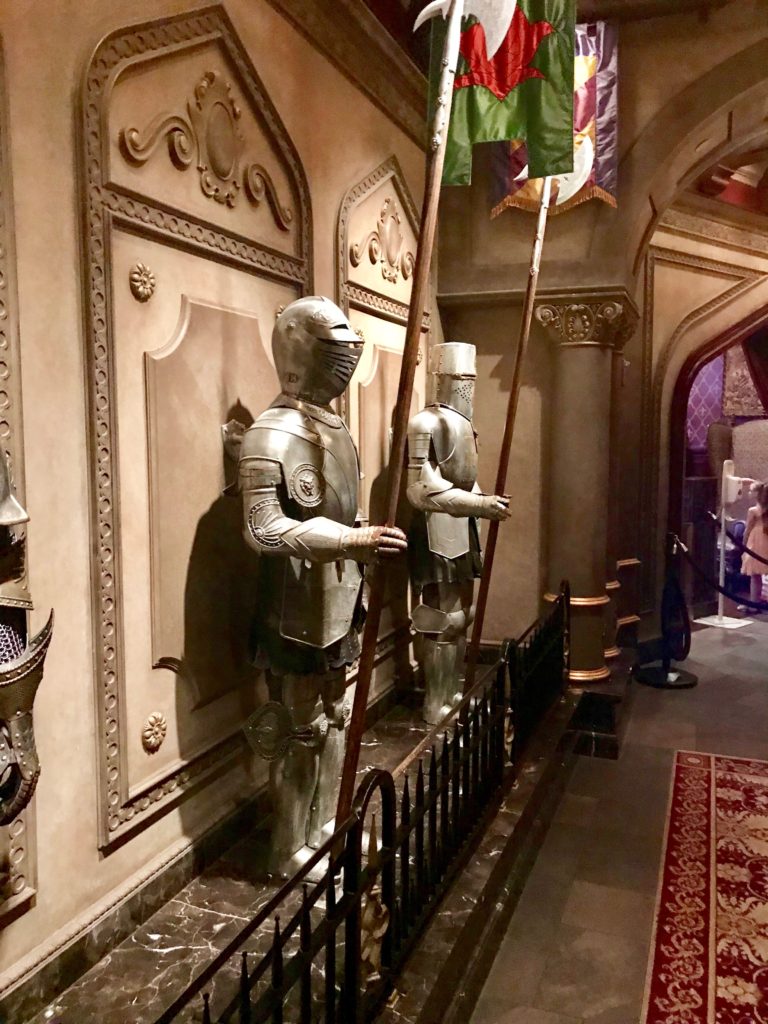 You will be seated in one of three rooms that look like scenes right out of the movie. The Grand Ballroom is a bright ballroom straight from the famous ballroom dancing scene. The room's theme is complete with a snowing backdrop behind the large picture windows. The West Wing is the Beast's study including the famous wilting rose and a lightening and thunder background. (Yes, I mean it actually thunders in this room). The third room is The Castle Gallery. This is Belle's private library filled with portraits and a giant rotating music box with Beast and Belle on top. After (or during) your meal you are welcome to walk around and take photos or look in each room. It is truly one of the most beautiful restaurants at Disney World.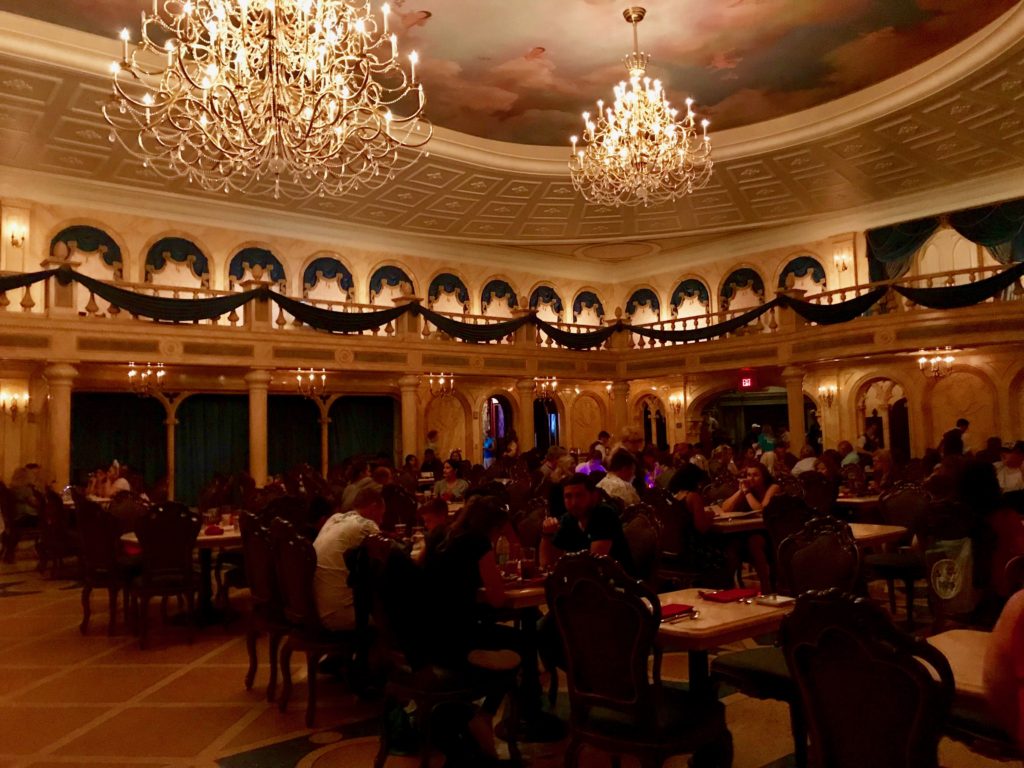 Prix Fixe Menu
The new prix fixe menu comes with bread, one appetizer, one entree, a trio of desserts and a non-alcoholic drink. It is $55 per adult and $35 per child. If you are on the dining plan it is 2 dining credits per person and as part of the dining plan, you can get a beer or wine as your drink. The menu has a selection of multiple appetizers, entrees, and drinks that you can choose from. Being Disney they can make adjustments or offer something different for those with dietary restrictions.
The menu is a French menu with a good selection of choices. The appetizers include some safer options like salad, soups, and meats & cheeses, to more adventurous choices such as the charred octopus or escargot. Entrees include filet mignon, lamb chops, seafood boulebaise, pork tenderloin, poulet rouge chicken and a vegetarian corn tortelloni. The dessert is a trio including an Almond Macaron, Dark Chocolate Truffle and White Chocolate "Chip" Cup. The kids menu includes a salad or fruit appetizer, chicken, shrimp, macaroni and cheese, or beef tenderloin entree and the same trio of desserts or fruit and yogurt. Here is a link to the full menu.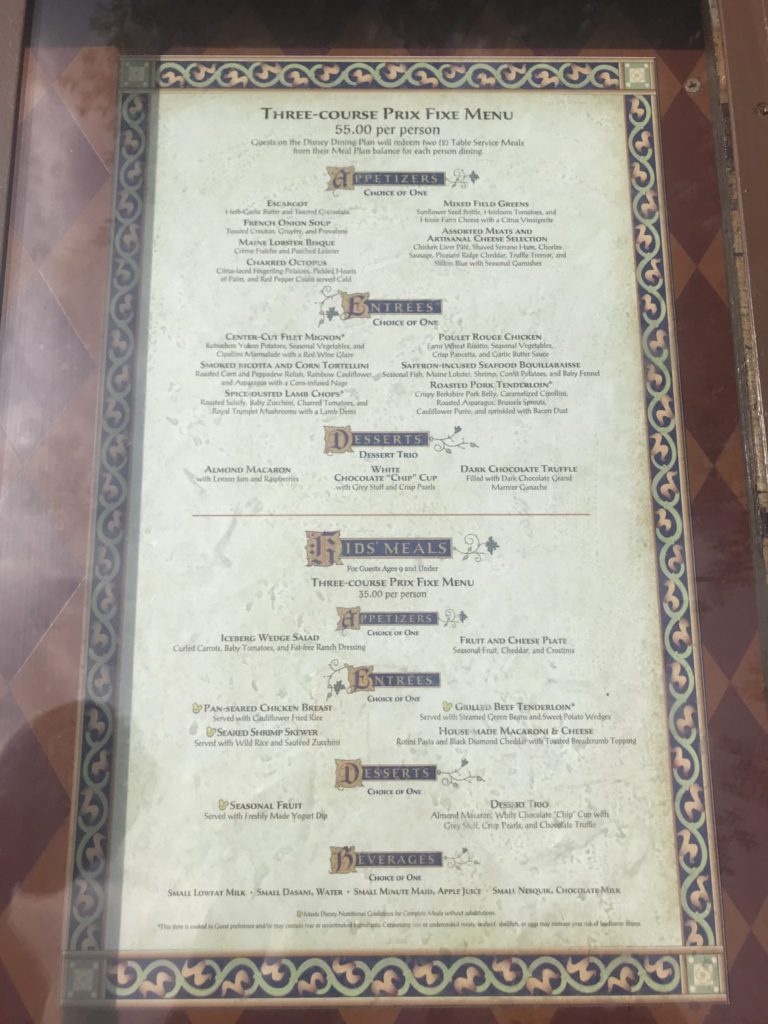 Our Meal at Be Our Guest
After being seated and getting our son situated, our waiter explained the menu and what came with our meal. I ordered an iced tea and my husband ordered hot coffee for our included drinks. We also ordered champagne (and it was delicious). After delivering our drinks and sourdough bread with housemade butter topped with salt our champagne came out and then we placed our food order. I ordered the French Onion Soup as my appetizer and the Center-cut Filet Mignon which came with robuchon yukon potatoes, seasonal vegetables, and cipollini marmalade with a red wine glaze as my entree. My husband ordered the Charred Octopus as his appetizer and the Spice-dusted Lamb Chops which came with roasted salsify, baby zucchini, charred tomatoes, and royal trumpet mushrooms with a lamb demi.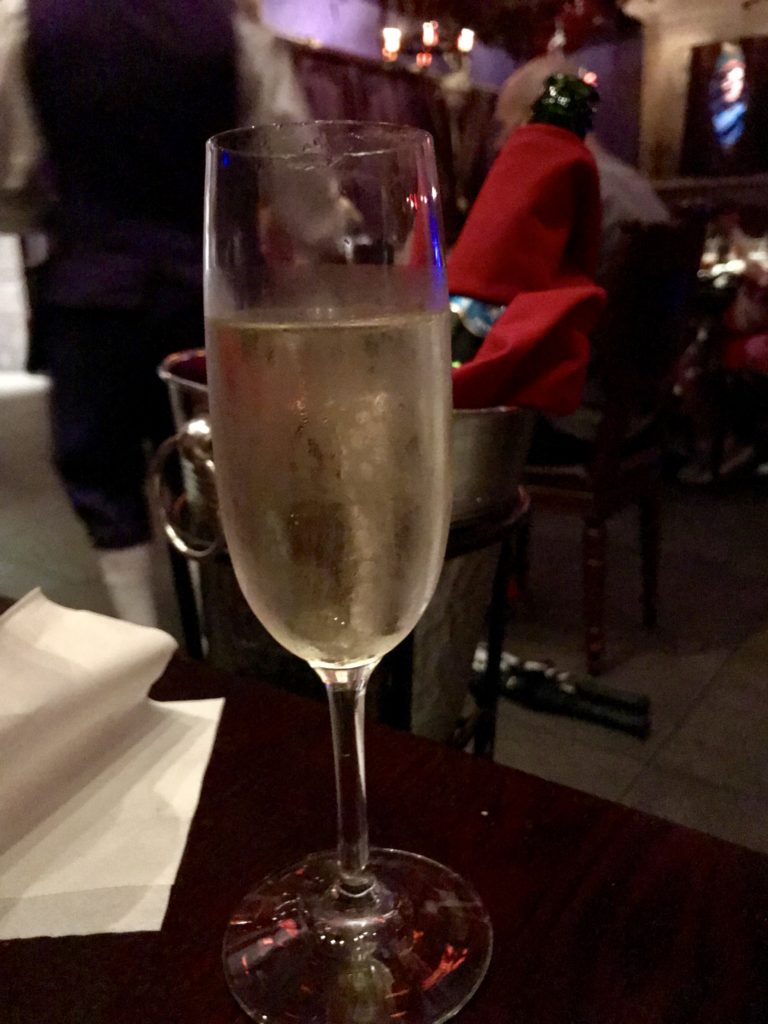 Our Appetizers
The bread was sourdough bread and good, but not out of this world. The housemade butter was very good. The French Onion Soup was absolutely delicious and very cheesy. It was a very good size and I didn't finish all of it knowing how much more food was coming. The Charred Octopus was the highlight of the appetizers. My husband loved it and even though I don't love seafood, I even liked it. It was very well spiced and had a good texture.
Our Entrees
The entrees they were both fantastic. The filet was cooked to perfection. It was on the rarer side, but of course, you can select how you'd like it cooked and that is how I like my steak, so it was perfect for me. The glaze was delicious and I was very happy with my vegetables and the potatoes were actually mashed potatoes, which is my favorite with Filet. My husbands Lamb Chops were also cooked very well and spiced excellently. His vegetables seemed a little saltier than mine, but still very good. He ate all the mushrooms before I even had a chance to try them, so he was VERY happy with his meal. The portions were a good size. My filet was huge and he had plenty of lamb. I again didn't finish my plate.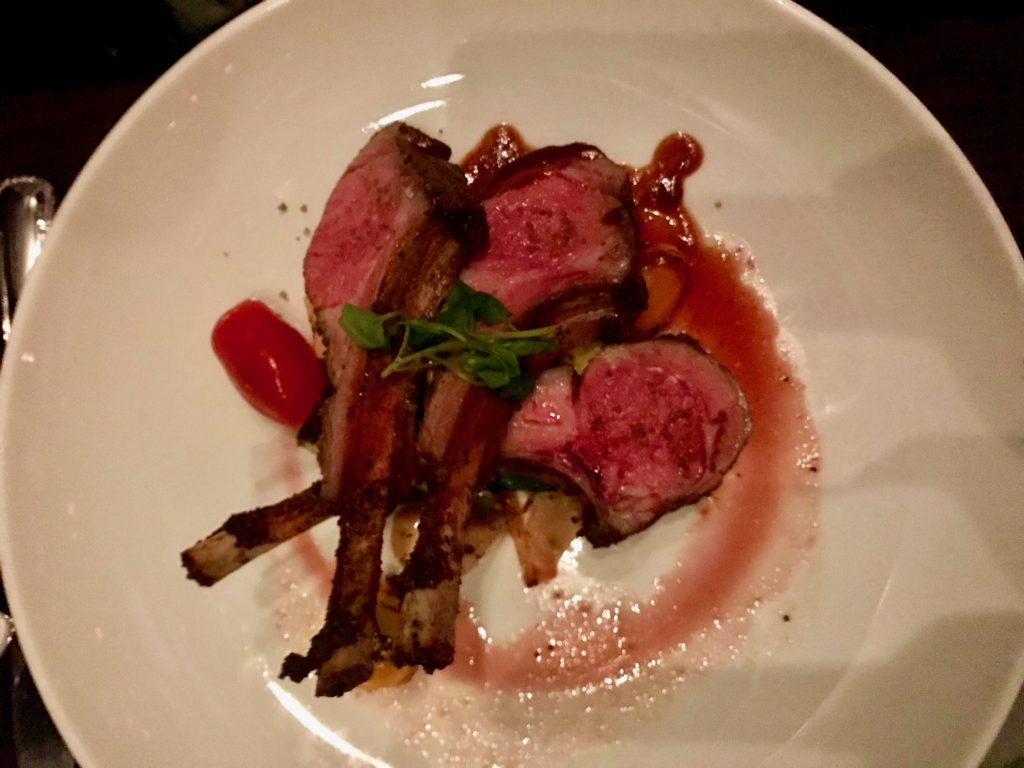 The Desserts
For the dessert trio, we both loved the White Chocolate "Chip" Cup which is filled with The Grey Stuff and it is delicious. I wish I would have eaten this first, as I was so stuffed by the time I got to Chip I couldn't finish it. The Dark Chocolate Truffle was my least favorite. I love dark chocolate, but it was too rich and I really didn't enjoy the cherry inside, which I was not expecting. The Almond Macaron was filled with raspberries that were fresh. The Macaron was a hit and delicious. I would order the White Chocolate "Chip" Cup and Almond Macaron on their own and skip the truffle if I had a choice.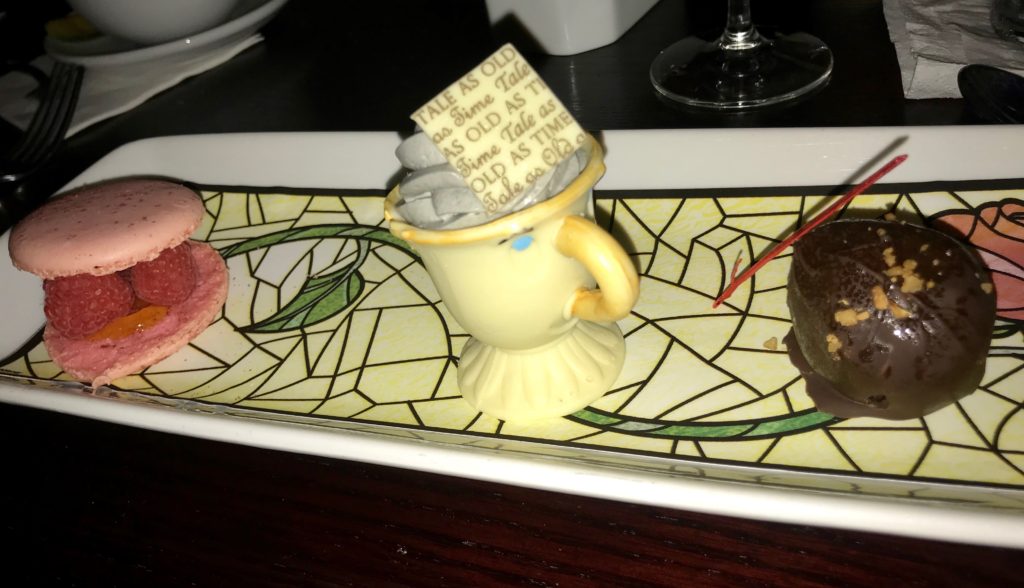 Meeting The Beast
Meeting the beast is still a part of dinner. We were seated in the West Wing and the Beast walks out of a Cast Member area and through the restaurant every so often, so you get multiple times to see him as well (probably 20 minutes since they have 20-minute shifts typically). After finishing our meal we took photos in each room and then went to meet The Beast before heading to watch fireworks. The Beast, as with most Disney characters, was wonderful with our infant son. It was a perfect way to end the night at the Magic Kingdom.

Final Review
Our meal was fantastic and I cannot wait to go back again. The new menu was a hit for us and I had many other things I'd like to go back and try. The filet was the best steak I've ever had at Disney World. Even better than Le Cellier. The staff was amazing and I really think they have stepped up their game since introducing this new dining experience.
We had our 9-month-old son with us. In between courses we took turns walking around looking at the different rooms. We kept him happy by feeding him food with brought with us along with letting him try some of the vegetables off of our plates. Disney is one of the only places where a 9-month-old is not only welcome at a dining experience like this. He did very well at dinner and everyone around us loved him. We had plenty of time between courses. Our server was fantastic refilling drinks and letting us take our time to order. Overall we had a very nice upscale relaxed meal in a park.
Ready to Plan a Visit to Walt Disney World?
Contact Dream Makers Travel Agency today to book your vacation and get FREE concierge level planning included with every booking.