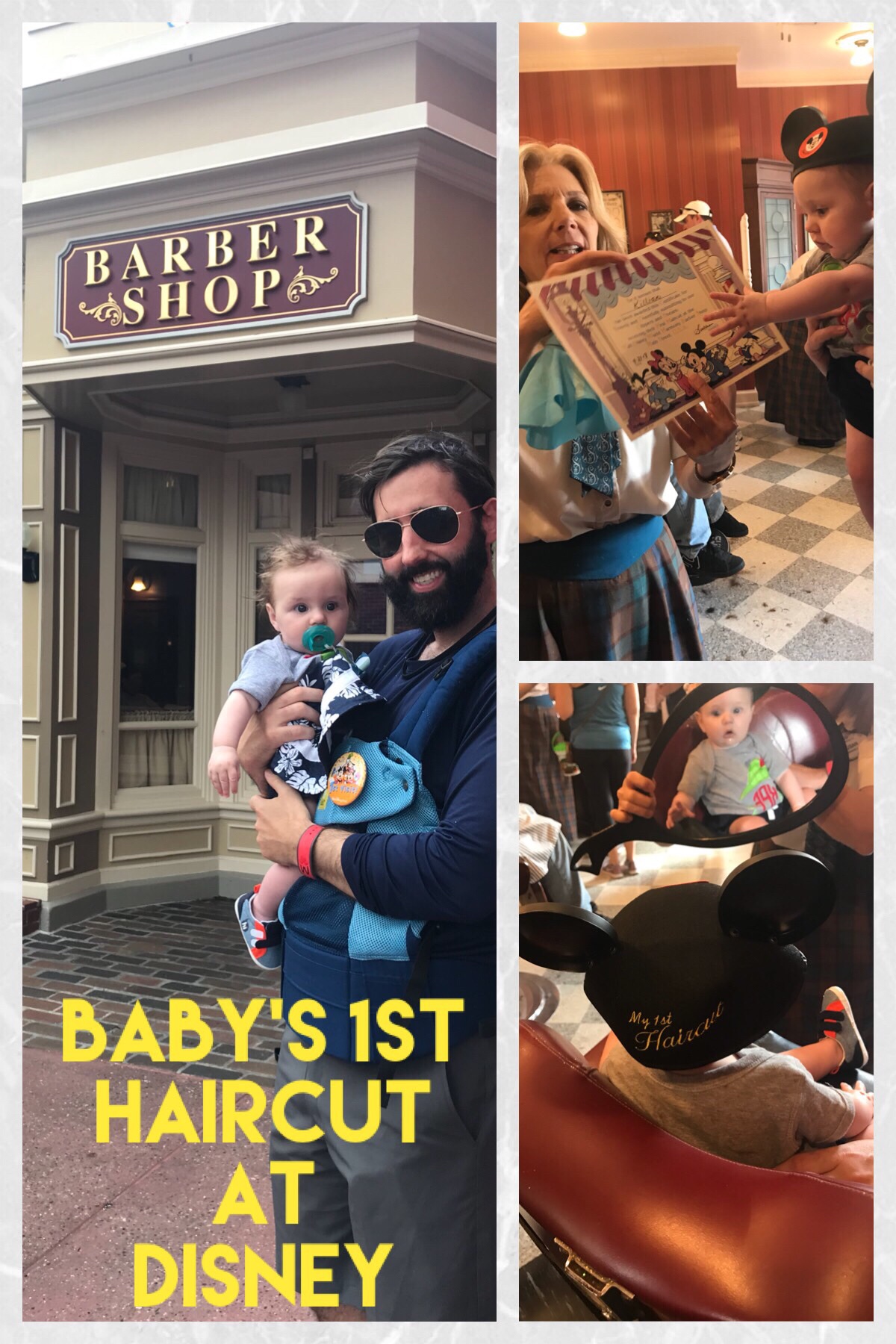 We went to Disney World for my birthday this year and it was our five-month-old baby's first visit. For a baby, he has a ton of hair! I thought it would be fun and memorable to have his first haircut done at Disney World.
Harmony Barber Shop
If you didn't know, Magic Kingdom actually has a barber shop on Main Street. You probably haven't noticed it tucked away on the left side of the entrance near the barn where parades and the horse carriages come in and out of. Harmony Barber Shop is a cute little shop with three salon chairs and friendly barbers. It is actually kind of deal for Disney. At $18.00 for a Child's Haircut, $19.00 for an Adult Haircut and $25.00 for the My First Haircut package it really isn't any much more than I would have paid elsewhere for his hair to get cut. The My First Haircut package comes with a printed certificate of bravery, a pair of commemorative Mickey ears with "My First Haircut" embroidered on the back and a clipping of hair in a mesh bag to take home. The little ears cost almost that much at the store next door.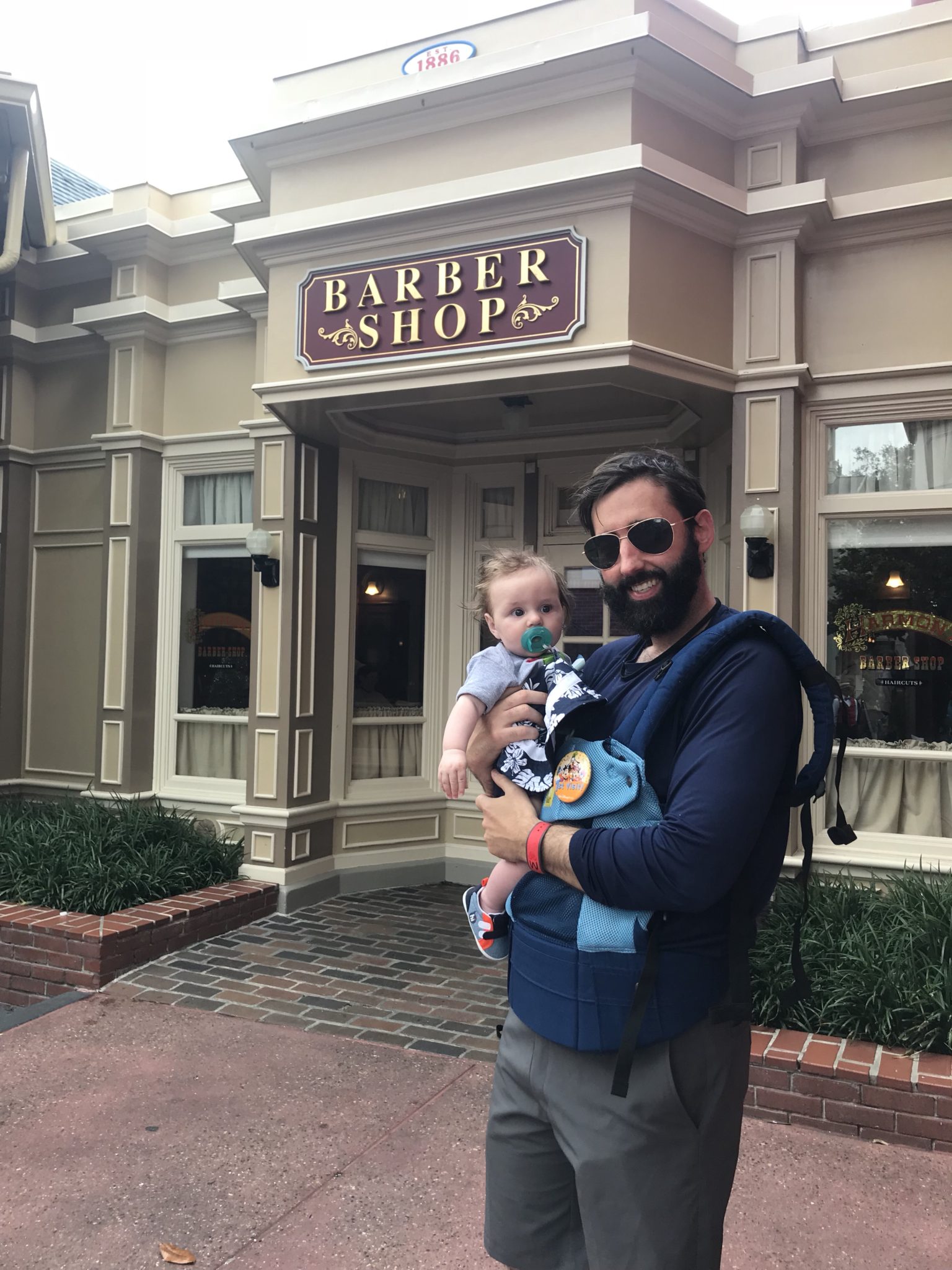 Our Child's First Haircut
Once I found out when we would be going to the Magic Kingdom (around two months before) I called to make an appointment and got one for noon. My son is so young, so I was extremely nervous leading up to the appointment. It's not typical for a 5-month-old to get his haircut so I had no idea how he would handle it and how the barbers would be with him.
We arrived for his appointment about 10-15 minutes before our scheduled appointment to check in. We used this time to take some photos and get him situated, check his diapers, etc. There were people of all ages kids, adults and even other babies getting haircuts and the Barbers were calm and had toys to make it a fun experience for the kids.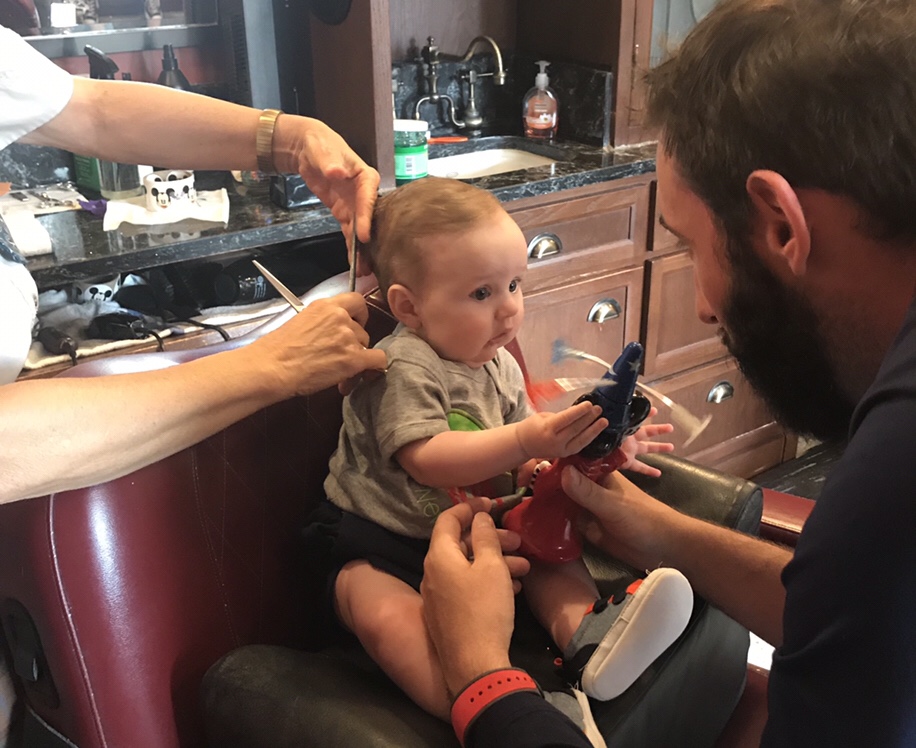 Once it was his turn our barber, Susan, sat him on a little booster and my husband held him along with a little spinning Mickey. (His barber is actually the woman in all the advertisements and the website for Harmony Barber Shop, which I think is really cool!) She asked what style we wanted and then quickly got to work. She was so talented! The second he would move she was prepared and didn't miss a beat anticipating every squirm. His haircut took about 15 minutes and afterword she took photos for us and gave us a little certificate, the ears, and a hair clipping to take home. She did a fantastic job with his cut and I really think our baby had fun. He loved the toy and all the extra hugs and kisses after!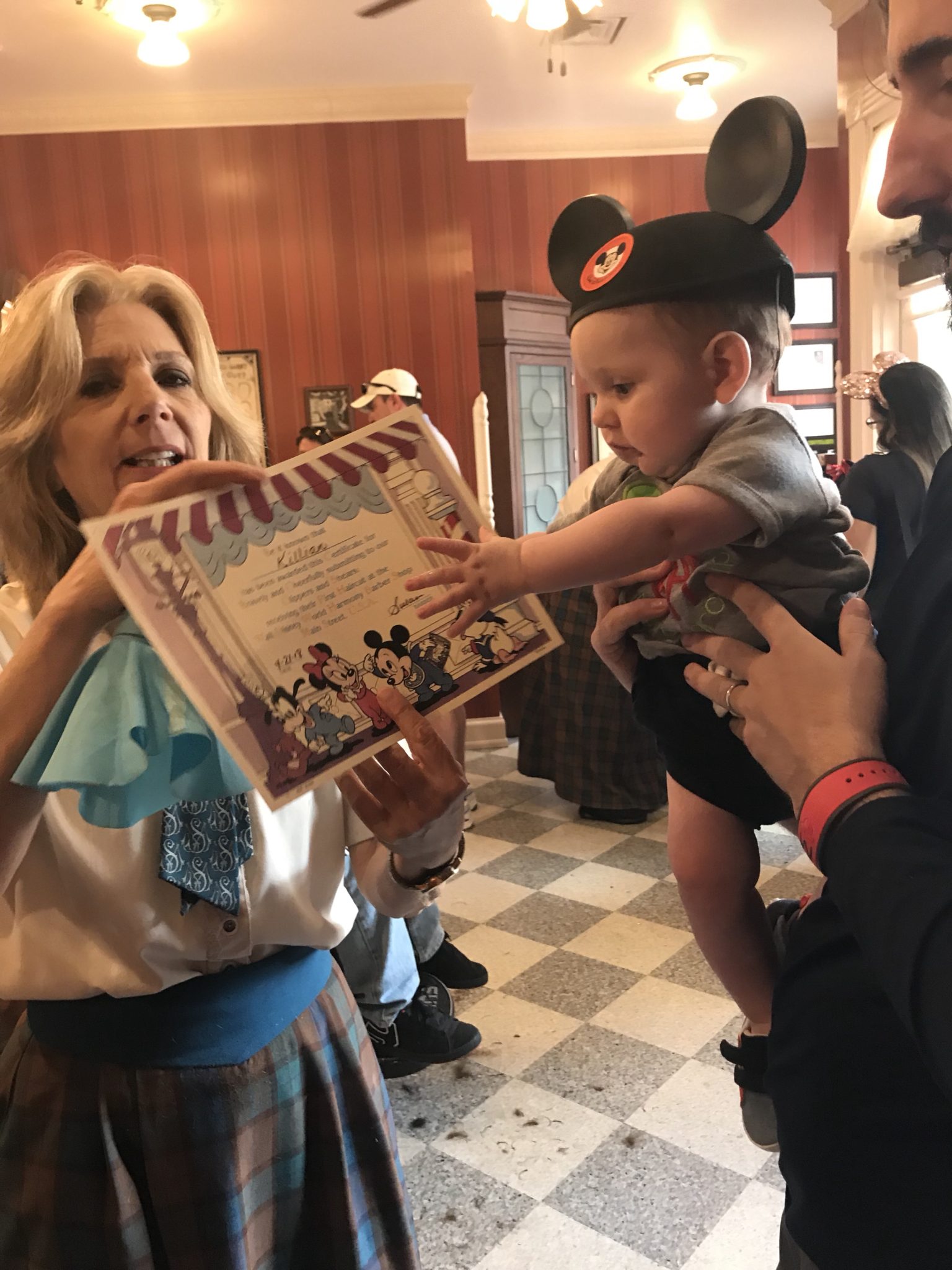 Overall it was a wonderful experience and I can't wait to take him back to get his haircut again there in the future! They also offer "Pixie Dust" for older kids and adults. Lots of people stop by to get "a little Pixie Dust" sprinkled on their heads. So, if you don't get a haircut you can also just pop in for a little sparkle.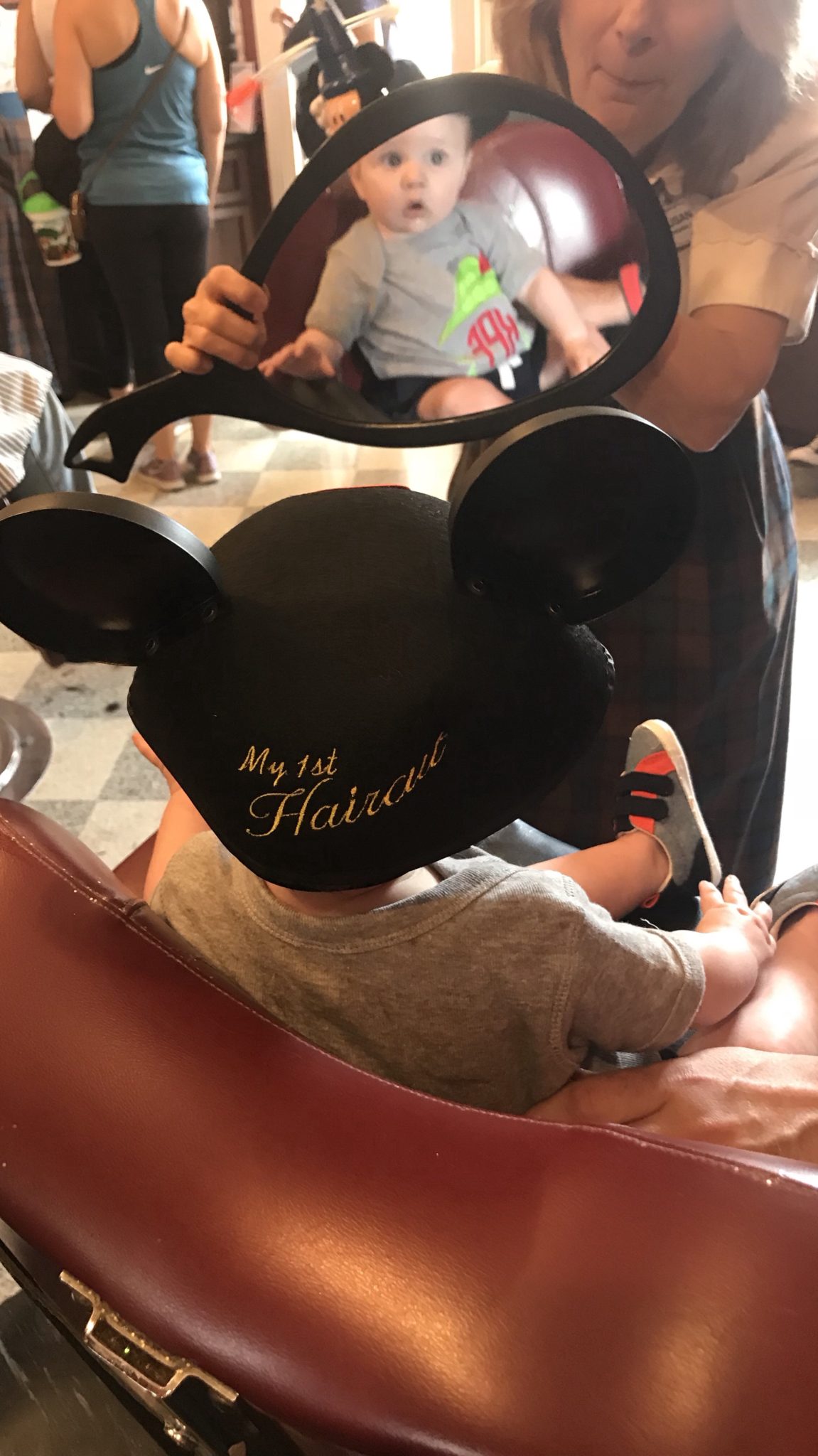 Harmony Barbershop Tips
Try to get a reservation first. Call 407-939-7529 to get a reservation up to 180 days ahead. You can always try to walk-in. I saw two people walk-in just while we were there and get times to come back later in the day.
If you walk in and there is a wait you can always go ride some rides or see a show while you wait.
Even the littlest baby can get a haircut, so don't worry that your child is too young or too old! They cut hair for all ages.
You can save money with the My First Haircut package as it comes with Mickey ears, so no need to buy those elsewhere in the park.
Arrive with clean hair, they may dampen hair with water, but they will not wash hair before the haircut.
You only need 15-30 minutes in total, so it won't take a big chunk of your park day!
Make sure you have a camera (or charged phone) ready for lots of pictures!
Ready to Start Planning a Walt Disney World Vacation?
Contact Dream Makers Travel Agency today to book your vacation and get FREE concierge level planning included with every booking.