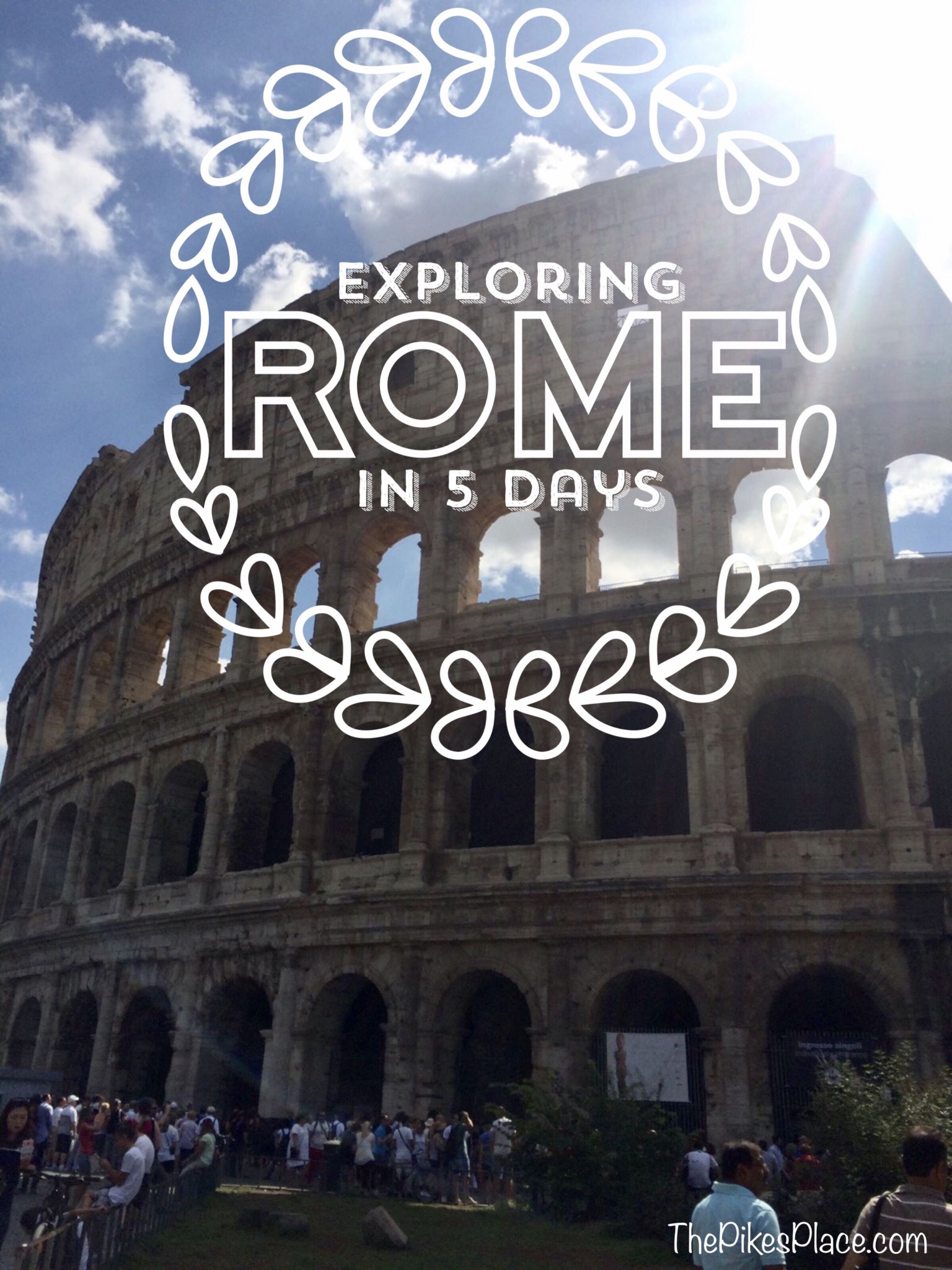 Italy, a country where you can walk in the footsteps of Caesar, see where the Renaissance began and eat some of the finest cuisine in the world. Our close friends recently got married in Italy and we jumped on the opportunity to tour the country before and after their wedding. On our trip we learned history in Rome, wandered through the Renaissance in Florence, attended a wedding in Lucca, went back to a simpler time in the fishing villages of Cinque Terre, and shopped in the epicenter of fashion in Milan. We flew in and out of Milan and traveled by train to each destination. First stop, the city of love, Roma.

Days 1-5: Rome
The eternal city offers once in a lifetime experiences and a culture different from any other Italian city. The hustle and bustle of everyday city life mixes with some of the largest collection of historic places on the planet. Here are the highlights from our stay in Rome.
Where We Stayed
Aleph Hotel – Rome
Via di S. Basilio, 15
Aleph Hotel is a wonderful boutique hotel. The staff is extremely helpful and the front desk staff spoke multiple languages including English. The airline we flew to Italy on lost our luggage and the staff here went above and beyond to help us. This hotel is about a fifteen-minute walk from Termini train station and we had no trouble finding it. There is also a metro station about a block down from the hotel. If you do not want to walk around Rome, we walked, you can easily take the metro everywhere you want to visit.
The room is small, but the bed was an actual queen and not your typical European full size bed. The hotel is on a quiet business street very close to the Spanish Steps, Trevi Fountain and The Pantheon. There is a very relaxing Turkish bath and a restaurant in the hotel. We never found the need to eat at the hotel restaurant, but we did get drinks before dinner one night.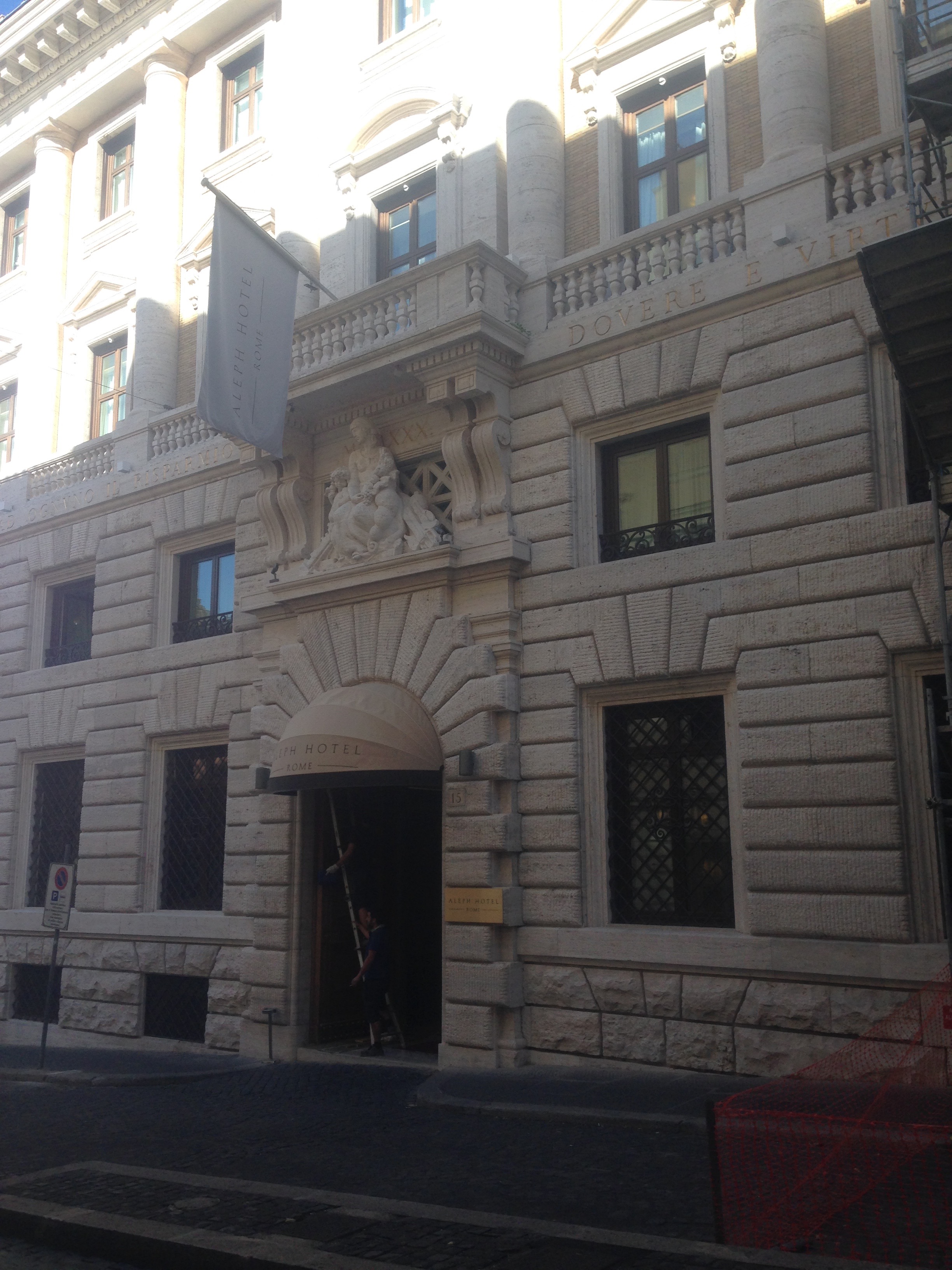 What To See In Rome
• Pantheon – is an immense temple turned church. The church boasts a large oculus in the center of it's dome. It's an extremely impressive site to see and beautiful to see at night. You can read about the history here. The pantheon was very close to our hotel, so we actually walked by it every day. It was the first "historic site" we saw on the way to our first dinner.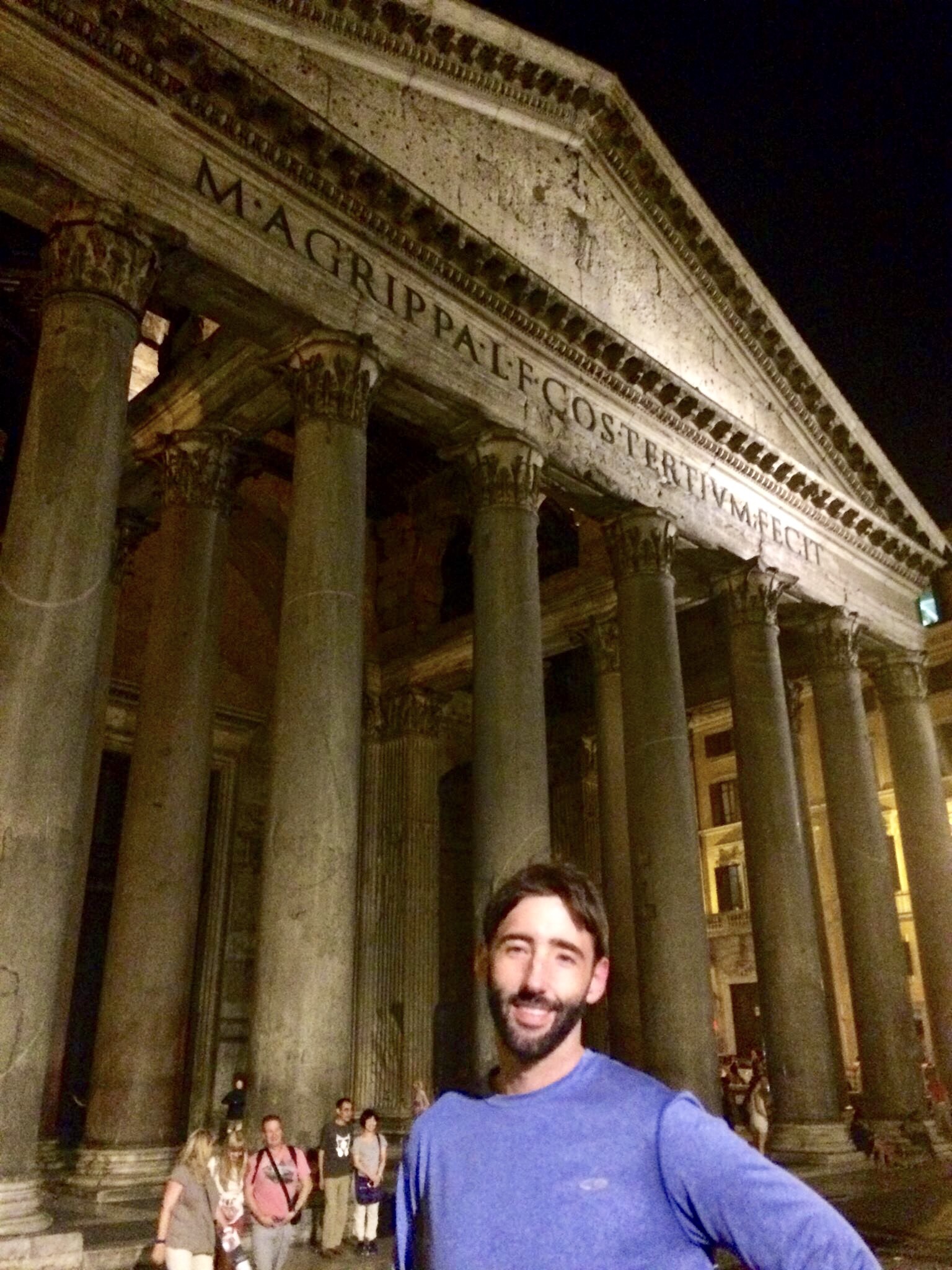 • Trevi Fountain – The famous fountain is just around the corner from Pantheon. When we visited it was unfortunately under refurbishment, but because of this it was empty and we got a good look at on a few different occasions. I cannot wait to get back to Rome, so I can see it with actual water in it.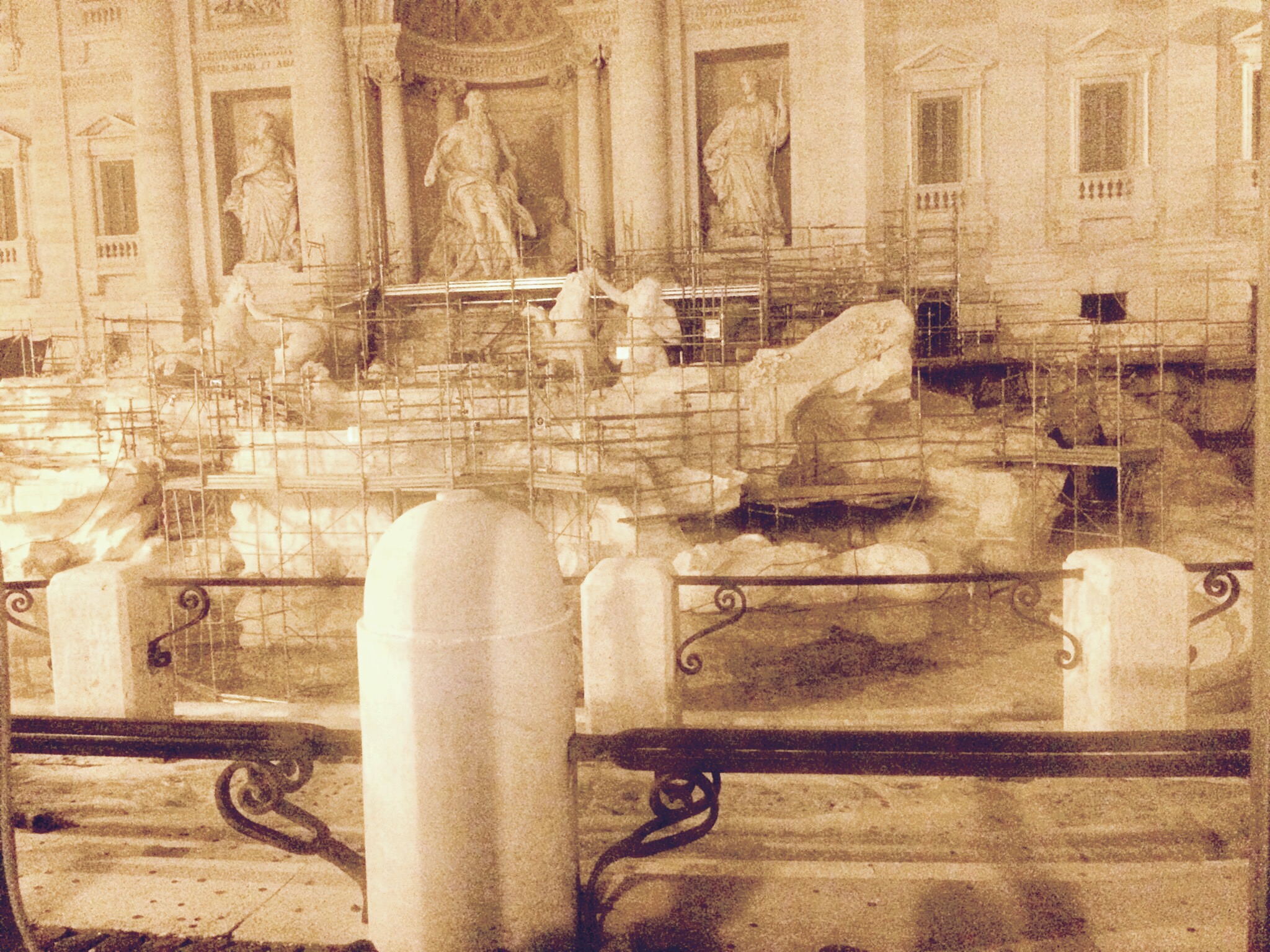 • Spanish Steps – The Spanish Steps were completely different than the picture of it I had in my mind. The steps in my opinion are in a very odd location. They kind of seemed random, but no less still beautiful and impressive. We walked by them very early in the morning on our way to the market. Go early and get a great photo without it being full of other people. The rest of the day it's REALLY crowded.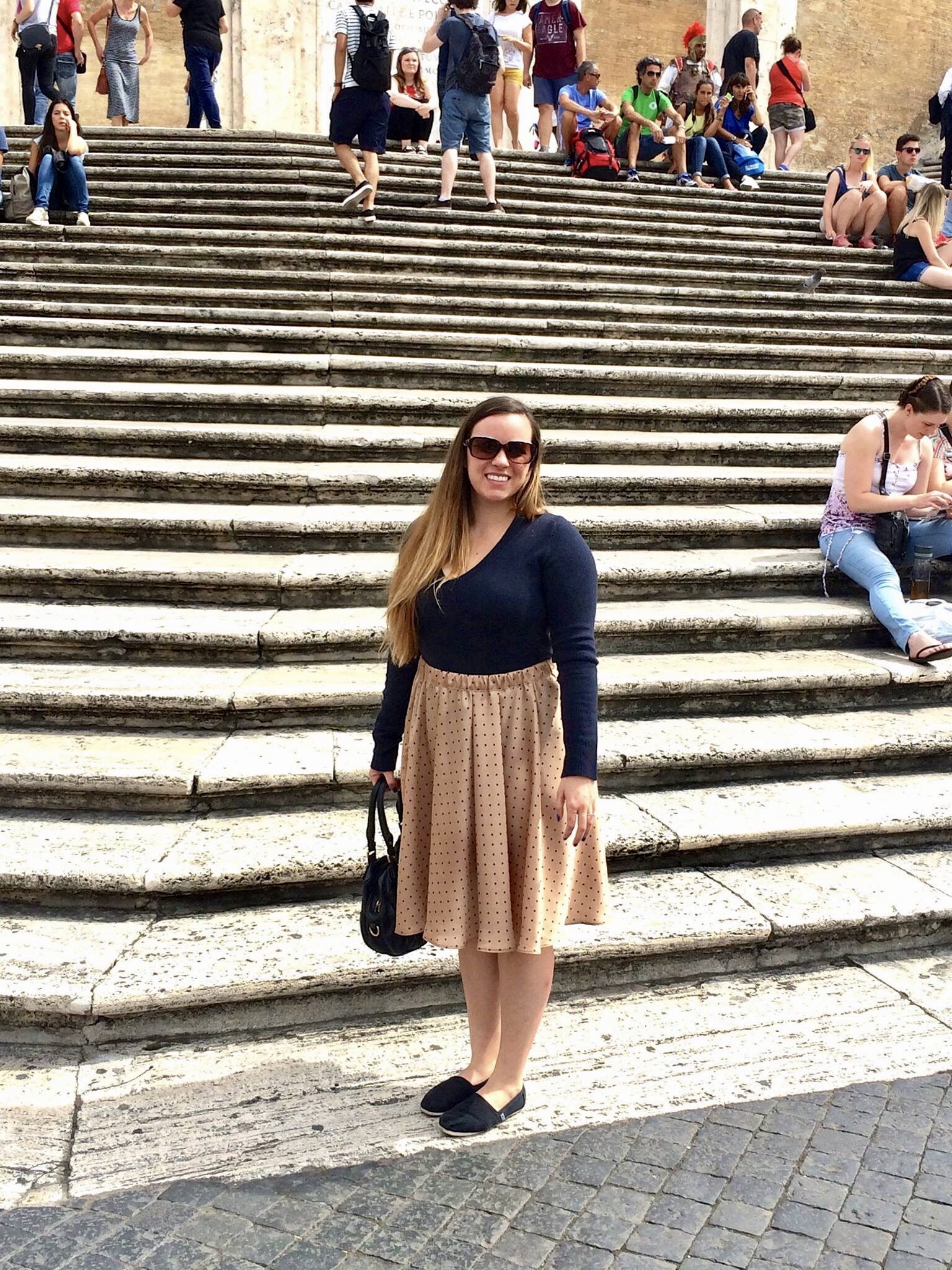 • Colosseo – The Colosseo is all that you imagine and more. The oval amphitheater was site to many different historic events and played a major role in Roman society. The museum does a wonderful job displaying artifacts and explaining the structure. Arrive early and you will miss a lot of the major crowds. You can also skip the line and buy tickets at the Foro Romano on Via dei Fori Imperiali. You get to skip the main line once you get to Colosseo if you already have a ticket and the ticket is good for two days, so if you want to do the Forum and the Colosseo separate you have that option.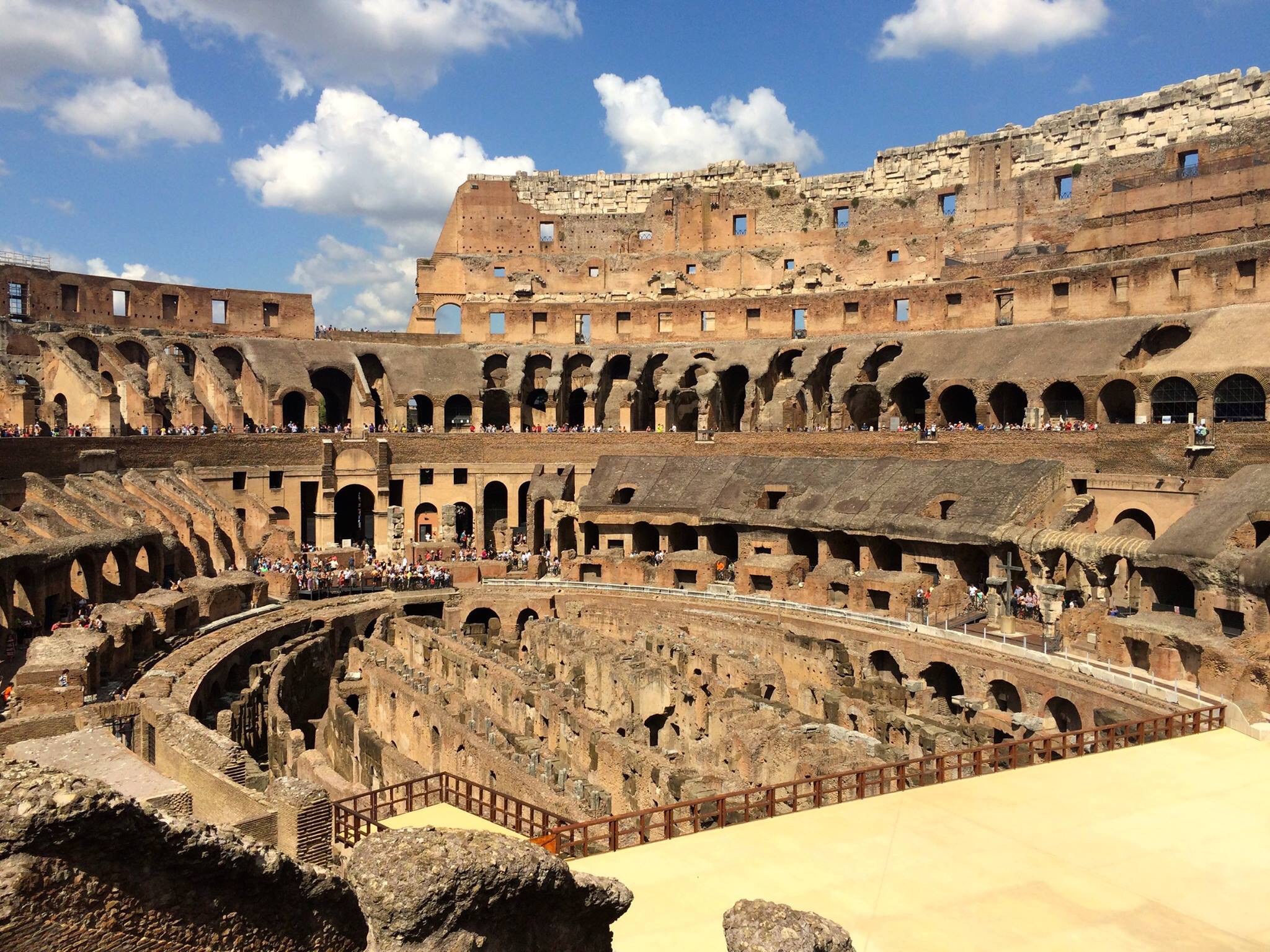 • Foro Romano e Palatino – The former epicenter of Rome, The Roman Forum, is HUGE and incredible!!! Views from the top of the forum were some of my favorite! The Forum is very large and expect to walk a lot. You can spend a good 4 hours here walking and exploring the different sections of the ancient city.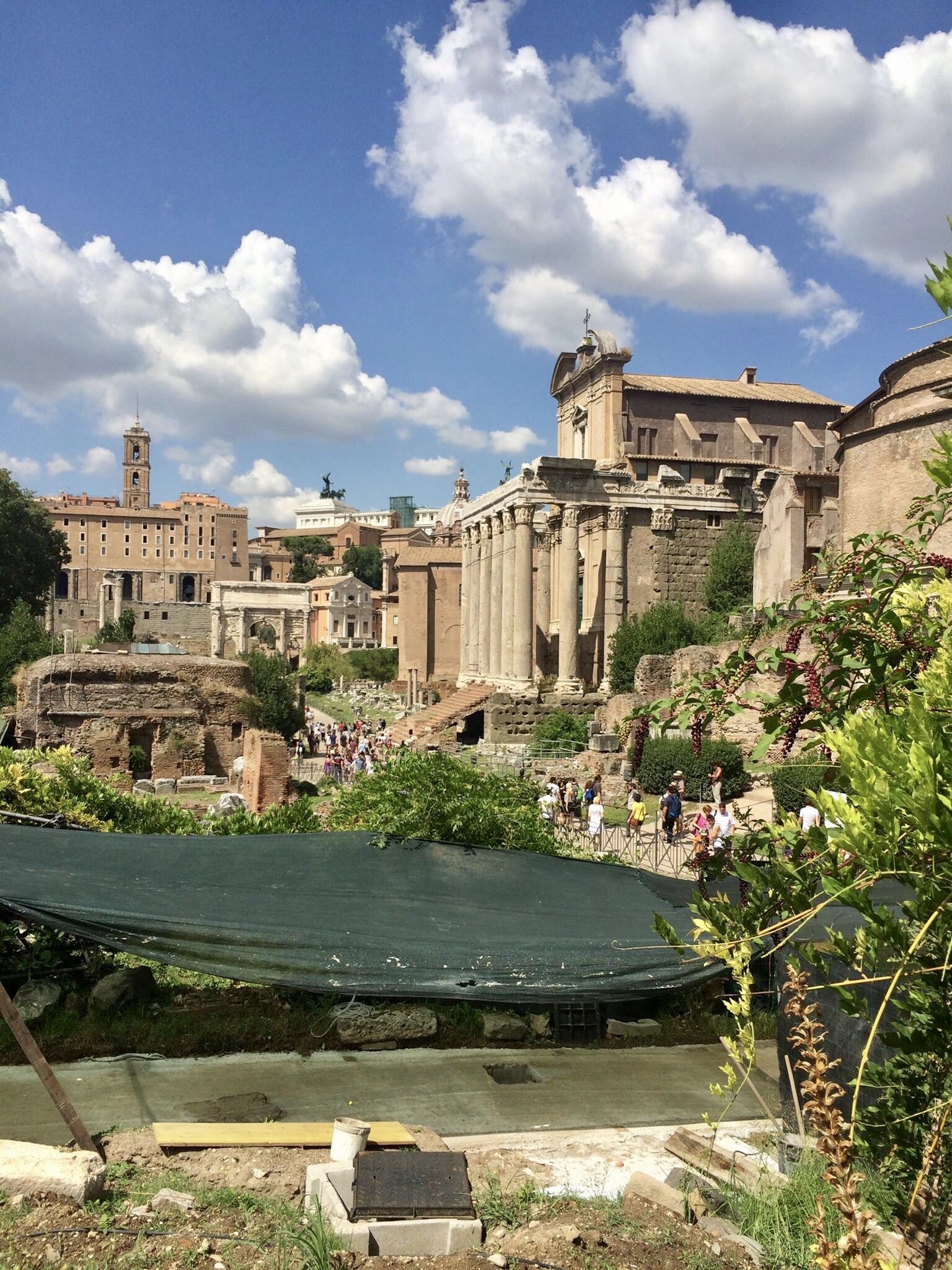 • Vatican City – Enter the Catholic city and experience history and art like no other. The preserved artifacts and art on these grounds are vast. A guided tour can be booked in advance and is very useful, although it a little long. The our is around 3 hours of non-stop art and history. If you aren't an art or history buff this tour may not be for you. I think the tour was worth it, especially to skip the line outside and understand why certain art exhibits were significant. The Sistine Chapel is the reason many people visit the Vatican and it is incredible.
Be warned if you are there on a busy day, they cram way too many people into small rooms and there is not air conditioning. After the tour of the museums they take you in St. Peter's Basilica. You can take as much time as you like in the basilica and if you have extra time check out the crypt. Proper dress is also required, check guidelines before showing up and not being allowed in.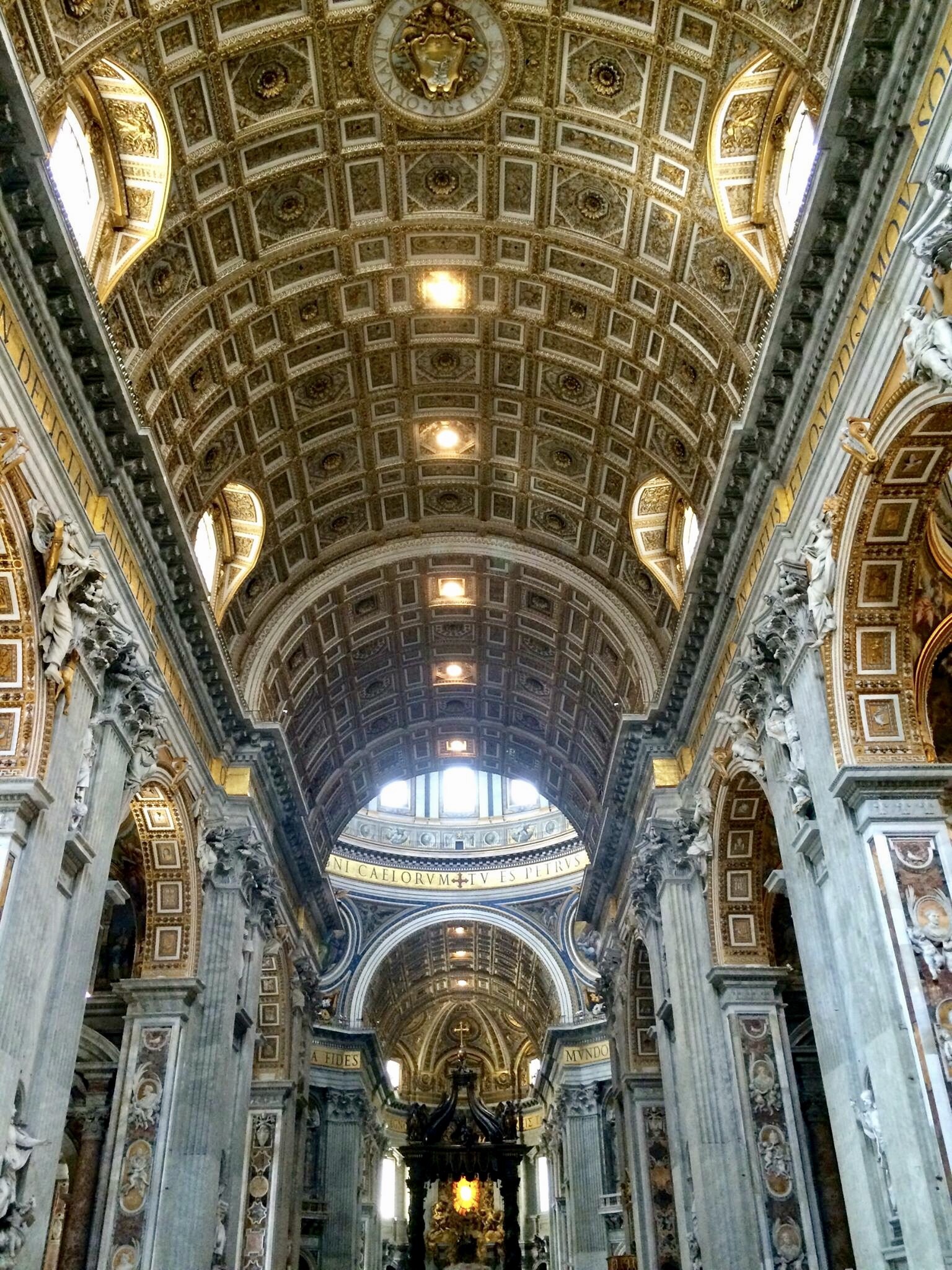 • Campo de' Fiori, Jewish Ghetto, Piazza Navona, Piazza del Popolo – In Rome there seemed to be hundreds of parks and neighborhoods all with amazing fountains, history, restaurants and not to mention great people watching. These are just some of the ones we visited.
There are more historic places to visit than I have listed here. Some we walked by and took pictures at and some we didn't get a chance to see. Take time to explore this city at your leisure and try not to cram too much into the trip. Take time to wander, get lost and experience the city.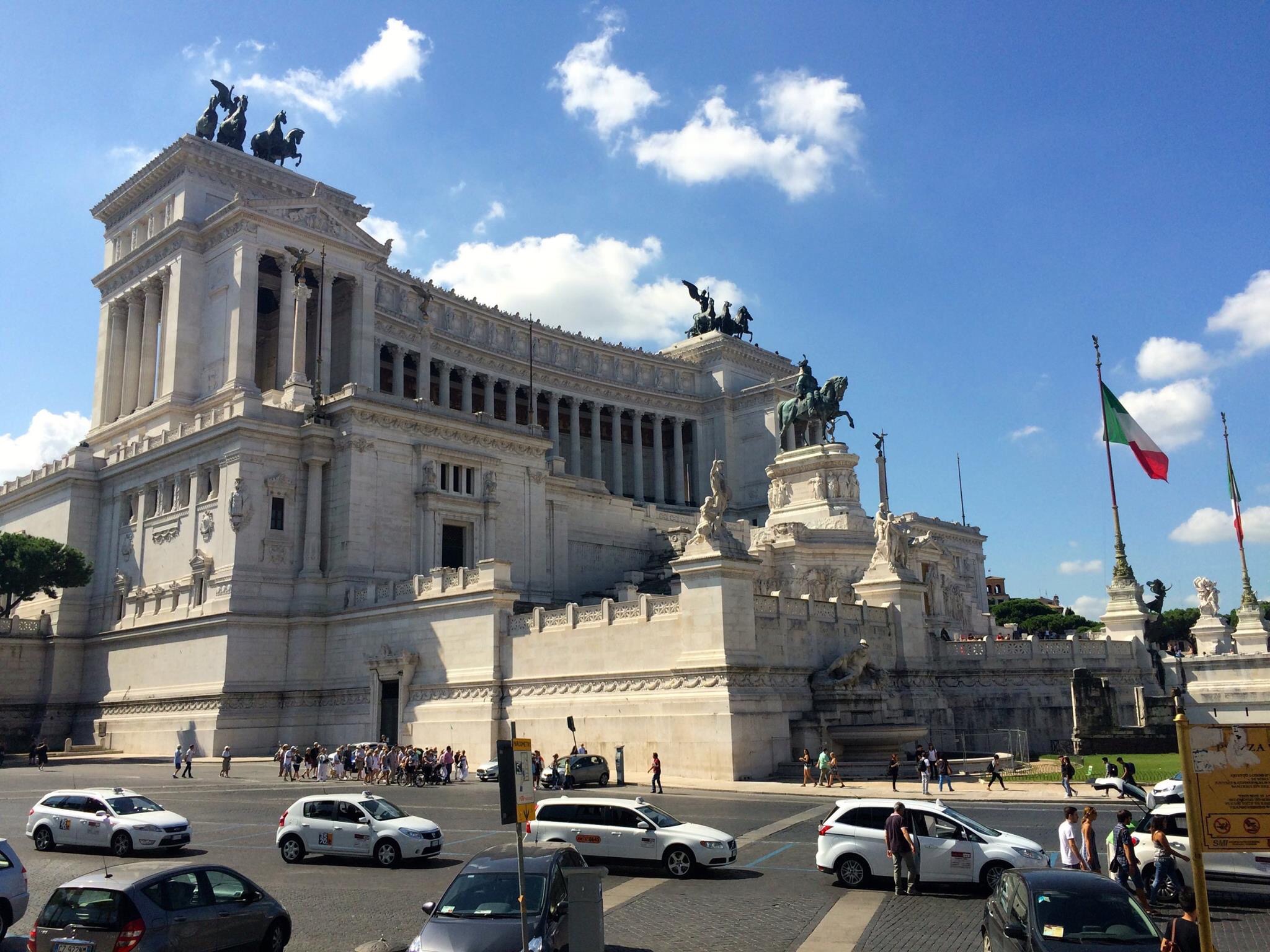 Where To Eat
La Ciambella– near Pantheon
This was our favorite restaurant in Rome! The food, the service and the wine was amazing! This little pace is tucked away off the main street and has oddles of charm. It has a modern farmhouse feel to it and there is even a pane of glass in the floor where you can see into the wine cellar. Get the spaghetti carbonara, it was the best one we had the entire trip. Via dell'Arco della Ciambella, 20, 00186 Roma, Italy
Baghetto Milky – Jewish Ghetto
The Jewish ghetto is a cute little street with some shops and great food. It was really fun to try an Italian Kosher meal, and see the differences from the other areas of town. The restaurant is completely kosher, so if you are Kosher you are in luck for your stay in Rome. Try anything in the Fritti section, it's delicious and the area is known for fried things. Via del Portico d'Ottavia, 2/A, 00186 Roma, Italy
Cul De Sac – near Piazza Navona
This was our least favorite place of the whole trip. Some people aren't bothered by peddlers, but we aren't a fan of it. We were offered selfie sticks, roses, toys and random other goods the entire dinner. The food was good, but service and atmosphere was terrible. I wouldn't go back, but we were in Italy, so it was all fine. Piazza di Pasquino, 73, 00186 Roma, Italy
La Botticella – near Piazza Navona
On the way back to our hotel one evening we wandered down a random street and found a small Pittsburgh themed bar with an American owner. There are even peanuts on each table. The owner is really nice guy and loves when Americans find his bar. He even gave us free absinthe to try when my husband said he'd never tried it. This area can get rowdy late at night and it is a true bar, but if you are nostalgic for home, want to watch sports or get a beer give this place a try. Vicolo del Leopardo, 39/a, 00153 Roma, Italy
L'Isola della Pizza – near Vatican City
We are lunch here after our visit to the Vatican. The restaurant was busy and every meal we saw looked delicious. Our waiter spoke very little English and did a fantastic job figuring out what we wanted with my very poor Italian. I tried my best and he appreciated it. We each had a small pizza and we weren't disappointed by one bite. Via degli Scipioni, 45, 00192 Roma, Italy
'Gusto Osteria – near Spanish Steps
This place was more in a business district and was the perfect place for our last dinner! The food was great, the service was great and we felt like locals. We ate outside on a little patio. I had an amazing steak and my husband had the braised oxtail, Coda alla Vaccinara. Via della Frezza, 16, 00186 Roma, Italy
There's also thousands of amazing cafes to grab an espresso or pastry and food stands to get gellato, pizza by the slice or a sandwich. We stopped at one of these shops every day for most of our lunches and all breakfasts, snacks and of course gellato.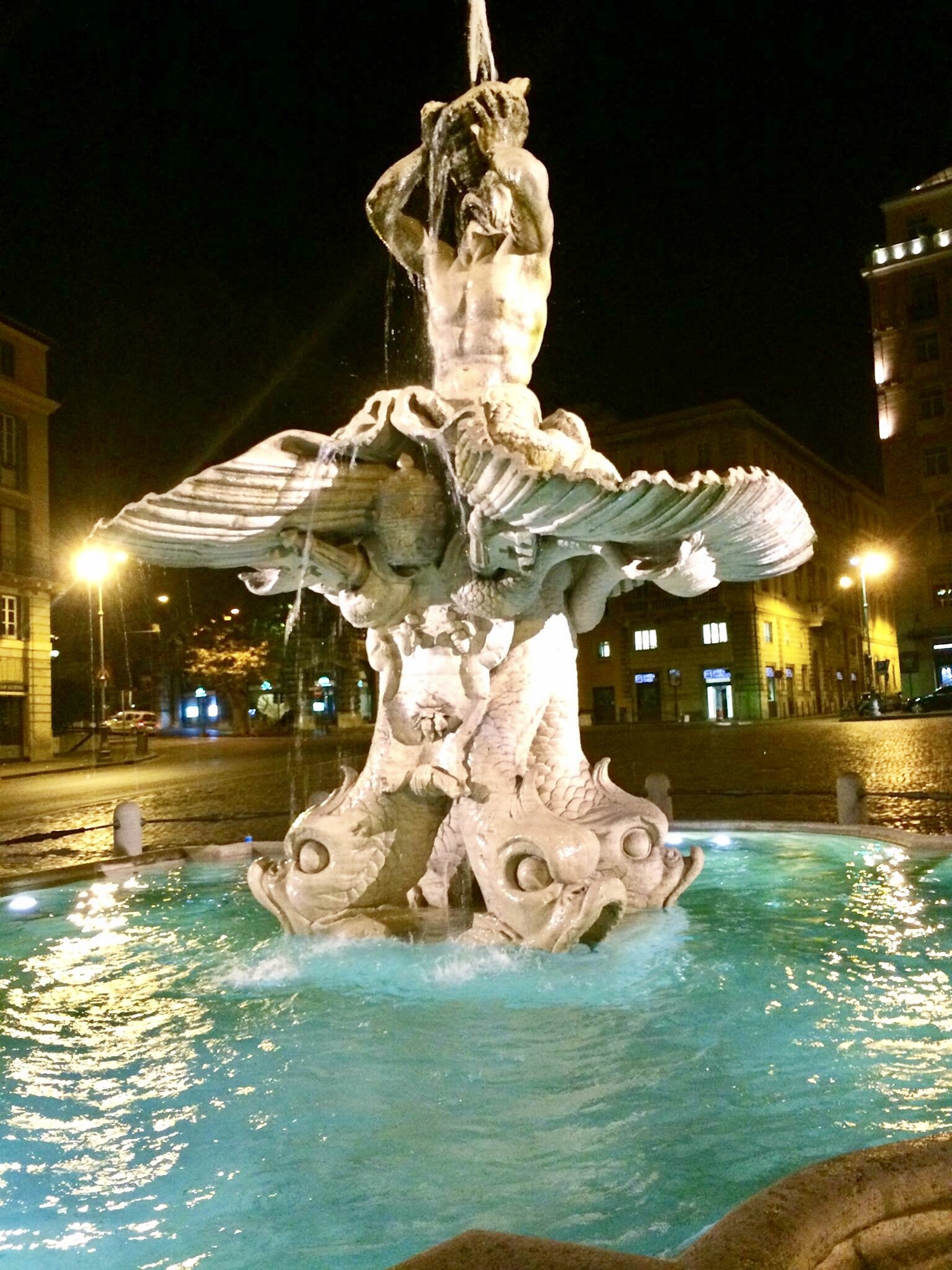 Rome is a huge glorious city and the more time you take to explore the more authentic culture you will get. We stayed in Rome for five days and I wouldn't recommend any less. This gives you time to explore beyond the museums and experience some of the neighborhoods and fantastic culture that this city has to offer. Research the location of your hotel and choose wisely. You can save yourself a lot of travel time, if you pick an area you want to spend time in. You also get what you pay for, remember this when traveling abroad. If you have a hostel budget and expect a five-star hotel, you are going to be sorely disappointed. Travel booking websites, such as booking.com and Expedia, can save you a lot of money and time. Read the reviews before booking your hotel and trust them.
Some pointers for being a good tourist in Italy
– You pay to sit, so remember that when ordering at a counter. Stand and eat at the counter or pay extra.
– Watch what others do before you order. A lot of food stalls (gelato, coffee, even pizza places) you pay the cashier first then give them your receipt at the counter to get your item.
– Order multiple courses at sit down restaurants, you will likely get bad service and be upset with the portion if you only order one thing.
– Italians typically do not eat and walk at the same time. Stand and eat before heading out.
– Cover you knees and shoulders in churches, the guards won't let you if you are dressed improperly.
– If nothing else, attempt to speak the language. A simple buongiorno can go a long way.

**Disclaimer** I am a lover of history not a historian. If I got any facts wrong I apologize.