Wine & Dine Half Marathon Weekend is almost here! Everything is booked, the trip planning is complete, the race outfit is ready to go, my training is almost over. It's time to start planning what I will pack. When it comes to packing, I either over pack by a substantial amount or I under pack by a substantial amount. I stress over every item I put in my bag and have nightmares that I forgot half of it. This stress is even worse when it comes to any of my Disney vacations. Packing for RunDisney events is no different. * This post may contain affiliate links, if you make a purchase after clicking these links we will be compensated.

Packing for Wine & Dine Half Marathon Weekend
My packing list is quite extensive, as I plan to have everything I could possibly need and then some. We are also staying at Disney from Thursday to Monday afternoon, so my list may be longer than you will need. I am flying Southwest with free checked bags. We use the Disney Magical Express. With this transportation service, Disney will deliver my bags to our hotel. This time around we will be staying at All Star Movies.
Every item you need to purchase upon arrival will cost you possibly triple the cost extra. For any Disney vacation, a packing list is essential. I have included in this list what I will be pack in my carry on, so we can shoot straight to race expo than the parks after we get dropped off!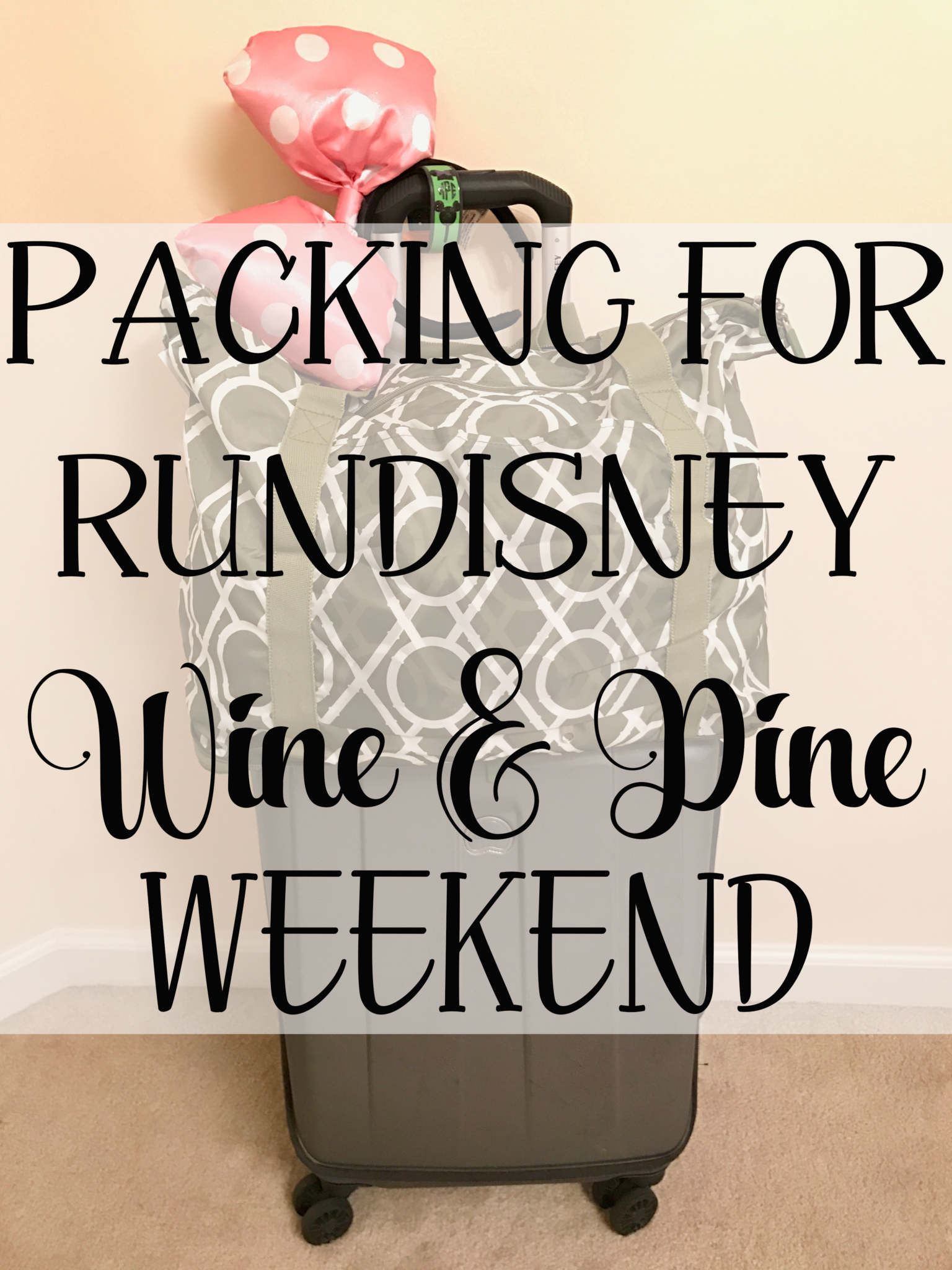 Carry On List:
Medium Tote Bag (to be left at the hotel check-in desk or in the room)
Crossbody Purse
Wallet – IDs, Cash, Credit Card, etc
Iphone
Airline Ticket
Magic Band – NEEDED FOR MAGICAL EXPRESS
Sweater
Empty Water Bottle*
Medicine
Toiletries – Toothbrush, Toothpaste, Sunscreen, Face Wash
Book/Magazine
Headphones
Phone Charger
Minnie Ears
Makeup
Change of Clothes
Signed Race Waiver
Wine & Dine After-Party Ticket

Pack anything you can't live without in your carry on bag in case it gets lost.
Checked Bags List – For the Parks & Around The Resort:
Extra Money
Clutch/Wrist-let
2 Tank Tops
3 T-Shirts
2 Pairs of Pants
1-2 Dresses
4 Pairs Underwear
2 Bras
1 Sportsbra
4 pairs of Socks
Light Jacket
Bathing Suit
Pajamas
Flip Flops
Sandals
Good Walking Shoes – for the Park
Wedges – for nighttime/after-party (if my feet don't already kill)
Sparkly Headband
Hair Styling Tools
Toiletries – Ones that weren't in my carry on: Moisturizer, Shampoo, Conditioner, Razor
Jewelry
Makeup – The big stuff that can't fit in the carry-on
Blister Bandaids*
Meal Replacement Shakes – for breakfasts
Blender Bottle*
My packing list is a mixture of necessitates and fun clothes to wear around the parks/at night. I'm not a t-shirt and jean shorts person. I wear a lot of leggings, casual dresses, and skirts in the parks. Makeup, hair tools, and jewelry follow me wherever I go. I am for sure a girly girl if you aren't obviously just skip those items.
Checked Bags List – For the Race:
Sports Bra
Underwear
Sparkly Headband – this one I will be purchasing at the expo
KT Tape*
Body Glide*
Emi-Jay Hairbands*
Safety Pins
Rehydrate Gels
Advocare Spark
2 Water Bottles – Disposable
Cliff bar
Running Shoes
Homemade Sparkle Skirt
Tank Top
Costume Accessories
Running Socks
If you don't have all the items you need to bring, you can purchase most of these items on Amazon. Personally, I use Advocare products. Use whichever kind of products work well for you or none at all. I don't suggest trying out new ones the day of a race.
I made my costume. In an upcoming post, I will be explaining how. You can also read my post on how I made my Star Wars 5K Outfit. If you aren't that crafty head over to Etsy. There are so many options for RunDisney outfits. You may be too late for this race, but you never know. Some of the sellers will do rush orders. Amazon, your local sports store and even Target also have great running clothes that you can put together an outfit easily with.

Things You May Need On Race Day
Support Braces
Throw Away Clothes – If it is cold in the corrals, you might want an extra shirt or blanket
Medications
Biofreeze*
Chafing Supplies
Fuel Belt* or Race Bib Holder
Water Belt and Bottles
Phone Arm Band
Sunglasses
Hat or Visor
Rain Poncho
Check the weather and pack accordingly. Pack extras in case the weather changes. RunDisney races are really early in the morning. I plan on getting up around 2:30am on race day. It can be below freezing or upper 70s. Possibly even warmer than 70 by the time the race is over. I was so overheated in April when I ran the 5K, because I had trained in the MidWest cold. It was extremely hot and humid. Be prepared for the climate to be different from your own.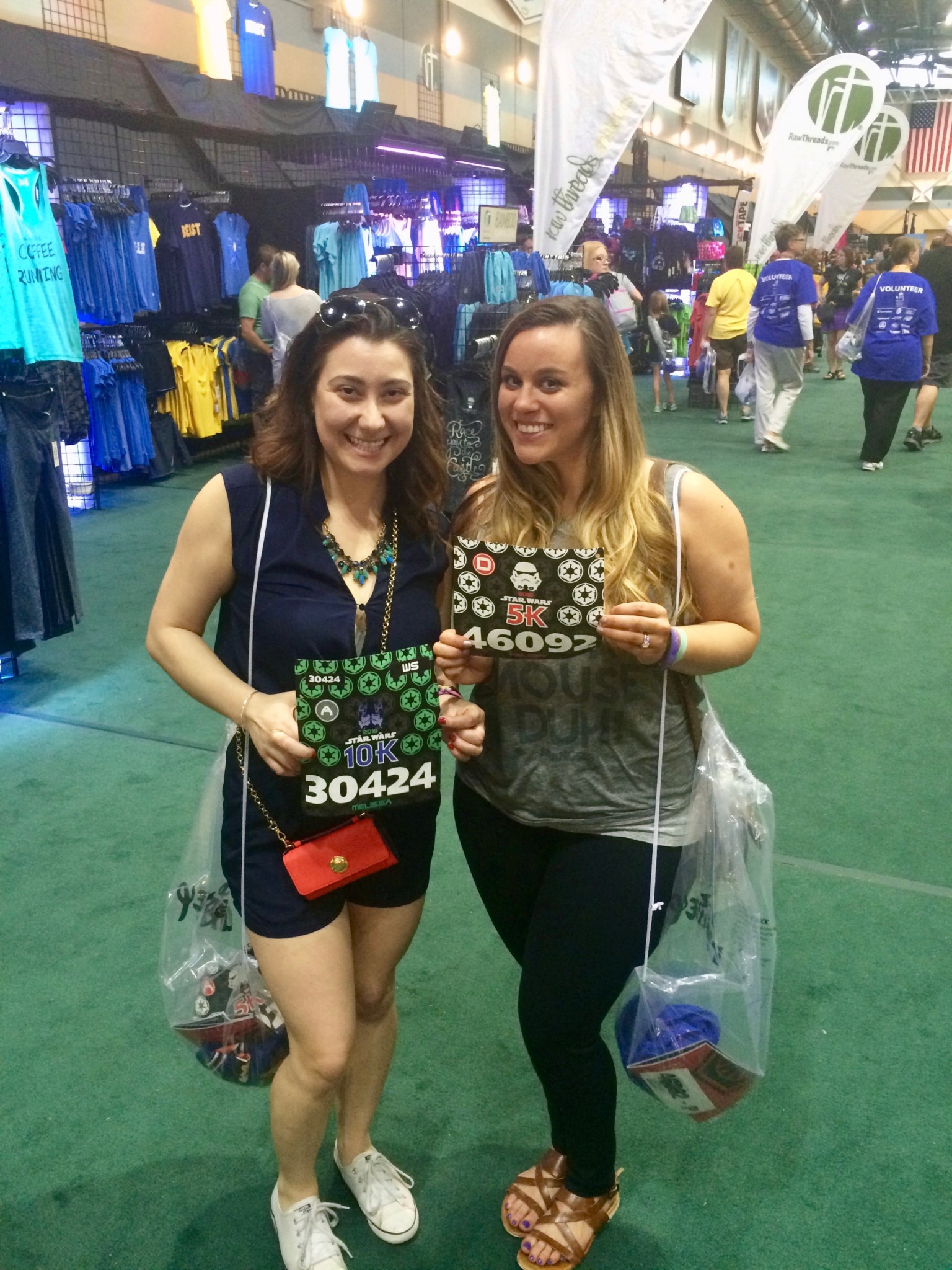 Things I Will Be Purchasing At The Race Expo
Purchasing items at the race expo and Disney merchandise has a value of its own. You likely budgeted, or should have budgeted for those purchases. The race expo is a typical convention or expo set up with numerous vendors. You can try out tapes, purchase running clothing and gear. I even remember seeing flip flops being sold. If you forgot something really important for race day, you can likely replace it at the expo.
Since running the Star Wars 5K in April 2016, I have become a huge fan of the Sparkly Soul headbands that my friends introduced me to at the race expo. I will be buying a new headband. I also have my sights on a Flipbelt this time. They are perfect for storing my phone and gels in. A new running tank may also make it's way home with me. That one is still undecided, but budgeted for.
Enjoy The Weekend!
I am so excited to get to Disney World. Make sure to check back after the race to read about everything we did on our trip. We have a lot planned beyond the races. Epcot International Food and Wine Festival will be going on. We will also be attending a Beverage Seminar.
Ready to book a vacation to Walt Disney World?
A travel agent can help you plan and book your vacation completely free! That's right, you don't pay a dime! A travel agent can actually save you money and plan your entire vacation! To book with a great travel agent that has completed Disney College of Knowledge and specializes in Disney destinations head on over to Dream Makers Travel Agency for a quote!