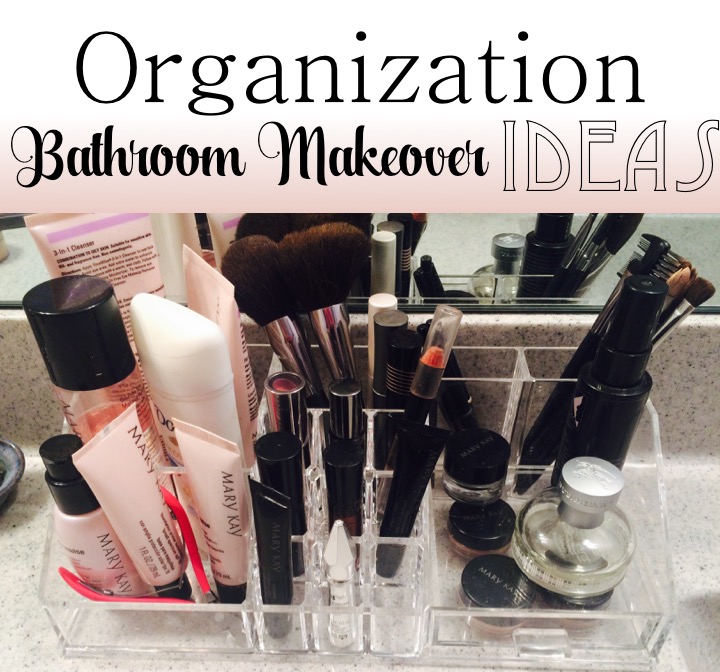 Magazines and makeup blogs sure make bathrooms and makeup stations look effortlessly amazing. While there is nothing I hate more than a messy unorganized house, in the real world it can be hard to work, keep a house clean, stay fit, cook all the meals, chase around those kiddos (or pups in our case) and do everything else that comes along with being an adult. Bathroom organization may me my least favorite of adult thing of them all, but yet I'm always envious of the immaculate bathroom and dressings areas that I see on other sites. How do they keep that clean, beautiful and organized all the time?! My husband is amazing, but bathroom organization was clearly not either of our fortes and after a few months in our new house being newly married it was time to make a change and get on the makeup blogger and professional home designers level, or at least somewhere close. I stalked every website I could find and here are my 10 favorite bathroom organization ideas and my own bathroom organization overhaul.
1: Acrylic Storage Containers
The amazing acrylic containers from The Container Store were my personal lifesaver. They give our bathroom easy access counter top storage with a high end look. Store makeup, and go to every day items in these easy to clean sectional storage bins. Plus, look how pretty they look! While ours aren't on this level of perfection, I still absolutely love them.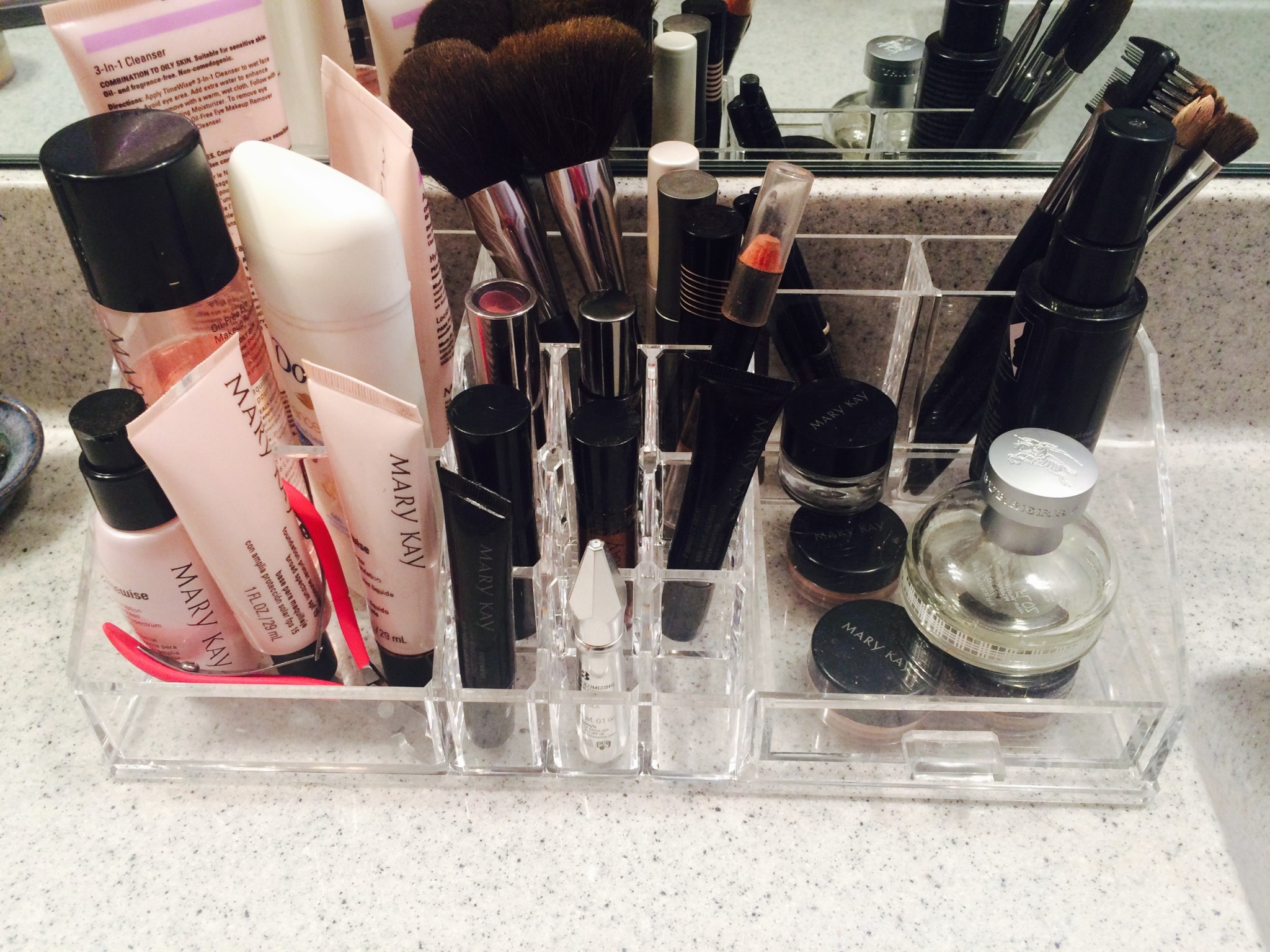 2: Drawer Dividers
Take the clutter off the counter with these drawer dividers! I love the bamboo look if you are going for a spa theme. You can find these at most stores in the kitchen section, but they can easily be used for a bathroom or any other drawer. My favorites are from The Container Store because these are stack able.
3. Styling Tool Rack
If you are anything like me, your styling tools get in the way of everything and take up an entire drawer or are sprawled all over your counter. Control those cords by moving all those styling tools under the sink on a door organizer. Wayfair offers multiple solutions for organizing using the wasted space on the cabinet door.
4. Styling Tool and Product Holder
If you don't have under counter storage, the Pottery Barn all in one organization system is a great idea. This system can hold three different size styling tools and has space for products below including a drawer, taking up as little space possible! Pottery Barn has some fantastic solutions for bathroom organization, but this is my favorite.
5: Storage Jars
A simple jar can make a huge organization difference in seconds. Great for getting bobby pins, cotton balls, cotton swabs and any other small object you use in bulk off the counter or out of the drawer and under control. I use them mostly for cotton balls and Epsom salts myself, but I've even seen people store nail polish in them! Restoration Hardware jars are beautiful, but if they aren't in your budget you can find something similar at most home stores or craft stores!
6. Storage Towers
If you have a bathroom without a lot of cabinet space that's not a problem. Add a storage tower. My first adult apartment I had a pedestal sink, a toilette, and a shower. There wasn't even a mirror cabinet. I solved the problem by using a rolling storage tray that I could pull into the bathroom when I needed and added a storage tower. As always, IKEA is a great place for all your storage needs on a budget.
7: Wall Storage
Through everything up on the walls! IKEA has a way of making even the ugliest of storage options stylish. Try out shelving and wall containers to get things organized. This is especially helpful if you have little counter or cabinet space or just want everything within reach.
8: Baskets Galore
Baskets are pretty much the storage solution for everything. Whether you go lid or lidless, you can find a basket that fits your space and style to hide or hold whatever it is that is cluttering up your life! World Market has so many baskets to choose from, but my favorite are this vintage looking wire baskets with linen liners. Perfect for the bathroom since you can wash the liners.
9: Bathroom Accessories
No bathroom organization would be complete without accessories. A toothpaste holder, soap dish or dispenser can really change the functionality and look of your  bathroom and also helps keep the germs and clutter off your counter. I like a classic look and this line from Crate and Barrel are pretty similar to the ones I have in our bathroom. You can purchase bathroom accessories at every major chain retailer and home store.
10: Trays
For a total high end finish to your bathroom add a tray! Fill the tray it with pretty items like candles, vase of flowers and perfumes. I have yet to add one to our bathroom overhaul, but this will be my next purchase! I am a personal fan of the clear acrylic, but the silver and stone finishes I have seen are also gorgeous. It just depends on what style you are going for. Potter Barn has a beautiful option.
---
My Bathroom Organization Overhaul
The Before:

The before picture is bad, actually it's horrible! My bathroom was a mess. I purchased an acrylic tray, a acrylic makeup organizer with a drawer and used some drawer dividers and a jar I already owned, but wasn't using correctly. From a cluttered mess to a simple clean organized counter. We still have things on our counter top and we always will. My husband loves to have everything within reach, so it's just easier that way. The difference is that now we can actually find what we are looking for and I have space to put on makeup!
The After: