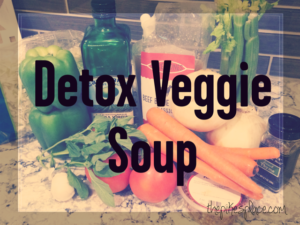 After a week of amazing all-inclusive eating in Mexico, we needed a little detox coming back from our honeymoon. I didn't want to do anything drastic. I just needed to do something to get back into a healthier lifestyle. This cabbage soup is low in calories. It
is loaded with yummy vegetables to help you naturally get to a healthier you.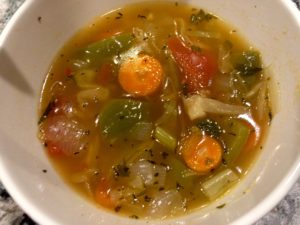 I based this off a traditional diet cabbage soup. I kicked it up a notch by using bone broth to add additional nutrients into it and loaded up on the veggies for a natural detox. The week following our trip I limited my starches, cut out dairy, increased my water and ate this soup for either lunch or dinner every day for a week along with some lean protein. That's right, no chips, no pasta, no bread, no cheese, no milk. If it wasn't made by me, it wasn't a fruit, a veggie or this soup, I didn't eat it. I did have some lean protein cooked in olive oil only, but that's it.
I can't tell you how fast I noticed a huge difference. My stomach felt better by day two and by Friday my stomach was noticeably less bloated and flatter. Now I'm on a great path for a healthy rest of the summer!
Ingredients:
1 bag of shredded cabbage
2 tomatoes
2 small onions
2 bell peppers
3 cloves of garlic
4 celery stalks
6 carrots
1 cup water
16 oz beef bone broth
1 bunch basil
1 tsb red pepper
1 tsp thyme
1 tbsp olive oil
Recipe:
Heat olive in a large pot over medium heat.
Chop onion and mince garlic. Add both to the pot and brown.
While the onion and garlic is browning, chop all remaining veggies.
Add in each chopped vegetable one at a time and stir.
Let cook for a few minutes, still over medium heat.
Pour bone broth and water into pot and stir.
Add pepper, thyme and basil into pot and stir again.
Cook on medium heat until boiling. Reduce to shimmer and cover.
Shimmer for at least an hour. Stir occasional.
Taste and add additional spices if needed.
Enjoy!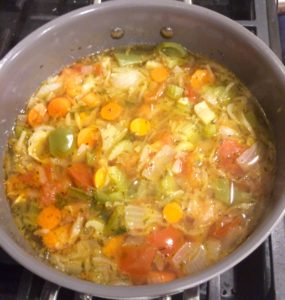 My soup made more than 12 small servings. It easily lasted the week for both my husband and myself. Remove all of the pepper seeds. I was lazy about removing all the seeds. My soup was spicier than it should have been. Luckily, I like spicy food. You can add salt if you absolutely need it, but try and remember this is supposed to be a detox soup meant to help cleanse your body of toxins and add nutrients and vitamins you may be missing.
I LOVE using bone broth. Personally, I use Bare Bones Broth. I am not affiliated with them, just a big fan. You can find out why, in the post below.
MEDICAL AND GENERAL DISCLAIMER FOR THE PIKE'S PLACE
All information on the http://www.thepikesplace.com is our own personal opinion and not written by a health care professional. Information provided is not to be taken as medical advice or a medical recommendation. Health concerns or conditions should be addressed by a health care professional before following along on any diet or detox. Those who do not seek council from the appropriate health care authority assume all liability.