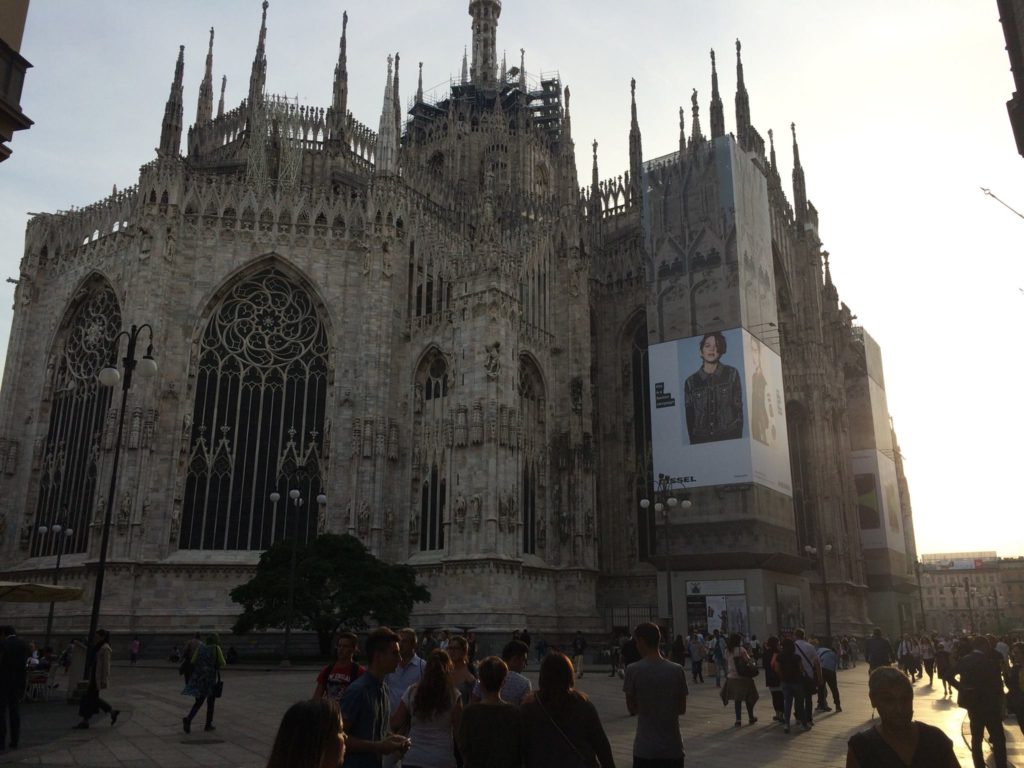 We spent our last day in Italy exploring a city torn between the growth of modern life and the charm of history. The city of Milan is the fashion house of Italy and a financial powerhouse. Stepping off the train you are surrounded by skyscrapers and building like none other we saw in Italy. Gorgeous new modern buildings are being erected around Milan rivaling the historic buildings they stand next too. This city is also home to one of the most famous paintings in the entire world, The Last Supper.
Where we stayed:
AirBnb flat 

Via Emilio Cornalia 24, Milan

We rented a flat off AirBnb. The one we chose was an easy location to get to from the train station and the owner had good reviews. She arranged for us to pick up the keys from a local shop. The only issue we had is that no one in the shop spoke English, but at this point in our trip we had gotten pretty good at translating. This area is a hike from the shops and historic sites. It is a local business district. The flat we stayed in was small and for an American's standard extremely outdated. I'd say it was pretty typical for what you'll find for an affordable flat in a European city. We basically used it as a crash pad and it was fine.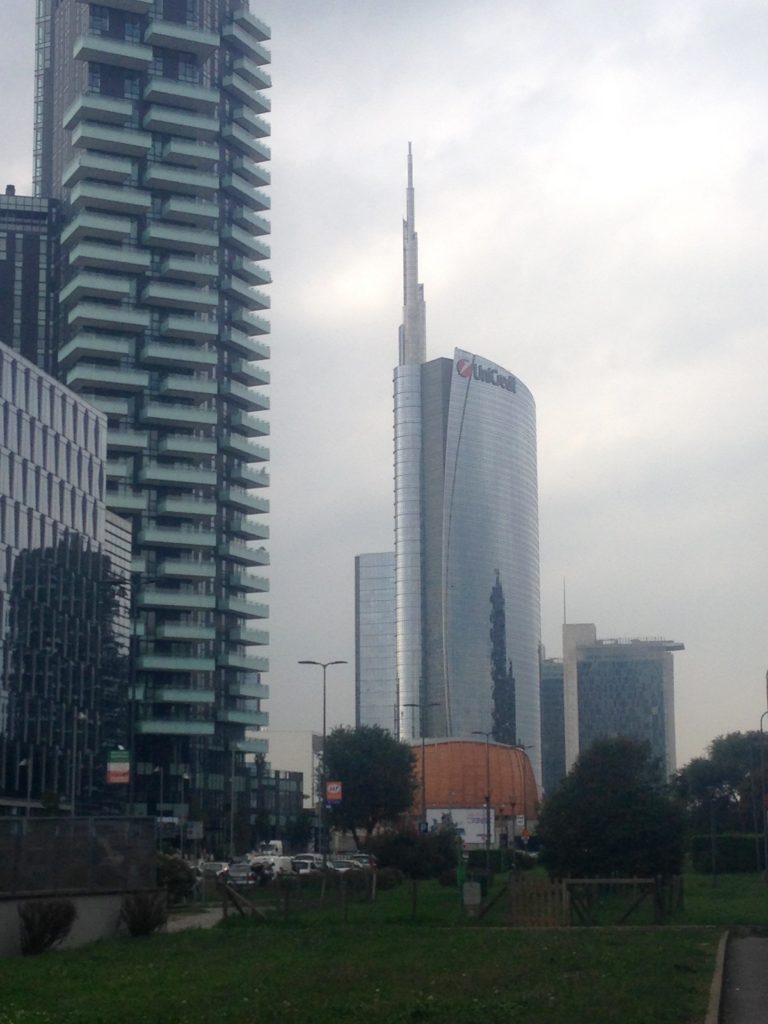 What To Do:

We explored by foot, shopped, visited a few churches and shopped, did i say shopped? The shopping is by far the best in Milan. The stores are impressive and fun to shop in. The historic building they are housed in and grand archways make you feel like a movie star upon entering.
Shopping
 Furla is my favorite Italian leather designer and I got a few bags there for a better price than I would have paid at my local department store.
Longchamp, which isn't Italian, is also a good deal cheaper in Italy. We found that most the Italian leather and many of the designer stores were cheaper in Italy with the exchange rate. 
My husband purchased shoes from Geox, which I now wish I had done as well.
My favorite clothing store we shopped at was Pull and Bear, which is a Spanish company that reminds me of Urban Outfitters. My favorite t-shirt is now a Ghostbusters shirt that I got there.
Even if you aren't out to purchase high end goods, it's still fun to explore the shops and experience all the designers Milan has to offer. Prada, Mui Mui, Dolce & Gabbana, Missoni, Armani, Valentino, Versace and most major Italian designer brands as well as many other European designers are based or have at least one location in Milan.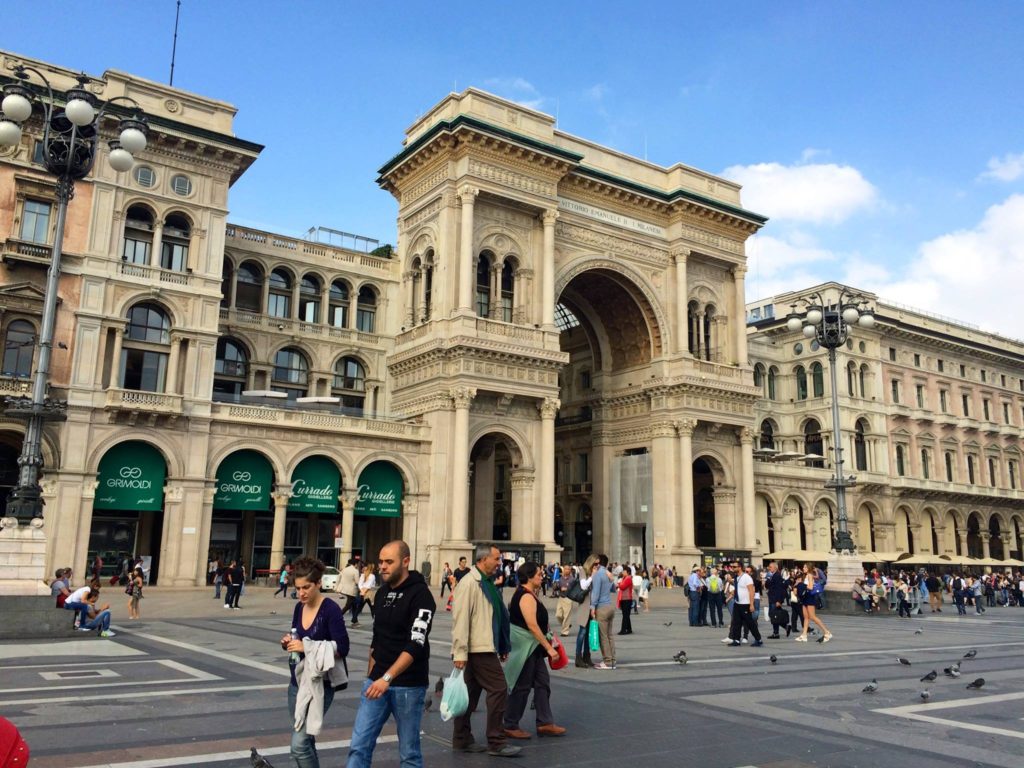 Well known shopping streets:
Via della Spiga
Via Manzoni
Via Sant'Andrea
Via Montenapoleone
Gallerie Vittorio Emanuele II was the most beautiful mall we visited while in Italy. This arcade right outside the Duomo houses Prada's flagship store and is one of the oldest malls in the world. The glass roof takes you right back in time to when Prada opened it's location here in the early 1900's. Gucci and Louis Vuitton have a location inside, as well. Make sure to spin on the bulls balls for good luck. The bull is located on the Insignia for Turin on the floor, you will notice him from his missing parts.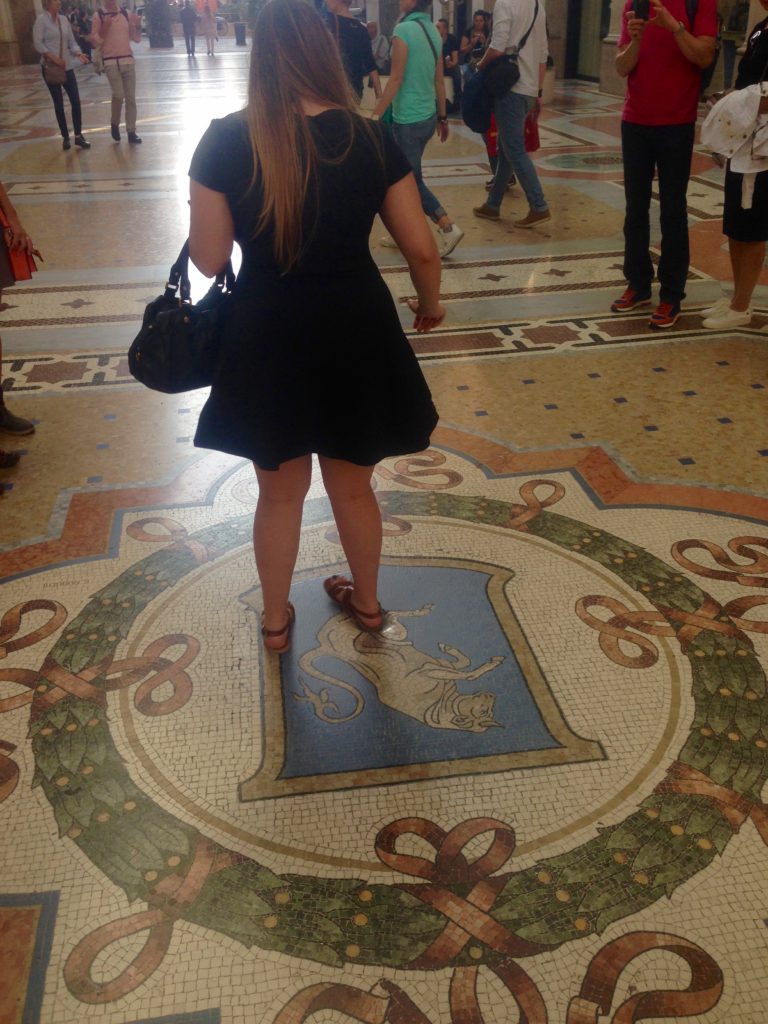 Milan is host to a number of discount and outlet shops if the high prices and touristy malls aren't your thing. We went inside one and on this trip, considering I was traveling with my husband and not my mother and sister, we weren't looking to rummage the racks. You can get a deal if you are looking for a one and have the time and dedication to find it.
Il Salvagente, Via Fratelli Bronzetti
Dmagazine Outlet, Via Manzoni
Historic Sights
You aren't out of luck if shopping isn't your thing. You can still visit Milan and see a number of amazing historic sights.
Duomo di Milano – Or the Cathedral of Milan is an impressive sight. It happens to be the 5th largest church in the world. The gothic cathedral was started in 1386 and not completed until 1965. There are many different things you can visit inside the church including a number of different tours, an archeological site and a crypt. Admission to the cathedral is free if you wish to worship.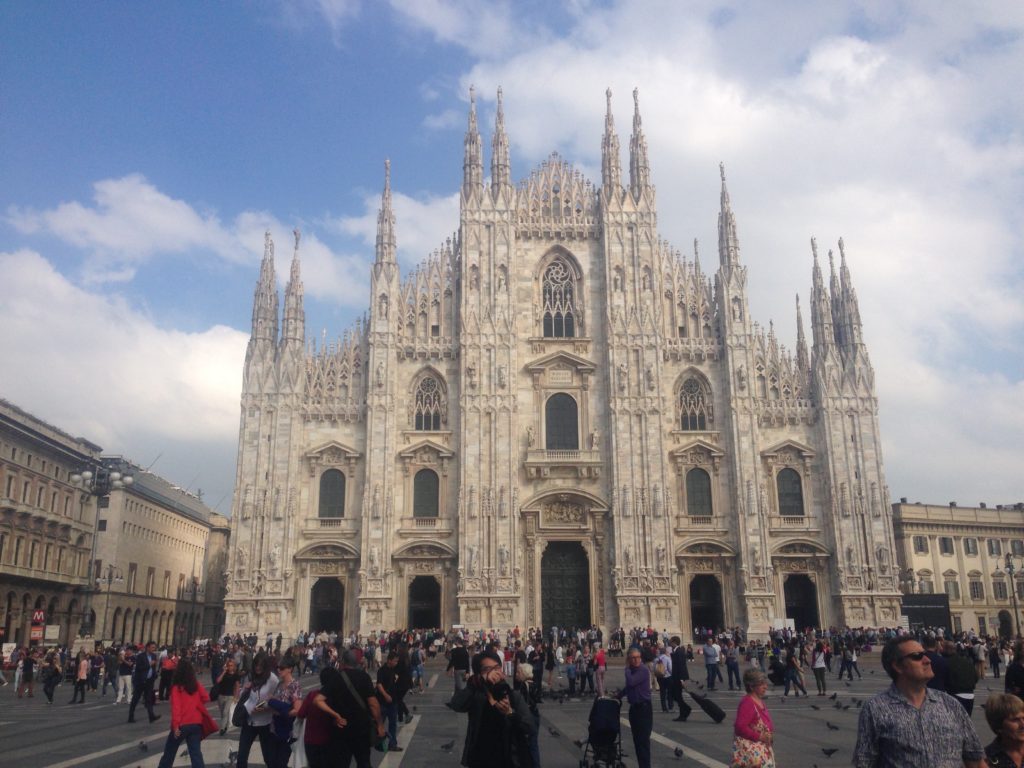 Castello Sforzesco – This former 15th century castle later turned citadel now houses a number of different museums. This place is huge and we didn't have time to tour all the museums, since we only had a day and lots of shopping to do. However, this place was beautiful to walk around and the museums do hold wonderful art collections, Egyptian artifacts and Michelangelo's last sculpture, The Rondanini Pietà.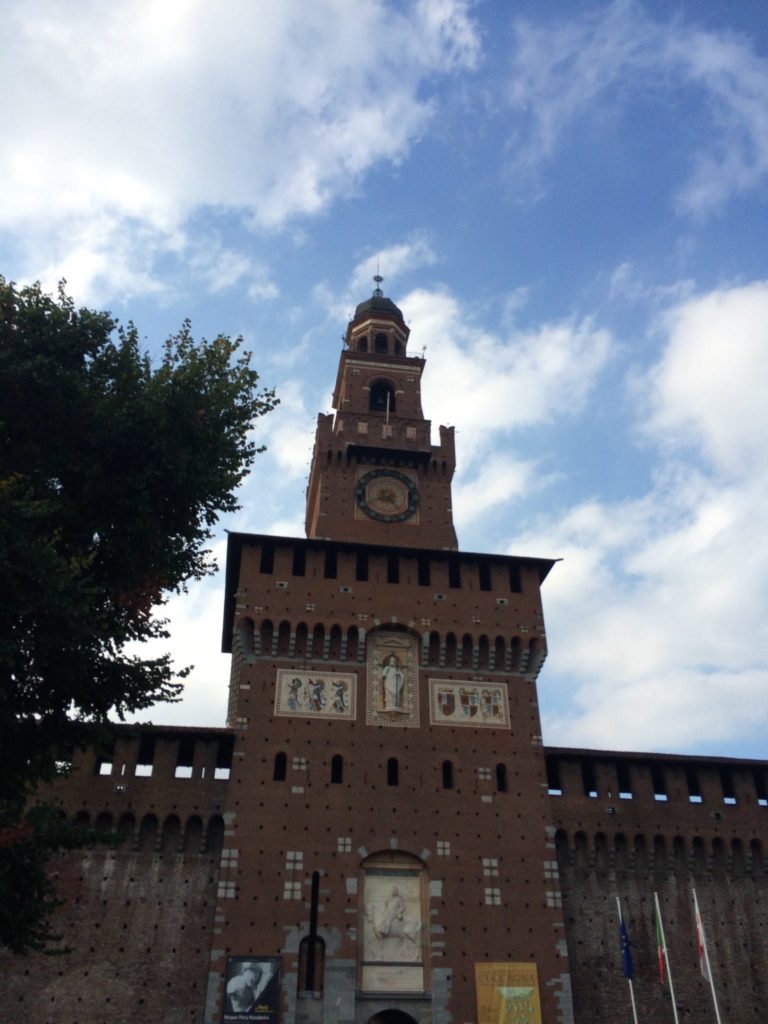 Santa Maria delle Grazie – The refectory of the convent houses one of the most famous works of art, Leonardo da Vinci's late 15th century mural painting, The Last Supper. The work of art has deteriorated immensely due to the way it was painted, multiple restorations and bombing during the World War II. Tickets must be purchased in advance. The basilica next door is lovely and worth a visit as well.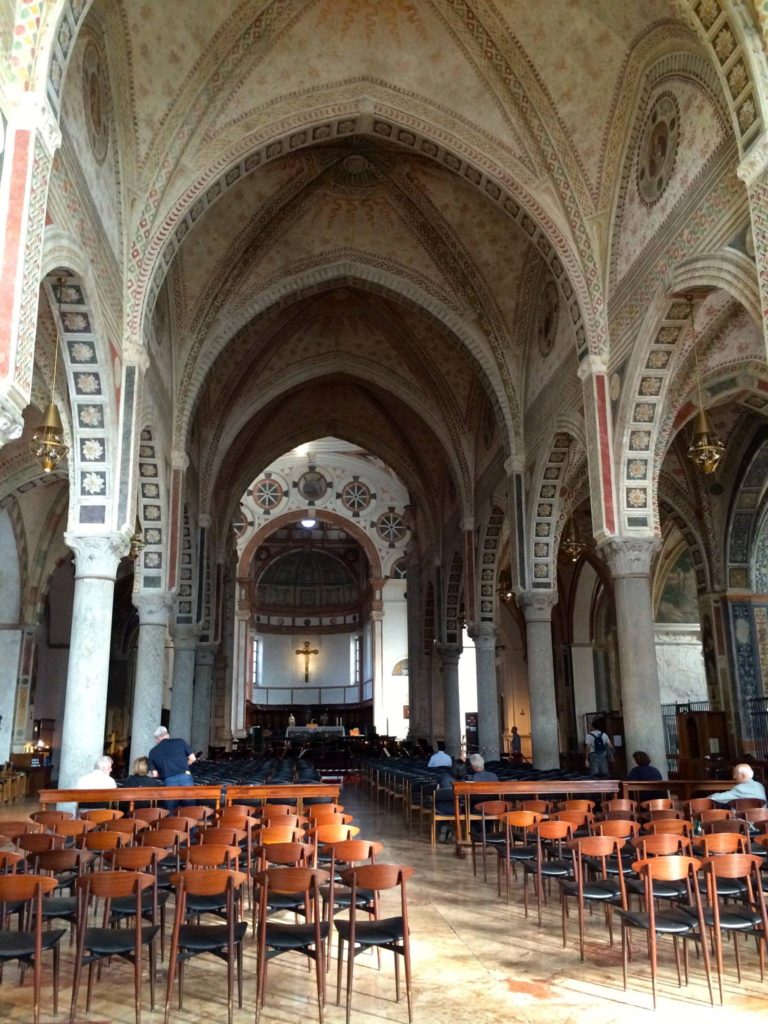 Other places to check out Basilica San Lorenzo Maggiore, Basilica di Sant'Ambrogio and Museo Civico di Storia Naturale di Milano.
Where To Eat
Ta-Hua, Via Fara
This is a dim sum style Chinese restaurant and it was amazing! We stayed in the financial district, so most of the clientele was business men and women coming in for dinner after work. Chinese in Italy seems random, but it was so much different than the typical Chinese food you get in the states. The only downside, which was kind of fun in the end, was translating from Chinese to Italian to English. We basically ordered whatever they recommended having no idea what the dishes were because we couldn't translate the dishes into English, but they were so nice about it. We basically translated what type of meat it was and went from there. It was a fancy place, but this was probably one of our cheaper meals. Dim sum is more small plate's style dishes, I'd compare it to tapas. There were also a lot of different Chinese style wines and beers to try, some that we'd never heard of.
If you want actual Italian food in Milan. Risotto Milanese and Osso bucco are dishes the region is known for. Keep in mind that Milan is the king of fashion and the financial hub. Almost every restaurant we saw was extremely high end and everyone was dressed to the nine's in the whole city. One of the reasons we got Chinese is that many restaurants required men to wear a jacket for dinner. We were prepared and didn't attempt to go anywhere that required one, but we did see many angry looking American tourists unhappily leaving restaurants after getting turned away.
My favorite part about visiting Milan was seeing all the growth thriving in such an old city. On one corner would be this huge screen showing Prada's latest fashion show and around another would be a historic basilica. Milan is a diverse city, full of life and youth unlike anything else in Italy.
We were in Italy for two weeks. Here are some other posts about our trip you may be interested.