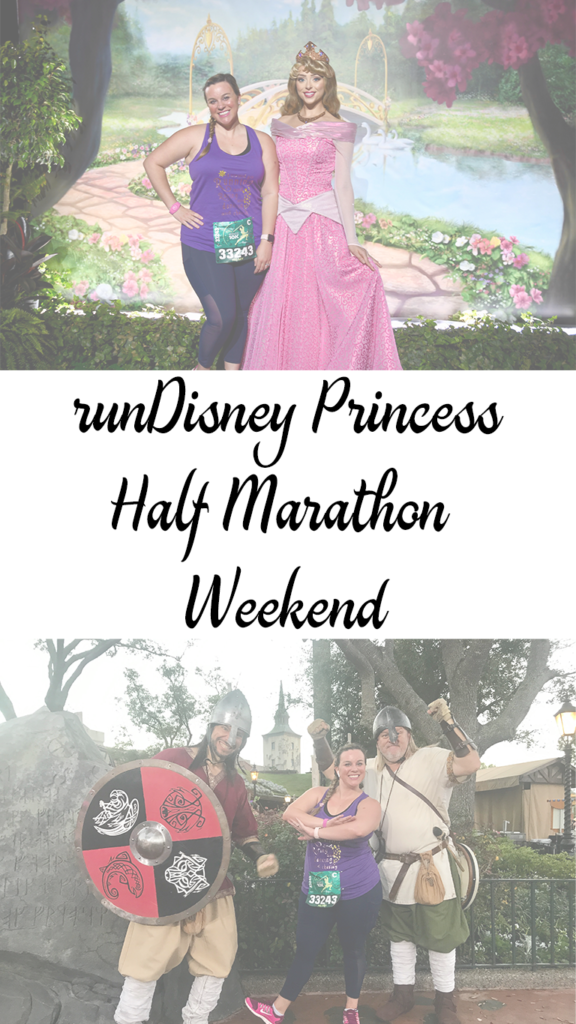 runDisney Princess Half Marathon Weekend was incredible! My family had so much fun exploring the race expo, visiting the parks and of course running! I ran in the 10k and my son "ran" a 100-meter dash for his first kid's race.
Where We Stayed
We stayed at All Star Movies this visit and checked in on Friday afternoon for Saturday races and stayed until Sunday evening. All Star Movies is a wonderful on property Disney resort for value, especially with a small child. My one year old LOVED the large than life-sized characters and the pool. The room we had in the Toy Story section was refurbished with one queen bed and one pull down Murphy style queen bed. This gave us tons of extra space and a table since we were not using the second bed. We had room for our stroller, suitcases and a pack n play. The resort offers Disney parks bus transportation and during a runDisney weekend, bus transportation to the race expo and races.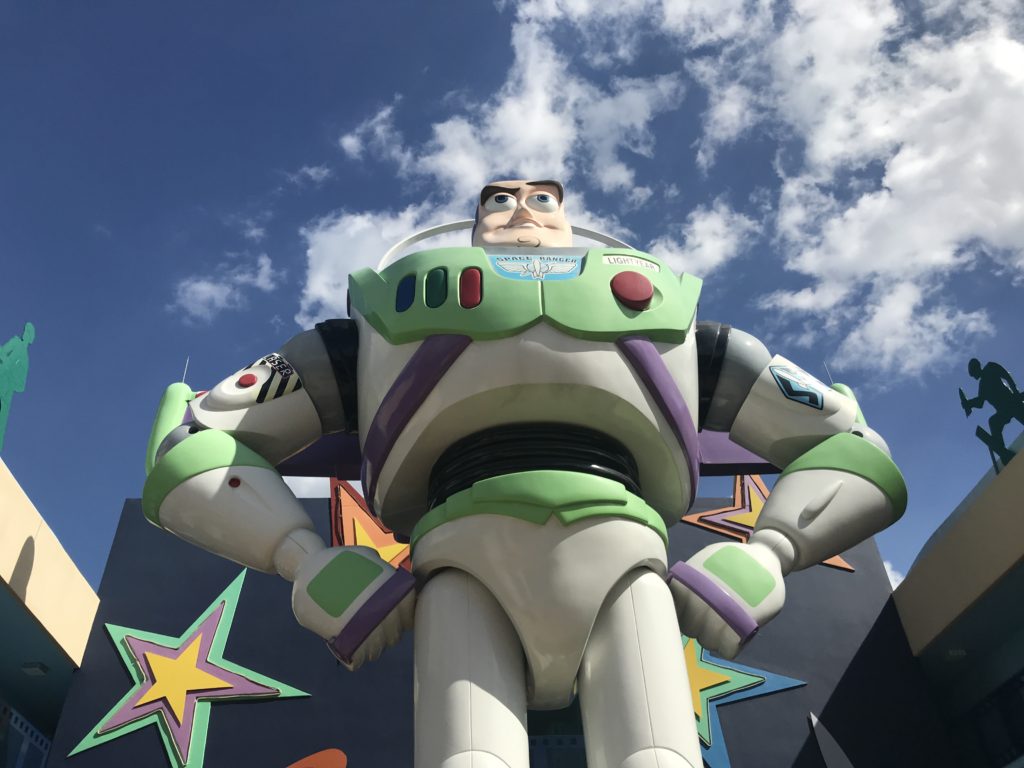 The Race Expo
If you are running in any runDisney race one of your first stops will likely be the race expo. The Health and Fitness Expo is held at The Wild World of Sports. This is where you will check in to receive your personalized race bib, commemorative shirt and gear bag that comes with your registration fee. The race bib for the 10k, half marathon and challenge runners includes a tracking device that your friends and family can sign up to receive updates as you run. The gear bag you can use to hold any supplies that you wish to have pre or post race. At the race, there is a runner bag check for these bags that you can drop off before and pick up after you're done running.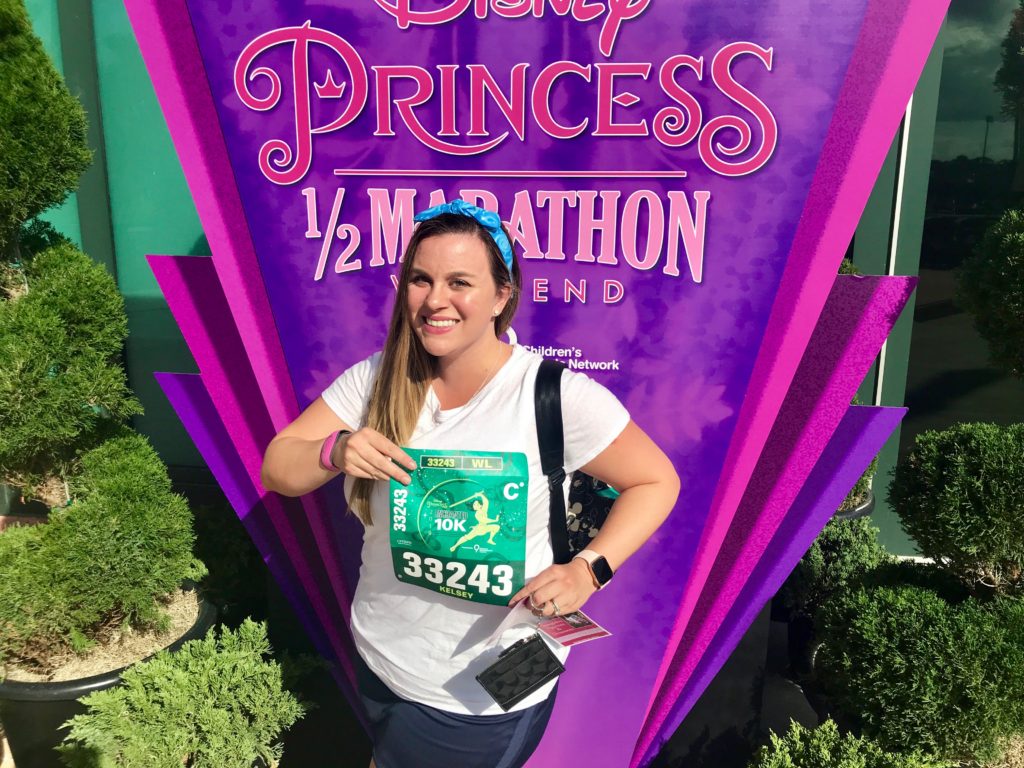 Also at the expo is a number of different booths offering merchandise such as runDisney Race Weekend gear, fitness clothing, running shoes, gadgets, nutritional products, and accessories. I personally am a huge fan of the Sparkly Soul headbands, RooSport pouches and KT Tape that typically have booths at these expos. There are also photo opps with characters, fitness speakers and a number of other things to enjoy.
Check out the video below for our 1st day at Princess weekend including the race expo and a room tour at All Star Movies!
runDisney Princess Races
The races are set on separate days starting with the 5K on Friday, the 10K and kids races on Saturday and the Half Marathon on Sunday. There is also a challenge offered. This is a separate registration where you are entered to run both the 10K on Saturday and the Half on Sunday. Many runners run in runDisney races in order to complete these different types of challenges. Each of the courses takes you through the Walt Disney Resort areas and sections of the Disney World theme parks. The kids' races are typically held in one of the track fields at Wild World of Sports. Many runners will run in costume or themed clothing, including myself. I opted to not do a costume this race but did make my own Rapunzel themed tank top.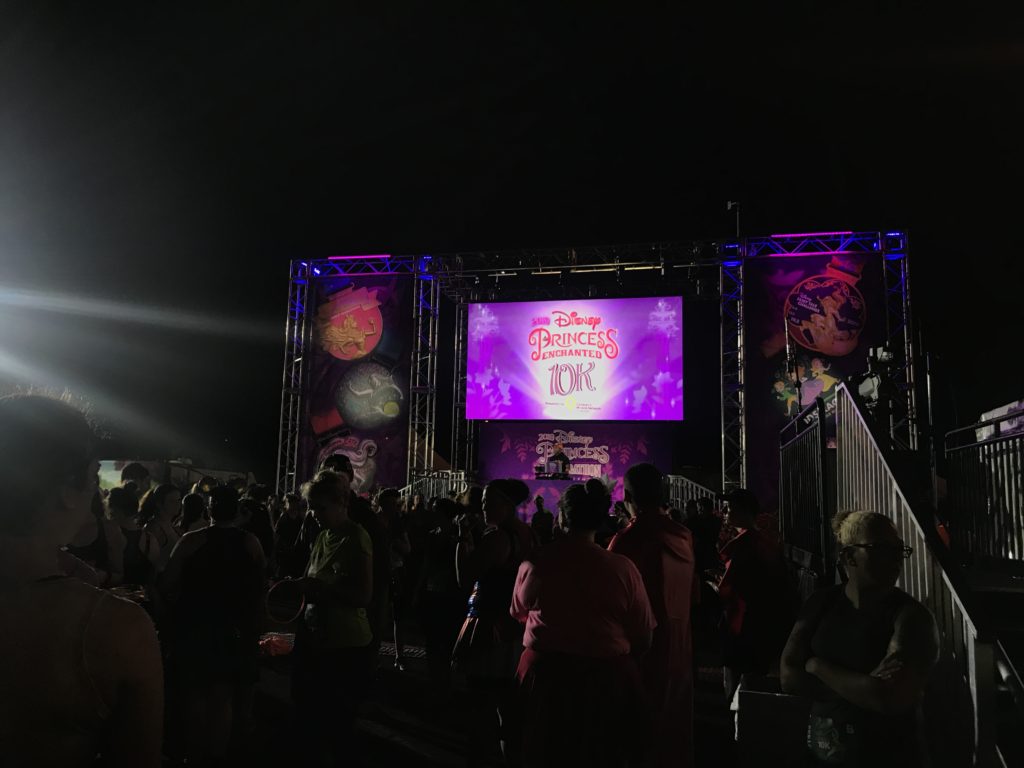 What To Expect Race Day
Before The Race
Race morning of the 10K I woke up at 3:00 a.m. in order to get ready and catch the free Disney World Resort transportation to the race start line in the Epcot parking lot by 4:00 a.m. If you plan to park at the race start line check the runDisney website for directions and the best location to park. Once at the race start line, there is live entertainment, character meet & greets, a bag check and a million port-a-potties. I'm not joking, go before you run, even if the line is long! I was very impressed with the character meets at this race weekend and even had time to do one myself. The lines are sometimes crazy long, so be prepared if you want photos.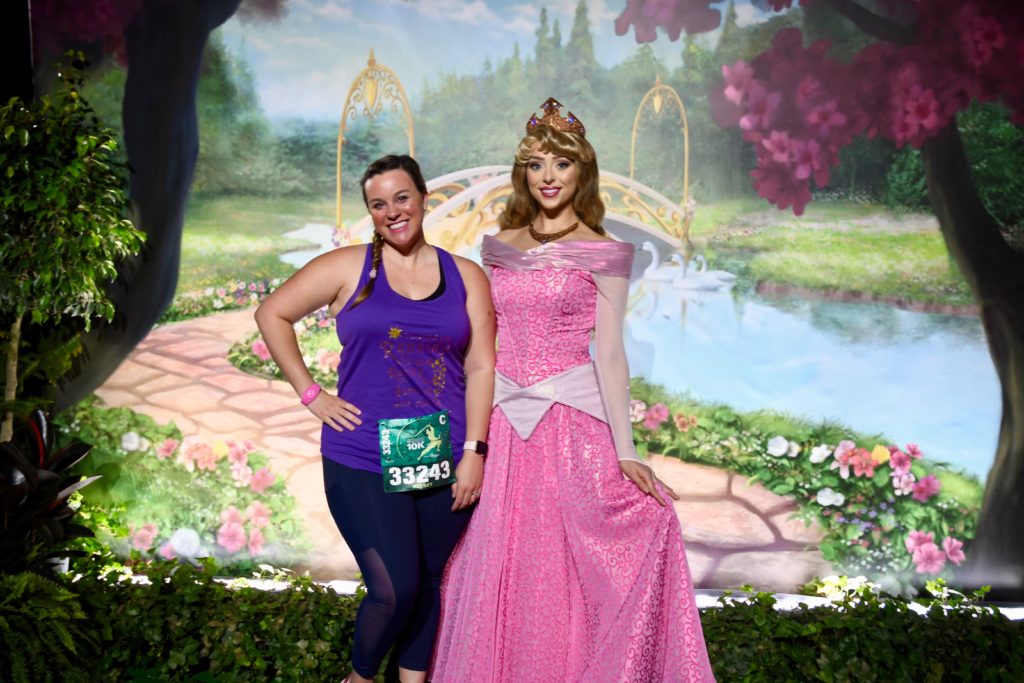 Getting Into The Corrals
The 10K typically starts around 5:30 a.m. and you will need to be in your assigned corral at least 30 minutes before the race starts. You will be separated from spectators and anyone else running in another corral. Say goodbye to friends and family before you enter. If you are assigned to one of the last corrals you will have to stand in your corral for a long time, possibly an hour or longer. Be prepared before you enter the corrals. There are a lot of people and it's hard to move around once inside. I found a spot near the middle to sit down and stretch until we started moving. They do have TVs and emcee keeping everyone entertained until it's time for you to run.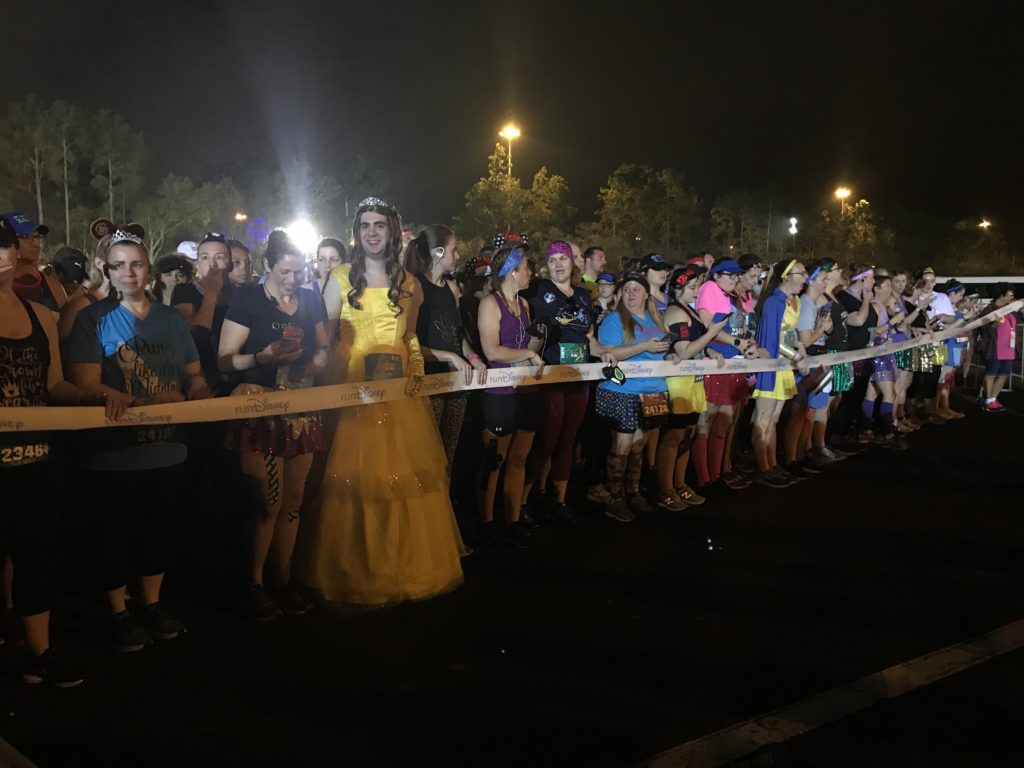 The Race Start
There is a live countdown and you will know when the first corral takes off. Typically this involves cheers, music, fireworks and tons of fun! Each time a corral starts they repeat this same scenario, so it's just as fun whenever your corral begins. You are herded like cattle from your corral to the start line, so again be prepared and stay to the sides. This is especially important if you are claustrophobic. Once the race is underway it can be very hard to keep your pacing. It is easiest to run at your pace if you stay to the outsides. You can also find the pace groups and run with them. Remember race etiquette, especially when slowing or stopping. If this is one your first races, check the runDisney website for the rules and guidelines for running. Don't worry there are first aid stations, port-a-potties, staff and water stations along the course if you are in need. I really struggled to stay towards the front of the pack when my corral started and ended up in the very back. I was in an earlier corral so it was okay and with the number of people that didn't start the race running, I quickly passed them and found a nice place without a ton of people. This was much easier to run at the pace I wanted then in previous races when I was in the middle of a million people.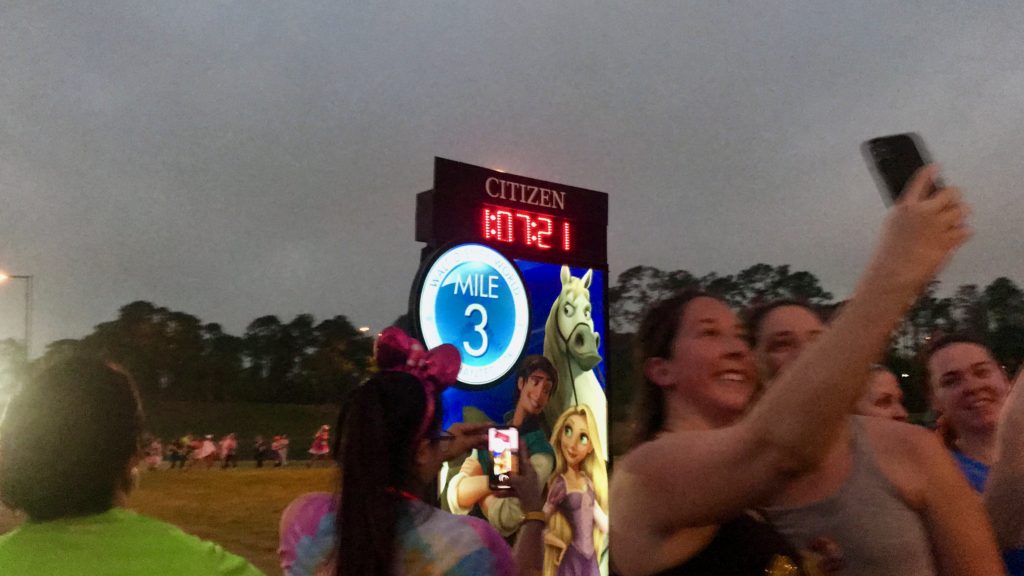 On The Course
As you run along the course, there will be sections with entertainment, character photo opps, fun mile markers, TV screens playing sections of Disney movies and cast members cheering you on. This is what makes Disney races stand out and so much fun to run! Of course, it's also just fun to run along with the thousands of costumed runners. The beginning section of the run was again the hardest for me as it has been in previous runDisney races. The course is rather boring in the start and at mile 1 you head up an interstate on-ramp. I wasn't in the middle of a million people though so I found it easier to run the entire first mile and a half and get that section over with. It was really humid and very hot, but once the sun came up it cooled off a little. As in the past, my favorite section is seeing the behind the scenes sections of Epcot and entering the World Showcase. This run also ran the Boardwalk and around the Epcot globe and was almost identical to when I ran the Wine & Dine 10K. Make sure as you run you smile for the photographers! They can get some funny photos if you don't look at them and even if you do!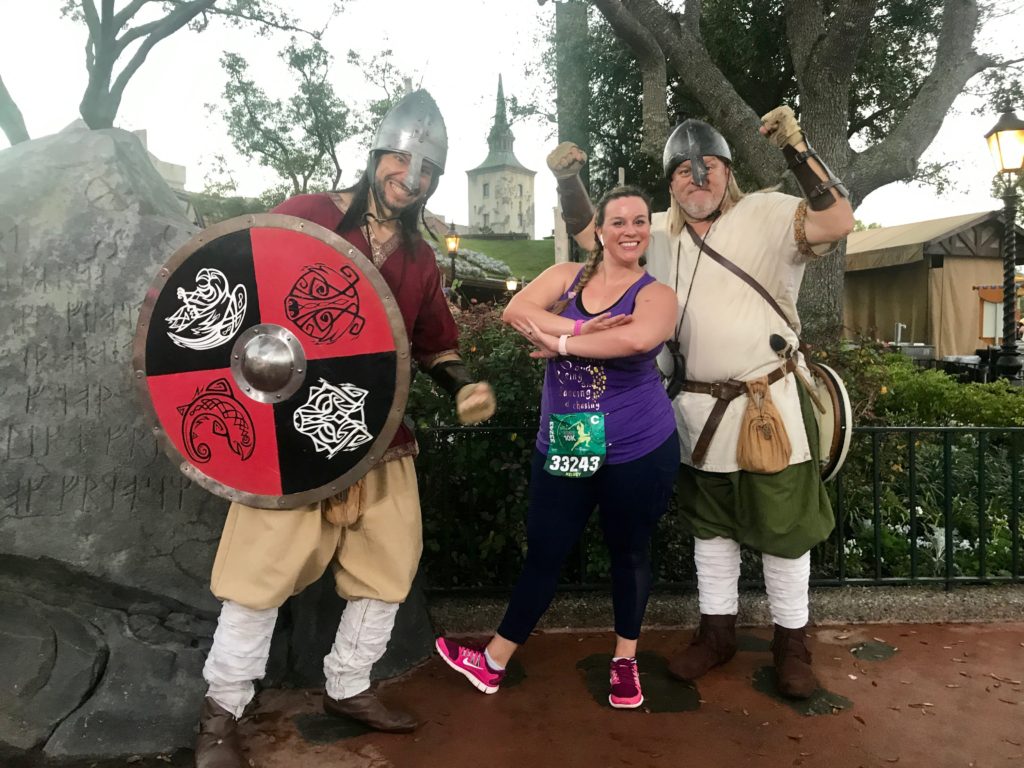 The Finish Line
It gets really exciting as you near the finish line! At the finish line, there are more spectators, fireworks, and an announcer congratulating runners as they cross the finish line. I didn't hear my name yelled out as I crossed the line this race, but have previously. After you finish the race, volunteers hand out your medal, a snack pack, and water or Gatorade. Here you can also take race finish photos before you exit and pick up the gear bag you checked. Outside of the finish line, there is more live entertainment, the same character meet & greets as before the race and booths selling snacks and beverages. Of course, I had to celebrate with a drink, even at 7:30 am! Even though I struggled with the heat, being able to separate myself from the pack I ran my best race yet. This race was extremely fun and I'll take the heat for how much I love runDisney!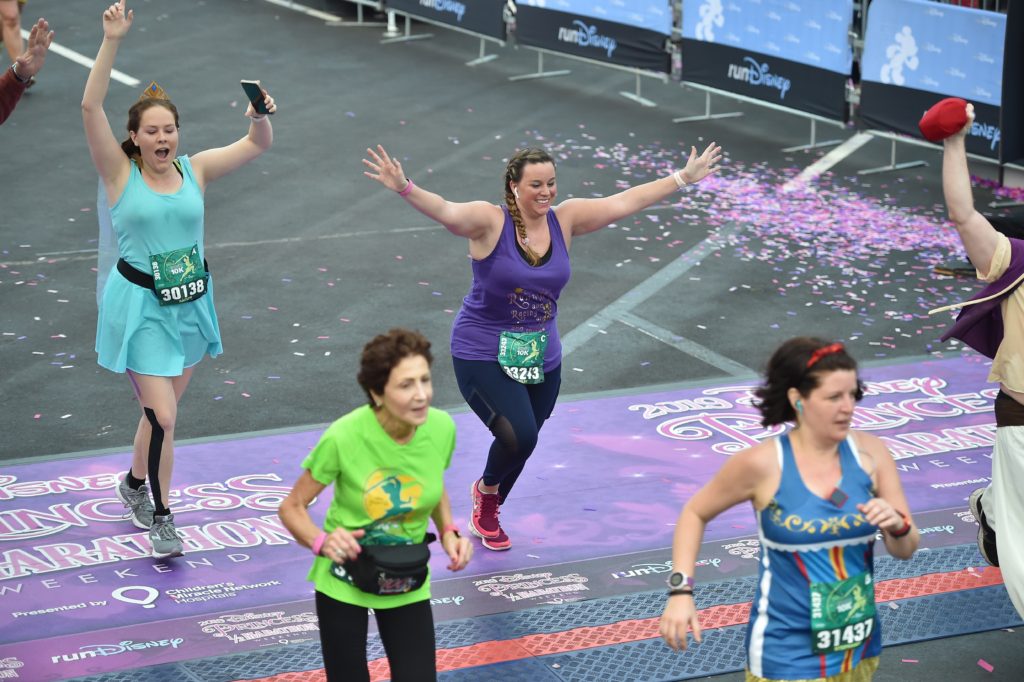 Post Race
When you are ready to leave you can head to the free shuttle buses to any of the Walt Disney World Resorts or your car if you parked. You also have the option to get a taxi or Uber. We hopped on a bus and headed back to our resort to get our son ready for his kids race. Then we headed over to EPSN for him to run.  If you don't have a child running or are running on another day and want to get brunch make sure you get brunch reservations as early as you can (180 days in advance). Reservations, especially at the more popular restaurants, tend to fill up quickly!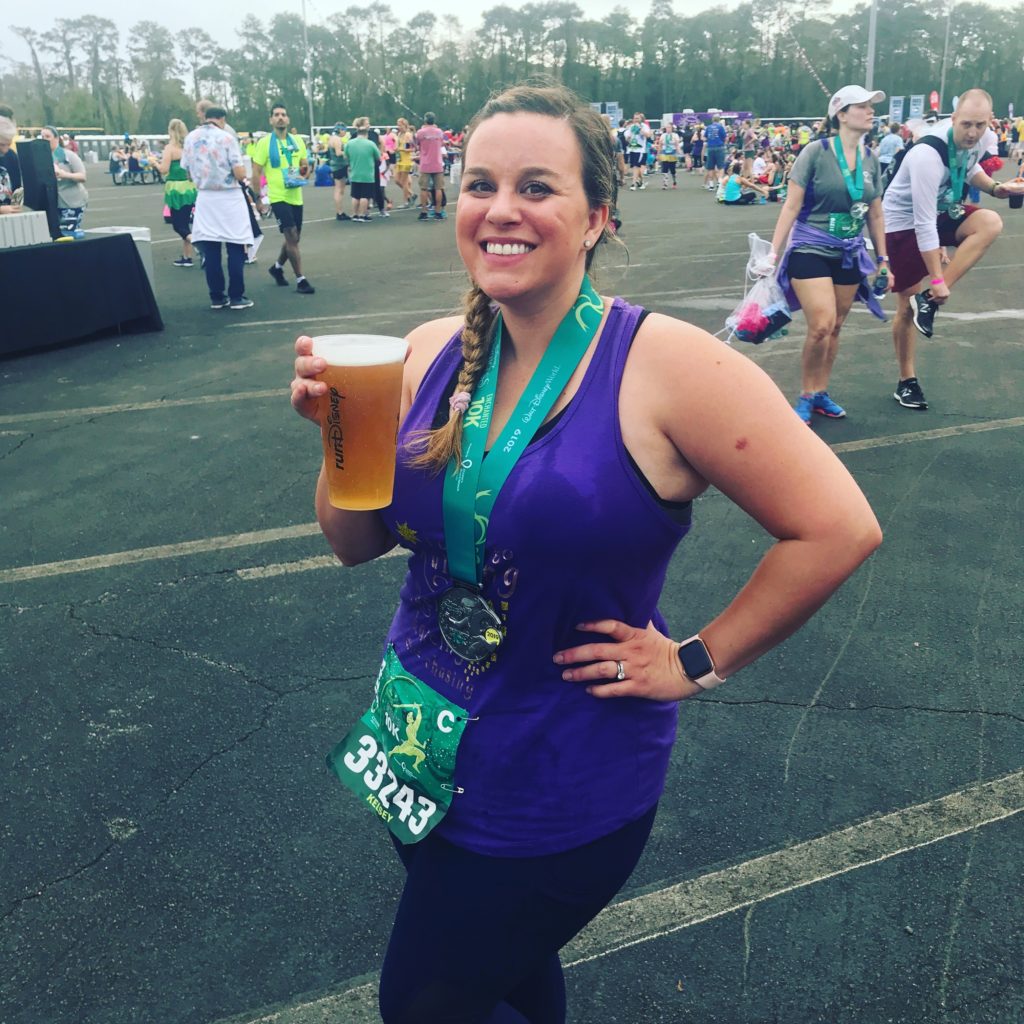 Kids Races
The kids races were adorable but extremely hot. There was little to no shade for spectators and no shade at all for the children. They had live entertainment again, games and Mickey & Minnie at the finish line, but getting to the start was basically a cationic mess, to be honest. There was no check-in or staff helping you figure out where to go or when the race started and they did it unassigned waves, so it was just a cluster of screaming children. We likely won't do it again until our son is much older or may not do it again at all. It was very cute, he had fun actually doing the run and we have some amazing photos, but it was just too much work for us for him to run for 30 seconds.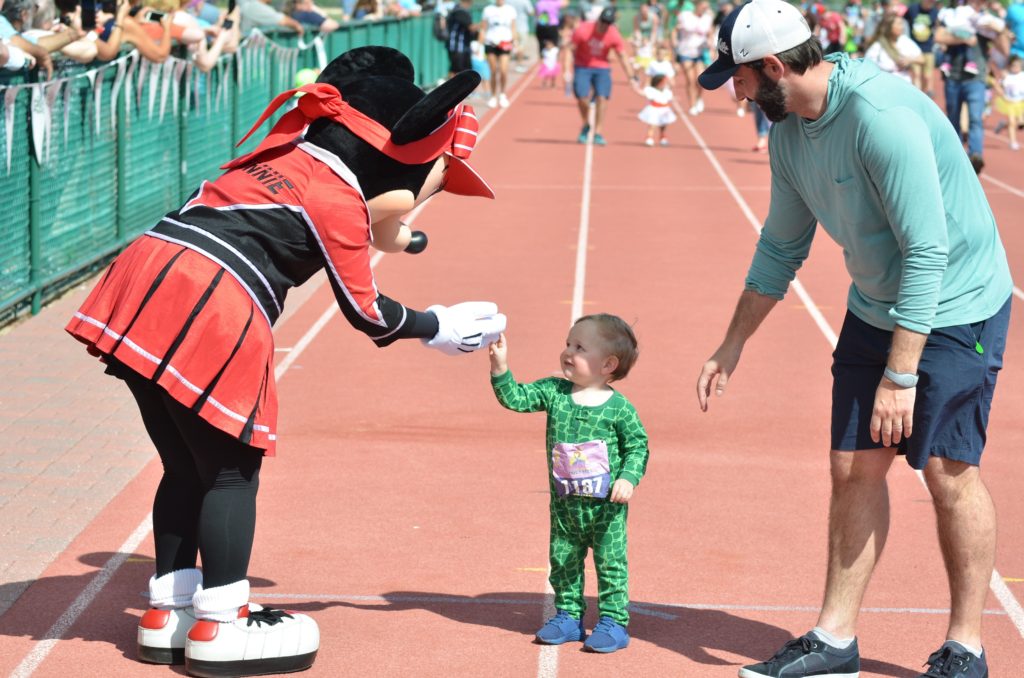 Check out the video below for our 2nd day at Princess weekend including the race and Magic Kingdom, then videos for our 3rd day hanging out at our resort and visiting Epcot and then a final video showcasing my runDisney race expo haul!