We spent Thanksgiving at Walt Disney World and I have to say it wasn't nearly as crowded as I anticipated. Our extended family of 9 from ages 0-over 60 had a wonderful time and we are already planning on doing it again next year. Check out my video of our vacation below and some tips for planning a Thanksgiving trip to Disney World!
Tips for a Disney Thanksgiving
Eat in Disney Springs
On Thanksgiving Day. Disney Springs was the perfect place to eat for a great Thanksgiving meal. You don't need a theme park ticket, there are a ton of restaurant options most of which offered a Thanksgiving special, parking is free, and the shops are open! It's really the ideal Thanksgiving situation. We ate at the Boathouse and I would highly recommend eating there. We also ate at Raglan Road on Black Friday and again I'd recommend that as a great second choice option. Both offered Thanksgiving specials.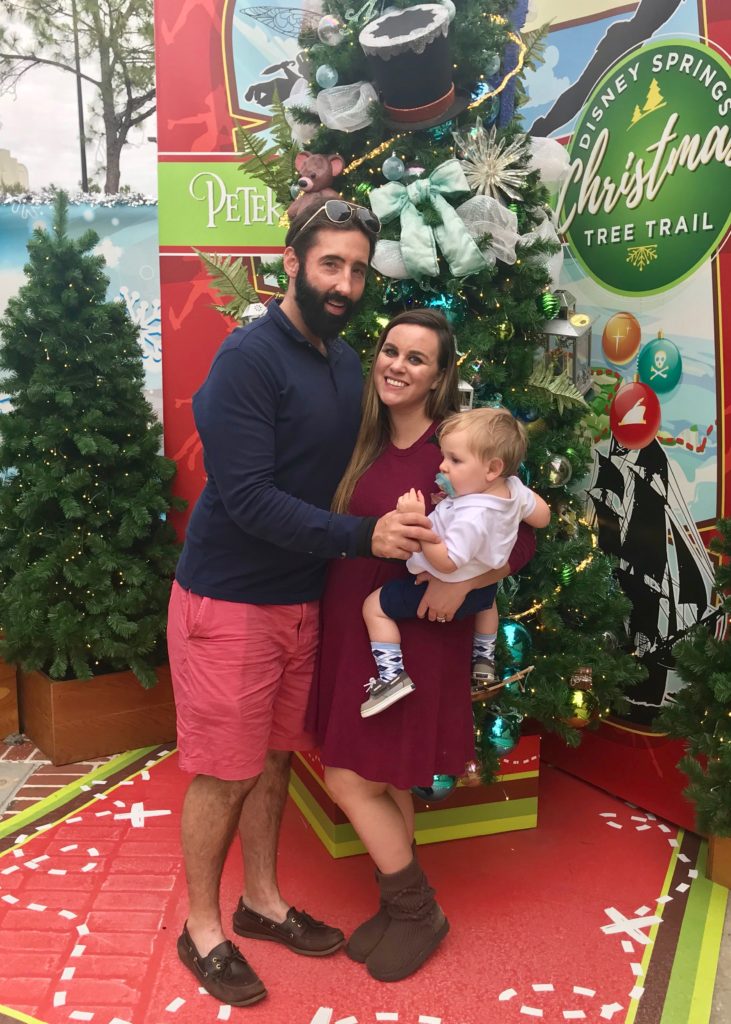 Check Crowd Calendars
If you do visit a park on Thanksgiving go to Hollywood Studios… well unless Star Wars Land opens before next Thanksgiving. Just go online and check crowd calendars before you go! We did this and my husband and I decided to go to Hollywood Studios on Thanksgiving night and that park was not crowded AT ALL! We got on Slinky Dog Dash in under an hour and were almost front row for Jingle Bell Jam. I am not sure where everyone was, but they weren't in Hollywood Studios!
Visit Disney Springs for Black Friday
Disney Springs offers great Black Friday deals if you do want to shop. I got a great deal on a pair of shoes at Sanuk and we had an amazing meal on the patio at Raglan Road. By the way, the patio is first, come first serve so don't be afraid to show up without a reservation. Even on this busy weekend we did and walked right up to sit at the outdoor bar! World Of Disney was a bit busier than usual, but really nothing compared to a normal mall on Black Friday.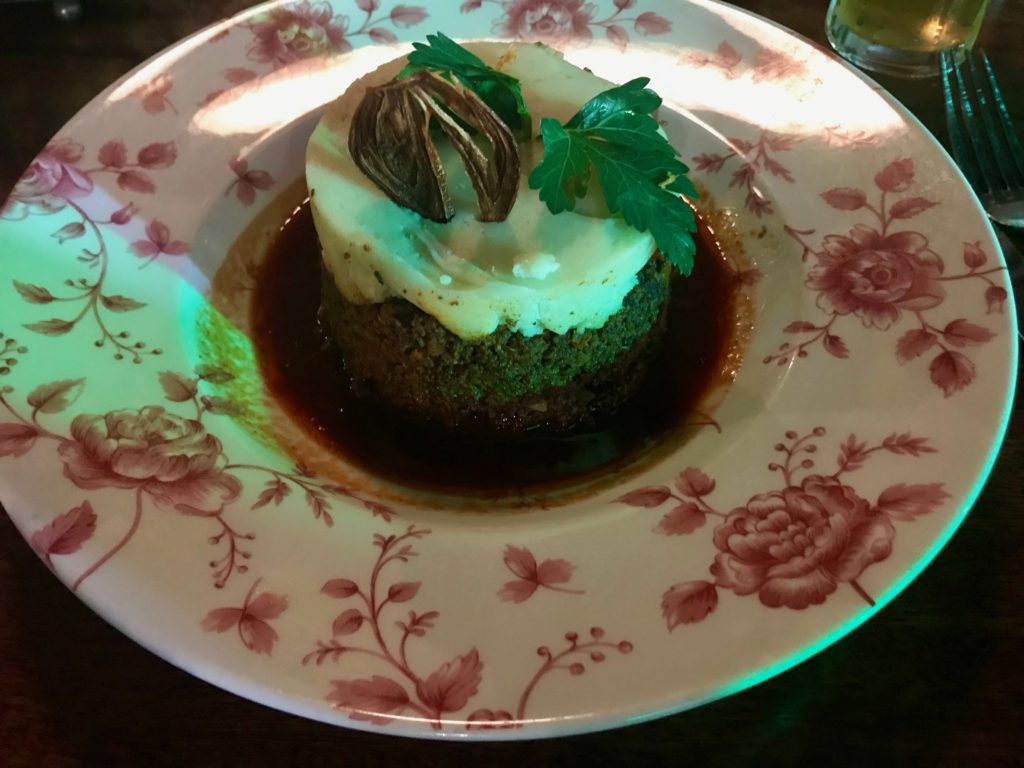 Beware the Magic Kingdom
Magic Kingdom will be busy. I'm assuming on Thanksgiving day this is where everyone was and by Saturday it still was where everyone was. Magic Kingdom was packed, but we used an early morning pre-park opening breakfast to help us out. It was the perfect plan because we got to see most of Fantasyland in the early morning hours! We did not get to ride anything without a Fast Pass though, so be prepared for the park to be busy! We watched shows, met characters and enjoyed the park instead of waiting in lines.
Enjoy Christmas Decor
During Thanksgiving, Disney is already decorated for Christmas. There will not be really anything themed for Thanksgiving use the Christmas decor to your advantage instead. Visit some of the resorts to see the Christmas trees, take photos with characters in their holiday attire, and go see the fabulous Christmas themed shows! We got lots of great photos for our Christmas cards with plenty of time to order them and without paying a photographer!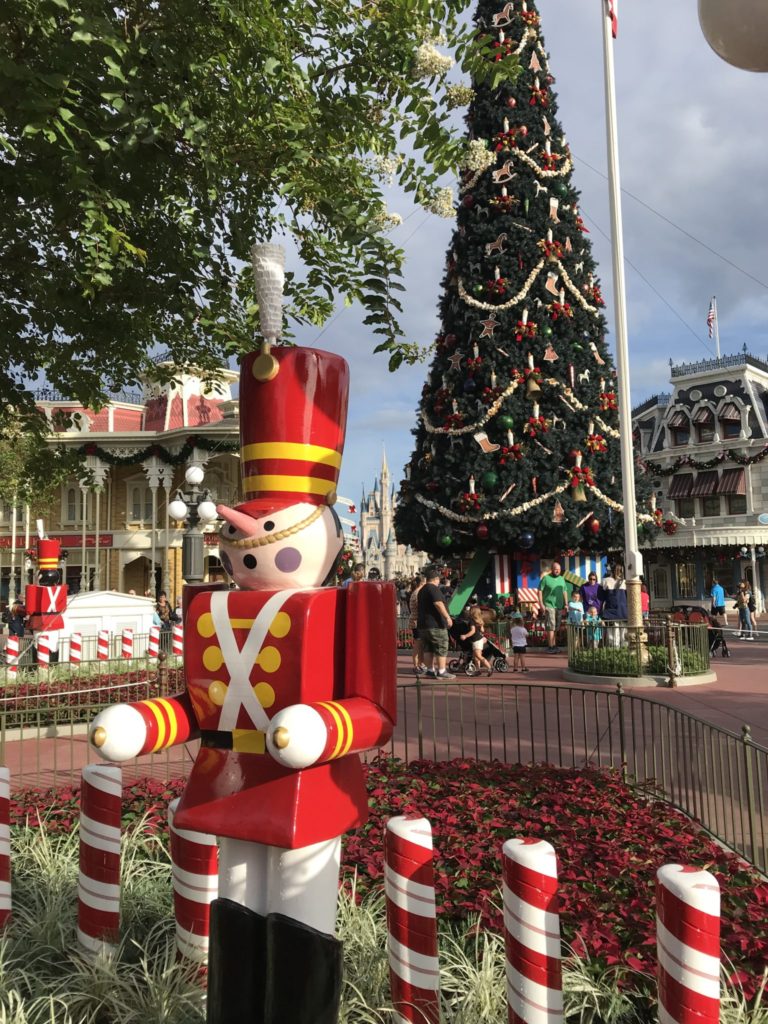 Book Early
Book everything WAYYYYY in advance! I booked all our dining and Fast Passes as soon as I could. This is the way to go anytime you visit Disney, but even more so during the holidays! For Thanksgiving, restaurants will fill up 180 days in advance and Fast Passes will go in the blink of an eye on the 60-day mark. If you are staying offsite, know you might be limited on the Fast Passes you can get since you cannot book Fast Passes until 30 days prior.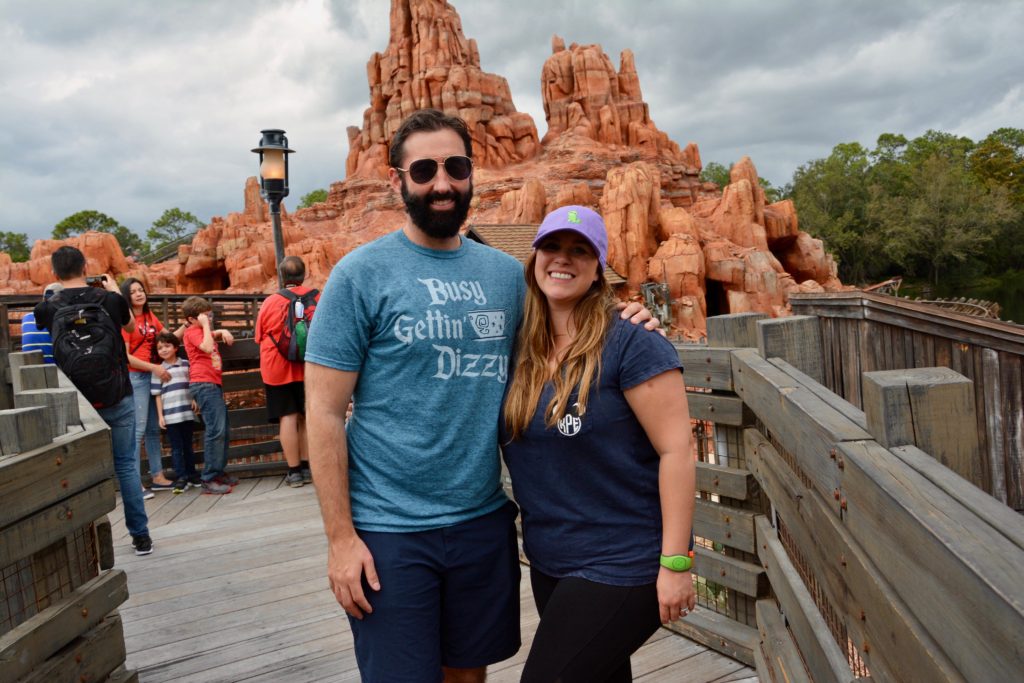 If you go for Thanksgiving at Walt Disney World, I really think you will have a wonderful time! Have you been to Disney for Thanksgiving before? What did you think? Let me know in the comments!