We spent close to two weeks traveling around London, Dublin, and Paris while I was pregnant. With amazing public transport and great walkability, it was so easy to visit Europe while pregnant. Our first and last stop was Dublin. In this post, I will go over where we what we did on our babymoon in Dublin on Day 3. If you haven't already, check out Dublin Part 1 or Part 2 first and stay tuned for posts about our other destinations!

On our last day in Dublin, we decided to get breakfast at a local restaurant near our hotel, walk to O'Connell Street to see the Spire, take the commuter rail to Bray and check out Ireland's oldest pub.
Breakfast at Union8
We had walked by Union8 every time we left our hotel. It was just down the street on the left and always looked busy and rather swanky. We decided on our last morning to get brunch there. It was absolutely delicious and I'd go back in a heartbeat. I got Irish tea, a scone, and an Acai Bowl. I was really happy to get something healthy since I was pregnant. My husband got his first Full Irish Breakfast and coffee. A Full Irish Breakfast varies from region to region, but this one had bacon rashers, pork sausages, fried eggs, white pudding, black pudding, toast, fried tomato, and potatoes.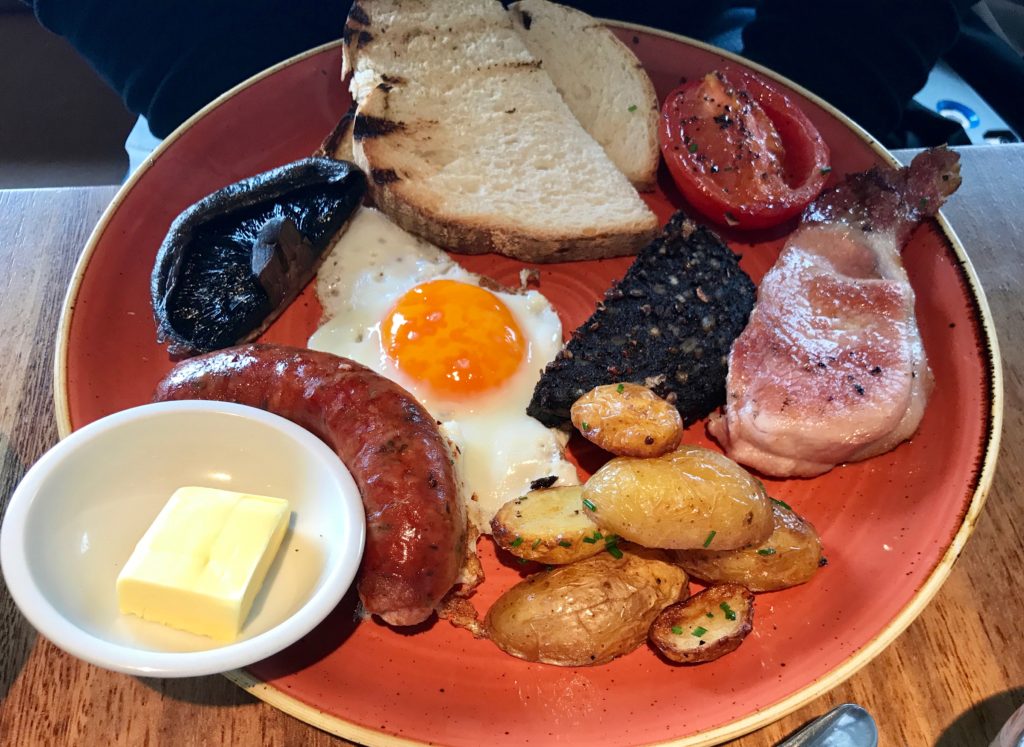 Ha'penny Bridge & O'Connell Street
After eating to our heart's content we took the bus to O'Connell Street. We got off right before the river, so we could walk across the famous Ha'penny Bridge. This is a cast iron pedestrian bridge made in the 1800s. It is a beautiful bridge and used in many famous images of Dublin. Then we walked up O'Connell Street to look at a few shops and see The Spire. The Spire is a stainless steel monument 120m high and 3m in diameter at the base rising above O'Connell Street.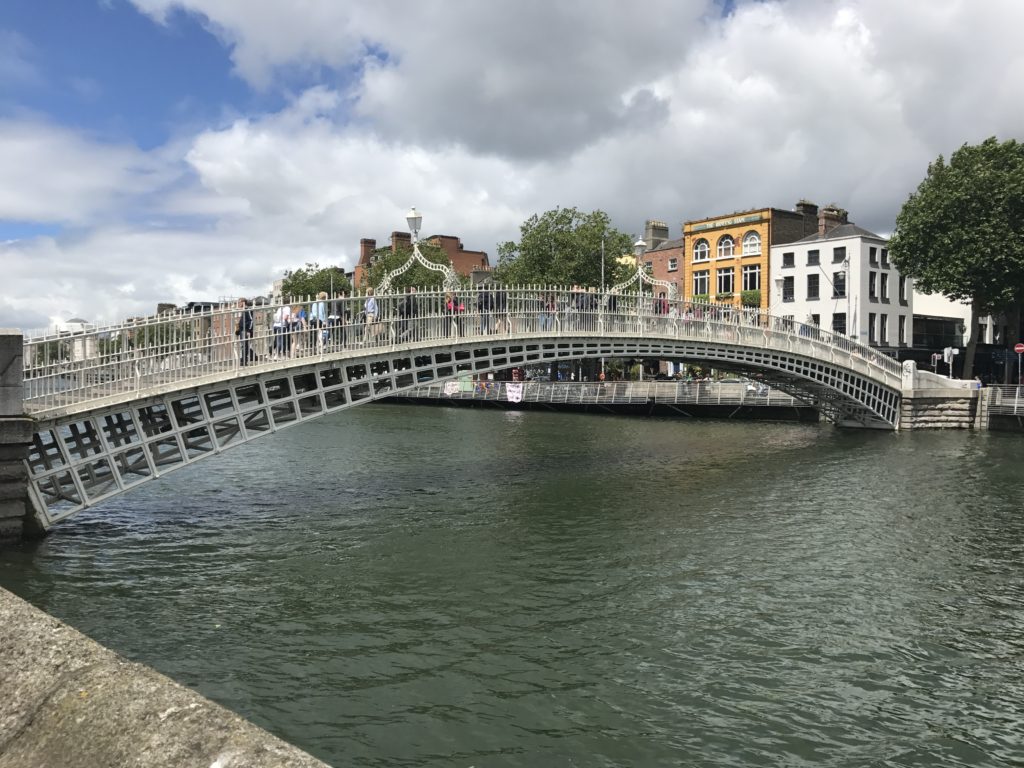 Day Trip to Bray
After visiting O'Connell street we decided to jump on the commuter rail and visit Bray. This was a great way to see one of the seaside towns and get outside of the city for the afternoon. We also got a chance to visit the beach.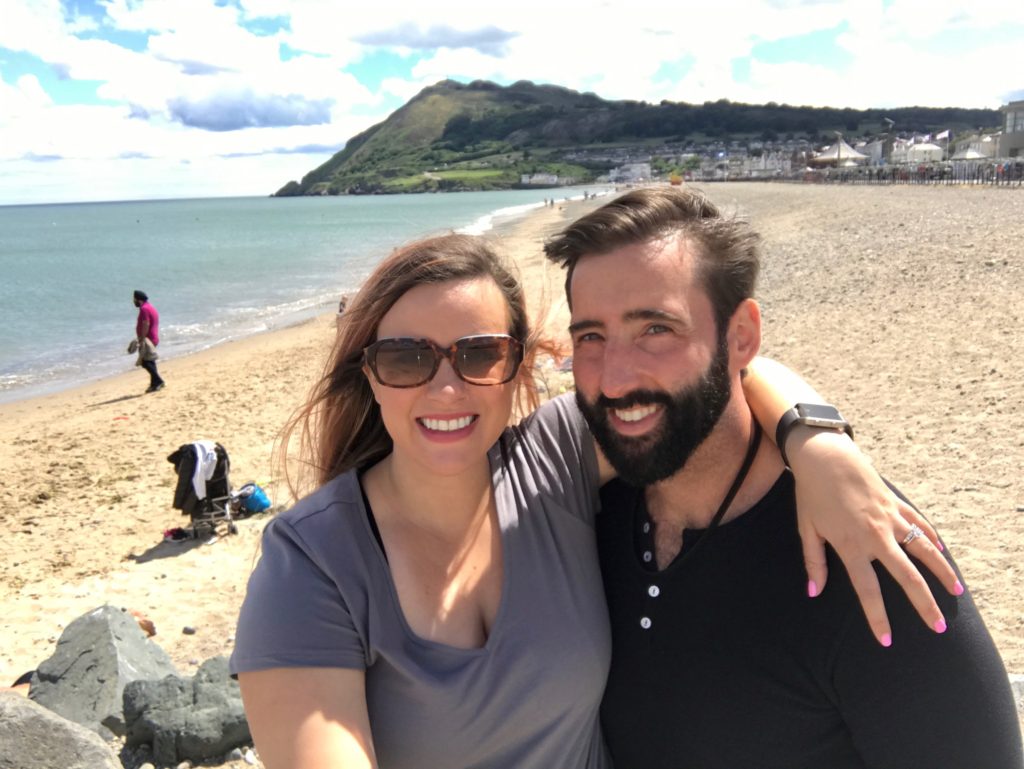 Bray Beach and Bray Head Cliff Walk
Once we got to Bray we walked over to the beach, put our toes in the ocean and take tons of photos. It was very relaxing to sit on the beach for a while! Then we walked up to the Bay Head Cliff Walk and walked a little way up to see the view. Along the walk, you can see the lush scenery and great views of the ocean. I wish we had prepared better with hiking clothing and we could have hiked more of the trail. I got hot and tired very quickly and had the wrong shoes on, so we cut the walk a little short and went to get lunch. It was beautiful and I will definitely return someday to hike farther.

Lunch at Platform Pizza Bar
We found this little restaurant that was perfect with a view and great healthy options. Besides having flatbreads, pizza and salad on their menu Platform Pizza Bar there was a sushi place upstairs and a burger joint next door, so there is definitely plenty of options for whatever you are craving. We had eaten pretty heavy the first couple days and for breakfast so salads fit the bill perfectly. I had the Pulled Chicken Salad and my husband had a special spinach salad covered in bacon. It was absolutely delicious and we loved eating with a little bit of a view of the ocean, but still under shade.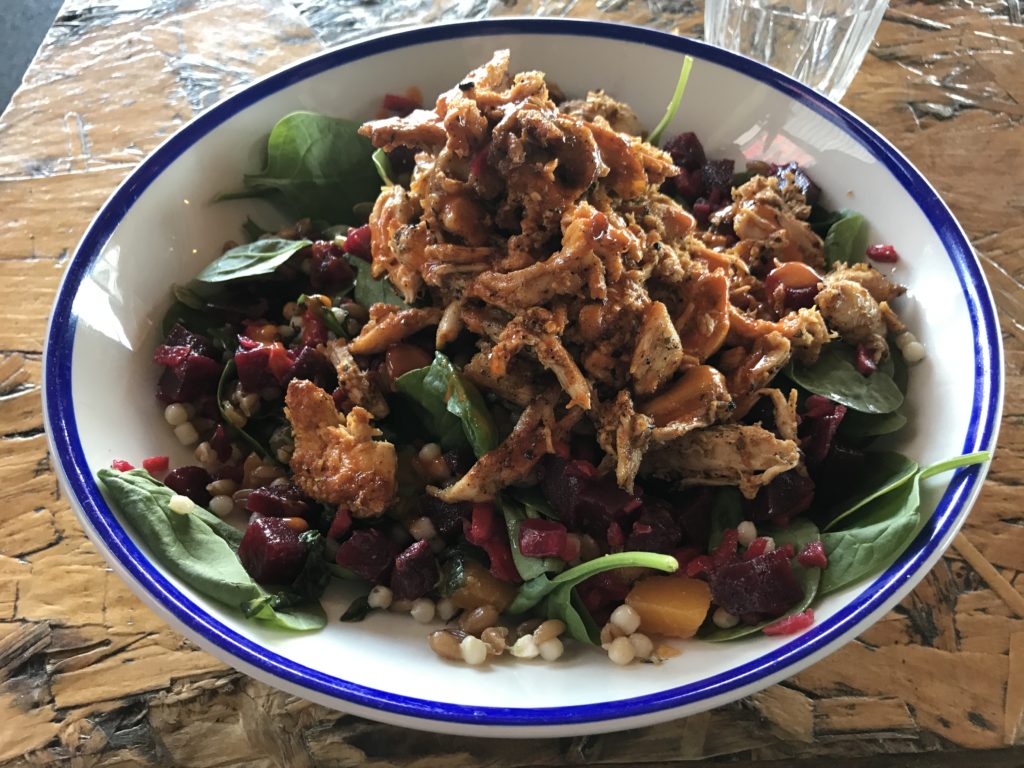 Downtown Bray and Harbour Bar
After lunch, we headed up the hill into downtown Bray to walk around the shops and then to visit The Harbour Bar. The downtown was very cute, but to limit the walking we shopped around a little bit and then headed straight to The Harbour Bar. This is a famous pub with multiple different little rooms with completely different vibes including a music venue, a bar, a beer garden, and a sunny sitting room complete with a cute kitty. My husband grabbed a beer and I snagged a spot next to my new best kitty friend. This was the perfect spot to rest my tired pregnant self while my husband enjoyed a good pint. It's very family friendly and kids are allowed until 9 pm. After leaving Harbour Bar we decided it was time to catch the commuter rail back to Dublin.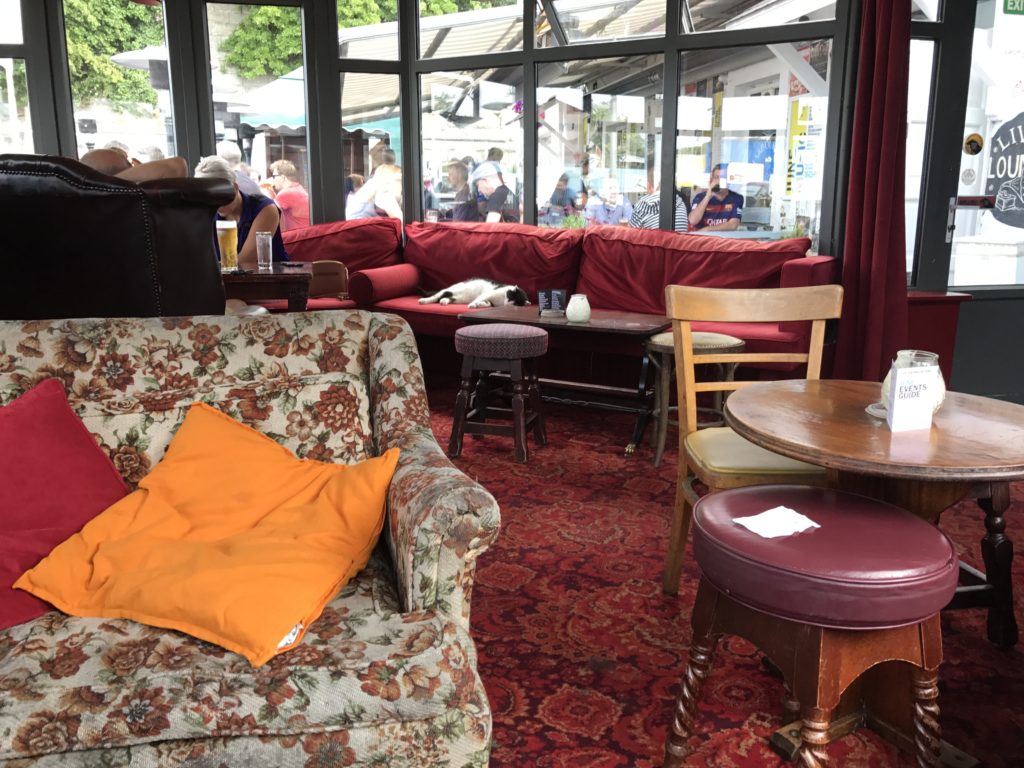 Back in Dublin
"Drinks" at Brazen Head, Ireland's Oldest Pub
No trip to Dublin is complete without visiting The Brazen Head. Since this was my husbands first time in Dublin I had to take him to see this little spot. Again this pub is made up of a series of small rooms, but definitely more a true pub atmosphere. The building is beautiful in the front with hanging flowers. After entering a little courtyard beer garden area you can choose multiple different little bar areas to grab a drink. We headed to the back and found a tiny little bar with two stools open. It was packed, so we were lucky to find seats. I got my babymoon go-to, sparkling water, and Matt grabbed a pint of Guinness. After our drinks, we walked around to tour the pub and then hopped on a bus back to our hotel, Hilton Dublin Kilmainham Hotel, where we had dinner in the hotel restaurant and went to bed early to prepare for our next babymoon destination, London!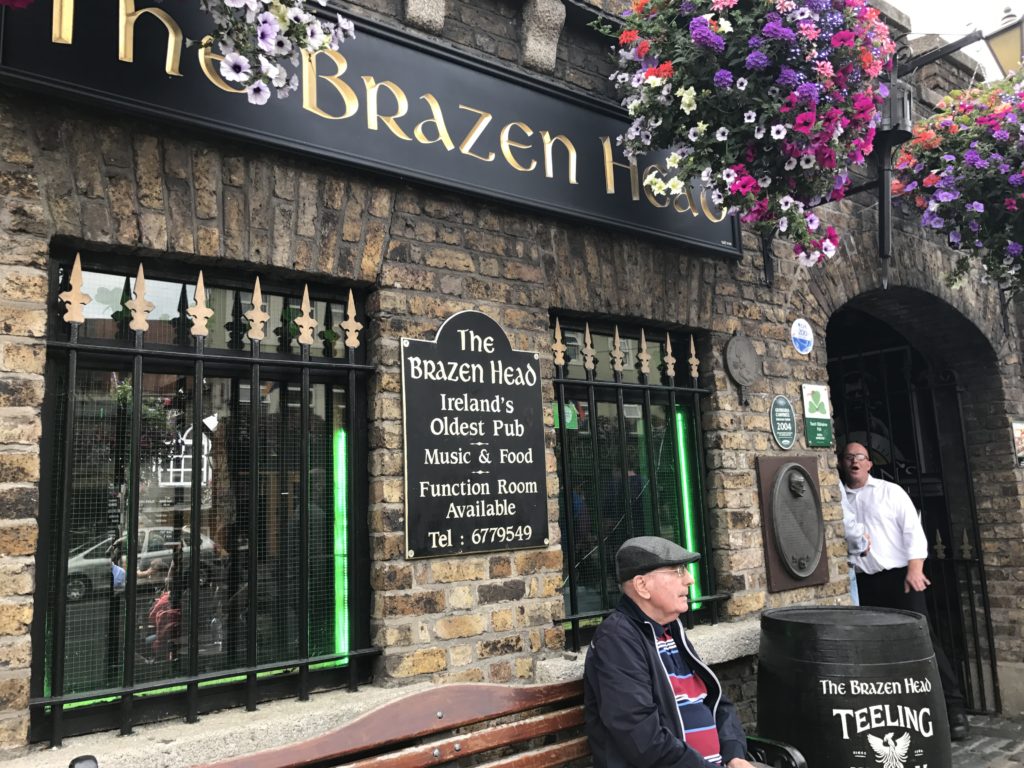 We had a wonderful time in Dublin and were sad to leave, but the next morning we were off to London. There are so many more things we could have done and seen in Dublin and around the country of Ireland. It was hard leaving knowing there was so much more to do, but we were also ending our trip in Dublin, so we knew we'd be back to Ireland in a little over a week. Check back for a full recap of our Babymoon in London, Paris and our last day in Dublin.