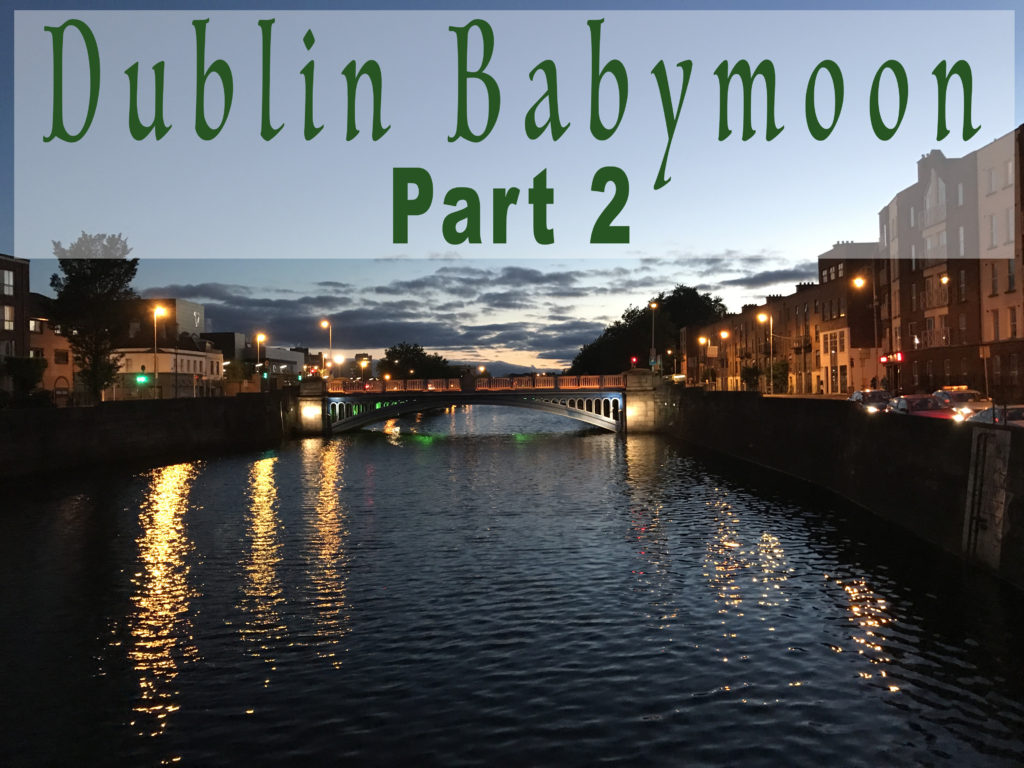 We spent close to two weeks traveling around London, Dublin, and Paris last summer while I was pregnant. With amazing public transport and great walkability, it was so easy to travel Europe while pregnant. Our first and last stop was Dublin. In this post, I will go over where we what we did on our babymoon in Dublin on Day 2. If you haven't already check out Dublin Part 1 first then move Part 3.  Also, tuned for posts about our other destinations!
Dublin Babymoon Day 2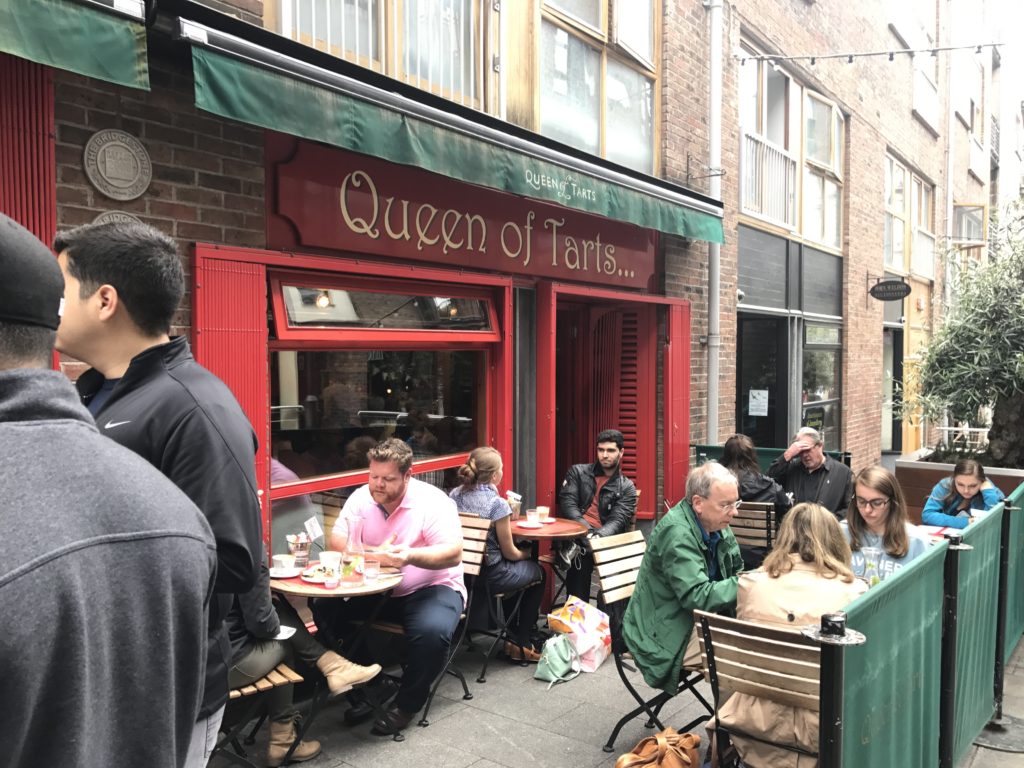 Breakfast at Queen of Tarts
When you're pregnant in Dublin you get dessert for breakfast and Queen of Tarts is my go to! When I lived in Dublin this was one of my favorite places and I can still say that. The desserts are so yummy, service is great and prices are fair. I love that they serve the food on mismatched china and the case of desserts definitely sets the stage before you even sit down. I can't tell you enough how much I love this place, I had a berry crumble and cream tea and Matt had a chocolate tarte and a latte. Cream tea was and will be forevermore I get everywhere in Ireland and England. Also, I was limiting my caffeine during pregnancy and I found caffeine free tea just about everywhere we went.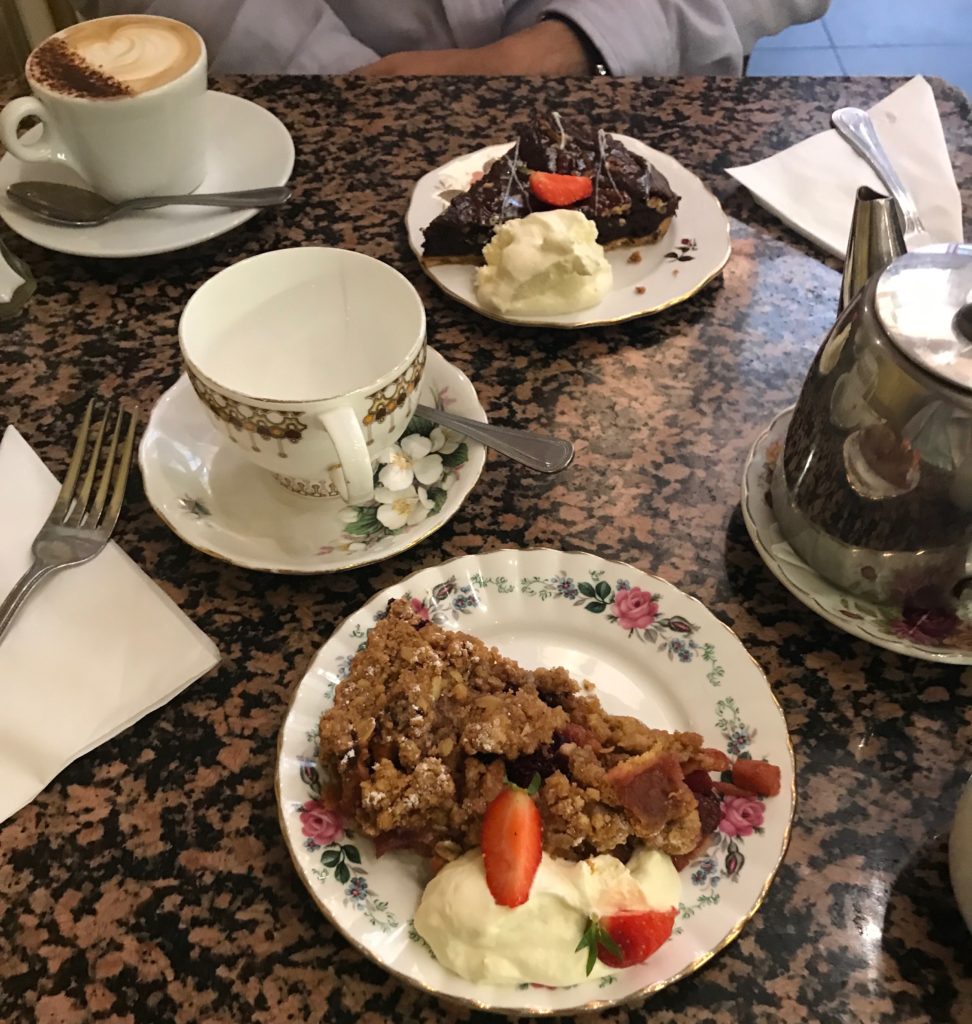 The Book of Kells
Trinity College is a beautiful historic College that has beautiful architecture and an amazing historic library that is home to The Book of Kells. Get a ticket online to take the self-guided tour to see The Book of Kells, a manuscript Gospel book in Latin, containing the four Gospels of the New Testament together with various prefatory texts and tables, some other important Irish works and the gorgeous library of the Trinity College. The tour can be as long or sort as you like and it's a good way to see part of the college along with the famous Book of Kells. Be warned that is VERY busy and you don't pre-purchase your ticket could be waiting in a long line. We had to wait in line just for the ticketed purchasers.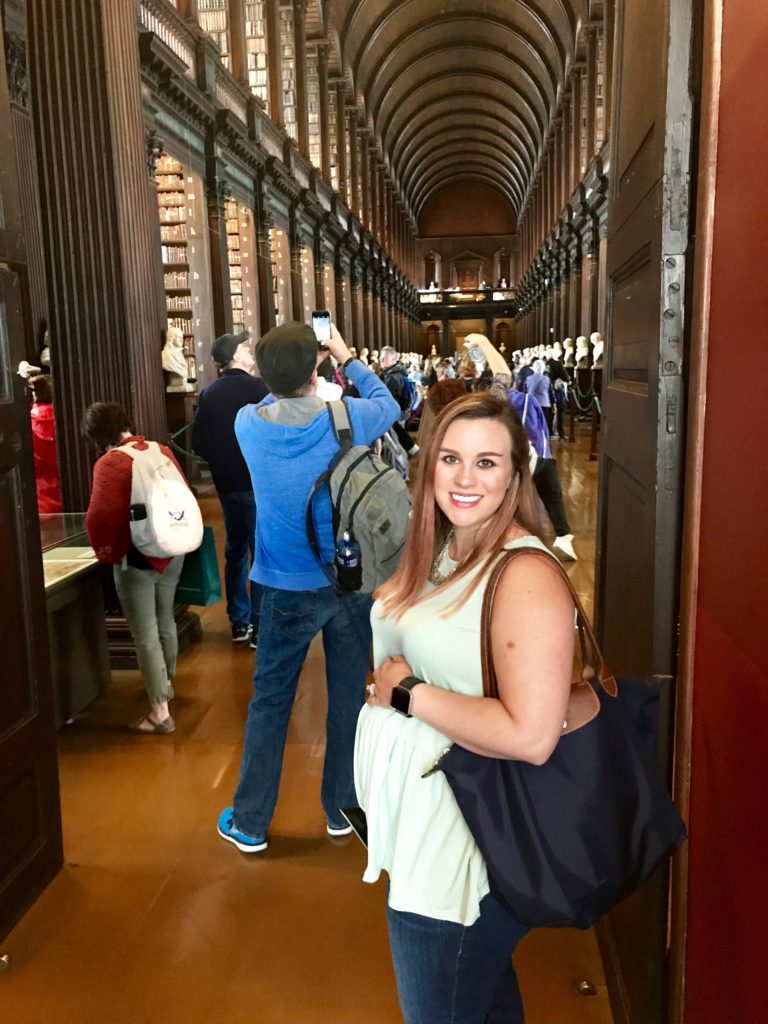 National Museum of Ireland
Ireland has a number of wonderful FREE museums including the National Museum of Ireland – Archeology which is just a short walk from Trinity College. We spent about an hour walking around this museum learning a vast amount of history of Ireland and seeing their artifacts. You can learn a lot about different cultures including Vikings, Midevil times, and even Egyptians. Just around the corner from this location another free museum which we did not visit on this trip, but may interest others more, the National Museum of Ireland – Natural History Museum.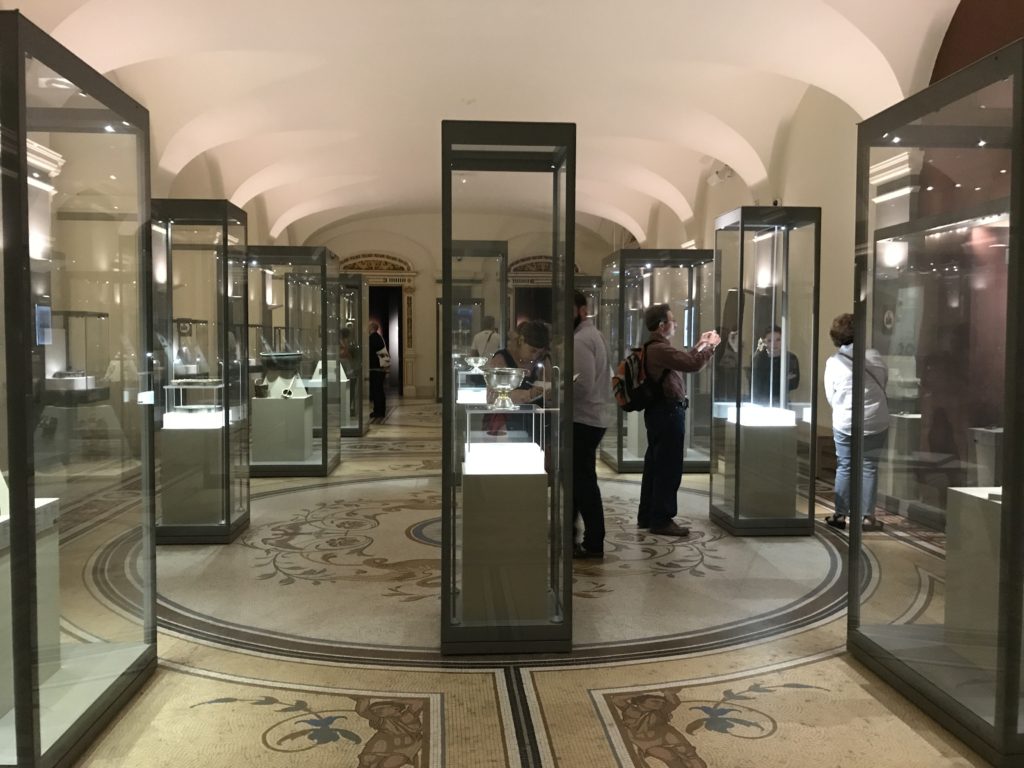 Shopping on Grafton Street
After visiting The Book of Kells and The National Museum of Ireland we took another short walk to visit Grafton Street. In my opinion, this is a must during any trip to Dublin and during a Babymoon it's a great place to pick up a baby item or two. It's a pedestrian-only street and often has live artists, flower stalls and of course tons of stores! I had to stop at the Disney store since I LOVE Disney. We also picked up some Dublin goods at a cheesy Ireland shop and a local jewelry shop.
Lunch at Sheehans
I suddenly realized I was hungry around the time we were walking around Grafton Street and typically I avoid eating in touristy areas, but being pregnant and all the sudden starving I wanted to find food fast. We totally lucked out when we found Sheehans just off Grafton Street on Chatham Street. The menu was traditional Irish food with a modern upgrade. I got the amazing Corned Beef and Cabbage and my husband had the Beef & Guinness Pie. It was delicious and decently priced for the area, so I highly recommend it.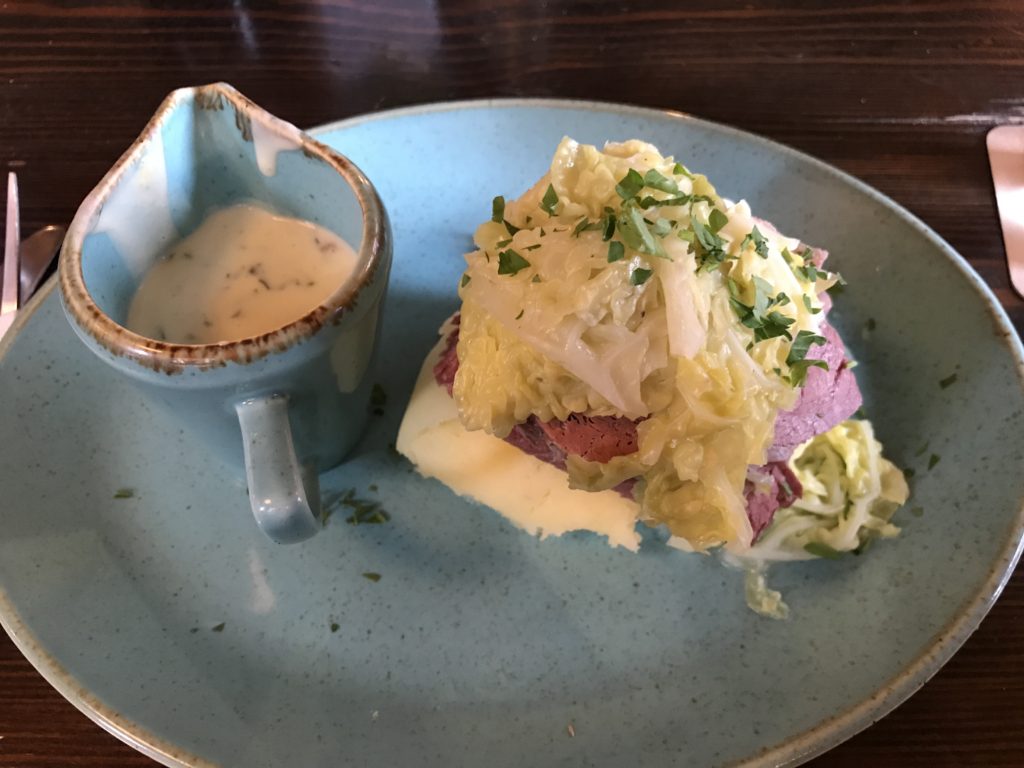 St Patrick's Cathedral
After eating we continued walking around Grafton street and visited St. Stephens Green, which is a large park and then we headed to St Patrick's Cathedral. This is the Church of Ireland's national cathedral, dating from 1220 and it a gorgeous cathedral definitely worth a visit. There is a little park surrounding the cathedral with wonderful views and inside you can tour around to learn some history of the cathedral and the Church of England. I've also been to Easter service at this cathedral when I lived in Dublin and highly recommend attending a service.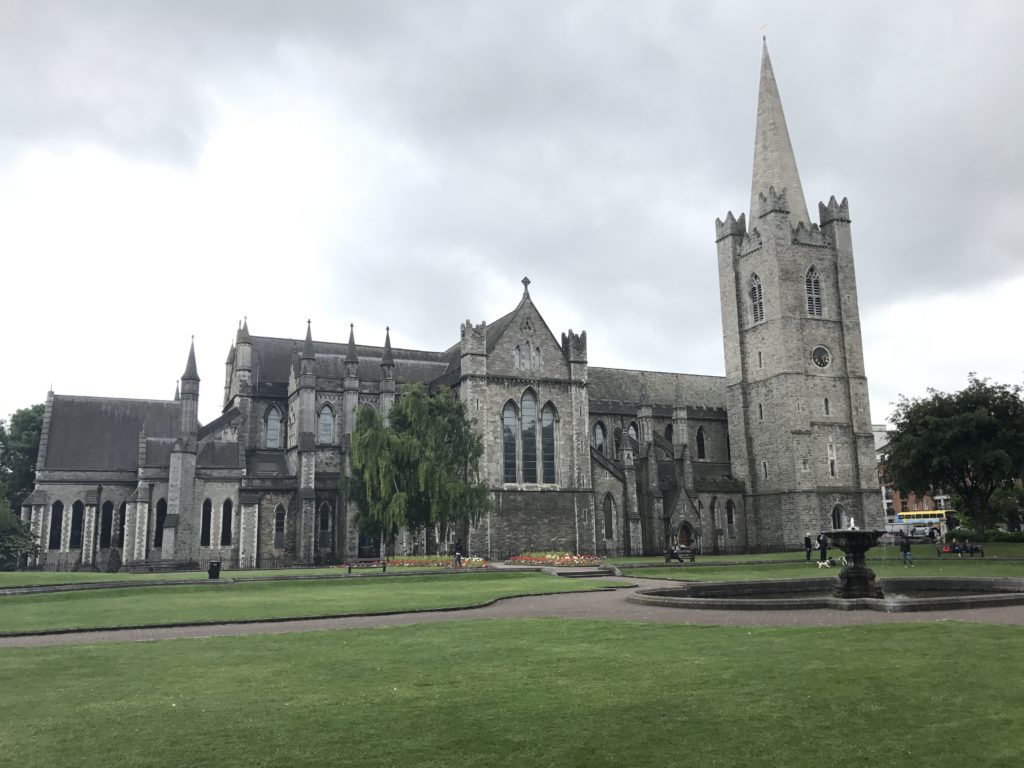 Dinner at L. Mulligan Grocer
After visiting St Stephens Cathedral we hopped on a bus and headed back to our hotel to get ready for dinner and an afternoon rest. Being pregnant can sure make you tired! Then we headed off for dinner at L. Mulligan Grocer.
I really want to go L. Mulligan Grocer a glowing review, but I can't. It is partly our fault. We did not make a reservation and I guess we should have. It was busy and they did have a lot of people eating, but even without a reservation, they did seat us within 15 minutes of arriving. They just weren't happy about it. From the moment we sat down the waitstaff just seem to dislike us.
I don't know what was going on that night, but our server all but basically ignored us even though he checked on the table next to us dozens of times. The food, however, was very good and we ordered a lot of it (so really the waiter should have loved us cause our bill was not small for two people!). I was a hungry pregnant lady and I got an amazing Chicken Kiev, we also ordered the Scotch eggs, their take on mac and cheese, and a side of chips. Matt had two fun beers, but I don't remember what they were because I wasn't drinking them. I really wish the service was better, but I still say give it and try and hopefully, we just caught the waitstaff on a bad night.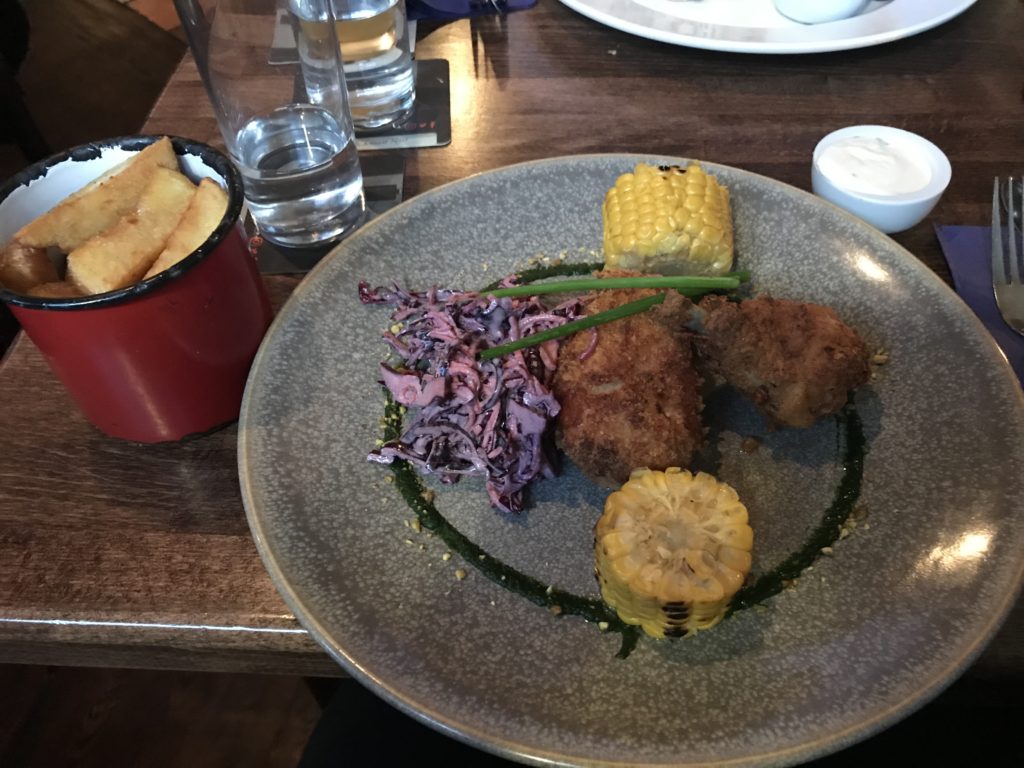 We ended the night by walking to the closest bus that went to our hotel which was over the Liffey. I suggest ubering or calling a cab if your phone works since our walk was not as close as we thought, but we did get a great dusk photo! Day 2 was tiring for my preggo self, but tons of fun. For me there was not a clear highlight as we had a blast everywhere we went. Dinner was a bit of a letdown, but I can deal with iffy service for good food. Breakfast was probably the winner food wise, because I love Queen of Tartes that much and who doesn't love dessert for breakfast when you are pregnant. I will add that there is so much history in Dublin you cannot go wrong, but The Book of Kells tour truly a gem that is not to be missed.
Read what we did on our third day with Part 3 and I'll give you a hint, we went outside the city!  Also, tuned for posts about our other destinations.