Our baby has just reached the 6-week mark! It has been a crazy fun and exciting ride this first month. I did so much research while I was pregnant and worked hard to register for everything I thought we needed for our baby. I was surprised by the things I actually used and loved during that first month and I even missed some things I now feel like I can't live without. Based on my first 6 weeks with a newborn here are my top 10 baby registry must-haves for a newborn.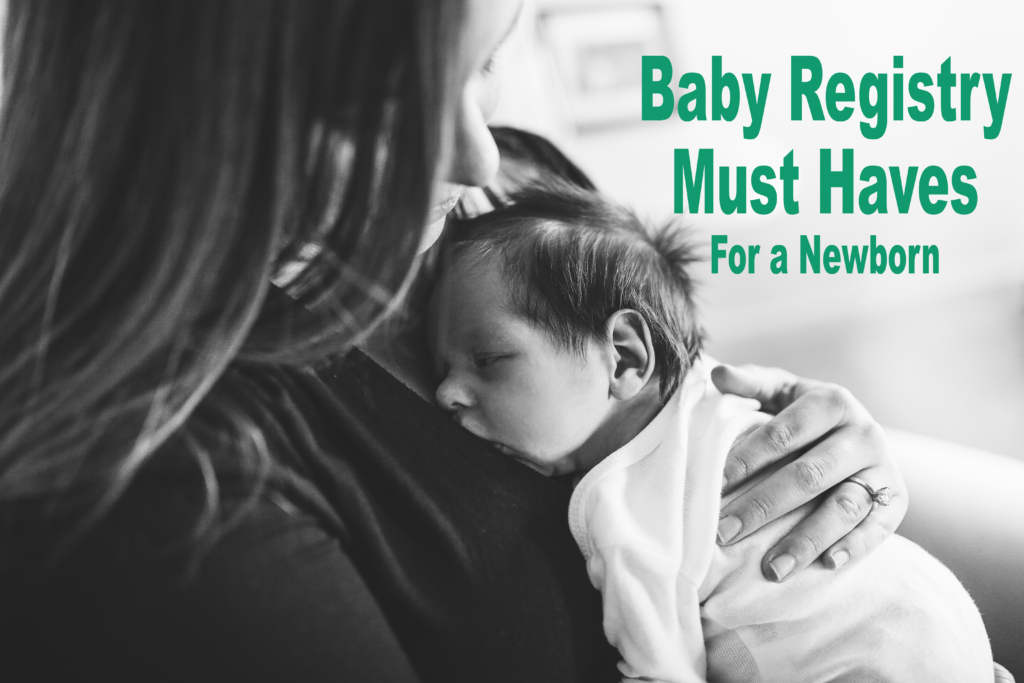 *This post contains affiliate links. If you make a purchase after clicking on these links, we will be compensated. All of these items are items we purchased or were gifted and use!
1.) Boppy
If you plan to nurse you will LOVE the Boppy! This breastfeeding pillow will quickly become your best friend. After one night breastfeeding in the hospital, I had my husband go get my boppy and I use it every day. It helps so much with supporting the baby and my arm! There are tons of fun different covers you can buy as well. I have the Boppy Water Resistant Protective Cover
to protect it from spills and spit up.  We also have a cute velvet bear slipcover that was purchased by a relative from Pottery Barn Baby.
2.) Pack N' Play
This is something I did not register for but should have! I didn't see the need to immediately get a pack n play. I thought they were for bigger babies when traveling. That is so not the case. Right before our baby was born, I found a great deal on this great smaller sized pack n' play, the Graco Pack N' Play Playard Jetsetter Sunshine
. It's lighter weight and smaller than a traditional play yard and fits into a backpack to travel with. It comes with a sun cover, diaper change pad, and bassinet for a newborn. Right now we aren't traveling with it, but it fits perfectly tucked away in our living room and used for diaper changes and nap time!
3.) Swaddles
We use so many swaddles! Our baby sleeps so well swaddled and basically not at all if he isn't swaddled. Our sleep is due to the amazingness of swaddles. We registered for and originally only used the aden by aden + anais Disney Baby swaddles. They are adorable cotton cloth swaddles, but we quickly learned our baby is a ninja and gets out of those. We later purchased the HALO SleepSack Swaddle
and the SwaddleMe Original Organic Swaddle
 and he sleeps like a dream in both. I recommend registering for all three since you don't know which ones you baby will like best. Plus, we still use the Aden + Anais swaddles as blankets in the car seat and stroller.
4. Boppy Newborn Lounger
Yes another Boppy item, but I love this thing! As I'm typing this, my baby is sitting in his Boppy Newborn Lounger
next to me. It's the perfect place to put the baby when you need two hands, but want them next to you and also great for tummy time! Trust me your arms will want a break and your baby will love it.
5. mamaRoo
Yes, another item to put the baby down! Our baby loves bopping up and down on his 4moms mamaRoo
! He will stare up at the little balls and even take little naps in it. It's absolutely perfect for keeping him entertained while we do something or for him to watch the world around him.
6.) Pumping Bra
This item I didn't buy or register for because I didn't think I would pump until way later. Well, I started pumping right when I got home from the hospital to help my milk come in and I desperately needed a handsfree pumping bra. If you don't get a pumping bra you're stuck holding the cups to yourself for up to thirty minutes and that's super annoying! I love this Hands-Free Pumping Bra
 because you basically can't see anything, it's easily adjustable, works with any pump, comes in three colors and has a zipper front.
7.) Multiuse Car Seat Cover
The  Car Seat Cover Canopy and Nursing Cover by Copper Pearl
 is super soft, stretchy and so useful! I use it daily as a car seat cover and nursing cover when I need to nurse in public. When it's not on the car seat, I put it around my neck as a scarf and once our baby is bigger it can be a seat cover for a high chair or shopping cart. I use it so much that we have two one striped and one plaid.

8.) Baby Carrier
Our baby is only a newborn still and both my husband and I have used our baby carriers. We have the LILLEbaby Complete Airflow Baby Carrier and Ring Sling. Since our baby was over 7lbs at birth we were able to use both since day 1. I mostly use the ring sling and my husband uses the airflow baby carrier. We use them around the house when we need two hands while still carrying the baby and they are awesome to use at places like the grocery store. Our baby falls instantly alseep in the ring sling, he loves it!
9.) Newborn Cloth Diapers
We are cloth diapering and loving it! Getting cloth diapers in a newborn size was truly something I was torn about. A lot of people use disposables until their baby is bigger, but we decided to get newborn size cloth and use them from day 1. I am so happy we did the disposables leaked and were just gross and smelly! It is so simple to wash the cloth diapers and they fit our baby better. We use All In One, pocket, and Prefolds
with covers and I love all of them all. In the beginning, it was easiest to use All In Ones. We have a mix of brands, but for the price the Imagine Baby Products
work just as well for us as our Rumparooz Lil Joey and Thirsties
. Plus the prints are just adorable, one of my favorites is the Anchor print below! Right now both my husband and I prefer the hook and loop (velcro) over the snaps.
10.) Zip Sleepers
At that 3:00 am diaper change, you will be happy to have a zip sleeper. It's so much easier to change a baby with these easy zippers rather than the sleepers with snaps. We have a few of these Burt's Bees Baby Zip Sleepers and as soon as he outgrows them I will be purchasing more in the next size. They are my absolute favorite clothing item our baby currently uses and I wish I had 20 more, plus they are adorable!
So far, these are my top 10 registry must-haves for our newborn. With a newborn you truly don't need too much besides clothes, a safe sleeping space and diapers, so everything else is just really to help make life easier. I didn't put our stroller, car seat, or bassinet on this list and yes you need those, but we purchased these items ourselves, I didn't register for them, I feel like everyone is looking for something really different in those items and besides the bassient, we don't use them daily. We have a Pottery Barn Bassinet, a Bugaboo Stroller (we got ours secondhand), and a Maxi Cosi Car Seat in case you are wondering. And yes I absolutely love all three!
I'm sure my must-have list will change as our baby gets older and we use different items more than others, but right now we use all of these items constantly! Good luck with your little bundle of joy and let me know what items you can't live without.