The Rivera Maya is one of the most beautiful places in the world. We took our honeymoon six months after our wedding. This gave us time to research destinations and find an affordable and gorgeous beach destination. After we settled on Playa Del Carmen, I immediately began researching activities and quickly found that there are more activities than you can do in one 7 day honeymoon. For the majority of our vacation, we focused on relaxing and spending time at our all-inclusive resort, but that does not mean there isn't plenty to do outside the resort walls.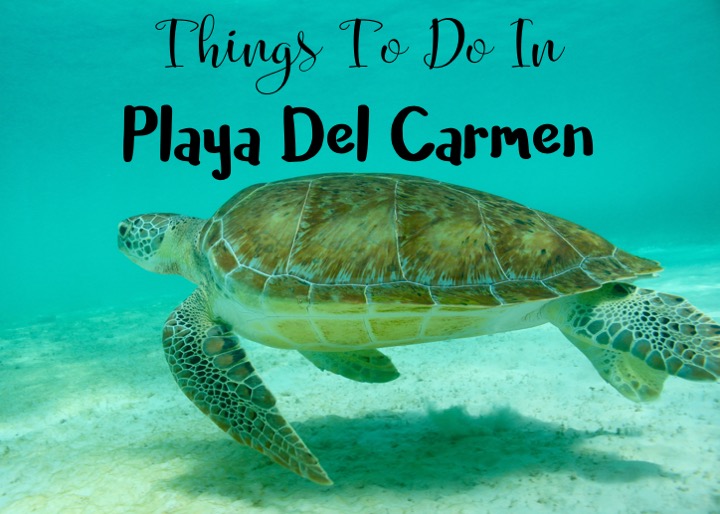 Snorkeling
This first activity we did on our vacation, besides lounge by the beach and pool, was snorkeling. The Rivera Maya has one of the largest coral reefs in the world, The Great Maya Reef, and the snorkeling is fantastic. I have been snorkeling before, but this was my husband's first experience and it did not disappoint. We swam along the coral reef with hundreds of fish, sea turtles and sting rays. Two bucket list items, swimming with turtles and sting rays, were crossed off my list in one day!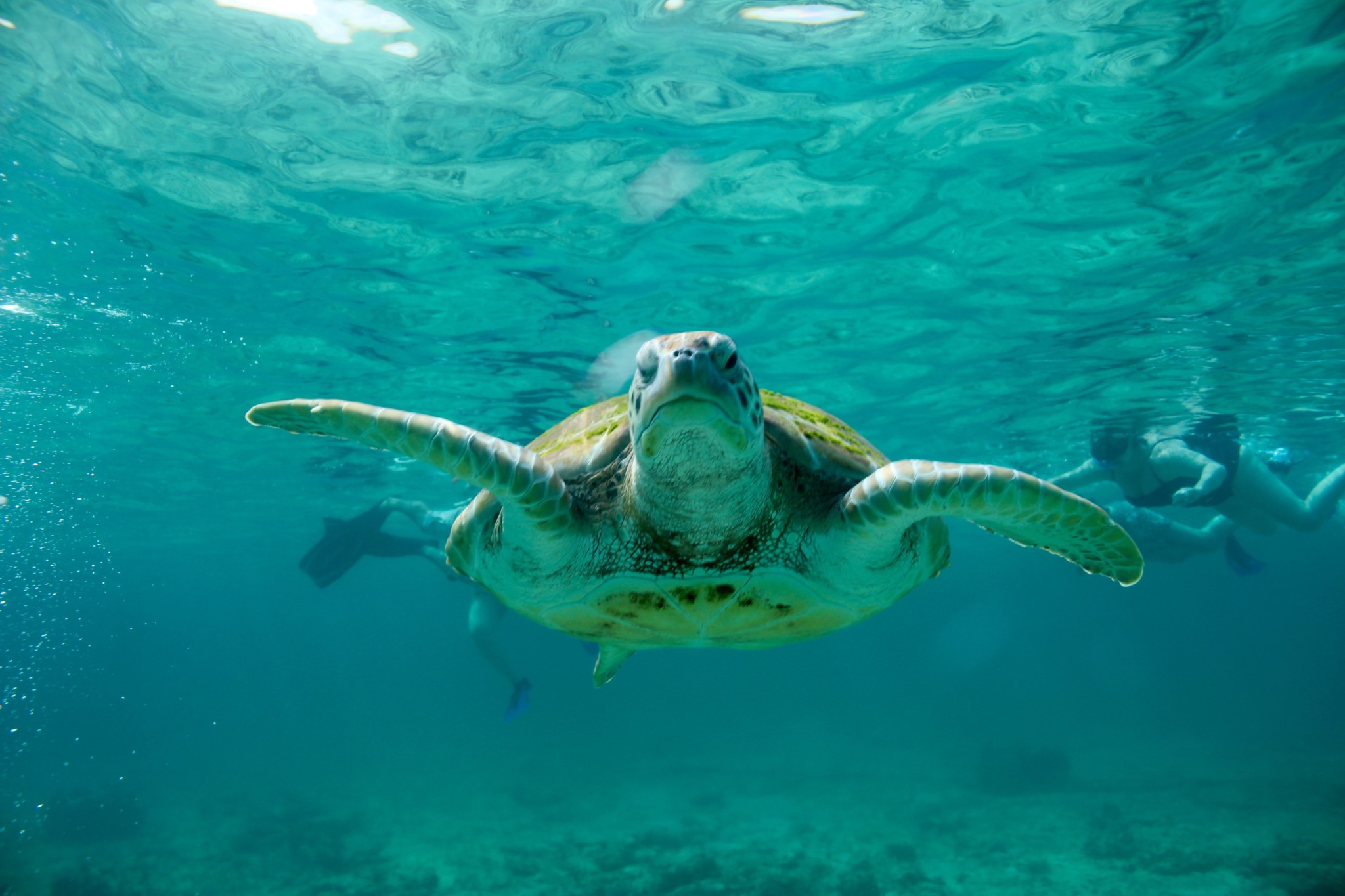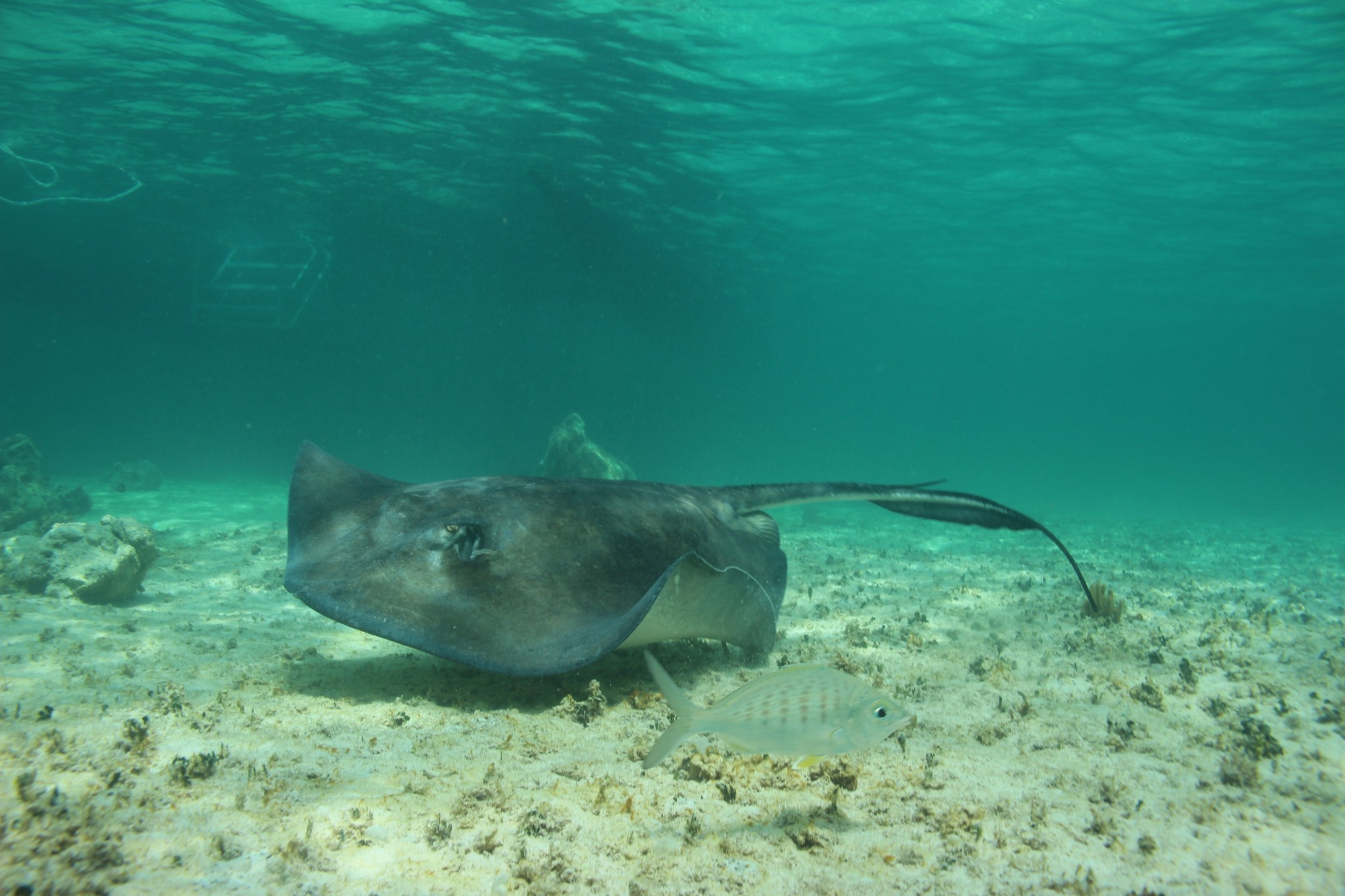 We did the Luxury Sail & Snorkel with Cancun Adventures. It is a half day experience including snorkeling, paddle boarding, lunch, and drinks all while sailing along the coast one a luxury catamaran. I highly recommend using this company. They are professional and the experience is once in a lifetime. I can easily say this was the best snorkel trip I've ever been on. Pro Tip: All the snorkeling companies require you to use Reef Friendly sunscreen. Buy it in advance, but test it before you go. We applied over it and over again, but you could tell the next day the areas we missed were really badly burned and I never burn!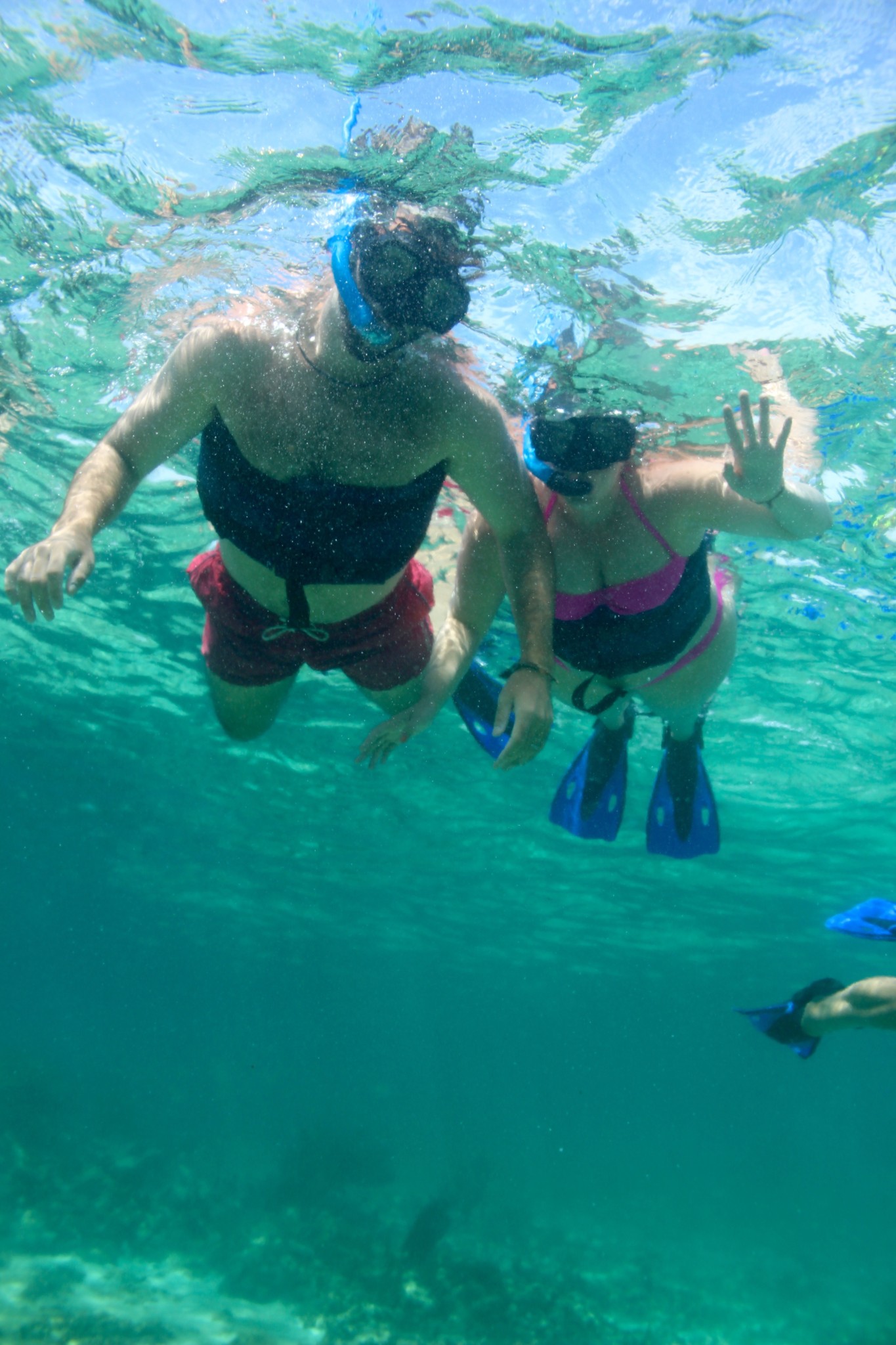 The Beaches
No trip to Playa Del Carmen is complete without experiencing a beach. Yes, your resort may have a pristine beach, but it's also fun to explore a little and see areas outside your resort. There are so many amazing beaches along this coast. It's hard to go wrong, but my personal favorites were the Playa Del Carmen beach and Tulum beach. Playa Del Carmen is a very popular beach full of locals, beach clubs and tourists, while the Tulum beach is still busy, but very small and much quieter. You can experience the Tulum beach while visiting the ruins or access another section outside. Want to head into a beach club? Mamita's in Playa del Carmen is the most famous. While it cost a pretty penny, there are a lot of pretty people inside to hang out with.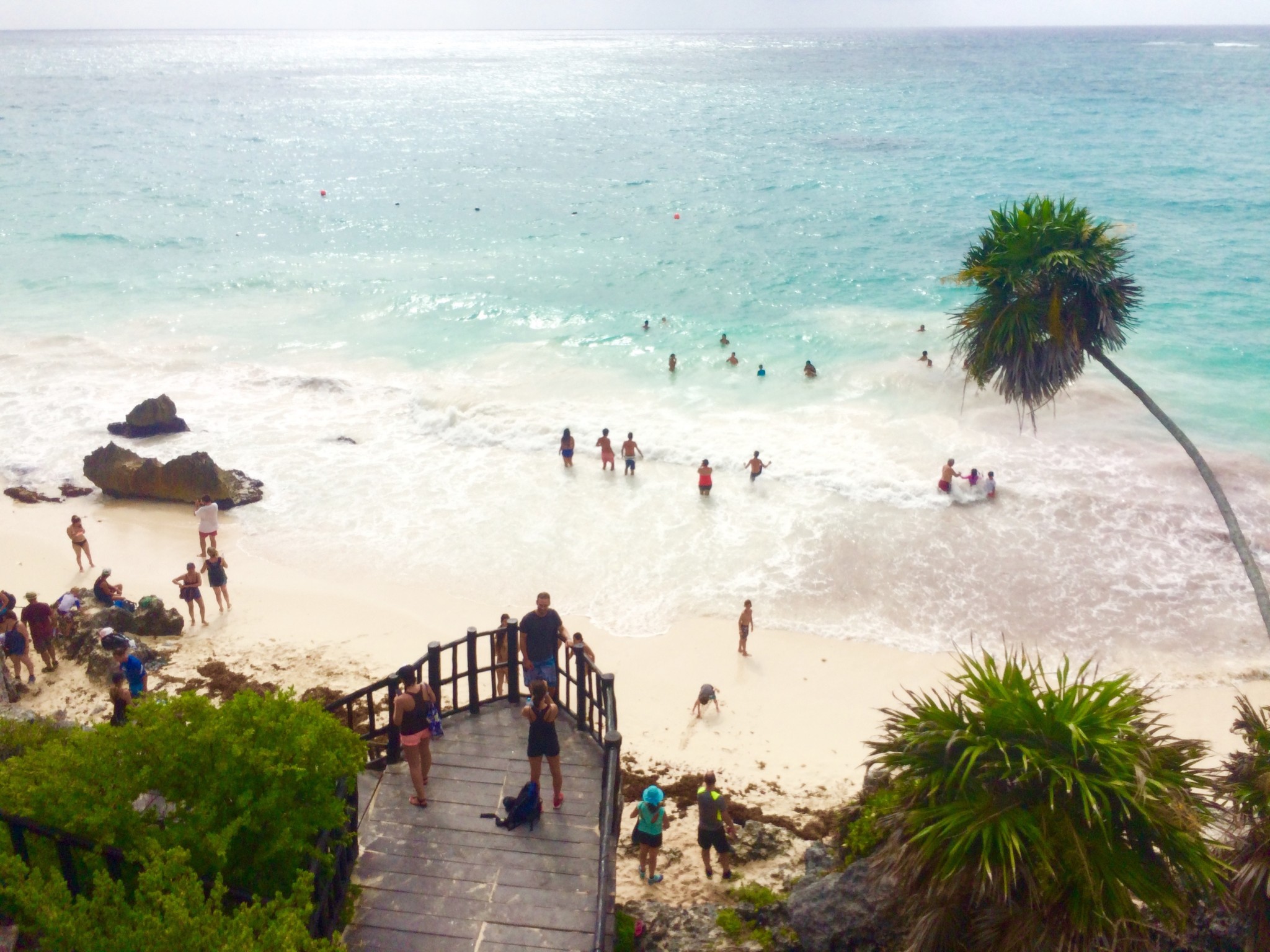 Visit Ruins
Mexico has some wonderful history. Visiting ruins are a great way to experience some history while on vacation to the Rivera Maya area. The most famous and largest ruins of this area are Chichen Itza, but it takes an entire day to get there and back to your hotel if you are staying in Playa Del Carmen. If you have that stamina and have an extra day on your vacation go for it or visit one of the smaller ruins instead. Coba and Tulum are both great options, but Tulum is the top of my list because of its location. While most of the ruins are set inside a more jungle like areas of Mexico, this is the only one that sits atop cliffs along a beach.
The ruins at Tulum are like no other. While a guide is not needed to visit the ruins, we found it an extremely helpful and easy experience to use one. We used the company Alltournative and our guide gave us a wonderful tour of the ruins, including a history of Tulum and how they are connected, or not connected, to other ruins in the area. The tour includes pick up at your hotel, water and free time to visit the beach or explore. Warning: it is hot, so go early! The morning is not only a calmer time of day to visit historic sites, with ruins in Mexico it is a lot cooler.  Granted we did go in July, but at 9:00 am if felt like 110° and they were along a beach! The ruins inlet are even hotter. Pro tip: Take an umbrella for shade!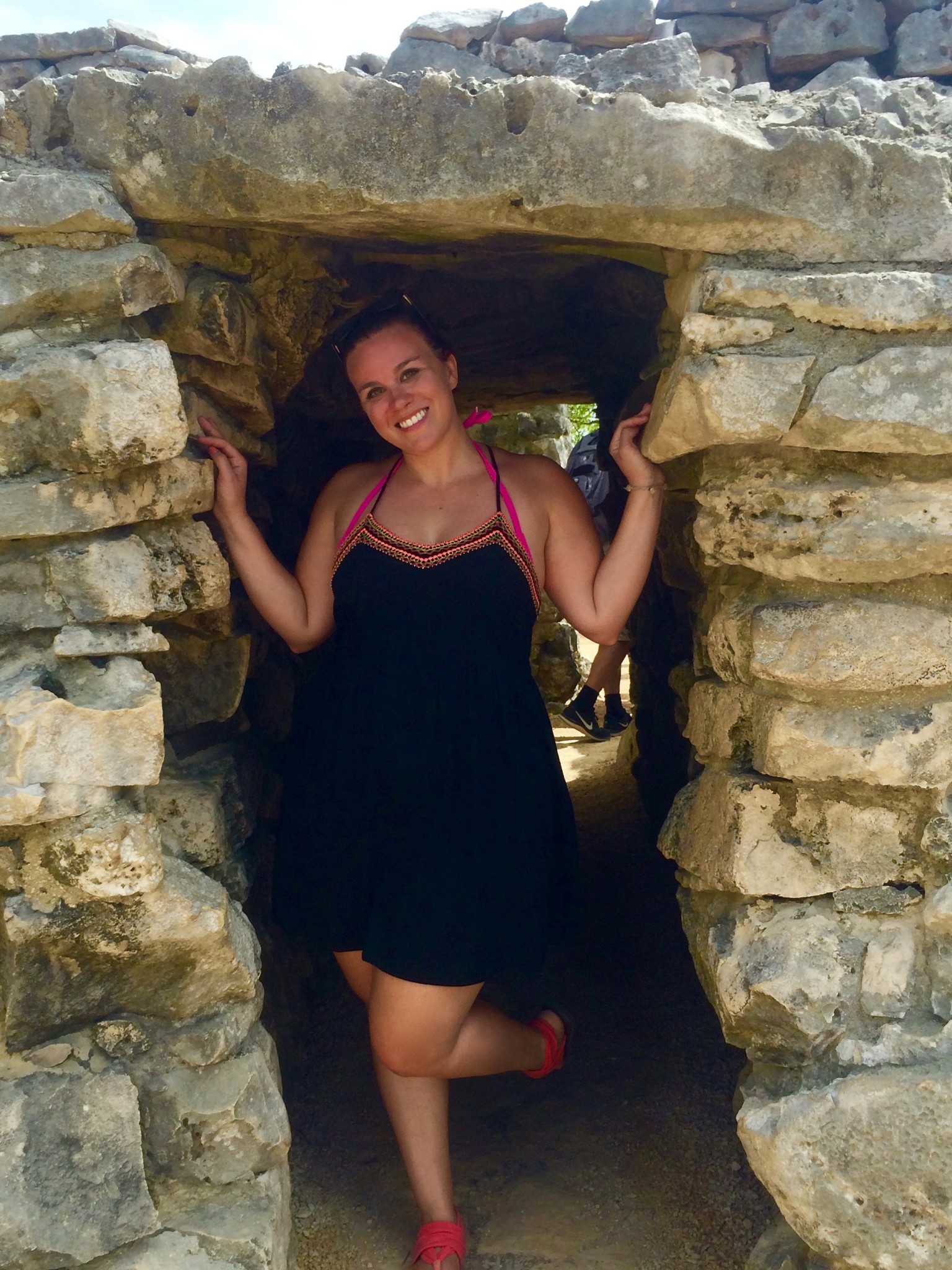 Sailing
As I mentioned before we did a sail and snorkel trip, but you don't have to do them together. Sailing on a luxury catamaran is an experience not to miss while in Mexico. It sounds more expensive than it actually is and it's worth every penny of the price difference. Sailing offers you a chance to see the coast from another view. Jumping off the sailboat is also extremely fun! There are many companies that charter sailboats or reserve a space on a tour. We did our Luxury Sail & Snorkel with Cancun Adventures.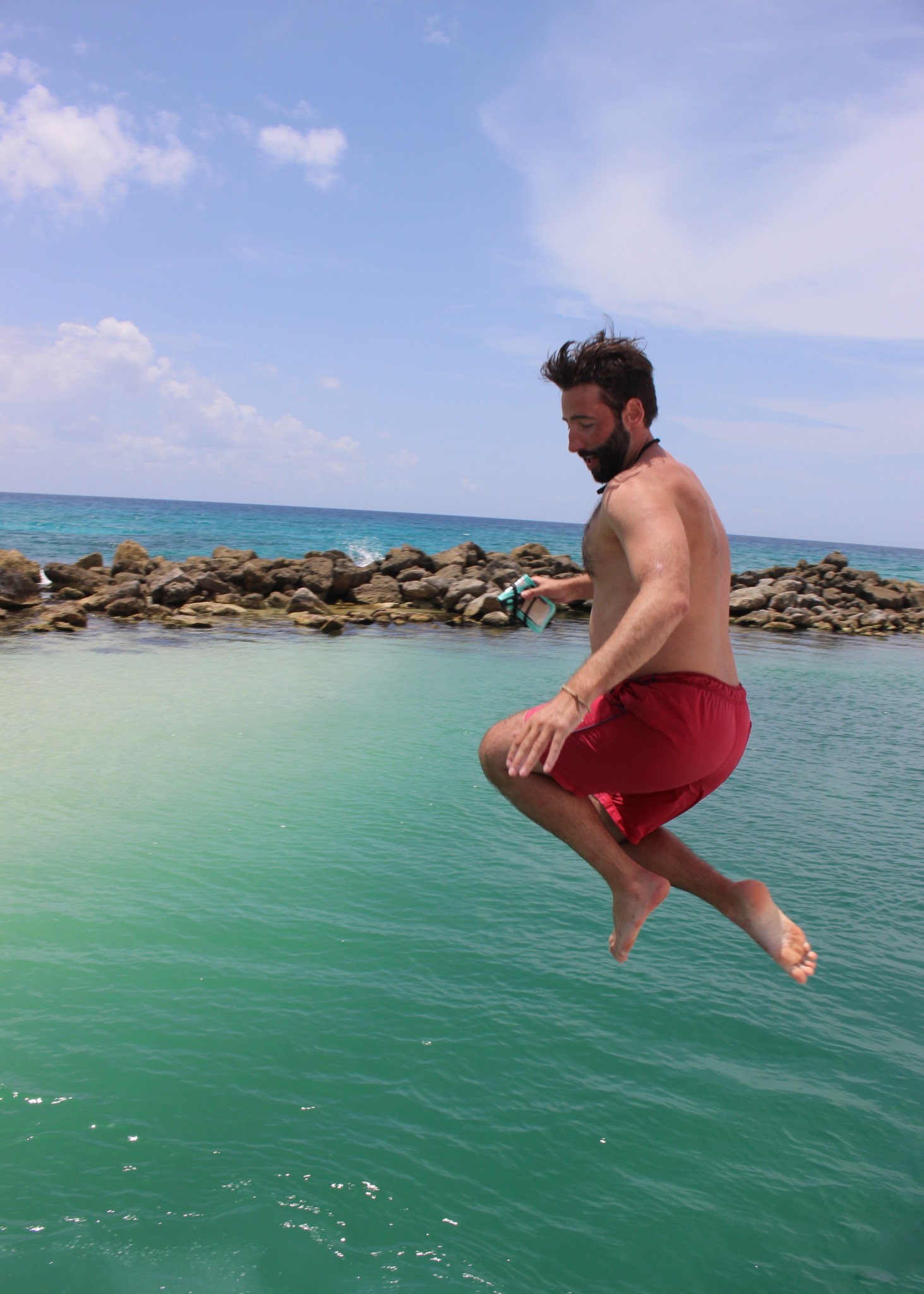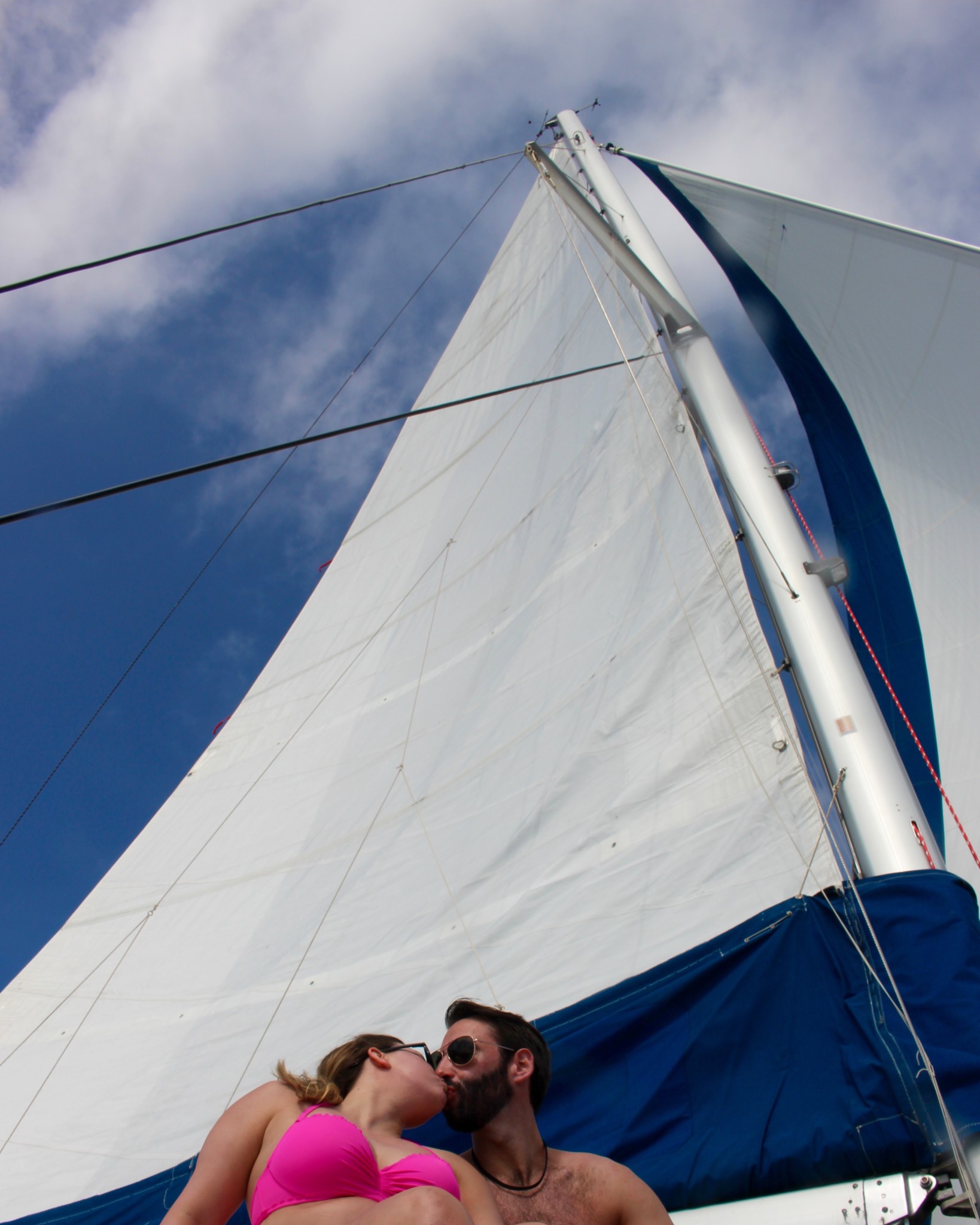 Check out this video from our sail! After snorkeling, we sailed to a private cove to swim and jump off the boat. The crew served lunch and drinks while we relaxed and danced.
Zip Lining, Rappelling and Cenotes
Not for the faint of heart, zip lining through the jungle is an experience I will remember for the rest of my life! I have zip lined many times in my life, at summer camp, at a zip line park in Tennessee and numerous other places. This was a completely different experience. Ziplining above the canopy 100 feet in the air with a jungle full of monkeys and other wild animals is a once in a lifetime experience. To top it off, our tour included rappelling, swimming in cenotes and snorkeling in an underground river. Jungle Maya Park is located inside a Mayan village and can only be visited through a tour with Alltournative.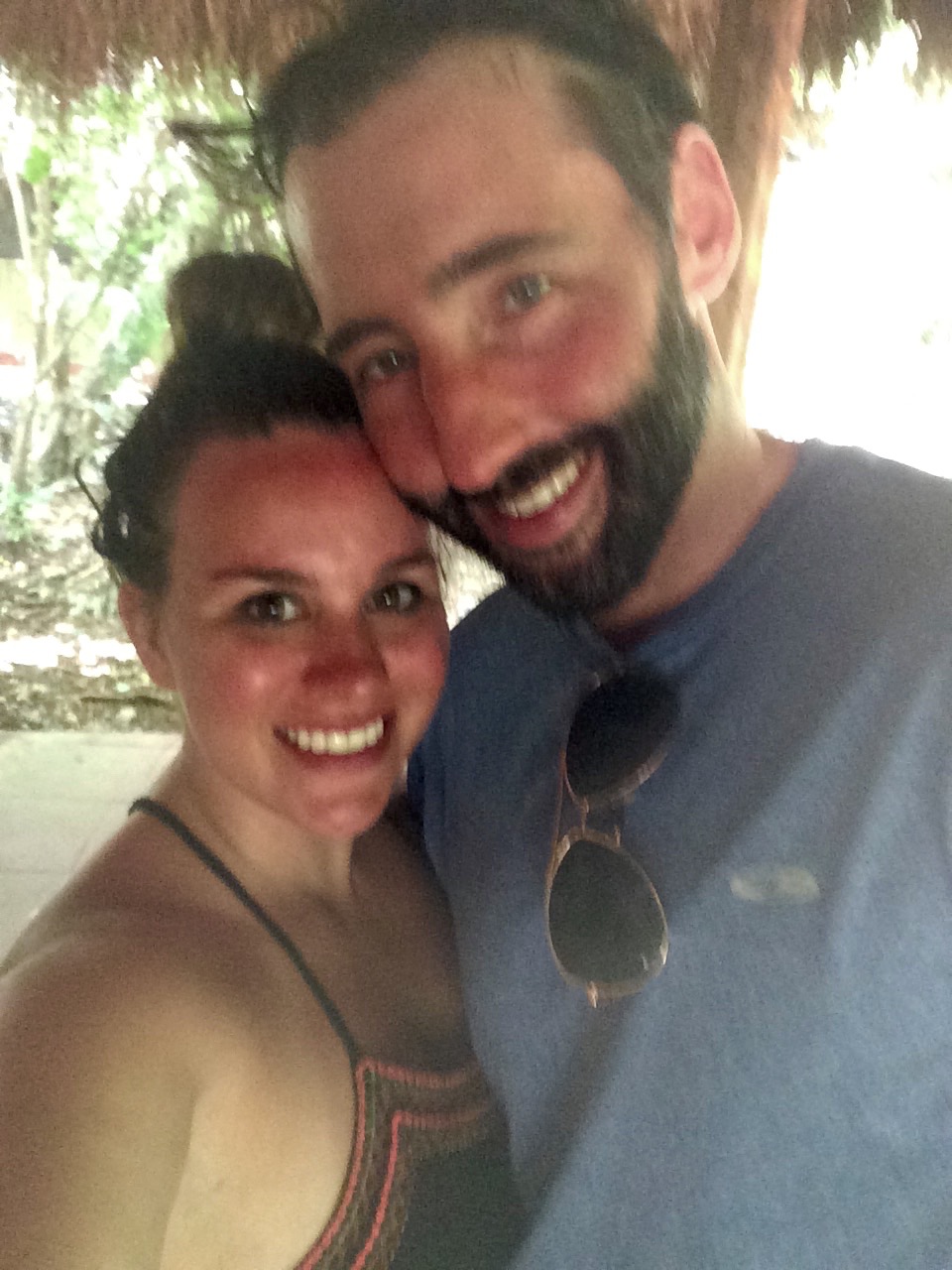 Our tour took us to a Mayan Village where they villagers have set up an eco zip line tour. After being given minimal instructions on rappelling and zip lining we started the tour with a swim in a cenote. A Cenote is a hole full of fresh water, resulting from the collapse of limestone bedrock that exposes groundwater underneath. We learned about what the cenotes are and why they are important to the Mayans. Then it was time to gear up and rappel. My husband was excited and I was terrified as we leaned off a platform and rappelled back to back into a hole in the ground ending in a cenote below. After, we were cleansed with a Mayan ritual inside a cenote by a shaman.
Once we moved on the zip lining it was much more fast paced. We did a number of different zip lines above the canopies and ended with a zip line into the water of a shallow cenote. The day ended with snorkeling through the pitch black underground river, also quite scary but fun, and lunch prepared by the Mayan villagers. Lunch in the Mayan village was one of my favorite meals in Mexico! The food is not traditional "Mexican", but chicken roasted in clay pots with vegetables and soups served family style with an option to try their spicy salsa. (do it just for fun, I loved it!) **You aren't allowed phones or to take photos while on this tour.
Visit Downtown Playa Del Carmen
About a 20-minute walk along the beach from our resort was the downtown of Playa Del Carmen. There is a large rather touristy pedestrian shopping street, 5th Avenue, that is fun to shop and walk along. The shops are mostly touristy souvenirs and large chain retailers, but you can find basic necessities if you forgot something and get a few small items to take home. The shops outside of this area are much cheaper if you want to explore, but then again you're in Mexico and it's likely cheaper than home anyways. It's always fun to haggle and most everywhere in Mexico you can. Along the street some locations you can and some it's frowned upon, but I say no harm in trying.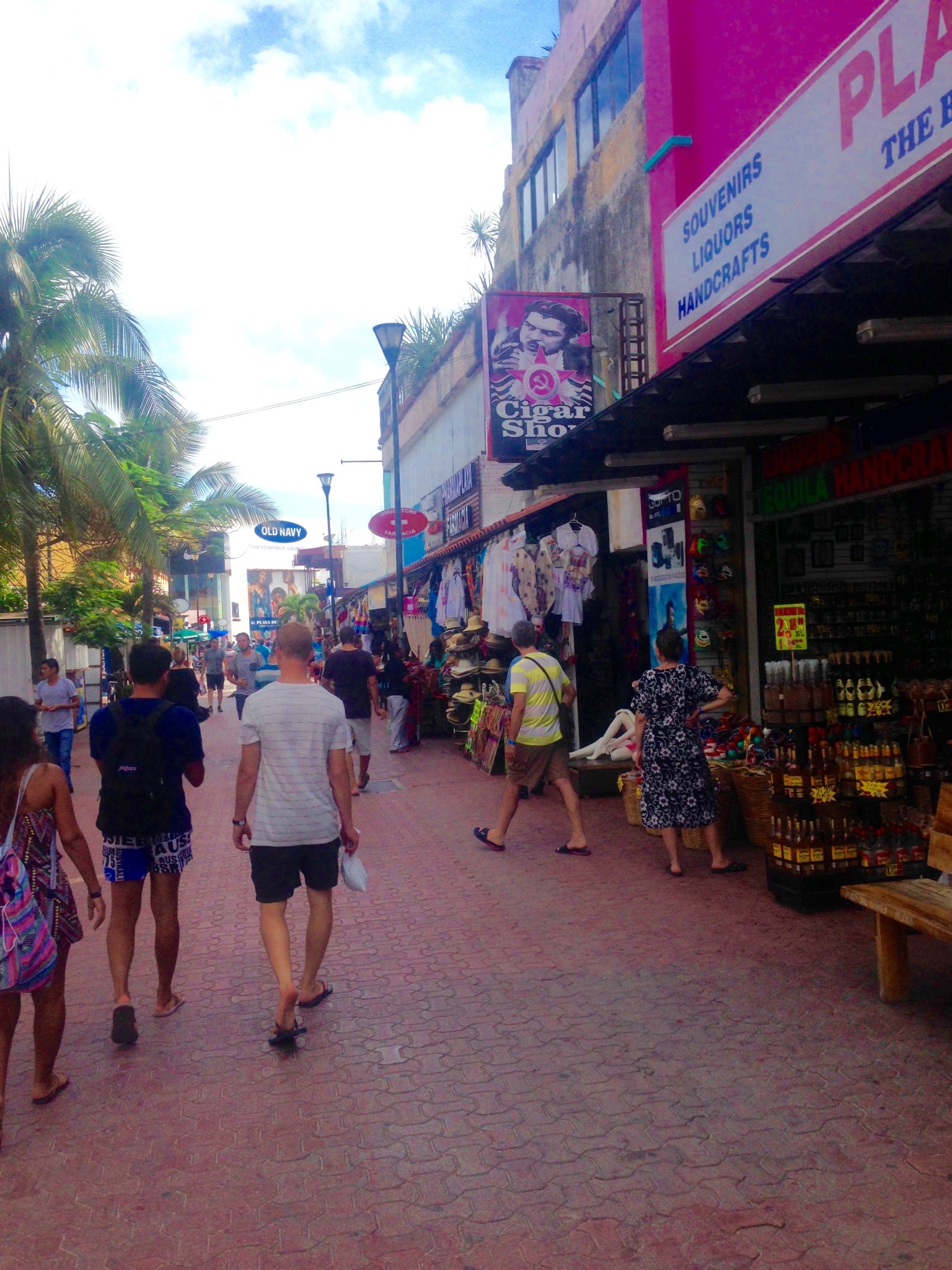 There are also a number of fantastic restaurants to try out. I read an entire guidebook, but after arriving I ditched my list of places to eat. Before we headed downtown we asked one of the hotel staff, instead of the concierge, what their favorites were. She gave us a list of suggestions and items that are good at each place. Ask a local, they know the best spots and all of her choices were so much more affordable!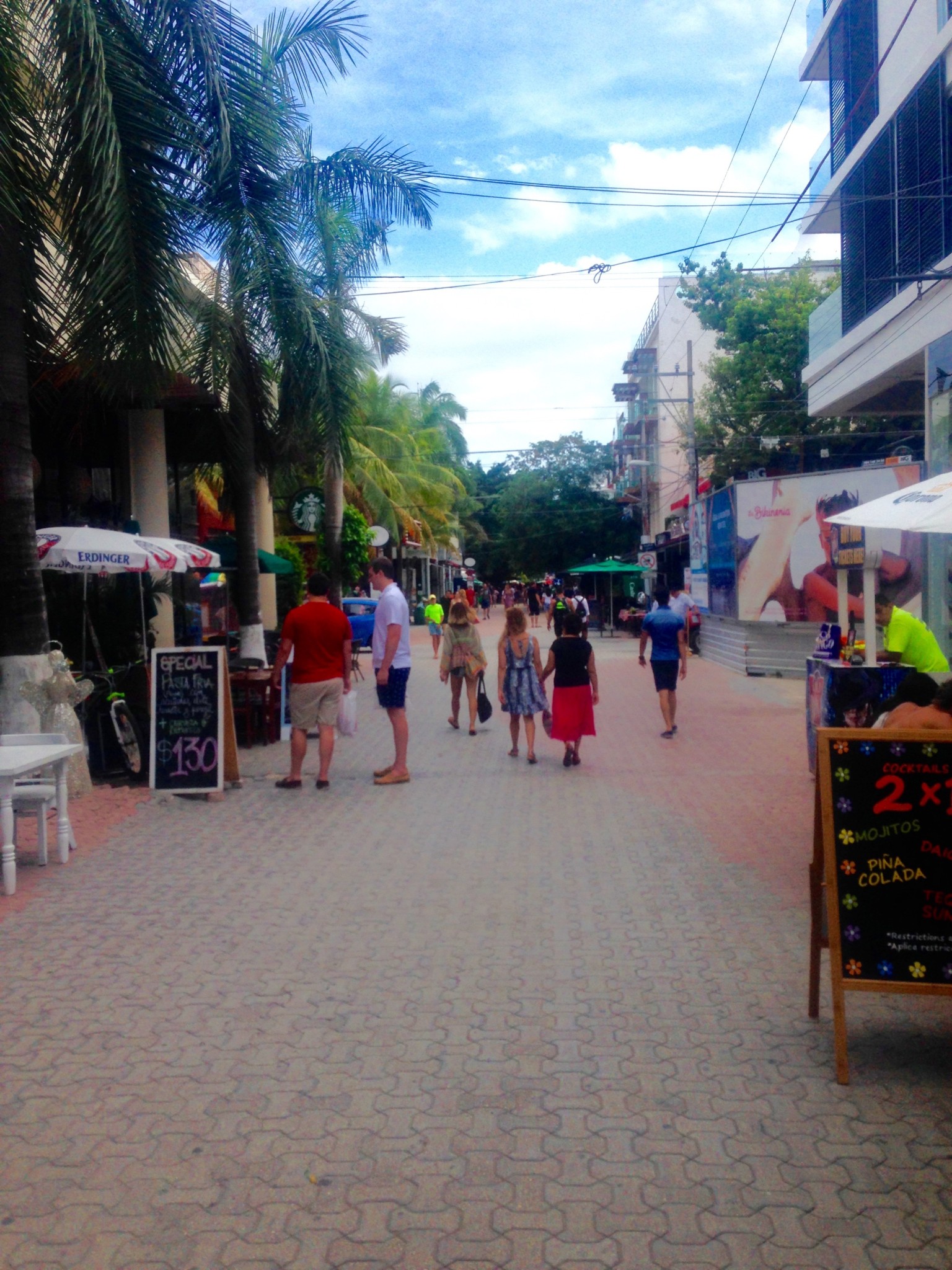 Forewarning: For the most part this is a safe area, but you are in another country and may not speak the language very well. Watch your bags and children and pay attention. If you are in an All-Inclusive with a wristband, cover your wristband with a watch, long sleeve shirt or whatever else you can think of. Our hotel had bracelets instead of wristbands and we were actually told to cover them when leaving the hotel on the first day.
You may get approached by some of the retailers outside stores no matter what, but if they see your wristband they are more likely to approach you and call out things like, "hey, I was your waiter last night" and things like that. Ignore them and move on. I do not say this to scare anyone or make you think it's a bad area. We were also offered illegal things while walking along this street. If you don't engage or give eye contact they will leave you alone and move on. I do not have teenagers, but because of that, I would suggest you go here together as a family if you do, even if your hotel is close by and they tell you how safe it is.
Ferry to Cozumel
Cozumel is a stone's throw from Playa Del Carmen, well not really, but it is close. We could actually see a small glimmer of it from our hotel balcony and lights at night. In Playa Del Carmen there is a ferry that can take you across to Cozumel very inexpensively. The times and rates change often so check online before going.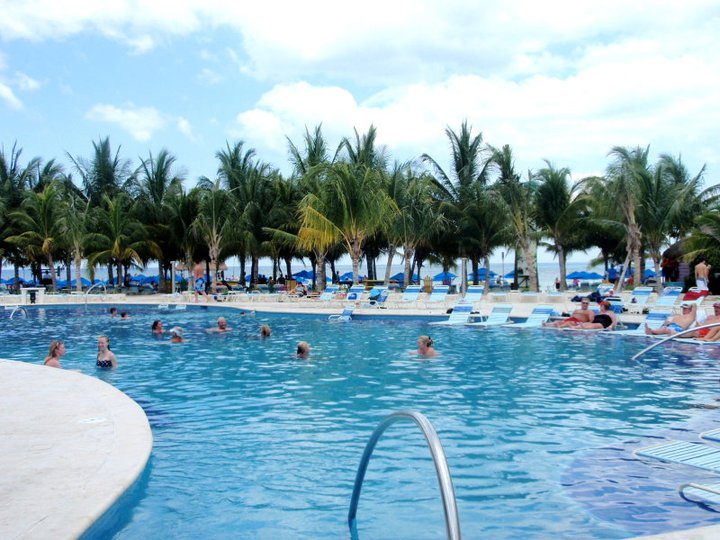 Once in Cozumel, there's a number of things to do, but I suggest exploring or find a beach club! Isla de Pasion we actually went to from an excursion on a cruise ship, but you can go there without the excursion, spend more time and save a lot of money. Another option is Paradise Beach, which is very close to the ferry terminal and inexpensive. It is basically pay as you go rather than all-inclusive like most beach clubs. At either location you can enjoy the pool, beach, water toys, eat, drink or my favorite kayak.
More Attractions
You'll notice I didn't include the most popular attractions you've likely read about on other sites and your hotel will probably be up selling. This includes all attractions with the word X in them. That's because we didn't do them and I wouldn't suggest it. I personally feel they are too expensive, overrun with fellow tourists and not worth the money. If you haven't read about them, you aren't missing out and you will likely figure it out when you come across people talking about them on your trip.
Playa Del Carmen has a wonderful assortment of adventurous and relaxing things to do on a vacation. I could list a million things to do. Your hotel concierge will have a wonderful knowledge of the area and local attractions. These are just a small portion of our favorite options. I know you will have an amazing time in Playa Del Carmen and whatever activities you choose, it will be a trip of a lifetime.
Planning a trip to Playa Del Carmen or the Riveria Maya? Check out our review of the resort we stayed in, Paradisus La Perla.