It was swell day that April afternoon when we went to Walt Disney World. Dapper Day is according to it's creators website, "fashionable gatherings attended by over 30,000 well-dressed guests twice a year at the Disney Resorts in California, Florida, and France". Most people and even avid Disney fans aren't aware of Dapper Day. In my opinion, it's is like stepping back in time at Disney. Where dapper men and women mix a Disney character and a time period and attend the parks all dolled up looking straight out of 1960 or whatever era they choose. This April I attended Dapper Day and finding the right outfit was a bit of a challenge. **This post contains affiliate links, if you make a purchase after clicking on those links we will be compensated. All opinions are our own**

My love of polka dots led me straight to creating my version of Minnie Mouse.
My first destination was *Mod Cloth. They have so many retro vintage look items. I wanted something 50s or 60s and after a little searching I found the perfect pink polka dot dress ON SALE. It had every element I was looking for. The petticoat I purchased t to go under it was also from Mod Cloth. I did order slightly off and messed up the delivery time and the sizing just little. I could have gone one size down and my dress bunched a little with extra fabric. It was fine and I hardly noticed once I was out in the park. Now I know to really read the reviews on sizing, they are extremely helpful!
Follow this Link for 25% off dresses at ModCloth (12/5 to 12/6)
My second destination was the thrift and antique stores. In one day of shopping I found the adorable yellow hat and white/yellow eyelet gloves. They were $5 for both between the two stores and I am still obsessed with both items. If i could find a reason I would wear that hat and gloves everyday .At the last second I layered on some pearls to add an extra touch.
My final step for my outfit were shoes. I found these cute little black pedal pusher type heel on amazon of all places. They were inexpensive and extremely comfortable. Perfect for my outfit with the addition of little white socks. I will be wearing those all winter!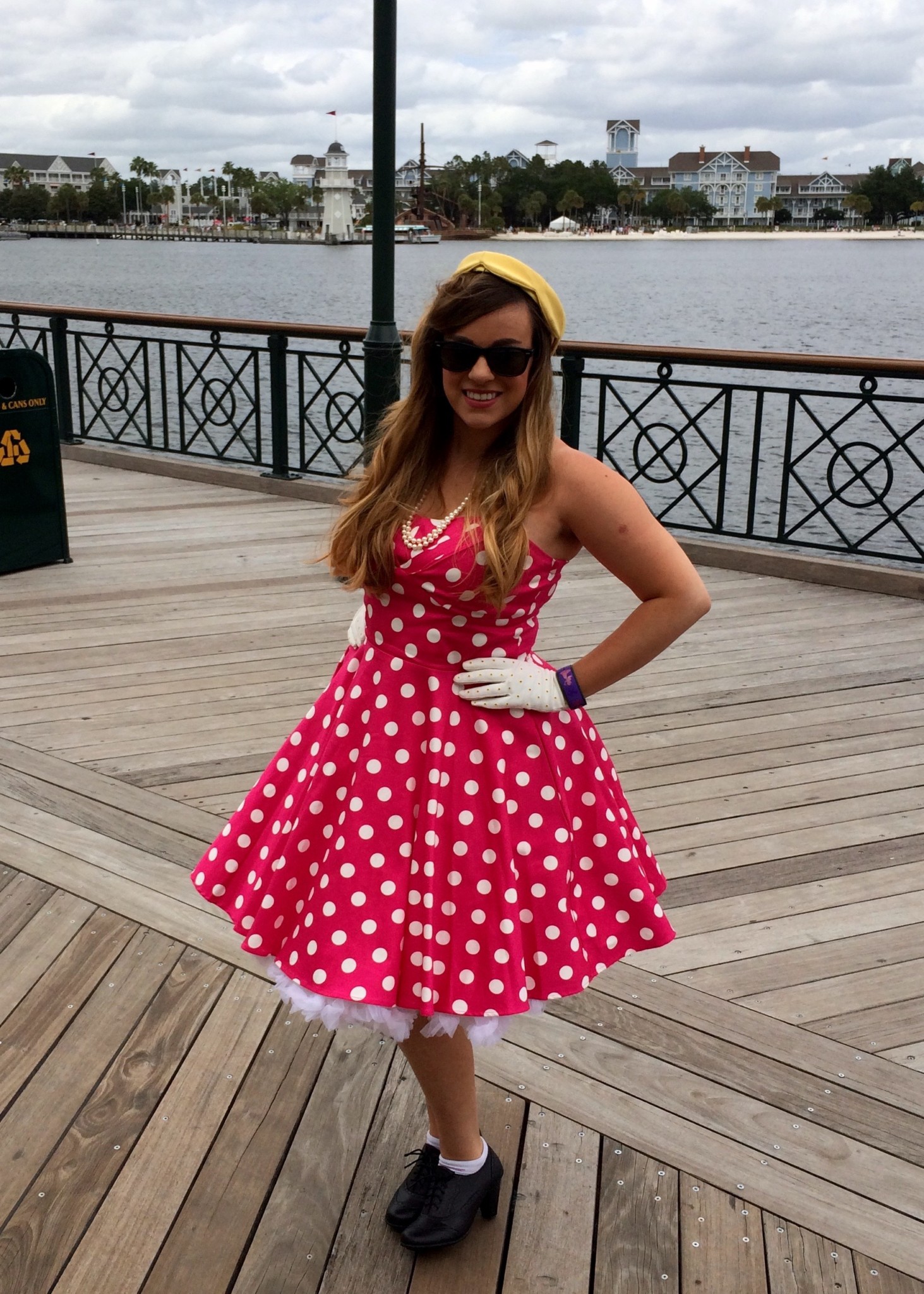 Hair and makeup was another thing I did a bunch of research on. I decided on a retro curl look that pinned into my hat. Sadly in the Florida humidity and the long hair I had at the time my curls did not last the entire day. They sure did look cute at the start though and now that I have much shorter hair I have a feeling it will be much easier to do next time.
I started by curling and set my curls with pin curl pins. I than hair sprayed my whole head more hairspray than I'd ever use in normal life. While that set I did my makeup. Makeup I kept simple. All over coverage foundation and pink blush. Light brown eye shadow with black mascara and bright lips.
The Glamorous Housewife Has Some Great Styles For Reference
Tip for long hair is to pin curl and pin it up. That was what I did on a test run and I decided I didn't want to have so many pins in my hair. I have since rethought that choice and would have pinned it up instead.

Whatever you decide to wear Dapper Day, I am sure you will look amazing and have a fantastic time! There is a meeting point within the a specific park and group picture that will be listed on the Dapper Day website. We missed the group picture because we had too much fun taking photos at Hollywood Studios. Have fun in the parks being all dolled up!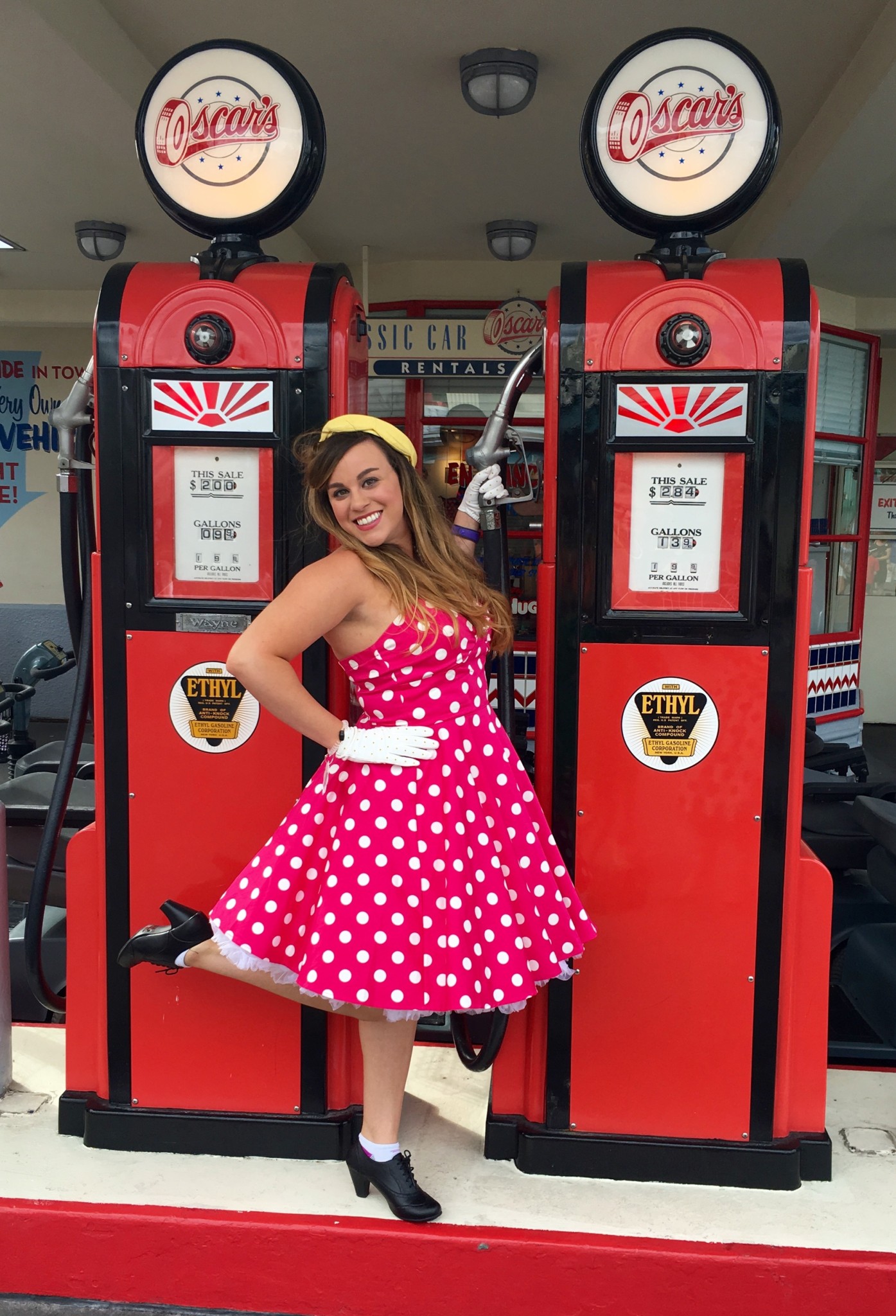 What I Wore For My Minnie Mouse Inspired Dapper Day Outfit
Classic Black & White Minnie Mouse
For another twist on a Minnie Mouse outfit for Dapper Day, take inspiration from Melissa's classic Minnie Mouse look in black & white. Her pin up skirt and top were purchased from Amazon. The adorable purse is from Draper James and her shoes are Betsey Johnson. She added some layered pearls, red cat eye sunglasses, bright red lips, nails, and a retro victory roll hairstyle for complete her 50s pin up Minnie look.

Visit These Blogs For Some of My Favorite Dapper Day Styles
To see more inspiration and learn about the next Dapper Day Event visit the official Dapper Day website.
Ready to book a vacation to Walt Disney World?
A travel agent can help you plan and book your vacation completely free! That's right, you don't pay a dime! A travel agent can actually save you money and plan your entire vacation! To book with a great travel agent that has completed Disney College of Knowledge and specializes in Disney destinations head on over to Dream Makers Travel Agency for a quote!