Last November I purchased a Wifey sweatshirt to wear the day after our winter wedding. I love it so much and once it was summertime I was sad to put it away for winter. Once we booked our honeymoon, I new I wanted a Wifey tank top. There are so many adorable wifey tank tops out there. This time instead of buying another one off Etsy, I decided to make my own for less than half the cost! If you're not married or engaged, this can be a perfect gift for a friend's engagement party or shower.
I made this project with my Cricut. If you don't have one you can either buy a vinyl iron on off one from one the many Etsy or buy iron on letters from a local craft store and still make your own tank. **This post contains affiliate links. If you make a purchase after clicking on these links we will be compensated. All opinions are our own.**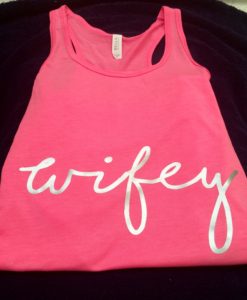 What You Need:
Cricut or Die Cut Machine
Heat Transfer Vinyl – Expressions Vinyl Stretch in Silver

I purchased a 12×12 sheet for $3.99 and I have about half left for another project.

Cricut Design Space or other design program
Font of your choice

I downloaded Shoreline from Dafont.com (for personal use only)

Iron
Tank Top (Pre-washed)

I purchased a Bella Ladies Flowy Racerback Tank off Amazon with free shipping for $3.00!!!!

Cutting mat and Cricut tools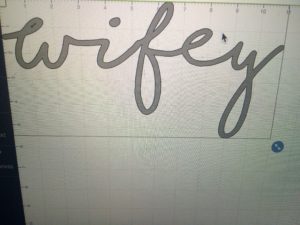 Instructions:
Designing the Wifey
Open up a new project in your Cricut Design Space or whatever program you are using and create a text box.
Type wifey and then select the font of your choice. For this project I used my new favorite font Shoreline, which I downloaded from Dafont.com. Instructions are listed on the website on how to upload a font to your computer. This font is for personal use only, so please respect the designer.
The font is not actually script when you type it out, as in the letters are not touching each other. If you want the letters to connect like mine does, you need to detach each letter and move them individually next to each other.
Once you have them lined up to touch each other as script would, click on the weld button to weld the design together.
Now get out your tank and figure out how large you'd like the word to be. I made mine around 11 x 6.5
Drag the corners of the welded word to the size you'd like and then you're ready to cut!
Click cut on the design space and make sure the MIRROR IMAGE is selected for HTV this is a must otherwise your words will be backwards when cut.
Place your HTV shinny side down on your cutting mat
Load your machine with the cutting mat and set the dial to the correct position for vinyl.
Click go on the design program and the Cricut cut button on your machine.
Watch the magic happen!
Unload the cutting mat and pull the entire HTV off the mat.
Peel back only the sections you will not be using and leave the word wifey on the backing. This will be your barrier from heat and help you line up your word on the tank.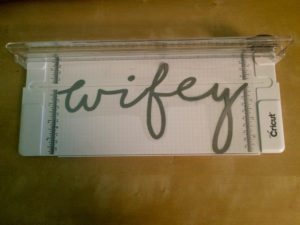 Ironing on your Vinyl
Heat your iron to the setting required for the HTV you will be using. You can not use any steam, so make sure if you have a steam setting that is turned off! I use medium-high for my iron.
Prepare the surface you are going to iron on. I prefer not to use an ironing board, I personally think a harder surface like a counter works better. If you are using a counter make sure you protect it from the heat! I double over a towel and place that on my counter.
Line up your word wifey with your tank and stick it to the location. You can adjust this as many times are you need until you get it perfect. Use a ruler if you need too. 
Iron very carefully over the word applying firm direct pressure for 10-15 seconds at a time. You can cover the tank with a cloth or light towel to protect it, if you need to. It is easier to tell with the stretch vinyl when it has adhered to your tank and you should notice it sticking pretty quickly.
Once you feel like everything is adhered to the tank, gently peel the backing off your tank. If a letter is not fully adhered iron over it again.
The last step is to Iron over the entire word without the backing one last time, to make sure every part is fully adhered.
Now you have an adorable wifey tank!
If any of the letters start to peel up after a few washes, don't fret! All you need to do is iron over it again. I have only noticed this happen with tanks that weren't pre-washed, but it's an easy fix if it does happen!
Here's my adorable tank on our honeymoon in Mexico!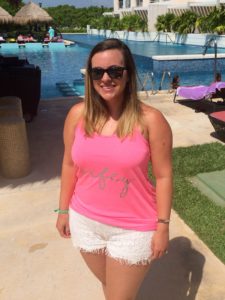 For more information and about the products I used for this project visit these affiliate links:
Sign up for Cricut Access™ and get unlimited access to images, fonts and projects

Cricut Explore Air™ Machine + EVERYTHING Starter Set